In 2019, JESSE DUFTON became the first blind rock climber to lead the OLD MAN OF HOY. His remarkable feat was captured in the DOCUMENTARY Climbing Blind, which aired on the BBC earlier this year. Wired For Adventure recently caught up with Jesse to talk about newfound fame, the TOUGHEST route he's ever done, and his next big challenge
Over 137m of towering sea stack, surging upwards from the wild waters of the North Sea, the Old Man of Hoy is no joke.
It stands off Hoy, one of Scotland's remote Orkney Islands, a solitary finger of sandstone battered by unpredictable weather all year round. Just getting there means two ferries and a precarious hike along uneven sea cliffs. Since it was first climbed in 1966 by Chris Bonnington, Tom Patey and Rusty Baillie, it's become one of Britain's most iconic ascents. With routes ranging from grades E1-E6 (some of the harder grades in British climbing), climbing Hoy requires bags of grit and a lot of experience.
LEADING HOY
Last year, Jesse Dufton became the first blind climber to lead the Old Man of Hoy. His remarkable achievement was captured in Climbing Blind, a documentary shot by legendary British climbing filmmaker Alastair Lee. For non-climbers, leading essentially means going up first, finding a safe route for your climbing partner to follow. It was a particularly sweet moment for Jesse, who'd last led an E1 route back in 2008, when he still had some vision.
Jesse was born with rod-cone dystrophy, a rare genetic condition that gradually breaks down the retina's cells over time. At birth, Jesse had just 20 percent central vision. By the time he was in his 20s studying for his PhD, he'd lost the ability to read. At the age of 30, what little sight he'd had was all but gone. Throughout his life, Jesse has had to adapt and overcome challenges that most people couldn't even begin to comprehend; yet while his sight has deteriorated, his climbing has continued to improve.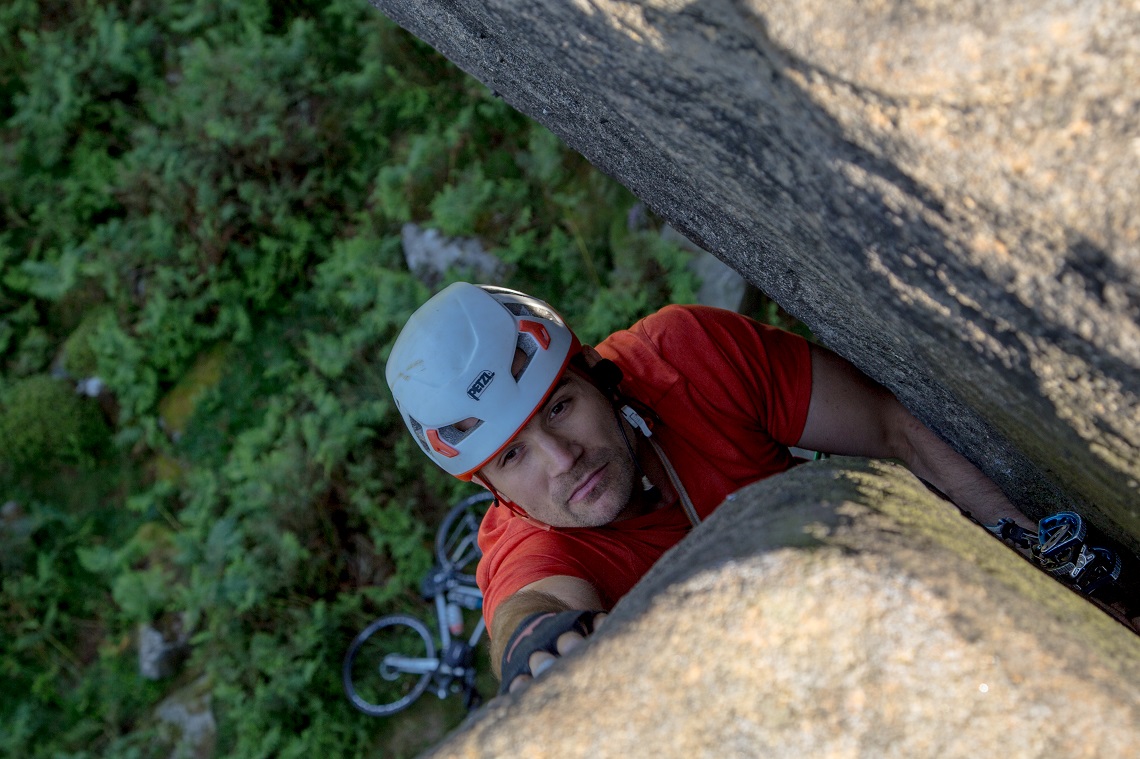 "There are quite a lot of blind people who think that when they lose their sight, their life is over and that's not true. There are things that become a hell of a lot harder. But if you're prepared to put in the hard work, you're still able to do a lot," says Jesse.
To his point, Jesse is now climbing harder than ever before; during the summer he led his toughest route yet: Forked Lightning Crack, an E2 graded climb in Heptonstall, Yorkshire. "Forked Lightning Crack is about the difficulty. It's much more of a climbing purists thing," he says. "If you say to your grandma "oh this one's E1, this one's E2" – she won't have a clue. But if you show her a picture of the Old Man of Hoy, she'll go "Woah, that's impressive!"
A NEW CHALLENGE
It's true. To the layman, Hoy looks like an imposing monster in comparison to Forked Lightning Crack. Yet for Jesse, the challenge was just as much in his head as it was out on the rock. "I think that the big thing for me on Forked Lightning Crack was the mental aspect; I'd never led an E2 before.
So that was like going and trying something that's harder than you've ever tried before with no sight when you used to be able to see a little bit!" The climb was also captured by Alistair Lee, which aired at Kendall Mountain Festival in November, as a short film. Like Climbing Blind, it's distinctly British: understated and real. There's less drama — it was shot in a couple of hours, as opposed to the two days that it took in Hoy — but no less gripping. The six-minute short is now available to watch on YouTube, something that's only likely to boost Jesse's growing celebrity among the climbing community.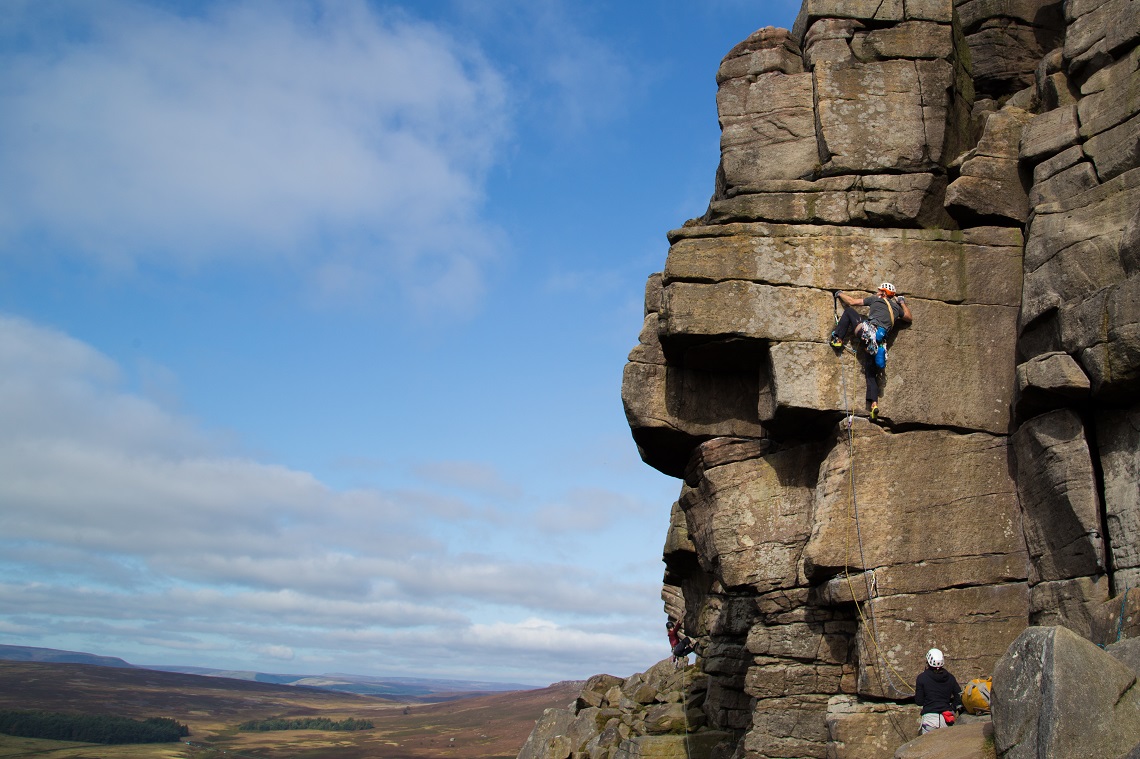 For Jesse, the biggest change since the Climbing Blind's release has been the newfound attention. Now, people recognise him when he's out climbing with Molly, his wife, climbing partner, and sight guide. For someone who describes himself as "understated", this is taking a bit of getting used to. "It's cool that people really enjoyed the film, it's great — but I never quite know what to say! It happened twice yesterday at the crag," he says.
Jesse didn't share his story for fame, recognition or to prove that he could climb Hoy — a 20-year veteran climber, he knew he could climb it — the point for Jesse was to show others like him what was possible with hard work and determination.
"Part of the reason I decided to make Climbing Blind was that I realised people could benefit from the story. I think it's probably going to be most useful for parents of kids with visual impairments or other disabilities. They can see the example of how my parents brought me up and what that led to," he says.
When Jesse was diagnosed with his condition at age four, his parents didn't wrap him up in cotton wool in an attempt to protect him from the world. They pretty much got on with it. His childhood focussed on the positive; around what he could do, and not what he couldn't. "I never really thought about it when I was younger, but when people started asking me questions about it, I realised how much it rubbed off on me and how grateful I am that they had that attitude."
AIMING HIGH
Climbing has always been a massive part of Jesse's life. His father, a former mountain rescue member, had him out on the rock from age two. Jesse led his first trad (a route where the climber places their own safety gear as they ascend) climb at 11 years old.
At university, Jesse joined the mountaineering club, where he met Molly. As Jesse grew older and his sight deteriorated, he began to rely more on Molly. They worked in cohesion, became much more of a team. When climbing, the pair communicate through radio, with Molly offering advice from the ground "It's a quite gradual thing. It starts off as quite general descriptions, 'oh you might have missed a hold out to your right', that sort of thing. Over time it becomes a bit more detailed: 'Ok, there's a crimp — two feet up and one foot right'," Jesse explains. "I mean, you can shout. But you'd lose your voice quite quickly!" Up on the crag, Jesse relies on touch to find the best areas to place his safety equipment.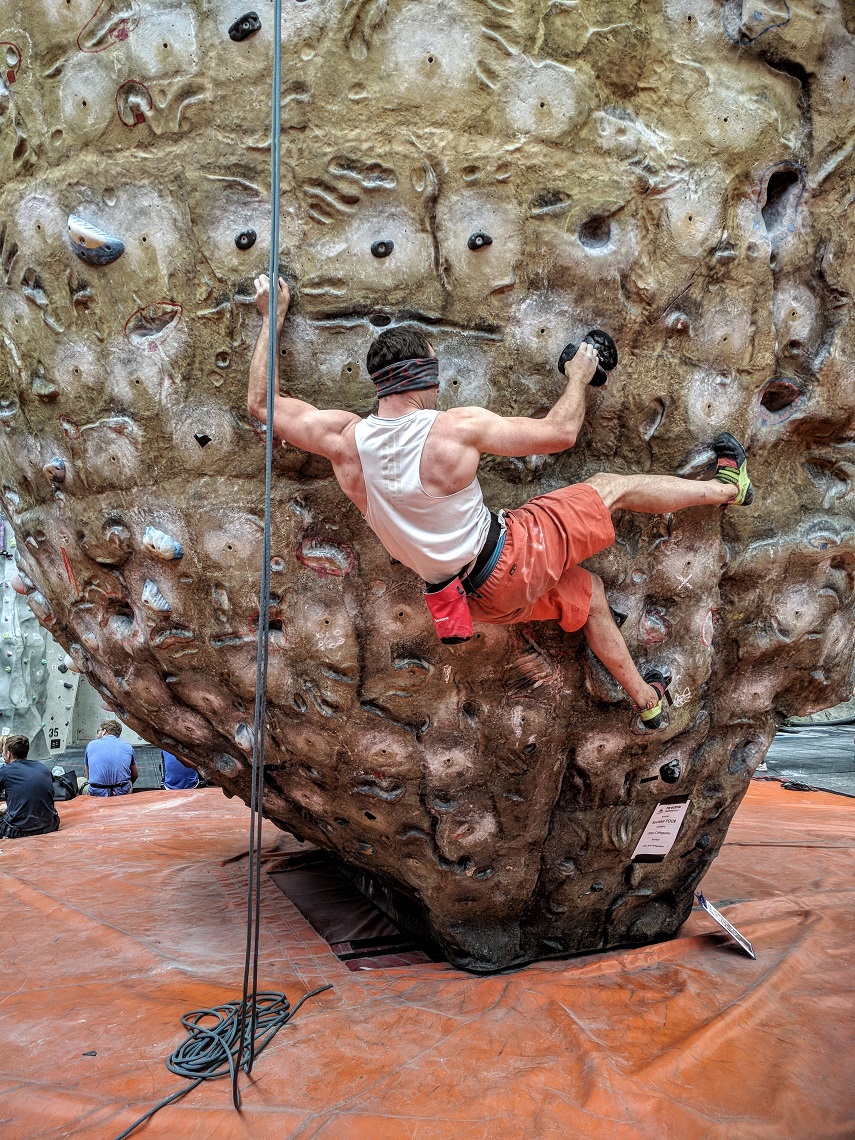 Their teamwork has led to some incredible successes. In 2017, Jesse joined the Team GB indoor paraclimbing team, and already, he's taken gold at a series of major competitions, including GB Nationals in February 2020, and the Dutch National Championships, in November 2019. Unfortunately, all major events are off at the moment, and the World Championships, the biggest event on the paraclimbing calendar, looks uncertain for 2021.
Like most people, Jesse's plans for 2020 were completely upended by the pandemic. Two big climbing trips to Joshua Tree National Park and The Lofoten Islands in Norway had to be cancelled, while competition climbing is unlikely to resume anytime soon.
For now, Jesse's focus is on maintaining his climbing level on as many local routes as possible. As well as Forked Lightning Crack and The Auricle (another E2 Jesse completed last summer), he climbed 10 different E1 routes on sight (first time) last year.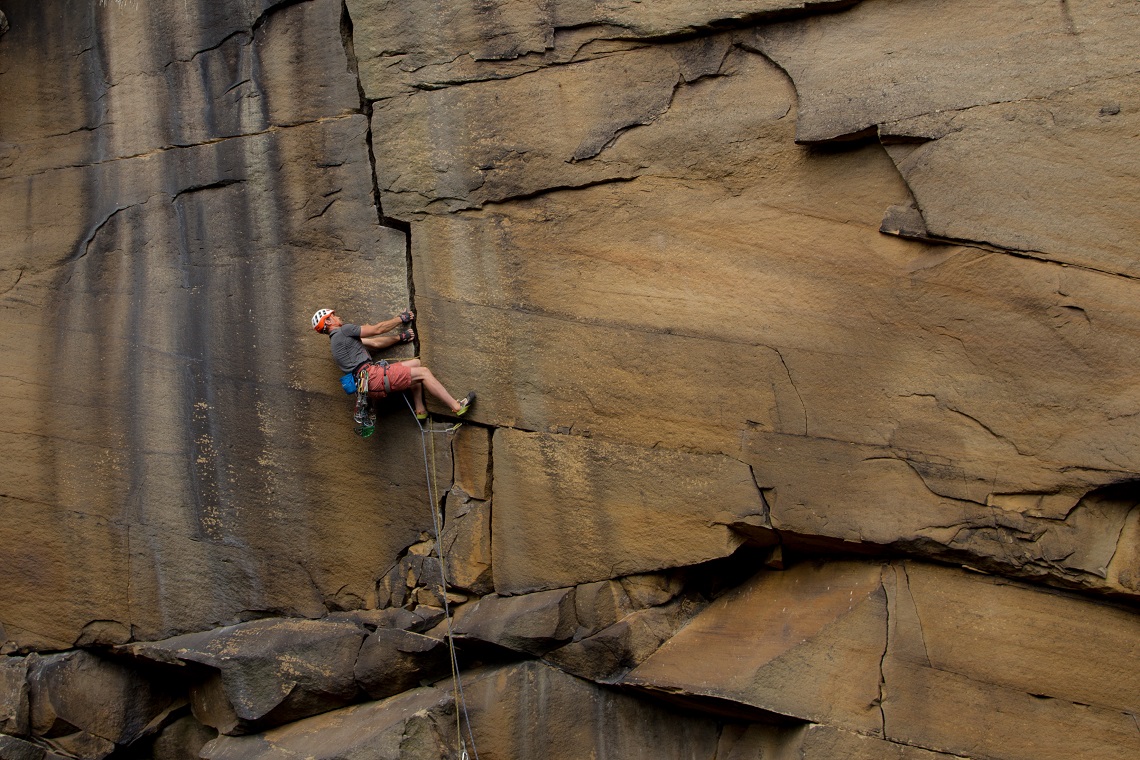 Getting comfortable at E2 and staying strong over the coming winter are Jesse's main objectives for the New Year. Beyond that, Jesse is itching to get abroad again, with Utah's iconic Indian Creek and Kalymnos, Greece both on his radar. And then, there's Hydrophobia, a 300m frozen waterfall in Canada.
"In March 2020, just before lockdown, we went to Hemsedal in Norway to go ice climbing and see how it was without any sight. I've been ice climbing before, but I had a bit of sight back then. Not much, but some. I can still do it. And physically, I'm in a lot better place now," he says. "That would be worthy of Climbing Blind 2, I reckon."
Climbing Blind is available to watch now on BBC iPlayer until April 2021