If you want to keep ADVENTURING come hell, high water, or the Great British weather, you need to get your hands on a decent WATERPROOF. Here's our guide to getting what you want from a raincoat
WORDS: EMILY JANE CAVE, JAMES MILLER-WILLS
The Great British weather is famed for its unpredictability, and if you live in the UK, you'll be all too familiar with how temperamental a spring day can be. One minute it's all daffodils and glorious sunshine; the next, it's like the final scenes from Ghostbusters II.
And it's not just down to the time of year, either. Science and geography dictate that mountainous areas — you know, those super-fun places that are primed for a rollicking good adventure — are most likely to see heavy downpours. In fact, according to the UK Met Office, the Lake District, The Scottish Highlands, and Snowdonia all receive over 4m of rainfall a year. That's more than twice the depth of the deep end of most swimming pools.
Being too hot or too cold while venturing outdoors are situations that are easily remedied; get wet, however, and your day's activities will be a total washout. Damp clothing clings, chafes, and lets in cold air. Once you're wet and chilled, there's very little to be done besides seeking shelter and undergoing a complete change of outfit. Not something anyone wants to attempt atop Helvellyn or Snowdon.
The good news is that technical waterproofs are now so well developed, it's guaranteed there's a jacket out there to suit your style of adventure. From lightweight pack-away macs designed to be whipped out in an emergency, to stretch shell jackets with performance linings for strenuous activities, this round-up of waterproofs will give you an idea of the features to look out for when making your next purchase.
Choose wisely and every adventure will go down a storm, no matter how wet the conditions.
---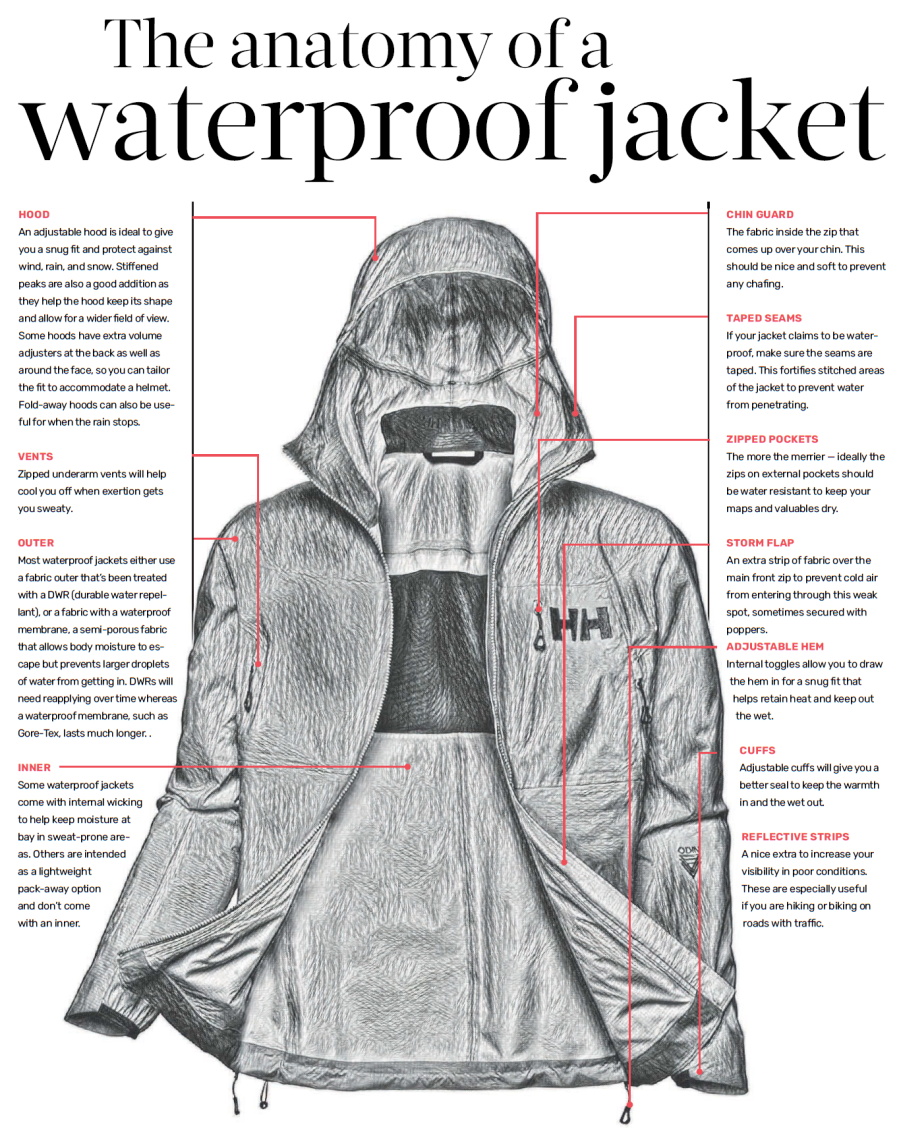 ---
WOMEN'S
1 – BEST FOR BEING PREPARED
Mac in a Sac Origin 2 – £34.95 macinasac.com
If there's one thing I've learned from adventuring in the UK, it's that it's always good to have a plan B.
A glorious morning can quickly turn into a wet afternoon, even in the height of summer. So, having a waterproof you can stash away in your backpack for a rainy day is always a good idea. The Mac in a Sac is designed for precisely that purpose, and the super-affordable price tag makes it a very reasonable emergency backup jacket.
Don't be fooled by the price, however. It still carries a hydrostatic head rating of 10,000mm, which means if a test tube full of water were upturned on the fabric, the tube would have to be 10m tall before the fabric leaked. It seems like a silly idea, but it's a good indicator of how a fabric might perform in context.
Considering it packs down to roughly the size of a tin of beans, there are still plenty of features on the Mac in a Sac to keep the rain out. Elasticated cuffs and an adjustable hem give a good seal, and the pack-away hood has a drawstring.
Although it's not adjustable for volume, it's roomy enough for a helmet. It's worth noting that this mac comes up quite large; a small ladies' is roughly a size 12, so if you want a snug fit, size down. Whether you're dodging a downpour or need something dry to sit on while admiring a view, the Mac in a Sac is a great addition to your adventure arsenal.
2 – BEST FOR EVERYDAY ADVENTURES
Regatta Women's Highton Stretch II Waterproof Jacket – £80 regatta.com
If you're looking for a serviceable, everyday waterproof then look no further, The Highton Stretch II is the very definition of practical when it comes to keeping you dry on the go. (Think walking the dog, taking the kids to the park, or getting some fresh air on your lunch break.)
It has some great features for a moderately priced jacket (you'll find even better prices online), including an abundance of pockets. I counted four in total – three external, one internal, and all are zipped. Other features include an adjustable hood with stiffened peak and an adjustable hem, both of which use easily accessible toggles.
There are also velcro tabs on the cuffs to help keep in the warmth and make sure your sleeves stay dry. The outer is made from waterproof, breathable ripstop fabric, which feels robust, even if it does rustle a bit when you move, and the seams are taped to keep the wet out. The inner is a mesh lining, which feels cool to wear, and the chin-guard is nice and soft. Under the arms and down the side seams, there are stretch panels to help you move more easily.
While this jacket lacks some features found on others in this round-up, like water-repellent zips, what it does offer is comfort and versatility for busy, low-level adventures in changeable weather.
3 – BEST FOR MULTI-SPORT ADVENTURES
Keela Ladies' Storm Jacket – £104.95 keelaoutdoors.com
Every adventure is different, as is every adventurer. Some people like to take it slow and steady, while others crave the adrenaline fix that comes with moving fast, be that on two feet or two wheels. Then there are those who just want to do it all. If that sounds like you, the Keela Storm is a good fit.
This lightweight hardshell packs down small around the size of a mango) and its minimal features are ideal for anyone who's after streamline waterproofing that won't get in the way of their adventure ambitions. The single-skin outer uses what keela calls Flylite Aqua, a breathable, waterproofed nylon with plenty of stretch. This, along with the active fit that allows for a longer back and nipped-in waist, means the Storm is perfectly poised for whatever you throw at it.
From hill running to mountain biking, this jacket has your back. The hood is fully adjustable with a wired peak, and can take a helmet or be rolled away when not needed. Other nice touches include the thumb loops, which keep the sleeves well over your hands and the rain out, and the reflective strips that make this jacket extra-suited to use on the road.
Another thing worth mentioning are the Storm's pockets – four in total, including a back pocket. All have water-resistant zips, just like the main front zip, and are large enough to take all your adventure essentials.
4 – BEST FOR HIGH ALTITUDE ADVENTURES
Helly Hansen Verglas Infinity Shell – £350 hellyhansen.com
If you're a fan of Helly Hansen gear, it's likely you're already familiar with the brand's Lifa Infinity Pro fabric technology. If you're not, suffice to say it's excellent at what it does.
Waterproof, breathable, and responsible, Lifa Infinity Pro's performance qualities are achieved through the manufacturing process, rather than using chemicals. This not only prolongs the life of your gear, it's also better for the environment – a win-win. The Verglas Infinity Shell uses Lifa Infinity technology in its outer, a robust recycled polyester that will stand up to both extreme weather and extreme sports.
It's not just the fabric that makes it well suited for active outdoor pursuits, though. All the zips are water-resistant (as you'd expect), but they're also two-way, including those on the huge hand-warmer pockets and the under-arm vents, which means no matter what gear you're packing, be it rucksack or climbing harness, you can access them with ease.
The hood is also massive with a stiffened peak and plenty of options for customising the fit to take a helmet while keeping out the elements. It also has a Rocco detector to enable rescue professionals to find you in case of an avalanche. This is a pretty serious waterproof with a price tag to match, but you get what you pay for and the Verglas is worth every penny.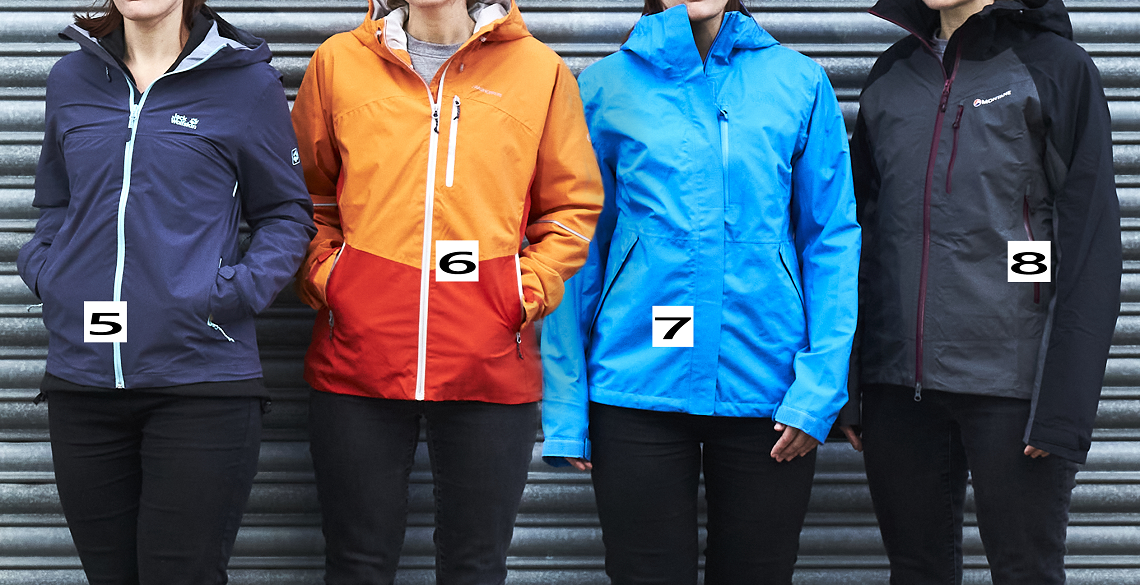 5 – BEST FOR KEEPING COOL
Jack Wolfskin Highest Peak Jacket – £180 jack-wolfskin.co.uk
One of the downsides to wearing a waterproof, besides the fact that it's probably raining if you are, is that they often feel very well, waterproof-y. A bit scratchy, a bit cumbersome – given the choice, I'd far rather adventure in my shirtsleeves, weather permitting, of course.
Not so with the Highest Peak jacket. This super-lightweight shell has the feel of a long sleeve top with all the properties of a high-quality waterproof jacket and there's not a rustle in earshot. The outer is made from what Jack Wolfskin calls Texapore Ecosphere Stretch, a recycled waterproof, windproof fabric that's breathable and has lots of give in it.
It also has a hydrostatic head rating of 20,000mm, so staying dry won't be a problem. Velcro cuffs, an adjustable hem, and a fully adjustable hood help to customise the fit, keeping the warmth in and the wet out. The hood is also large enough to take a helmet.
The really nice thing about the Highest Peak Jacket is its underarm venting, which means you can get a breath of fresh air circulating when things start to heat up. If you're looking for an infinitely wearable hiking jacket that you'll reach for even when it's not raining, the High Peak is a great option and won't disappoint.
6 – BEST FOR YEAR-ROUND USE
Craghoppers Dynamic 12000 Jacket – £120 craghoppers.com
If you're venturing out on a day when the weather appears changeable, the best solution is to layer up. This gives you plenty of options to either strip off or pile on more layers to suit the conditions and your level of activity.
The Craghoppers Dynamic Jacket is super-versatile. It's perfect for adding a windproof, waterproof top layer to your fleece or down jacket in winter, or providing a lightweight, breathable cover-up during wet, warmer months. The outer is made from a stretch polyester that Craghoppers calls Aquadry, which allows for a wide range of movement and is very comfortable to wear. It also has a hydrostatic head rating of 10,000mm and does a great job of keeping you dry.
The really clever bit, though, is Craghoppers' Dynamic technology that uses minerals within the fabric to reflect your body's energy back onto itself, helping you keep going for longer. Other features more typical of a waterproof include an adjustable hem and fully adjustable hood, velcro cuffs, and water repellent zips on the front and outer pockets. There's also a concealed inner pocket for valuables.
The reflective strips are also a nice touch for adventuring on busy roads. If you're looking for a waterproof for year-round use, check out the Dynamic.
7 – BEST FOR WET AND WINDY HIKES
The North Face Women's Dryzzle Futurelight Jacket – £200 thenorthface.co.uk
The North Face's popular Dryzzle jacket is back. And this season, it's been updated using the brand's new Futurelight outer. Composed of three layers, this breathable, waterproof, seam-sealed fabric is spun in such a way that it allows for air to flow through the waterproof membrane, which should keep you cool, dry, and comfortable when the going gets tough.
The Dryzzle is a super-lightweight jacket, but it doesn't skimp on luxury. What's really lovely is it's recycled stretch-knit inner, which feels warm and comfortable against bare skin, making this jacket ideal for strenuous outdoor activities. The chin guard is also nice and soft. It has an adjustable hood with a stiffened peak and adjustable cuffs, and hem.
The storm flap is generous with velcro fastenings to keep it in place so it helps retain body heat. It's also cut with a slightly longer back to stop water run-off soaking into your legs The zipped hand-warmer pockets are roomy and the chest pocket has a water-repellent zip, making it perfect for a phone or similar device.
The Dryzzle doesn't have a lot of bells and whistles, which may be to your liking if you're a no-fuss adventurer. Those it does have, however, are all of the kind of quality you'd expect from The North Face.
8 – BEST FOR FAST, LIGHT ADVENTURES
Montane Pac Plus XT Waterproof Jacket – £250 montane.com
Montane gear has a reputation for excellent performance in the mountains, and the Pac Plus XT has been made with this ethos in mind. If you're looking for a waterproof that'll stand up to the foulest of conditions, leaving you to focus on the challenge ahead, then this is the jacket for you.
The outer is made from what Montane calls Gore-Tex Paclite Plus, a lightweight, breathable, windproof fabric with Gore-Tex waterproofing that's 100 percent recycled. As well as its weatherproofing credentials, the outer is also extremely robust, making this jacket ideal for activities like scrambling and climbing where some degree of abrasion is inevitable.
Other mountain-friendly features include two-way underarm vents and a generous, fully adjustable pack-away hood that has a wired peak and takes a helmet with ease, All external zips, including those on the map-sized pockets, are water-resistant and all seams are fully taped.
The cuffs also have a good velcro seal to keep the warmth in and the wet out, as does the adjustable hem. With all these features, you'd be forgiven for thinking the Pac Plus XT might be bulky. But at a mere 330g, its punch far outweighs its pack size.
---
MEN'S
1 – BEST FOR LIGHTWEIGHT HIKING
Columbia Ampli-Dry Waterproof Shell Jacket – £135 columbiasportswear.co.uk
A hike is one of the best ways to enjoy the great outdoors. But they're often tiring affairs, so one way of making your life easier is to carry less weight. Let's face it those views along the trail always look a whole lot better when you're not exhausted from lugging around unnecessary bulk.
Cutting down on weight when hiking means you're looking for a jacket that's as light as possible, but one that still packs in enough features to keep you dry in the event of unexpected showers – or even torrential downpours.
This makes Columbia's Ampli-Dry Waterproof Shell Jacket a superb choice for hikers, whether you're into day-hikes, fast hikes, or hybrid hikes. Weighing less than 400g, it keeps you dry from the inside out because of what Columbia calls Omni-Tech, a clever multi-layered fabric that's both breathable and waterproof, shedding water naturally and keeping you sweat-free at the same time.
Other innovative features include underarm venting to improve air circulation and a four-way comfort stretch material that flexes to the shape of your upper body as you move along the trail. With zip-up hand and chest pockets to house all your essentials, you'll never be short of storage space either.
And don't worry: if the shade of Red Onion shown above isn't your thing, Columbia's Ampli-Dry Waterproof Shell Jacket comes in four other colour options.
2 – BEST FOR URBAN ADVENTURES
Craghoppers Creevey Jacket £80 – craghoppers.com
If you're after a waterproof jacket for city-based adventures, the Craghoppers Creevey Jacket is a great choice. It's lightweight, waterproof, and ideal for a whole host of urban exploits – whether you're on a challenging hike, a Sunday morning dog walk, or stood by the side of the football pitch cheering on junior.
Something I immediately noticed about this offering from Craghoppers is the price, one of the most competitive in our round-up. But don't be fooled into thinking this lower price point means you lose out on the good stuff, because the Creevey Jacket is still packed with innovative features and remains fairly lightweight (515g in size XXL).
On the outside, you get what Craghoppers calls AquaDry technology. Built to tackle moderate to heavy downpours, it's essentially a waterproof, breathable coating that keeps water out. This is then bolstered by a clever plant-based DWR-finish Craghoppers calls Ecoshield, which causes rain or water-based stains to simply run off the material. It's fair to say when the heavens open, the Creevey Jacket really comes into its own.
In terms of storage, you get a couple of ample, zipped side pockets to keep your hands safe and dry. You'll also be glad of the large, zipped inside pocket – a useful place to securely stow away keys or even a pair of gloves.
3 – BEST FOR VERSATILITY
Mac in a Sac Origin 2 – £34.95 macinasac.com
If you're an outdoor adventurer who's always on the move, the Mac in a Sac Origin 2 waterproof jacket will be right up your street – or trail. Described as 'packable performance outerwear for life on the go', it's undoubtedly a useful bit of kit to have in your bag when any adventure turns damp.
And for the price you pay, you get a decent amount of bang for your buck. There's the hydrostatic head rating of 10,000mm, water repellent YKK front zip, and fully taped seams. Put it this way: if it rains, throwing the Origin 2 jacket over you is sure to keep your top half dry.
The Origin 2 jacket is also ready to help you take on any number of adventure challenges. It includes a handy back vent for enhanced air circulation and is made from breathable fabric to prevent overheating when you're working hard.
Elsewhere, you'll be glad of the zipped front pockets to store all your adventure essentials. And when it comes to convenience, there aren't many better choices. The Mac in a Sac Origin 2 weighs just 285g and is easily stuffed down into its handy pouch or chucked in the bottom of your backpack.
All in all, the Mac in a Sac Origin 2 is a good option if you're looking for a versatile, cost-effective waterproof jacket.
4 – BEST FOR FAST, LIGHT ADVENTURES
Montane Minimus Waterproof Jacket – £165 montane.com
Embroidered on the inside of Montane's Minimus Waterproof Jacket are the words 'Further. Faster' And that's what this outdoor brand is all about – innovative, lightweight clothing that allows adventurers to go further and faster in any number of extreme environments.
When it comes to the Minimus (pictured above), Montane is offering up a jacket with strenuous adventures in mind – especially climbing, trail running, mountain walking, and fastpacking. All activities where performance, weight, and breathability are vital.
Most of these credentials come from the technologies used in the Minimus's construction. First, you get what Montane calls Pertex Shield, a lightweight fabric that boasts both waterproof protection and high levels of breathability. Put simply, it keeps the rain out and allows for plenty of freedom when you're on the move.
Other features include an adjustable hood (complete with wired peak) and the ability to stuff the jacket down to the size of a water bottle for easy storage. But it's the clever rollaway hood system that I really like. Just roll the hood down, hook it to the loop on the neck, and it doubles up as a protective collar.
You don't have to worry when it starts to rain either, because Montane's Minimus Waterproof Jacket has an impressive 20,000mm waterproof rating. Ideal for any fast-paced adventures that turn annoyingly soggy.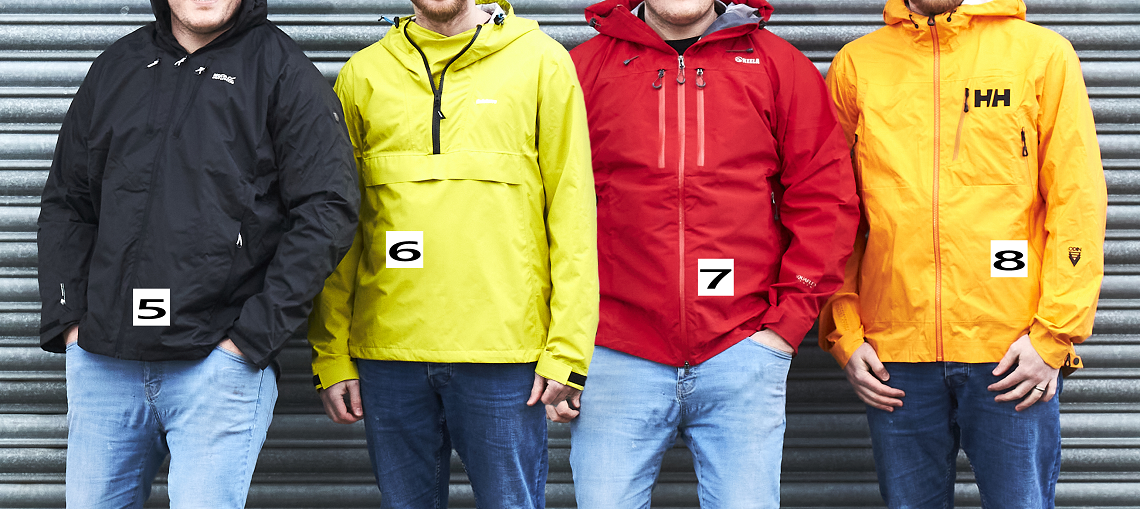 5 – BEST FOR TYPICAL UK ADVENTURES
Regatta Calderdale IV Waterproof Jacket – £80 regatta.com
Whether you're striding the last few steps to the top of Stoodley Pike to enjoy a well-deserved view, or hiking the UK's longest continuous ascent at Cragg Vale, Calderdale in West Yorkshire is a real adventurer's hotspot. And like the region that inspired its name, Regatta's Calderdale IV Waterproof Jacket has been designed to cope with all kinds of UK-based adventures.
While we're talking about adventures in the UK, one thing you can always count on is unpredictable weather. Good job, then, that the Calderdale IV is made from what Regatta calls Hydrafort fabric – a tough, waterproof, windproof material that provides lots of protection from the outdoor elements. I also like the concealed, adjustable hood and adjustable wrist cuffs, both of which are sure to keep the water at bay if the heavens unexpectedly open.
At 588g, the Calderdale IV is one of the heavier jackets in our review. But it's comfortable to wear and the part-mesh taffeta lining helps your body breathe when you're on the move. You'll be glad of the jacket's ample storage space too, where two zipped lower pockets and two roomy chest pockets – as well as an inner zipped security pocket- ensure your adventure essentials will be kept safe and sound.
Ideal for hikes, walks and other outdoor pursuits, the Regatta Calderdale IV is a suitable choice for any adventure where the weather turns a bit British.
6 – BEST FOR CHANGEABLE CONDITIONS
Finisterre Rainbird Waterproof Smock Jacket – £110 finisterre.com
We've all been there. Left home in glorious sunshine on a new adventure trusting in the skies to stay dry, only for the heavens to open a few hours later, leaving us exposed, soggy, and in need of a change of clothes.
What's needed is a lightweight jacket that easily packs away when the sun shines, but still provides all the protection you're after when dark clouds unexpectedly loom overhead. Well, UK-based outdoor brand Finisterre reckons it's found the answer with the Rainbird Waterproof Smock Jacket.
Made from 100 percent recycled polyester fabric, the Rainbird Smock has a 10,000mm waterproof rating, taped seals, and a fully adjustable hood with elastic hem. It's even fitted with YKK AquaGuard zips to keep you dry on the wettest of days – whether you get caught out by a short downpour or continual rain.
It's been built with active adventurers in mind too. The lightweight construction stretches to the shape of your body. making it perfect for running, hiking, or cycling, while the microporous inner film cleverly wicks moisture and sweat away as you move. And if the sun starts to shine again, simply pack the Rainbird down into its handy marsupial-style pocket.
It might not keep you warm – but Finisterre's Rainbird Waterproof Smock Jacket will certainly keep you dry.
7 – BEST FOR HIGH ALTITUDE ADVENTURES
Keela Pinnacle Jacket – £184.95 keelaoutdoors.com
Outdoor brand Keela has called the rugged, picturesque landscapes surrounding the Scottish town of Glenrothes their home since 1989. This means the company knows a thing or two when it comes to designing lightweight gear that'll keep you out of trouble when you head above sea level.
With these credentials in mind, it probably comes as no surprise that keela's Pinnacle Jacket is the go-to choice in our round-up for hill walkers, mountain climbers, and scramblers. It weighs just 450g and benefits from what's known as Aquaflex Extreme three-layer: a fabric construction that provides uncompromising levels of waterproofing and breathability, whatever high-altitude terrain you're tackling.
You get plenty of other clever features too, such as vents under the arms that can be opened when your adventures intensify to improve airflow and keep you cool and comfortable. Long gone are the days of having to waste time altering your layering to match your activity level.
I also like the fully adjustable helmet-compatible hood. And if we're talking about storage, Keela's Pinnacle Jacket has definitely got you covered. You get two roomy, zipped hip pockets and two upper pockets that are big enough to fit an OS map, which you'll be glad of if your phone signal drops out and you need a bit of old-school assistance with navigation.
8 – BEST FOR MOUNTAIN ADVENTURES
Helly Hansen Odin 3D Shell Jacket – £300 hellyhansen.com
"The jacket made with mountaineering in mind," says Helly Hansen of their Odin 3D Shell Jacket. And like everything this leading brand has been kitting out mountain professionals and enthusiasts in since 1877, it's yet another offering that effortlessly combines style and practicality.
Built for your latest mountain adventure, the Odin 3D Shell Jacket weighs a feather-like 376g. But because Helly Hansen has been inspired by Norse mythology and tested the jacket in Norway's harshest conditions, you still get the kind of protection you might expect from something far more heavy-duty.
First up, there's the innovative hely Tech fabric. It goes without saying that this clever outer layer is waterproof and windproof. But the Odin Shell Jacket's real trump card is a 3D-printed backing that keeps the bulk of its fabric away from your skin. This lets air move around inside even when the jacket's zipped up, so if heavy rain or wind strikes while you're on the mountain, your body is sure to stay ventilated at the same time as both warm and dry.
Other practical features include an adjustable hood (which comfortably fits if you're wearing a helmet), two roomy side pockets, and a chest pocket big enough for phones, cameras, or batteries. The jacket packs down conveniently too, making it super straightforward to throw in your bag when conditions change.