Whether you're enjoying a spot of camping, on a multi-day expedition or the sun has disappeared on a day hike that took a little longer than expected, then a head torch can be one of the most useful pieces of kit that you pack. However, with so many brands and models to choose from, things can get a little confusing when trying to decide which one is worth parting with you hard earned cash for.
So, to make things a little easier for you, we've spent some time testing head torches, in order to bring you six of the best head torches available on the market.
1. Lifesystems Intensity 105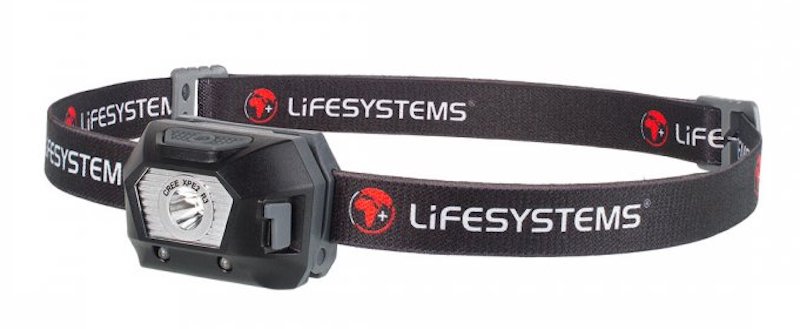 www.lifesystems.co.uk | £19.99
If you're looking for a cheap, compact option, then the Lifesystems Intensity 105 head torch is a pretty good place to start. My favourite thing about this one is how incredibly lightweight it feels on my head (I'm a bit of The Princess and the Pea type of gal, so I find that heavier head torches can really irritate my noggin'). In all honesty, I thought the performance would match the price tag of this head torch, but I was pleasantly surprised. I mean, it's not going to light up the sky or bring down aeroplanes, but if you just need a simple head torch for hillwalking or camping, then this one will be your friend. You can change the angle of the head torch, so you can decided how much it points at the path, and for a small head torch, its white light is pretty bright! In fact, LifeSystems state the high light mode will reach up to 45m.
Weighing in at 46g, this is the lightest head torch on test, which is perfect if your trying to shed the grams in your backpack. It offers up to 105 lumens of brightness and six lighting modes – three white light and three red light, including SOS (which I like to refer to as rave mode). The head strap is comfortable against the skin, the rechargeable battery is charged via a USB port, and is said to have up to 21 hours of battery life. A really good head torch.
In a line: If you don't want to burn a hole in your pocket, and you don't need an all singing, all dancing head torch, then I would recommend buying the Lifesystems Intensity 105 head torch. 7/10
2. Coleman CHT+100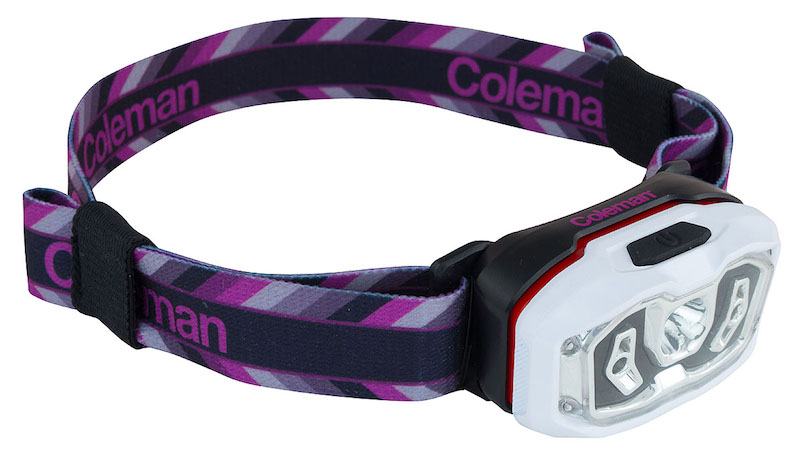 www.coleman.eu/uk | £12.99
The Coleman CHT+100 is another head torch that's humble on price, but is it a good performer? Well, with 100 lumens of brightness, it's certainly satisfactory for camping or hillwalking. It has three lighting modes (high, low and red) and Coleman states that the head torch will run for up to 60 hours (on low mode). Weighing in at 106g with the batteries inside (which are included, which is always a tick from me), it's one of the heaviest head torches on test, but only by a few grams, so unless you're really trying to shed the weight from your pack, I think you'll be fine with this. The head band feels really soft against the skin and is comfortable to wear. You can adjust the head torch's angle to point down towards the path, and on the highest level, it will light the way for up to 55m.
A good feature on the Coleman CHT+100 head torch is the BatteryLock system, which means the battery can be completely detached when the head torch is not in use, reducing the risk of residual battery loss or damaged caused by corrosion. This head torch doesn't charge via USB, so we'd suggest to buy yourself some rechargeable batteries once the provided batteries have run out.
In a line: It might not be an all singing all dancing head torch, but if you're looking for something that is cheap and will do a satisfactory job, then this one is for you. 6/10
3. Petzl Actik Core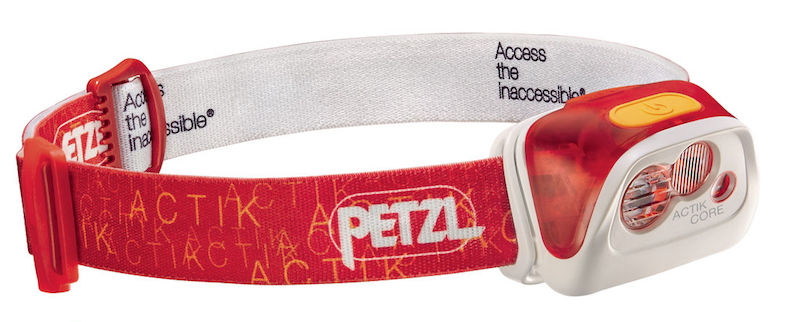 www.petzl.com | £45
Weighing in at 92g, the Petzl Actik Core head torch is the second lightest on test. So, if you're looking for a head torch to take wild camping, and you're trying to shed the weight in your pack, then this is a great option. Being the second most expensive head torch on test, I felt like it had a lot to prove to make it worth the price. Well, offering 350 lumens of brightness, I could see a whole lot better than I could with most of the head torches on this test, so if you're heading out on a big hike this head torch is going to perform a lot better when it comes to the distance you can see. In fact, the Petzl website states that this torch (on full power mode) will offer up to 95m of visibility.
The head band is reflective, comfortable against the skin, and is pretty easy to adjust. It's also fully adjustable, so you can choose how much you'd like to tilt it to the path. A great added bonus is the emergency whistle that forms part of the adjustment clip. The head torch is rechargeable via a USB port and it also offers four lighting modes – two white lights and two red lights (including SOS). This is a fantastic head torch, I would highly recommend.
In a line: If you don't mind spending your hard earned pennies, then you'll be rewarded by a head torch that won't let you down on your alpine, hiking or camping adventures. 9/10
4. Alpkit Gamma III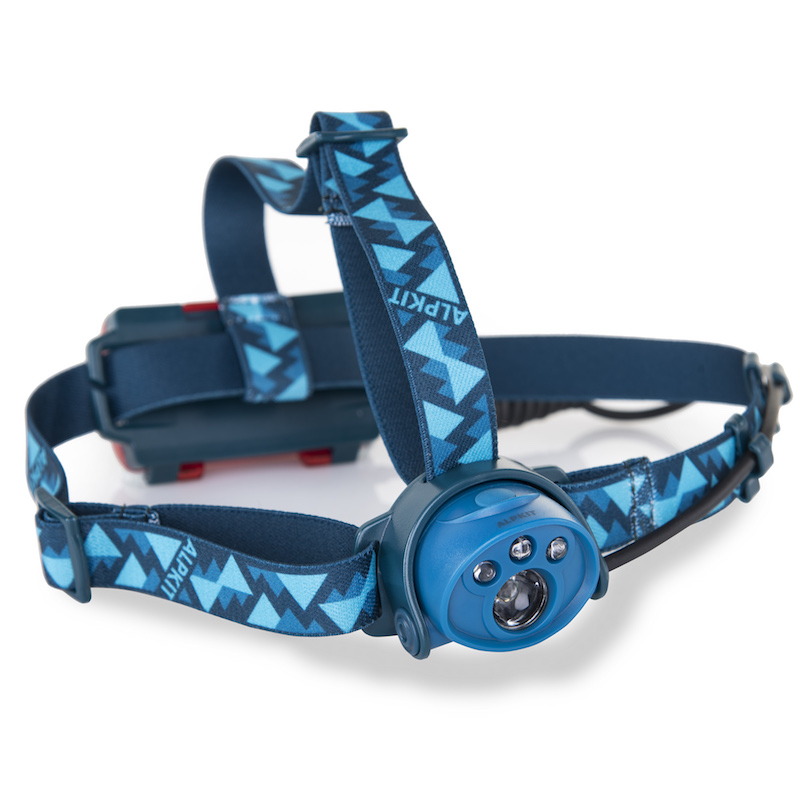 www.alpkit.com | £24
Alpkit is known for offering decent kit at good prices, and it continues here with the Gamma III. At £24, it sits in the middle of the price range for this test and it comes with a great deal of functionality. Unlike the other head torches in this test, the Gamma III has the torch at the front and a battery pack at the back (it only takes AAA alkaline batteries, which are included, but they are a pain to get in and out), which also houses a red light with three different settings (on permanently, flashing and pulsing). This not only increases your visibility, but it also balances out the product so you don't have a massive, heavy lump on your forehead.
There are seven lighting modes for the front light unit, including both a red and a white SOS setting, two white modes, a red mode, and a green setting, which is incredibly useful when trying to pick out features on a map. With 180 lumens, the torch was plenty bright enough for most excursions into the mountains and it illuminates a good area ahead of you. The light unit also pivots a full 90 degrees, which was useful when keeping an eye on your foot placement and avoiding blinding any companions. The Gamma III also comes with an optional strap that can be attached over the top of the head to aid stability, though I didn't feel it was necessary in hiking use.
In a line: The Alpkit Gamma III is a good value torch that offers excellent functionality, though it's not the lightest (129g) or most packable. 8/10
5. Black Diamond Revolt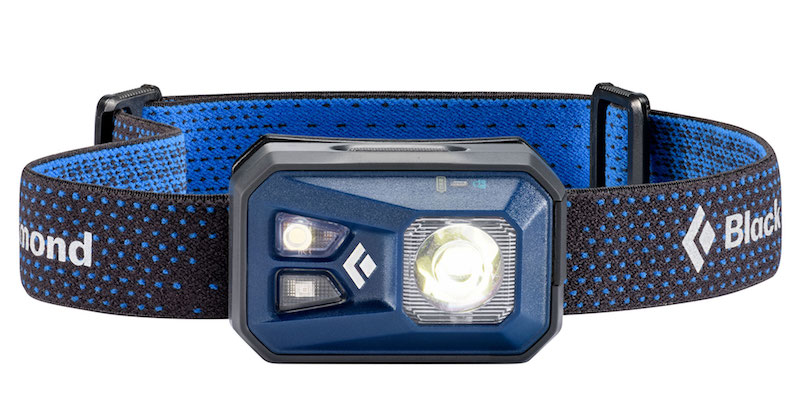 www.blackdiamondequipment.com | £53
Weighing in at 97g, the Black Diamond Revolt head torch is the third lightest on test. Costing £53, it's also the highest price in test, but is it worth the extra money? Well, it is extremely bright, with 300 lumens and up to 80m of visibility on offer. That's the second brightest in test, coming in just after the Petzl Actik Core, and it can also be charged via a USB port on the side. A fantastic benefit of the Revolt head torch is the fact that it is completely waterproof, which makes this a head torch that you can use whatever the weather – very handy.
It's very comfortable to wear against the skin, offers a reflective head band, and has four lighting modes – red, white, double white (with two white lights), and a dim mode which lets you choose the amount of brightness on the single white light. I also love the fact that this head torch remembers what mode you had it on before you turned it off – no chance of blinding yourself or ruining your night vision with bright white light in the dark. This might be the most expensive head torch on test, but it certainly makes up for it in nifty features, making it the ideal head torch for a hiking or mountaineering adventure where you really need to rely on range-topping performance – especially if there's a chance of the rain pouring.
In a line: A great performer with some excellent features, if you're looking for a quality head torch that won't let you down on your adventures, you've found it. 9/10
6. Robens Cheviot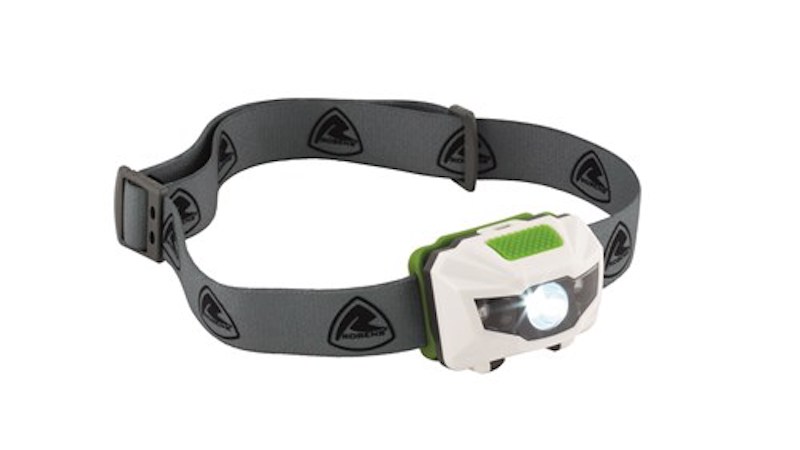 www.robens.de/en | £14.99
I've had experience with many Robens products, in particular the brand's tents, but never head torches, so I was intrigued to see how well this particular piece of kit would perform. The Robens Cheviot head torch weighs in at 98g with the batteries inside (which aren't included by the way, a little bit stingy!), which makes this a great lightweight option if you're backpacking with not much room for extras.
The headband is comfortable against the skin and easily adjusted to size. The lamp has 90 lumens of brightness, which is the least on test, and is fairly noticeable when you're on the path, though I still had a comfortable amount of visibility. It has four light modes – two white lights and two red lights. Robens suggest that the head torch will run for approximately six to 12 hours. Not a bad head torch for camping, but you may want something a little brighter if you're planning on using one for several days of hiking or alpine mountaineering.
In a line: Not the brightest head torch on test, but you'd find it satisfactory for camping holidays or non-technical walking. 6/10
Don't forget to check out the gear section of our website, as we regularly test and review  outdoor clothing and kit.