Whether you're enjoying a spot of camping on a multi-day expedition or the sun has disappeared on a day hike that took a little longer than expected, a head torch can be one of the most useful pieces of kit that you pack. However, with so many brands and models to choose from, things can get a little confusing when trying to decide which of the best head torches is worth parting with you hard earned cash for.
So, to make things a little easier for you, we've spent some time testing head torches, in order to bring you seven of the best head torches available on the market. We first reviewed the best head torches in 2018, so this post has been updated to reflect the best head torches to buy in 2020.
Coleman
BatteryGuard LED Head Torch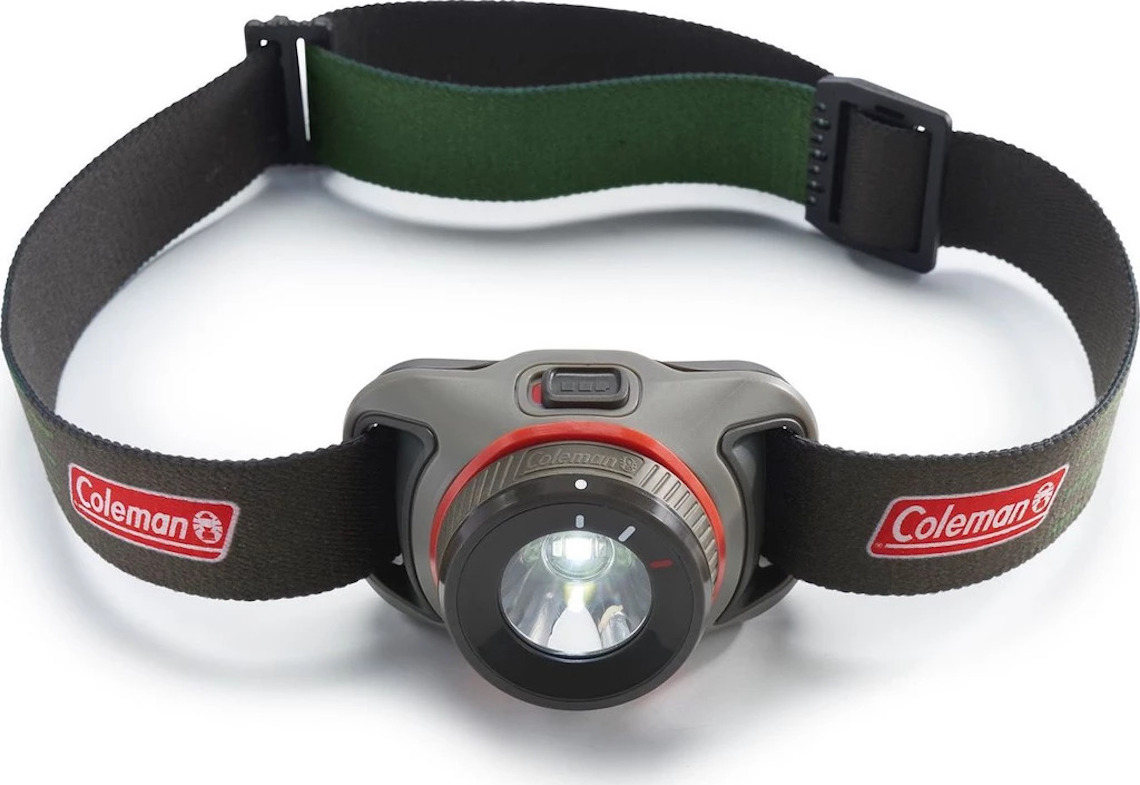 www.coleman.eu/uk | £22.95
At £22.95 the Coleman BatteryGuard is a bargain, especially when compared with some of the other best head torches out there. It comes with three light settings (which are easily toggled on or off with the twist of a large dial): high, low, and red. In its highest setting, the torch provides 250 lumens of light, which I found to be bright enough for just about all activities.
In this setting, battery life is a meagre 2.5 hours, but switch it to 'low' and you'll have a run time of 200 hours (really). There is a trade off though, in my eyes low would only be used for reading or when conserving battery life is essential – it's that dim. The red light works well though, and the beam angle is easily adjustable, even with gloved-up hands. I did find the light beam in the high setting to be more focused than I would have liked, lighting up a central focal point well, but leaving peripheral space dim.
The BatteryGuard system helps to prevent battery drain while the torch is in storage, which is great, and there's a lock on the top of the torch to help prevent unwanted turn ons in your rucksack, though this is still a little too easy to switch on.
Overall: 7/10
Lifesystems Intensity 235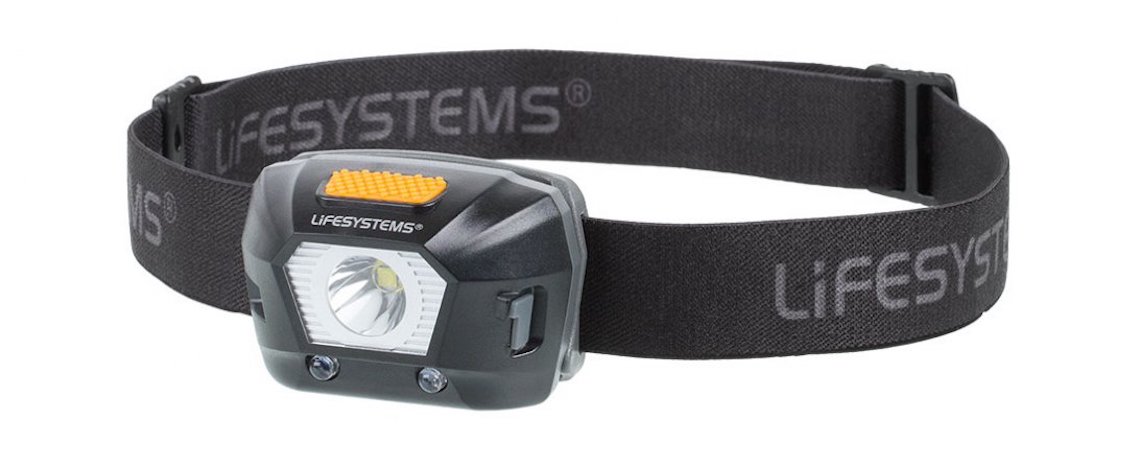 www.lifesystems.co.uk | £29.99
At £29.99 the Lifesystems Intensity 235 is the second cheapest of all the best head torches we tested, and, for your money, you get a rechargeable device with seven lighting modes (including SOS). In use, the torch is a bit hit and miss. It's easy to switch on, though I found cycling through the lighting modes to be a bit fiddly – leave it too long between a button press and you'll accidentally turn it off on the next push rather than cycle to the next lighting mode.
On its brightest setting, at 235 lumens, it's not the brightest torch of the lot, but the spread of light is good, lighting up a large area. The torch is IPX6 water resistant, which means it'll be able to handle rainy hikes with ease. Battery life is average, offering up to 110 hours in use (in its lowest setting), though it's frustrating that the battery is built-in and can't be changed if you're caught short on the hills.
Overall: 7/10
Alpkit Qark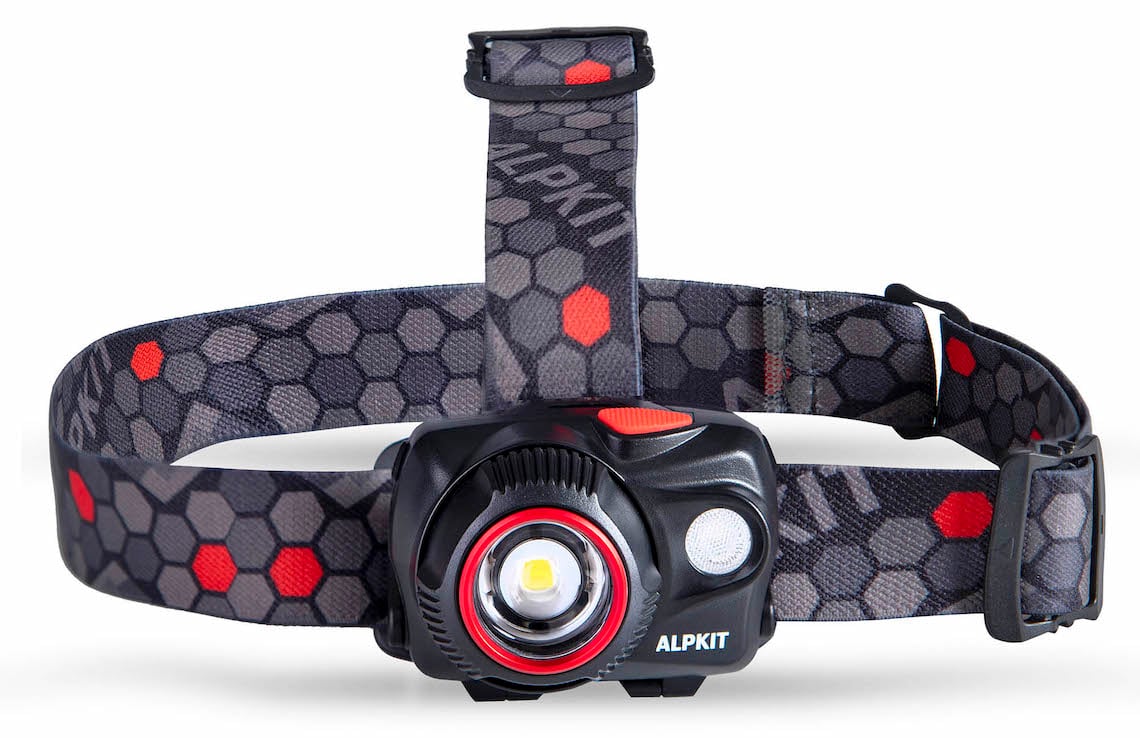 www.alpkit.com | £32.99
Boasting a brightness range of 30 to a massive 580 lumens, the Alpkit Qark is one of the best head torches for lighting up the darkest of trails or campsites. Complete with five lighting modes (high, medium, low, red, red flashing) versatility is the name of the game here.
In each of the white light modes the beam can be focused, allowing you to swap between spot and flood lighting (both of which work excellently), and my favourite feature is the way the torch is powered. The Qark comes with a rechargeable battery pack that'll provide you with between 2.5 and 30 hours of battery life (depending on your setting), but once this has run out of juice you can swap over to conventional AAA batteries and charge the pack via micro-USB in your bag. It's a simple but incredibly useful feature.
The overhead strap provides a great, secure fit on your head, and the torch is IPX6 water resistant, meaning you'll have no trouble using it in the rain. At £32.99, this is an excellent head torch and is well worth checking out.
Overall: 9/10 
GP Batteries
Xplor PHR15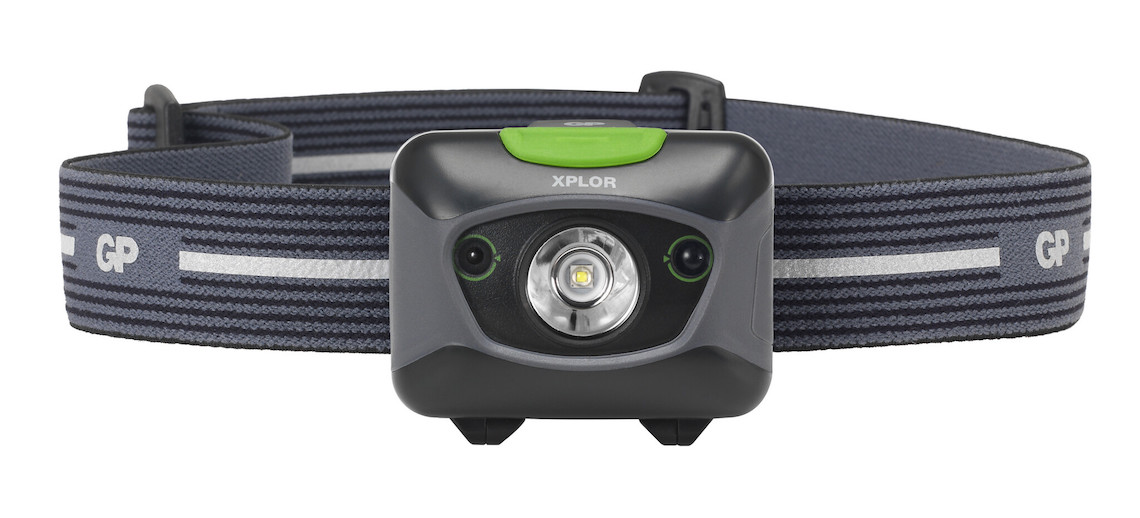 uk.gpbatteries.com | £34.99
The PHR15 from GP Batteries is wonderful piece of kit considering its price. For £34.99 you get a tough, water resistant head torch that also comes with an 'intelligent distance selector', which is similar to the Reactive Lighting technology on the Petzl Swift RL (and that's over twice the price). This intelligent distance selector works by adjusting the brightness of the lamp dependant on where you're looking.
If you want to read your map, the sensors will pick up the close object and dim the beam, when you raise your head to see where you're going, the beam brightens (up to a maximum of 300 lumens). To see this technology in such a nicely-priced head torch is great, and it works well, despite a bit of lag between changing brightness settings.
The Xplor PHR15 is USB rechargeable and can also be powered by standard AAA batteries, which is super useful for multi-day trips. If you don't like the automatically adjusting brightness levels, you can manually flick between four settings: high, medium, low, and flashing. It's not the brightest of the best head torches by any means, and the beam pattern is more focused than some might like, but it'll be good enough for most occasions.
Overall: 8/10
LED Lenser
MH5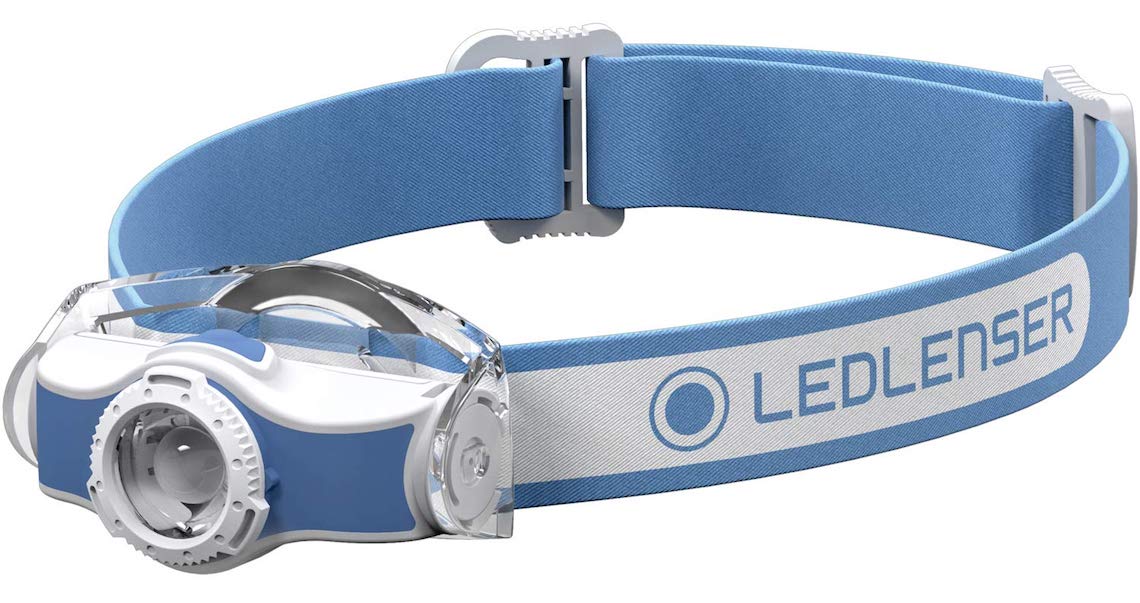 www.ledlenser-store.co.uk | £49.95
As we approach the £50 mark, the best head torches have to start offering something special above the cheaper models to be worth the money, and the LED Lenser MH5 does. Immediately, the quality of this product is clear to see and feel, it's well-made, sturdy, and well designed offering versatile functionality, good battery life, and a bright, 400 lumen main beam.
Able to run off a rechargeable battery (and you get a neat USB battery charging dock in the box) or conventional AA batteries, the torch can also be unclipped from its housing to be used as a hand torch or clipped onto clothing or your tent.
It does only come with two lighting modes, high and low, with low offering just enough light to read or make your way around a campsite at midnight, but in each of these settings the beam can be easily focused for spot or flood lighting. The MH5 is IPX4 water resistant, which isn't as protective as the IPX6 models in this review, but it'll withstand showers. My favourite thing about the MH5 though, is that it's incredibly comfortable to wear.
Overall: 8/10
Black Diamond ReVolt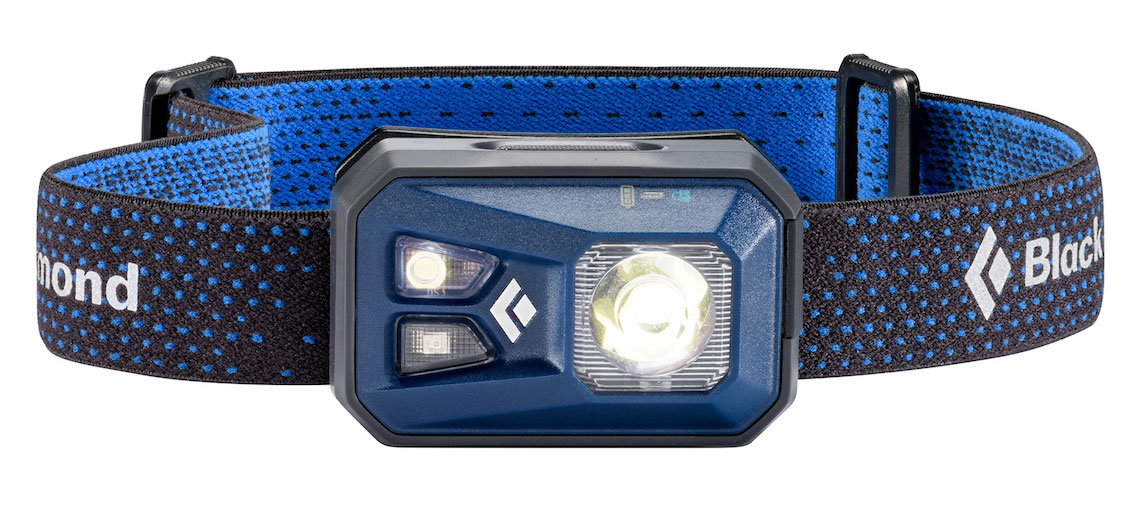 www.blackdiamondequipment.com | £60
The Black Diamond ReVolt is the second most expensive of the best head torches in this review, and for your money you get a well-featured and feature-packed head torch. Built to last, the ReVolt comes with an IPX8 rating, which means it's waterproof and useable in up to 1.1 metres of water for up to 30 minutes.
You're probably not going to be diving with it, but trudging through a downpour in the knowledge that your light source is safe is worth the money. The torch is powered by three AAA batteries and it comes with rechargeable ones in the box – though it would have been nice if there was a charging bay, like you can find on the LED Lenser.
In terms of how the head torch performs, you get up to 300 lumens of light power and, to be honest, I often found myself wishing the head torch was brighter but it's OK for close-up objects. The red light mode works well and it's great to see that you don't have to flick through the white light settings to get there. The battery level is shown on the torch, so you know how much juice you've got, and on the lowest light setting you can expect close to 200 hours of run time.
Overall: 7/10
Petzl
Swift RL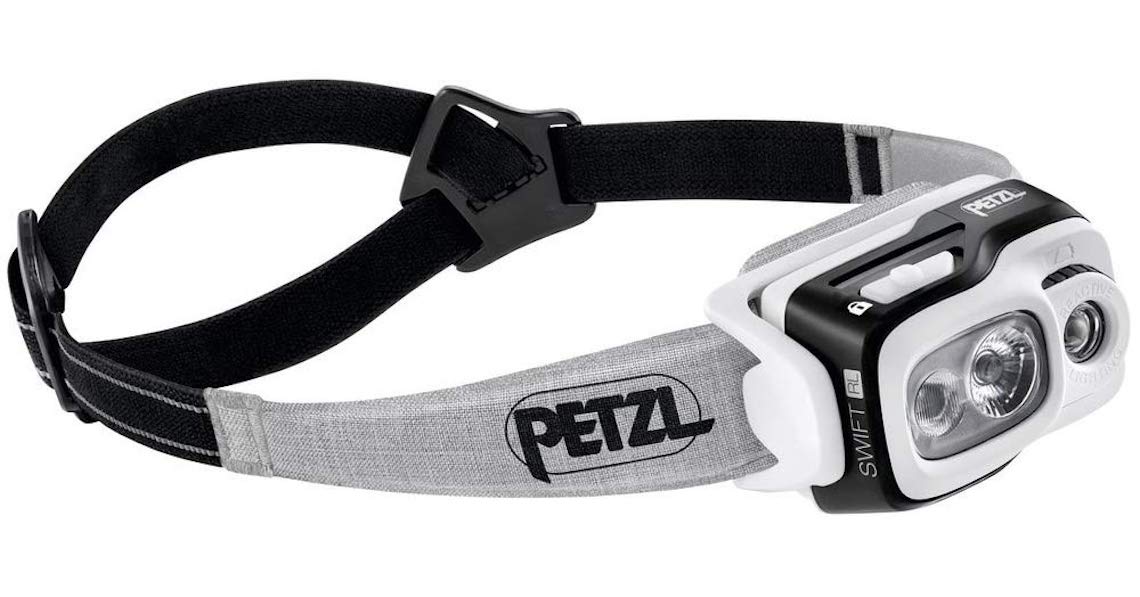 www.petzl.com | £94.99
Nearly £100 is a heck of a lot of money for a head torch, but the Petzl Swift RL is one of the most technologically advanced best head torches on the market. With a whopping 900 lumen brightness on its maximum setting, the torch also features, what Petzl calls Reactive Lighting.
Essentially, the Swift RL contains a sensor that analyses ambient light and automatically adjusts the brightness of the light to suit. For example, look down at your map and the head torch dims to a level that isn't offensive to the eyes, then raise your head and it'll beam up to 900 lumens if needed, allowing you to scope out distant objects. It works well, is very responsive, and feels more refined than the similar technology on the GP Batteries Xplor PHR15.
If you can't get on with the Reactive Lighting setting, you can also switch to the 'normal' mode, which features three different brightness levels. In use, the torch is supremely comfortable to wear, though the single button (which is used to turn off and on and switch through modes) can be a bit of a fiddle in gloves.
For all its high-tech wizardry, there were a few areas for improvement: you can lock the on/off button to avoid accidental turn ons in your pack, though it's not 100% effective, a red light mode would be appreciated, and it's disappointing to note that you can only run the torch via the rechargeable battery pack – there's no provision for swapping to standard batteries if you run out of juice (though you can buy extra battery packs). It's also only IPX4 weather resistant.
Overall: 7/10
Don't forget to check out the gear section of our website, as we regularly test and review outdoor clothing and kit. Click here to find out why you should invest in a packable down jacket this winter.