For multi-day hiking and backpacking you need a rucksack you can rely on. One that's not too heavy, helps you organise your kit (here's how to properly pack your expedition pack), is comfortable to wear, has lots of handy features and doesn't cost the earth. Well, to help you find one that's not going to let you down, we've pulled together six of the best hiking backpacks for men.
Berghaus Ridgeway 65+10
www.berghaus.com | £130
The Ridgeway pack from Berghaus is the cheapest of the men's rucksacks on test, and while it might not have some of the fancy features you'd find on a few of the others, that's no reason to discount it.
It's one of the lightest packs in the test (1.9kg), but still offers good support thanks to firm padding on the back. The weight is transferred onto the hips well and I found the pack easy enough to adjust using the BIOFIT back system. I didn't find the shoulder straps the most comfortable and, although the back system provides support, I did find the lumbar area slightly uncomfortable as it pushed into my back. It wasn't as bad after a little while, but I could definitely still notice it.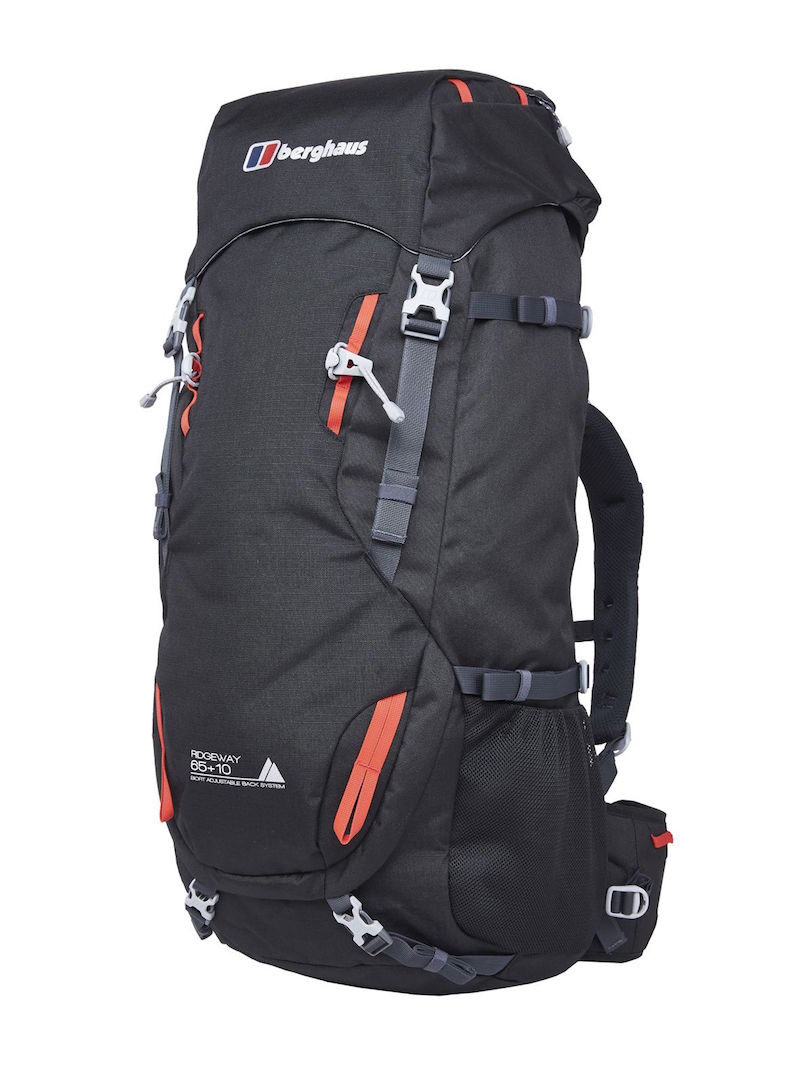 The storage and organisation is good. There's an exterior and interior lid pocket for you to store the items you might need in a hurry, plus handy, elasticated wand pockets for you to keep other essential items. There is a separator toward the bottom of the pack for a sleeping bag or dirty clothes (however you want to use it), and this can be accessed via a zip at the bottom of the bag. A hip belt pocket is great for snacks, while large bellows pockets on either side of the pack offer extra, easy-to-reach space. There are also attachment points for walking poles, should you want to stow them.
Compression straps on the side are useful for compressing the load and also attaching extra kit – I used it to attach a tent, while a waterproof cover will fit over it all. I found there was reasonable air flow to the back, so we didn't get too sweaty, but there's no fancy moisture wicking tech here. Other features you'll find on the Ridgerway pack includes a pouch for a water system, extra lashing points and very solid clips. As the cheapest men's bag on this list of the best hiking rucksacks, I would say this pack is very good value for money indeed.
In a line: The Berghaus Ridgeway 65+10 is a reliable, no-fuss rucksack that does the basics well.
Weight: 10/10
Organisation: 8/10
Comfort: 7/10
Value: 9/10
Features: 7/10
Overall: 8.2/10
Lowe Alpine Kulu 65:75
www.lowealpine.com | £150
I'm a big fan of Lowe Alpine packs after using one when I first started getting into the outdoor scene, and I've only ever experienced good things since – including brilliant customer service (they shipped a replacement rucksack to me in New Zealand when my years-old, battered and bruised pack finally gave up the ghost).
Now, I'm impressed again with an innovative new pack called the Kulu. Designed more as a pack for all-round adventure travel rather than an out-and-out trekking pack, the Kulu has a new patented hip belt design that lets you fold it away and clip it into the sides when travelling. This means there are no flailing straps when in transit – a great idea. There's also a travel cover that can be used to cover up more straps, or keep your bag dry if it's raining.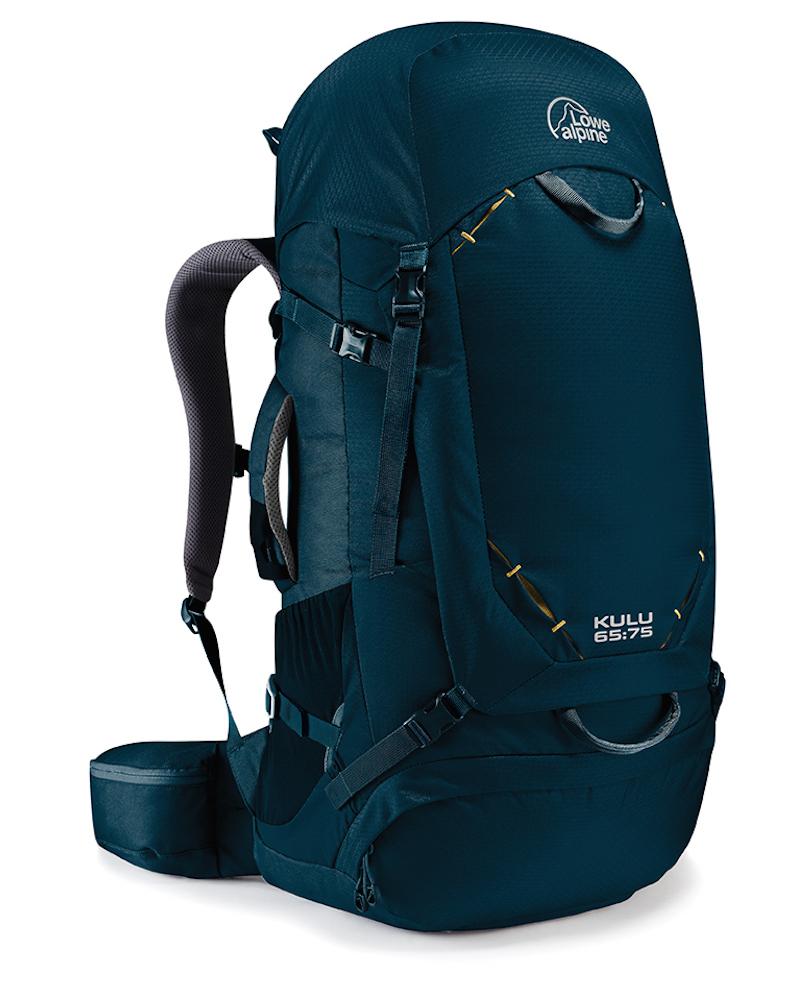 Importantly, it's still comfortable to wear when you are actually out on the trail, and it's pretty much got everything you would want from a standard trekking pack. The adjustable back system and top/side tension straps help you get a good fit and there is plenty of padding on the hip and shoulder straps, so comfort is not an issue. It has an interior and exterior lid pocket, plus hip pockets for those little essentials you need close by. The floating lid also means load capacity can be extended.
Multiple haul loops make it easy to throw around when you need to and there are also two front zips which give you access to the main compartment, plus one for the separate bottom compartment. Wand pockets are ideal for water bottles or fuel canisters and the side compression straps are just long enough to allow for a tent or roll mat to slide down there. The Kulu feels tough and durable, yet at 2kg it's one of the lightest on test. For £150, This is a really impressive pack for anyone in need of a pack for both travel and hiking.
In a line: The Lowe Alpine Kulu 65:75 is another impressive and innovative pack from one of our favourite brands. Best budget buy.
Weight: 9/10
Organisation: 9/10
Comfort: 8/10
Value: 9/10
Features: 9/10
Overall: 8.8/10
Gregory Paragon 68
www.gregorypacks.com | £175
The Gregory Paragon 68 is a pack with a lot of bells and whistles, but are they actually useful? Well, let's start with the basics. The pack has all of the usual features you would expect on an expedition rucksack, including hip belt pockets, two external lid pockets, very large wand pockets for water/gas storage, hiking pole storage loops and compression straps on both sides. All do their job well.
Now here are the clever little bits. They're not necessarily ground breaking, but they all add up to contribute to a very intuitive pack. The compression straps on the front of the bottom of the bag can be extended a lot to allow bigger items to be attached here, or they can be removed entirely if you want to use other lashings. They also tuck away very nicely. The pack is joint lightest on test (1.9kg), yet is very stable on the back. Ventilation is pretty good thanks to the Aerolon suspension which allows air to pass through and moisture to wick away – a combination of mesh and triangular shapes cut out. Lumbar support is very good and it has a silicone type coating which stops it from sliding around too much.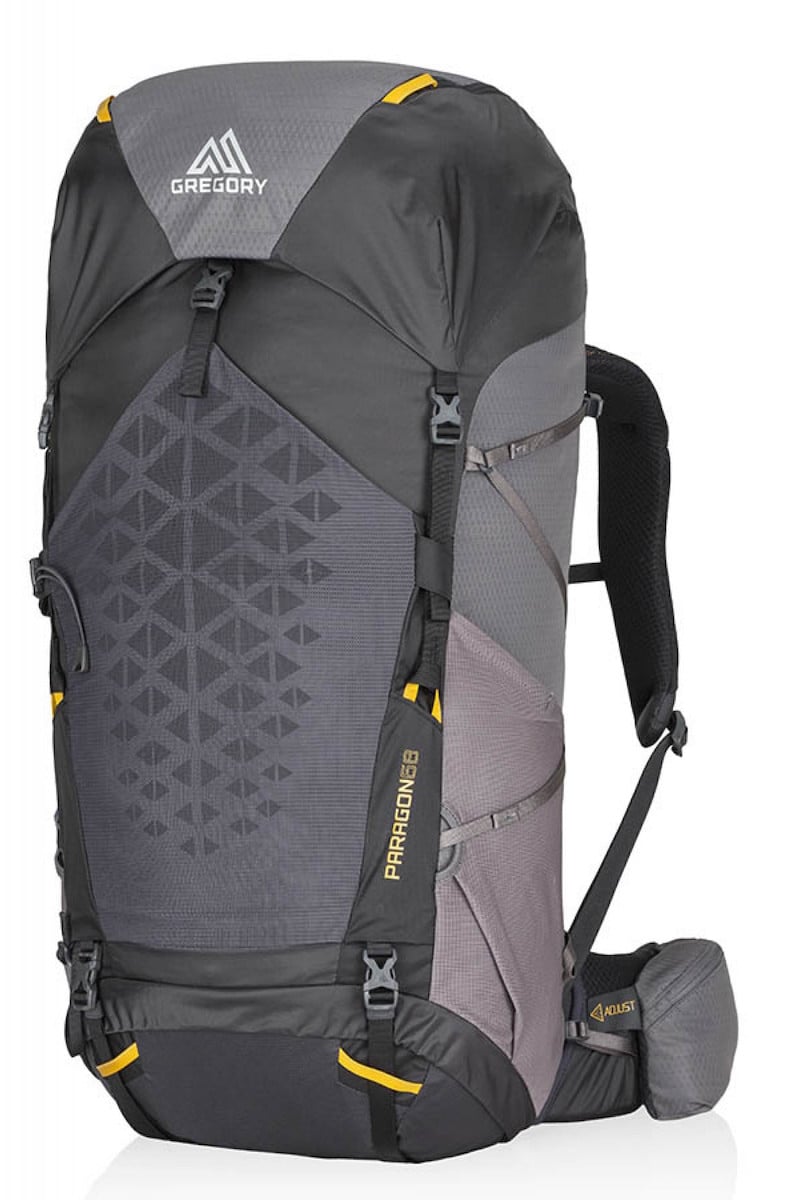 I wore it over pretty rough ground and found it to be comfortable, with a good fit and decent ergonomics. I really liked the inclusion of a lightweight day pack inside which you can detach for shorter excursions. A really handy feature, especially for adventure travellers. Apart from the top loader style access, there aren't any extra entry points to the main pack, but there is a well-designed sleeping bag compartment which is accessible by zip. There's an extremely useful elasticated pocket on front and a decent rain cover, while extra lashing points on top are a nice touch.
One thing I would mention is that the straps and clips are quite thin/small, so they are slightly more fiddly than on other rucksacks. If you're likely to be wearing gloves a lot during use, this could become an annoyance for you.
In a line: The Gregory Paragon 68 is a well thought-out bag with some nice touches that deserves its place on this list of the best hiking backpacks for men.
Weight: 10/10
Organisation: 8/10
Comfort: 8/10
Value: 8/10
Features: 9/10
Overall: 8.6/10
Osprey Aether AG 70
www.ospreyeurope.com | £200
Osprey is one of the big dogs when it comes to packs, and there's a reason the brand is considered as such – it produces gear that does the job well. After spending some time with the Aether AG 70 it seems that this product is no exception and that this model is one of the best hiking backpacks on the market.
One of the biggest talking points here is the AntiGravity (AG) back system which consists of a suspended mesh back panel and an IsoForm hipbelt that moulds to your shape. What this all means is that it's very comfortable pack. In fact, I'd be tempted to go as far as to say that it's the most comfortable on test. Beyond comfort, the adjustable system ensures the load is carried very much where it is supposed to be (by the hips and legs) and the mesh back panel does a great job of wicking away moisture and allowing air flow.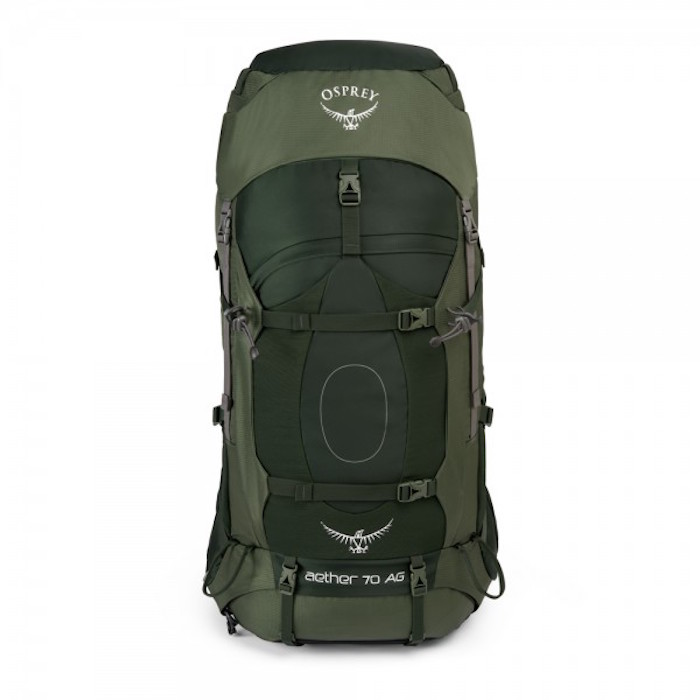 Organisation is good because there is an internal and external lid pocket, plus you can easily access the main pack through the J-zip front access. Of course, you can also get to the sleeping bag compartment via a zip toward the bottom of the bag as well. There are two deep wand pockets, a large elasticated pocket on the front, plus lashing points where you can attach more kit. The compression straps also have enough slack to allow you to attach kit such as a tent. There are loops for storing hiking poles and pockets on the hip belts too.
The pack feels solid, carries heavy loads fine and it does it all comfortably. At £200 I don't think it's overpriced either, as it's simply that good. The American version has a detachable day pack, which this one doesn't have, but you can buy a Daylite pack separately and this will attach to the front of the rucksack. The lid is also removable to get weight down (2.35kg with lid, 1.9kg without the lid), while a rain cover, hydration pocket and a panel of 'leave no trace' rules are also included.
In a line: The Osprey Aether AG 70 is a fantastic pack that just won't let you down. Best in test.
Weight: 8/10
Organisation: 10/10
Comfort: 10/10
Value: 9/10
Features: 10/10
Overall: 9.4/10
Black Diamond Mercury 65
www.blackdiamondequipment.com | £200
I found the Black Diamond Mercury 65 a peculiar-looking pack, especially as it turned up in two pieces! The hip belt comes separate from the main pack and you have to attach it with an allen key. This can be a bit of an awkward job, particularly if you want to adjust how high the hip belt is, as you'll have to undo it and reattach it afterward, though once you're sorted you won't have to do it again.
Once you have achieved your preferred fit, the system ergoACTIV XP suspension system works rather well, though other hip belts are easier to tighten and loosen. The pack features a pivoting hip belt that offers great manoeuvrability, while the SwingArm shoulder straps naturally adjust to ensure even load transfer when on the move. It works pretty well and there is good airflow and lumbar support, but it's not the most padded of hip belts.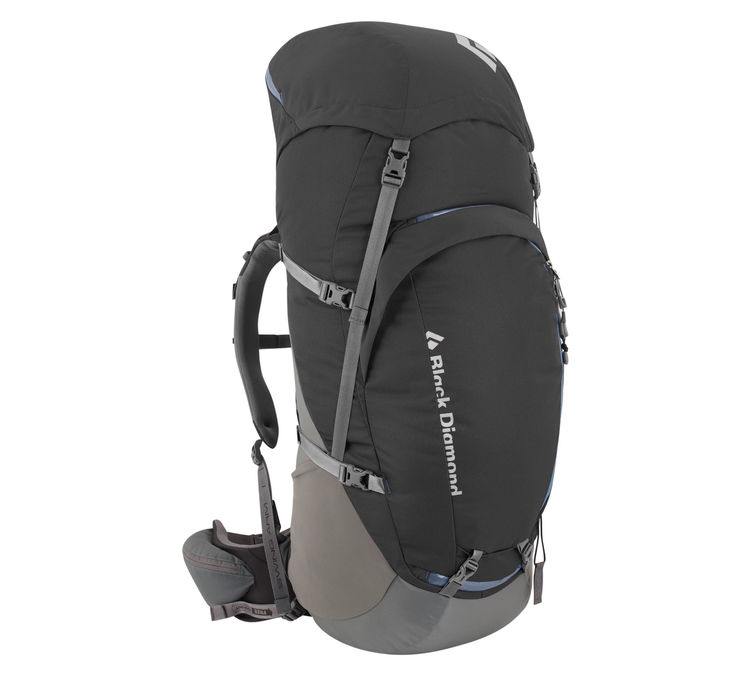 The Mercury 65 comes with most of the features you'd expect from an expedition pack including hip belt pockets, lid pockets (inside and out), elasticated wand pockets, walking pole attachments, hydration pocket and two compression straps on each side which are helpful for securing extra kit. Extra attachment points on the top or bottom could have been useful though, and we did find a lot of the straps hung loose and were quite messy, blowing in the wind throughout the day.
One thing I did miss was a sleeping bag compartment. There is a very small, basic separator toward the bottom of the bag, but it's not the most effective and the only way to access it is through the top or via the large zip on the front which exposes your entire load. A separate zip would have been appreciated.
Still, the front zip does make it easy to pull things from the main pack without going through the top. There's also a handy zip pocket on the front which would happily take waterproofs. All zips are water resistant, while the bottom of the bag has taped seams to protect your kit when your pack is on the ground – nice touch.
In a line: The Black Diamond Mercury 65 has some impressive technology, but a couple of frustrating aspects too.
Weight: 8/10
Organisation: 8/10
Comfort: 8/10
Value: 8/10
Features: 8/10
Overall: 8/10
Fjallraven Kajka 65
www.fjallraven.co.uk | £300
Fjallraven's Kajka 65 rucksack may look understated, but take a closer look and you'll discover a myriad of useful and well-designed features. Let's start with the frame and back system. It takes a bit of work to find the perfect fit, but the beauty of this is that there are various adjustment points to help you achieve this. The height and width of the shoulder straps are adjustable and when you have a good fit, it's very comfortable. The hip belt fits well, is comfortable and pulls in nicely to take most of the weight, and there's plenty of support too.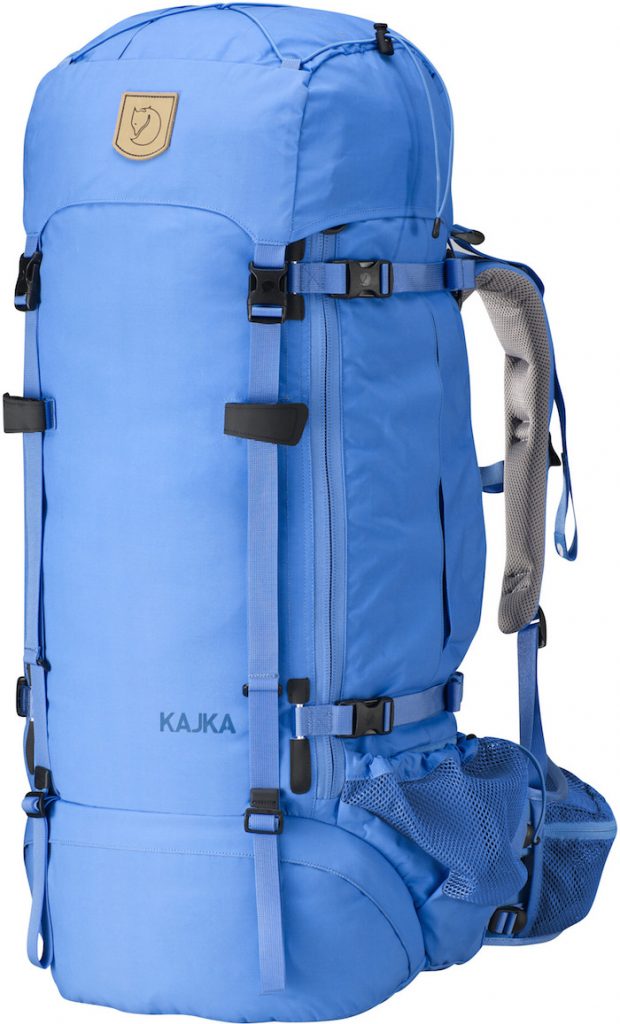 The frame uses birch wood as opposed to aluminium, a move that reduces its environmental impact by 90% but still ensures stability and load carrying abilities – a nice touch. There's an exterior and interior lid pocket, plus two easily accessible zip pockets on the side of the pack that offer great storage – perfect for extra layers or waterproofs. There are plenty of places for you to attach extra gear, with compression straps on the sides and front, plus a bungee cord on top of the lid. Speaking of which, the lid is adjustable so you can pack more in between it and the main pack. It can also be detached and used as a waist or shoulder bag, or attached to the shoulder straps in front of you. The pack also features pockets on the hip belt, walking pole storage and wand pockets.
Organisation is further enhanced with a bottom compartment in which you'll find a mesh lining which can be used to separate kit. The main compartment can be accessed in the standard top loader style, but there are also zips on the front which allow you to open the pack like a suitcase and see what's inside. The Kajka might be the heaviest pack on test at just under 3.5kg, but it's weight well spent. It's solid, reliable and a decent load carrier that will do a job over long distances, regardless of the terrain you are covering.
In a line: The Fjallraven Kajka 65 is a solid and reliable pack that has been designed extremely well and is a great companion on trail. Highly recommended.
Weight: 7/10
Organisation: 10/10
Comfort: 9/10
Value: 8/10
Features: 10/10
Overall: 8.8/10
These reviews first appeared in Adventure Travel magazine issue 132 (Nov/Dec) as part of a wider test. You can view the full test by purchasing the issue in our online shop.