Few cities in the world can match Innsbruck for its immense fusion of urban excellence and accessible adventure. Affectionately known as the capital of the Alps, the city is surrounded by beautiful 2,000m peaks and you can easily spend the morning indulging in the coffee shops and museums of the historic Old Town, before jumping on the Nordkette cable car, which transport you to towering ridgelines in just 20 minutes.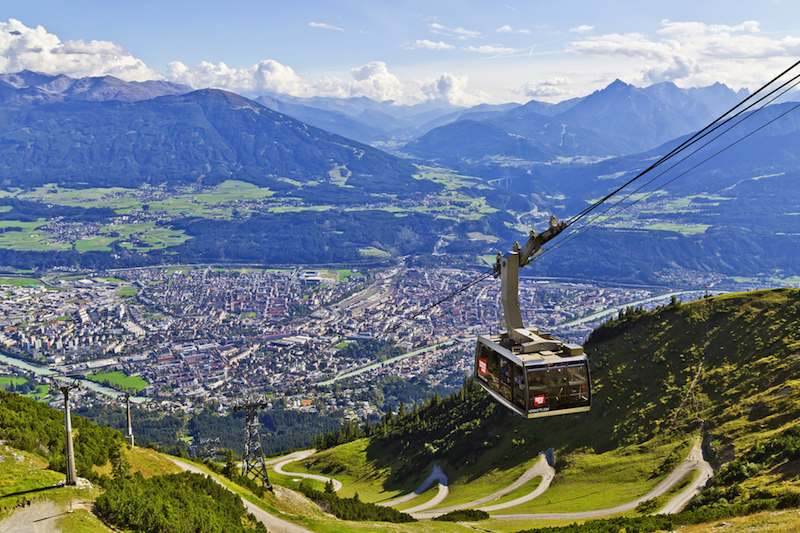 Photo: Innsbruck Tourism/Christof Lackner
Essentially, Innsbruck offers the best of both worlds. The vibrant city is a great base, and the surrounding mountains and valleys provide ample opportunity for adventure, be it on foot or on two wheels. Here are a couple of the highlights…
Hiking the Goetheweg Trail
Any visit to Innsbruck would not be complete without taking on the Goetheweg Trail. The hike delivers incredible views across Innsbruck and the stunning Alpine scenery of the surrounding mountains. To take on the hike, your journey actually starts in the city itself, as you'll need to take a cable car up to Hafelekar mountain lift station, from where your route starts.
Heading eastward, you'll follow a picture perfect ridge along good trails as you make your way to the Pfeis Hut, with lush pine forests, flower-laden meadows and the rugged terrain of the Karwendel Range keeping you company. It's a three-mile hike to the hut and three miles back, with a total of 600m elevation gain and a high point of 2,314m, and as such, it should take you roughly four to five hours to complete.
Before you do head back from the Pfeis Hut, we'd definitely recommend stopping for a drink and a bite to eat. The hut is situated 1,922m above sea level, so it commands fantastic views, and the food isn't bad too.
With a satisfied stomach, you can either head back the way you came and catch the cable car back into Innsbruck, or you can head to the holiday village of Rum via the Vintlalm mountain hut and Rumer Alm mountain hut. From Rum, you can then get busses back to Innsbruck.
Other hiking routes in the area
Such is the location of Innsbruck that there are thousands of miles of trails to explore. One that comes thoroughly recommended is a hike in the Stubai Alps to the Adolf Pichler Hut, which sits perfectly placed at the foot the lofty Kalkkögel Peaks. The walk (pictured at the top of this page) starts just a short bus ride away from Innsbruck at the village of Grinzens and, being 10 miles long with just over 1,000m of elevation gain, the return walk will take you most of a day. The hard work is absolutely worth it, with heart-achingly beautiful views across the surrounding valleys and rugged mountain peaks.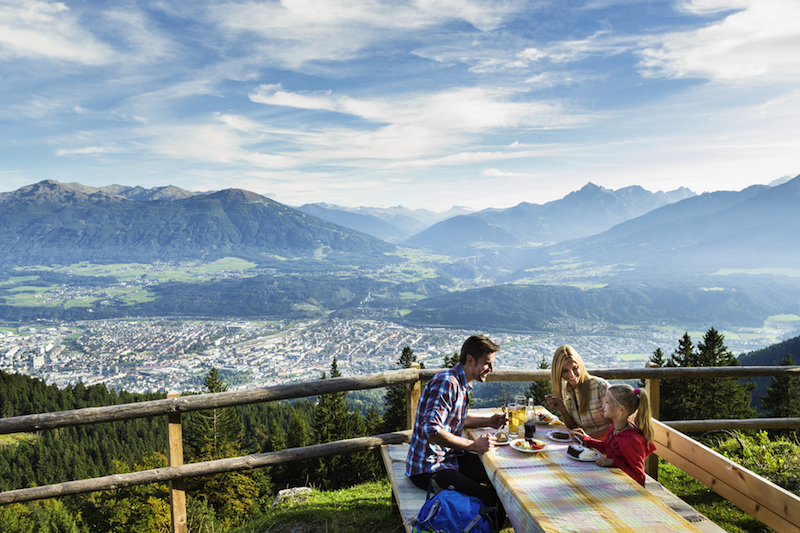 Photo: Innsbruck Tourism/Mario Webhofer
One of the amazing things about Innsbruck is the free mountain hiking programme the region offers. Essentially, anyone with a Welcome Card (given out free of charge by accommodation providers) can join free guided hikes from Monday to Saturday, between the end of May and the end of October. The hikes typically last between three and four hours so a reasonable physical condition is required, but no prior mountaineering experience is needed.
The walks are led by certified guides and you can even rent kit like rucksacks and walking poles for free. Routes can vary, but highlights include hikes to rustic Alpine huts, incredible mountain summits and some of the best viewpoints in the area. Find out more at www.innsbruck.info/en.
Cycling in and around Innsbruck
The area surrounding Innsbruck also allows for a great deal of two-wheeled adventures. The Inn Cycle Path is one such option. It actually runs from Switzerland to Germany, but it cuts right through Innsbruck and enables you to explore the valley to the east or west. Along the way, cyclists can enjoy incredible panoramic mountain views and idyllic riverside trails.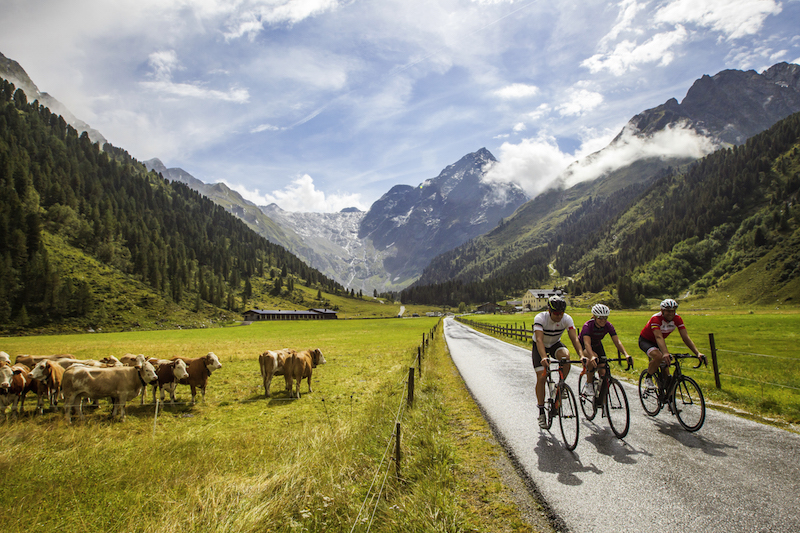 Photo: Innsbruck Tourism/Erwin Haiden
For something a bit more challenging there's the Nordkette Alm Tour. This mountain bike route sees you travel 12 miles and ascend 870m as you go between huts, taking in forest trails and beautiful alpine meadows on a circuit, before coming back down towards Innsbruck. Expect classic alpine views, brilliant forest tracks and a few hours of incredible adventure.
In September, Tirol will also host the Cycling Road World Championships, with all events finishing in Innsbruck, so this is a great time to visit for cycling fans. Find more information and route inspiration at www.innsbruck.info/en.
Don't miss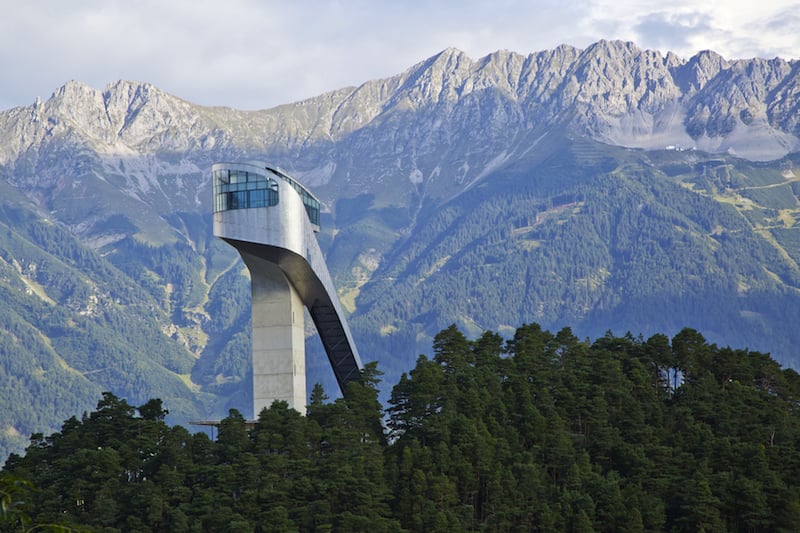 Photo: Innsbruck Tourism/Christof Lackner
If your legs are sore from the previous day's activities, a visit to the Bergisel Olympic Ski Jump Tower is a great way to enjoy some downtime. The tower houses two restaurants, but the main attractions are surely the viewing platform that offers 360-degree views of Innsbruck and the surrounding mountains, and the live sky jumping that takes place between 10am and 3pm from Wednesday to Monday from March until October.
From the locals: Tom Öhler | Professional Trial Bike Rider
"I don't care what bike I ride. For me it is always about overcoming challenges – be it out on the trails on my mountain bike or in the centre of the city on my trials bike." Discover more fascinating insights from locals at www.love.tirol.
For more ideas on what to do in the Austrian region of Tirol head to www.visittirol.co.uk or follow @visittirol on Facebook, Instagram and Twitter.