Created with the outdoorsman in mind, Filson Christmas gifts are ideal for treating yourself or a loved one during the festive season.
Scroll around the Filson website today and you'll notice a brand that's proud of its heritage. And it should be. Established in 1897 by Clinton C. Filson, the clothing brand initially set out to clothe and supply miners during the gold rush. Prospectors were clambering over each other to find wealth in the ground in the Klondike, and there was opportunity for those willing to grasp it. But the winters were fiercely bitter, and those gold-hungry hopefuls depended on Filson's Mackinaw wool clothing and blankets to survive.
The brand was born of a need for warmth and durability in the most rugged of conditions, and then honed and refined based on the needs of the customer. As the gold began to dwindle, Filson changed tack and began trading to mountaineers and fishermen of the region, along with loggers, for whom the Filson Cruiser coat was born and dubbed 'The Alaskan Tuxedo,' when worn with the matching pants. Manufactured from the highest quality materials that could be sourced, Filson was even happy to custom make garments for customers whose needs weren't fulfilled by current stock.
It wasn't long before the brand developed a strong reputation for quality and durability. These are values to which the brand has certainly remained true to to this day, now offering a lifetime guarantee on garments and bags, with a promise to fix or replace items, no matter how old they might be. Any items that get replaced get sent to the Filson Restoration Department in Seattle, where they're reused to create something new, whether it's a restored Filson Original or a unique item made from pieces of old.
It's clear that Clinton C. Filson spent a great deal of time learning from his customers to craft designs that offer comfort, protection and durability, so it's not surprising that the same items still work for customers over 120 years later. Today, Filson is a leading outfitter and manufacturer of unfailing goods for outdoor enthusiasts. Built of a reputation for reliability, Filson is a favourite among anglers and hunters, engineers and explorers, mariners and miners, and anyone who refuses to stay indoors.
We've picked out a few Filson Christmas gifts that would make an ideal present this festive season, either to yourself or a loved one, though the brand's whole range is worth checking out. To do so, click here.
Scout Shirt
www.filson.com | £125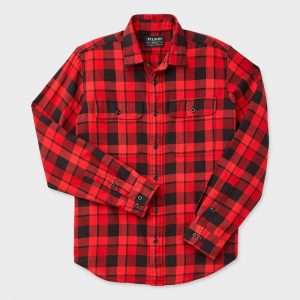 The Scout Shirt is Filson's lightest-weight cotton twill shirt and it's an ideal blend of comfort and durability for year-round use in the outdoors. Complete with two chest pockets with button-front closures, button-adjustable cuffs, and durable, military-grade melamine buttons, the Scout Shirt effortlessly combines fashion with outdoor function.
Field Watch
www.filson.com | £300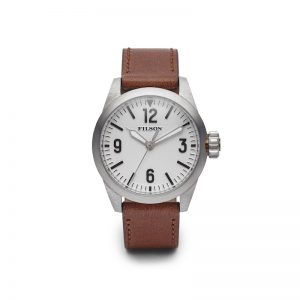 Treat someone to a Filson Field Watch and it'll be the coolest gift they'll receive this winter. Outfitted with Super-LumiNova hands and markings for easy viewing when it gets dark, the Field Watch takes its inspiration from the simple, rugged timepieces issued to U.S. military troops. Built with a tough stainless steel case, a scratchproof and antireflective sapphire crystal, a quartz movement and a 100m water-resistant rating, the Field Watch is ready to take on whatever you can throw at it on your next adventure.
Shuksan Hooded Jacket
www.filson.com | £200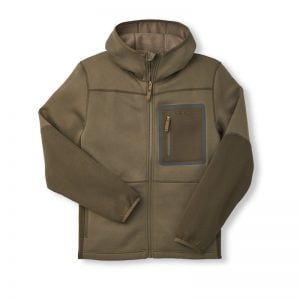 This warm and durable garment is Filson's version of the humble fleece jacket, an essential piece of kit for any outdoor enthusiast. Combining durable polyester fleece with warm merino wool, the full-zip Shuksan Hooded Jacket provides superior insulation and is exceptionally hard wearing. The Shuksan features reinforced panelling on the forearms for added abrasion-resistance, a seam-taped chest pocket, and a durable zip, making it ideal for those chilly hikes.
Watch Cap Beanie
www.filson.com | £50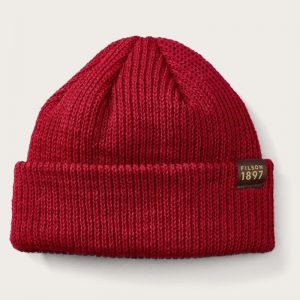 Discreetly branded and no nonsense, this is the ultimate beanie that will insulate through rain, sleet and snow. Made from 100% virgin wool, the size and coverage of the hat is easily adjusted by cuffing the cap as desired. The fact that it's wool means that it'll retain a portion of its insulating properties when it gets wet, is naturally breathable, and it'll wick moisture away from your head.
Dry Backpack
www.filson.com | £175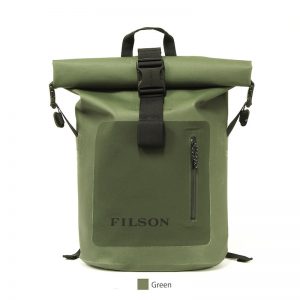 Filson's Dry Backpack roll-top bag keeps your gear dry even when it's fully submerged. Made from a PU-coated 840-denier nylon, the rucksack is waterproof, tough, abrasion resistant, and flexible, making it the ultimate luggage for adventurous journeys. The roll-and-cinch closure has a wide-mouth opening for easy loading, while the back system features a breathable high-density EVA foam padding to help prevent overheating.
Featherweight Down Vest
www.filson.com | £235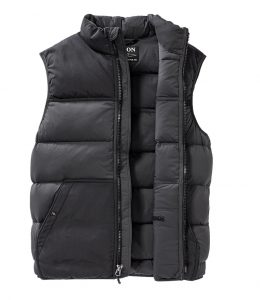 Insulated with ethically-sourced goose down, the Featherweight Down Vest is as stylish as it is warm. Built with an ultralight ripstop shell, it's highly compressible, taking up little room in a back or bag. The hood, shoulders and pockets are reinforced with panels finished with durable water-repellent to protect the garment and wearer from light rain and snow. Outfitted with a two-way front zip, an elastic hem and an interior storm flap, the vest is ready to seal out biting winds, while the handwarmer pockets are luxuriously lined with cotton Moleskin.
More iconic Filson Christmas gifts
Want to check out the whole range of Filson Christmas gifts? We don't blame you. Head to the Filson website and you'll find a huge variety of heritage kit for men and women, with classic styling and quality craftsmanship. The fine-toothed attention to detail mean that Filson Christmas gifts are always a treat for those who receive them. And if you fancy just treating yourself this year, why not? We won't tell.