Rob Slade heads down to Cornwall for a back-to-basics wilderness experience with Camp Filson that is the perfect detox from everyday life.
Every now and then, I stumble upon a place that feels like utopia. It's happened a few times. When it has, it's been down to a combination of insane natural beauty, feeling utterly and completely content and escaping from the hustle of bustle of everyday life. Over the years, I've experienced it on an exposed, snowy ridge in the Alps and in the wild, rugged expanses of Norway.
Most recently, it happened in Cornwall. I was stepping away from the rigmarole of 21st century life and immersing myself in a wild paradise run by the folks at 7th Rise. This dreamy place is located on the shores of the River Fal and is encircled by lush woodland and open fields. Nestled among such beautiful surroundings, you'll find a cottage and an eclectic mix of accommodation in the form of a tree house, gypsy caravans and hunting lodges.
Add to the mix a couple of fire pits, outdoor showers and a desire to refine things back to basics and you have the perfect antidote to the hectic everyday happenings we're all so used to.
This summer, I was lucky enough to be enjoying this spot for the second time courtesy of an annual event called Camp Filson. Organised by the folks at American outdoor brand Filson, Camp Filson brings together a bunch of British media in order to get hands-on with some new kit while having a wilderness detox.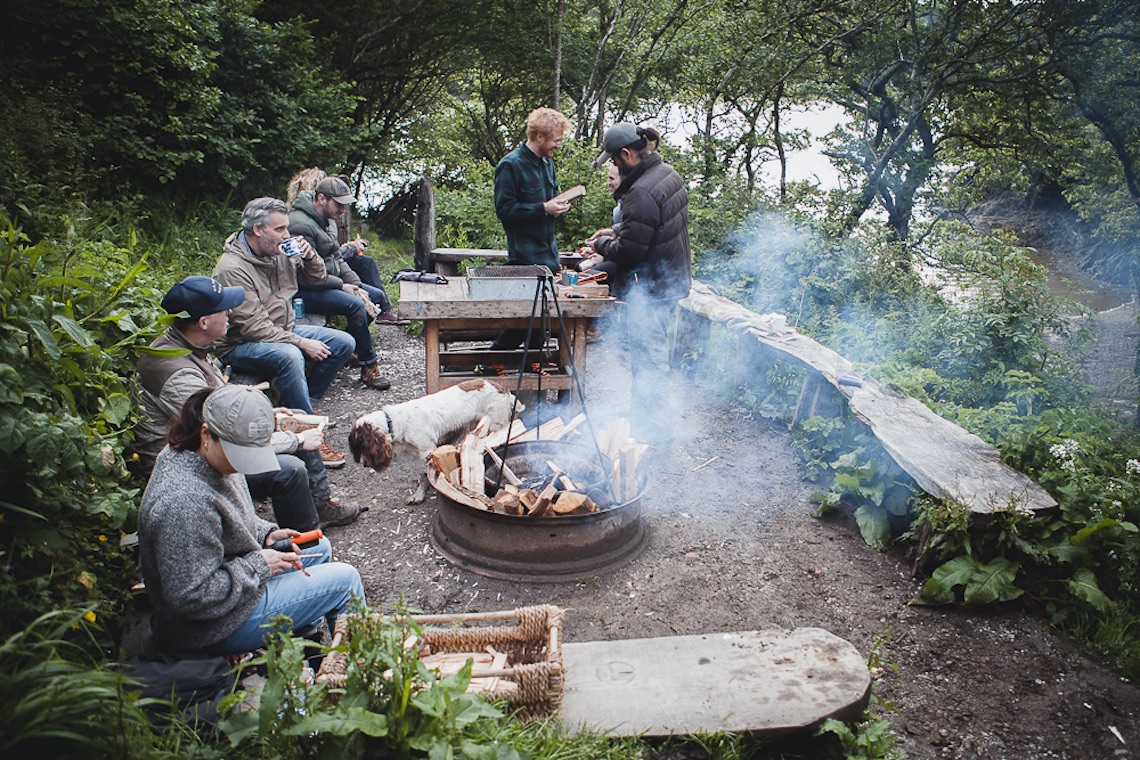 Arriving at the site, I parked up and stepped out into a farmer's field exposed to the fresh Cornish rain falling down from the heavens above. The 7th Rise venue itself is tucked well out of sight, so a five-minute walk through fields and woodland came before I was able to duck out of the weather and into the hunting lodge-style communal area.
Slightly damp, but now kitted out in some fine Filson gear, I sat down for the briefing. There are only a few rules at Camp Filson and 7th Rise: only one person is allowed in the wood-chopping circle at one time, and no swimming or using a knife while under the influence of alcohol.
Apart from that, we were free to shape the couple of days at Camp Filson however we saw fit. On hand, 7th Rise founder Thom Hunt and his instructors were at our disposal to really hone in on whichever skill we wanted to pursue, be that fire-lighting, trapping or wild cooking. Speaking of which, through the entire weekend we were treated to food fit for a king, with open fire extraordinaire Simon Stallard on hand to cook up a feast using locally foraged and sourced ingredients.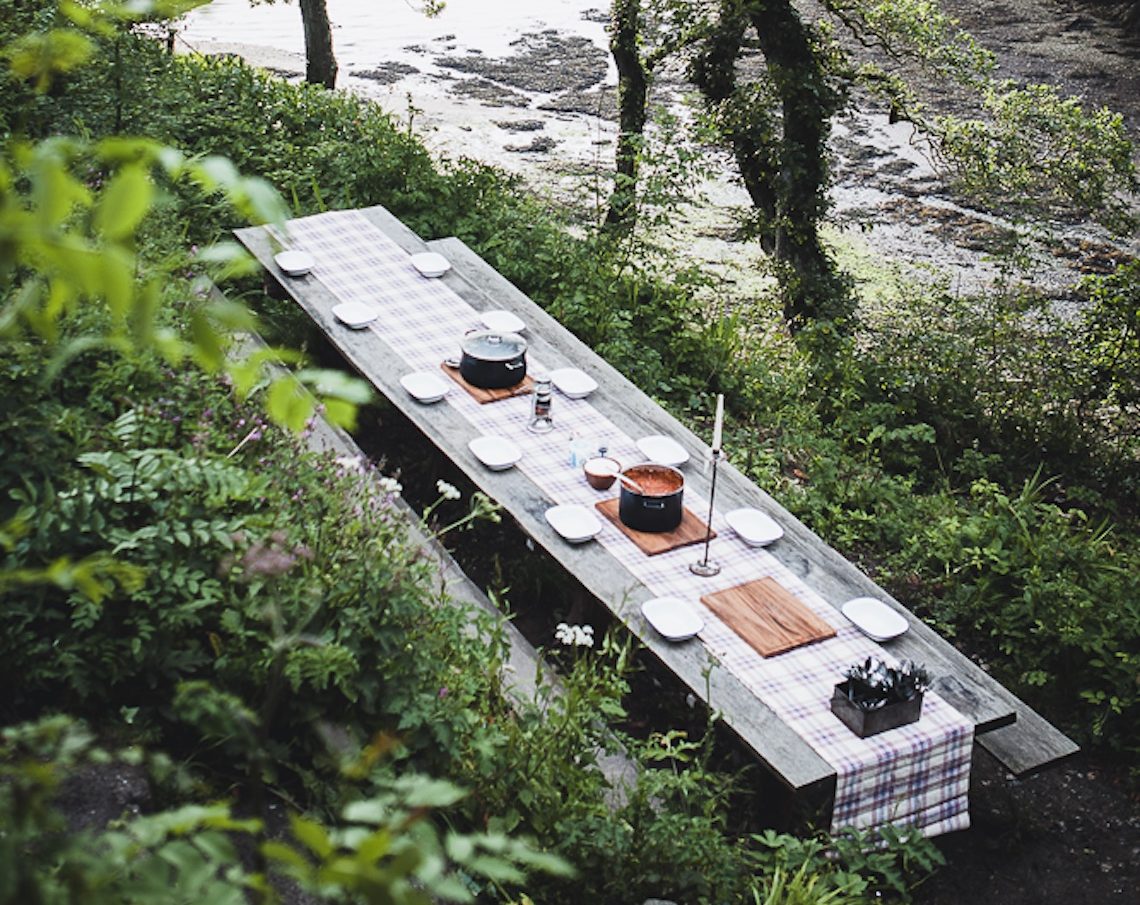 First up, we all recapped on our fire-lighting skills using flint and steel, before being set our own personal projects for the weekend. We were each handed a piece of wood with the aim of whittling spoons out of them. It might not sound like the most exciting aspect to bushcraft, but it had us all hooked, and we continued to carve away whenever we had a spare moment.
As night drew in, the spoons went away, we stoked up the fire and dined on a delicious rabbit chilli that Thom had been rustling up. The rest of the evening was spent in the simplest and most enjoyable of ways: with a beer in hand and a fire roaring in front of us. Sat there, listening to the crackle of the wood and feeling the warmth of the flames, everything seemed right with the world.
If the weatherman was to be believed, all hell was due to break loose the following day, but luckily, the biblical conditions that were forecast failed to materialise. With that, we piled down to the riverside to get started with our first activity of the day: canoeing. The skies were grey and the wind was gusty, so heading out expedition style was always going to be a bit of a mission.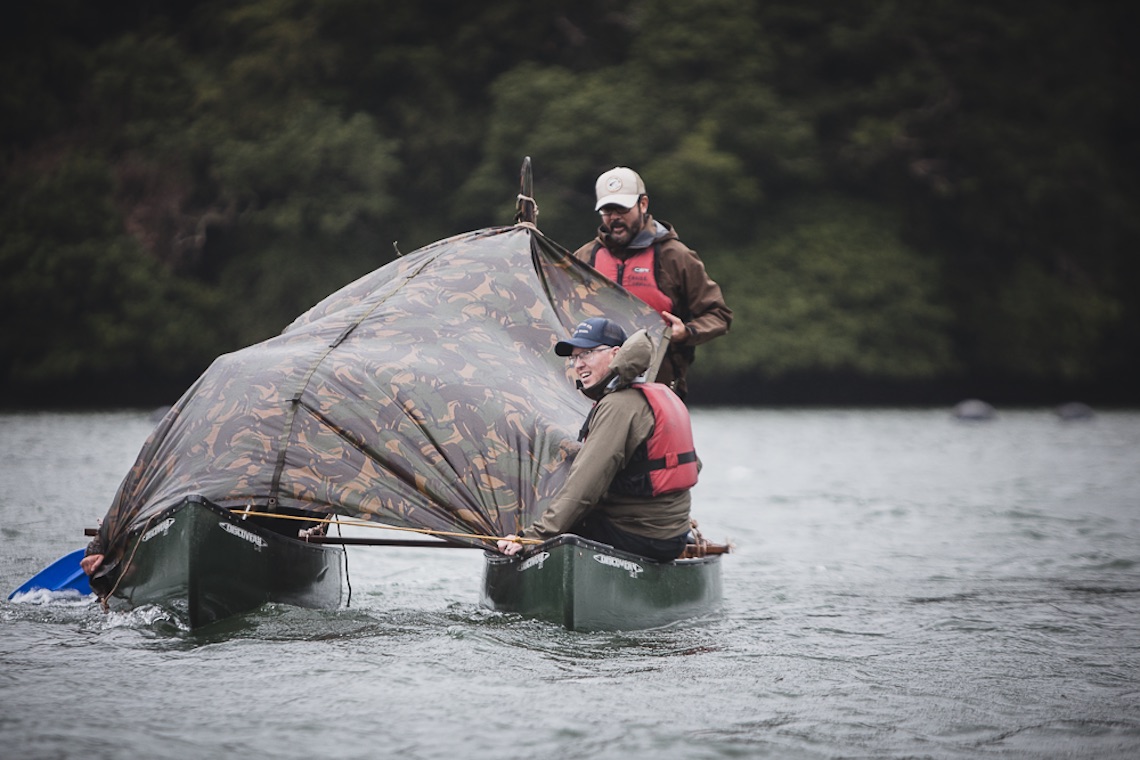 Instead, we were tasked with a canoe sailing challenge Swallows and Amazons style. We split into two teams of four and were given a tarp, two planks of wood, an oar and two canoes with which to rig up a sailing vessel. Racing against the clock, we quickly lashed something together before setting off for our maiden voyage. Clearly, our skills weren't quite up to scratch, and we all failed miserably when it was time to release our sails.
Returning to a sheltered cove, we took a second go at rigging up our vessels. The plan was to head upriver to a starting line before launching our contraptions once more. Our tinkering had worked a treat and we coasted the entire way back to sure by the power of wind.
Back on dry land, we warmed up with a feast of pork, lobster and asparagus that had been lovingly cooked over coals, before returning to our own personal projects. Spoons continued to take shape for many, while others turned their hand to a range of different pursuits. For me, that meant trying to get to grips with a bow drill.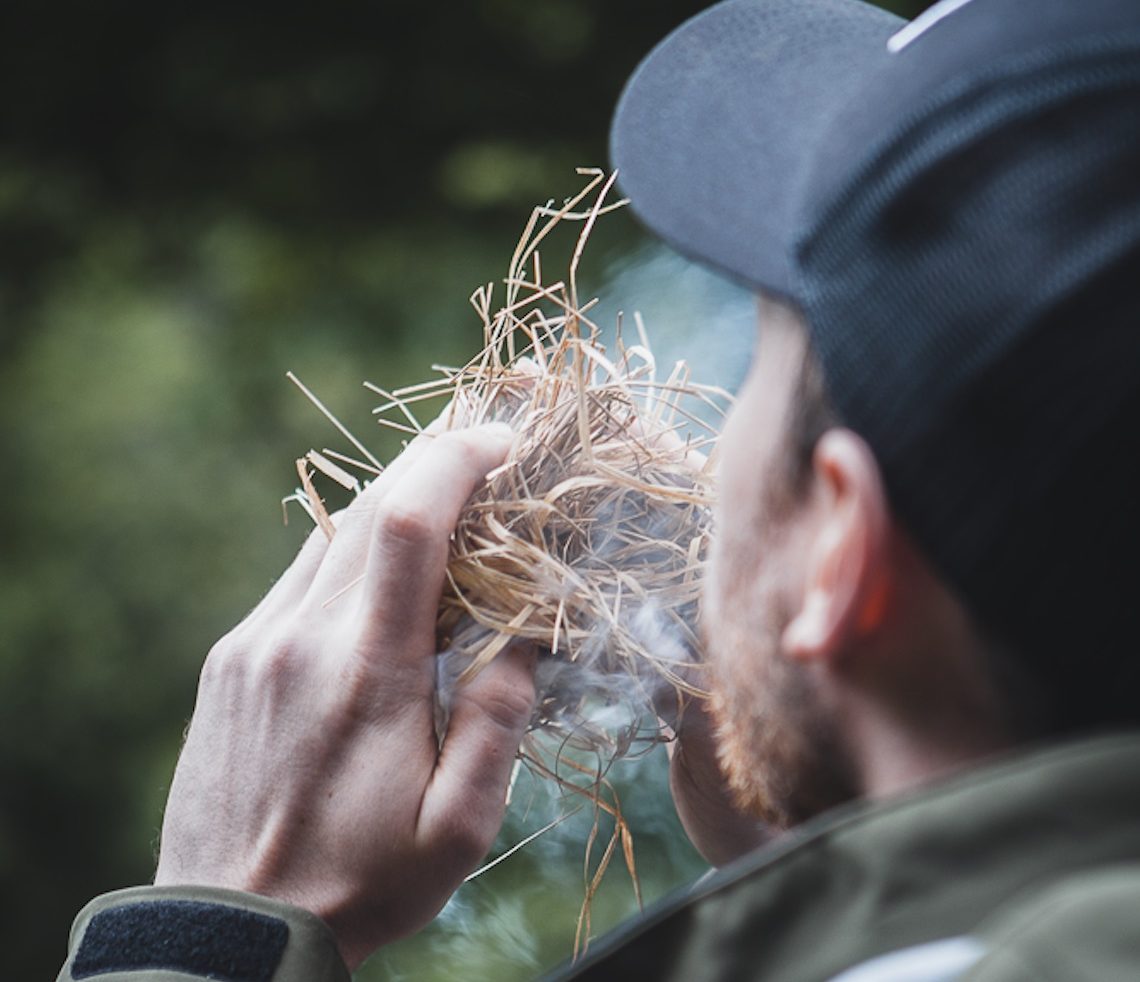 I had started fires using a flint and steel many times before, but I had never got one going by friction, so that was my aim for the afternoon. Needless to say, it was tough work. On several occasions I thought I was close to having an ember, only for the drill to fly out from underneath my hands. After a decent amount of practice and a lot of encouragement from some of the team, I eventually created my first ember. I coaxed it into my tinder bundle and gently tried to breathe life into the fire, but to no avail. I had smoke, but it just wouldn't burst into flames.
Feeling slightly defeated, I went back to my spoon and carried on carving around the fire. For the rest of the afternoon, we shared stories round the fire, worked away on our spoons and watched on as Simon cooked an incredible spread of food over fire and underground. I mean, what more could you want? When you strip life back to its most simple, surround yourself with good people, gather around a fire and enjoy delicious food, you don't want for much more.
Throughout the weekend at Camp Filson we were making use of a range of Filson kit that always lived up to the mark. While it looks good and keeps the weather at bay, what I'm always most impressed with is the gear's durability. It's built to last, and it was certainly at home in this wilderness utopia in a beautiful corner of Cornwall.
See the full range of Filson gear here.
Want to have your own weekend in the wilderness just like Camp Filson?
This time around, Camp Filson was organised by the fine folks at 7th Rise, the UK's leading wild experience provider. Whether you want to simply rent the wild venue in Cornwall or organise a bushcraft or wilderness course, you're sure to find an experience at 7th Rise to suit you. Click here to visit the website.