Colin Henderson takes on the beautiful Tranter's Round, a challenging 36-mile circular route in the Scottish Highlands…
A natural progression if you enjoy backpacking trips is to look for opportunities to link different routes together, increasing length and difficulty to set yourself a challenge. One such opportunity is Tranter's Round in the Lochaber region of Scotland.
Tranter's Round is named after Philip Tranter, son of the Scottish author, Nigel Tranter. In 1964 he devised a 24-hour challenge for fell runners when he connected (at the time) 19 Munros in the West Highlands of Scotland (the Mamores, Grey Corries, Aonach Mor and Aonach Beag, Carn Mor Dearg and Ben Nevis) in a 36-mile epic that includes over 6,000m of ascent.
Tranter's Round is a fell runner's classic (superseded these days in terms of difficulty by a longer Charlie Ramsay Round, and with a demoted Munro) but it's a route that's also tailor made for backpacking.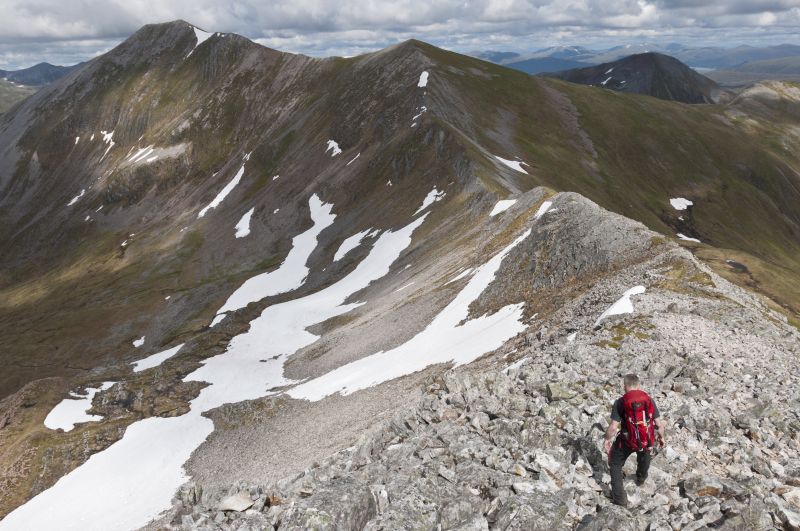 To give us a head start on our attempt at backpacking Tranter's Round, we bivvied on a damp summit of Mullach nan Coirean in the Mamores at 11pm. Early the next morning, we continued over the Mamores, ticking off the peaks of Stob Ban, Sgurr a'Mhaim, Am Bodach and Stob Coire a'Chairn.
I didn't go out to An Gearanach, choosing to dry my sleeping bag in the sunshine instead, but Na Gruagaichean soon came next, then Binnein Mor, Binnean Beag and Sgurr Eilde Mor. Roughly 16 hours after we started out, we descended and spent the night at Meanach bothy, having climbed 10 Munros.
Our return leg on day two is commonly called the Lochaber Traverse. First we ticked off the Grey Corries, starting with Stob Ban then Stob Choire Claurigh, Stob Coire nan Laoigh and Sgurr Choinnich Mor.
A steep, grassy scramble then took us up onto a very wintry Aonach Beag. It was here that we decided to cut our trip short. A storm that had been distant for much of the afternoon brought in 50mph winds and freezing rain and, in true Scottish style, what had been a pleasant summer's day turned distinctly nasty with a great risk of hypothermia.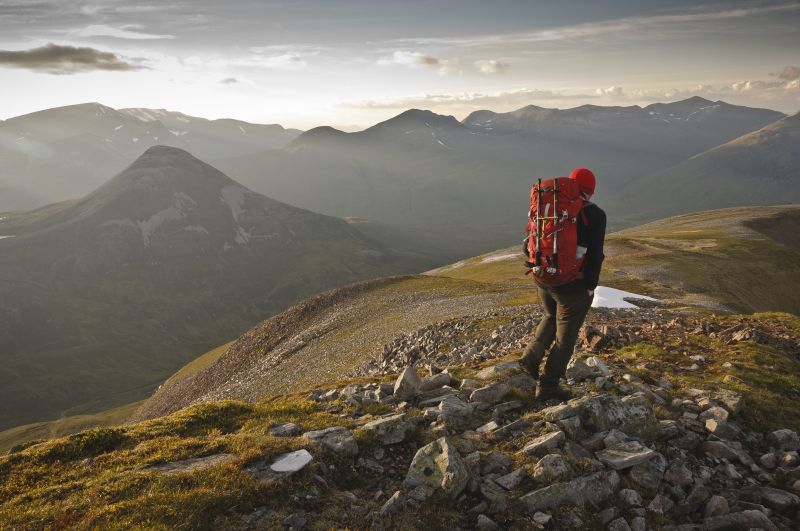 None of us are new to bad weather, but eight hours in, with three Munros to do (including Britain's highest mountain) and a sharp scrambly ridge between them, it wasn't hard to make the decision to bail over Aonach Mor and descend to the roadside. Despite our disappointment, it was a great outdoor trip. Tranter's Round proved to be a very worthy backpacking route.
Travelling light
The current fastest known time for Tranter's Round, set on 1 October 2016, is 10 hours, 15 minutes and 30 seconds by Fort William-based doctor Finlay Wild. Although such a fast time will be unachievable (or undesirable) for most, adopting a hill running ethos for backpacking Tranter's Round isn't a bad idea. Travelling with as little gear as possible will be easier on your knees.
Navigation
Harvey Maps publish a map for the Charlie Ramsay Round, which includes the same peaks and is ideal for Tranter's Round. The route is also covered on Ordnance Survey Landranger map 41 (Ben Nevis, including Fort William & Glen Coe). You can choose to go clockwise or anti-clockwise. The latter has the distinction of finishing on Britain's highest mountain.