Oh the joys of packing for a long weekend. There are a few classic stereotypes in the mix when it comes to peoples' different packing styles. Firstly, we have the person who dreads packing, they are the 'I'll shove my ostrich face in the sand and completely avoid doing any packing until the last minute' type. Then we have the 'heck, just shove it all in' type, whose bag usually resembles the aftermath of a laundry shop explosion. Ah, and we also have the 'nope' category, these are the ones who will just leave their significant other to do all the packing for them.
Does any of that sound familiar to you? Because I have to admit, I am more than one of those examples of people. Oh, the shame. Packing problems tend to dampen the spirit of an adventurous trip or weekend away and add unnecessary stress to what is meant to be an exciting prospect. So, listen up my messy and unorganised friends, we've teamed up with Eagle Creek (absolute packing pros) to bring you this handy guide on how to pack for an adventurous long weekend.
Stage one: choose a suitable bag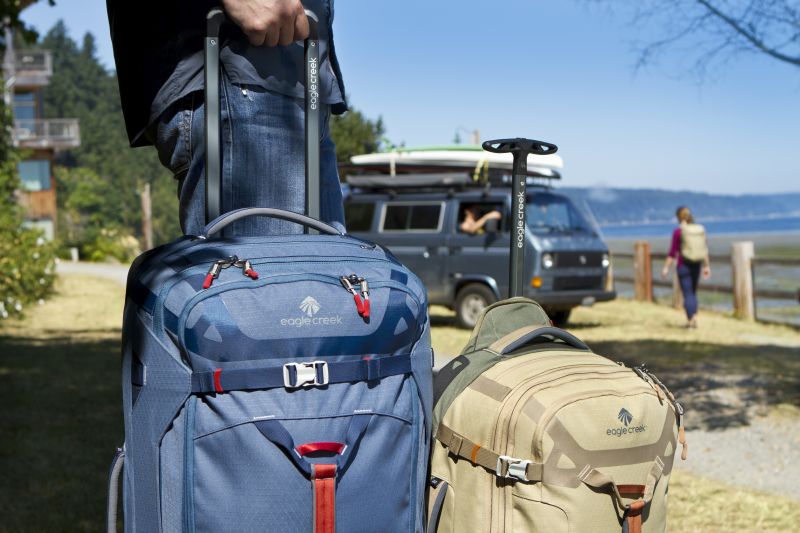 Lugging a ridiculous sized bag around or having to shove your stuff into a bag half the size of what you need is very annoying when you're trying to pack for a weekend away. Some small bags can also be surprisingly heavier than they look and carrying them around on your arm is a one-way ticket to aching back/arm town. So, you may want to think about a larger rucksack or a duffel bag which doubles up as a rucksack with shoulder straps. If you're going somewhere adventurous, you're going to want a bag that is lightweight yet tough. You'll also want a bag that is durable and weather resistant to protect your belongings from getting wet or damaged.
Eagle Creek have a fantastic range of bags that cover all of these basis and also have some pretty nifty security features such as central lock points and self-repairing zippers.
Stage two: make an awesome list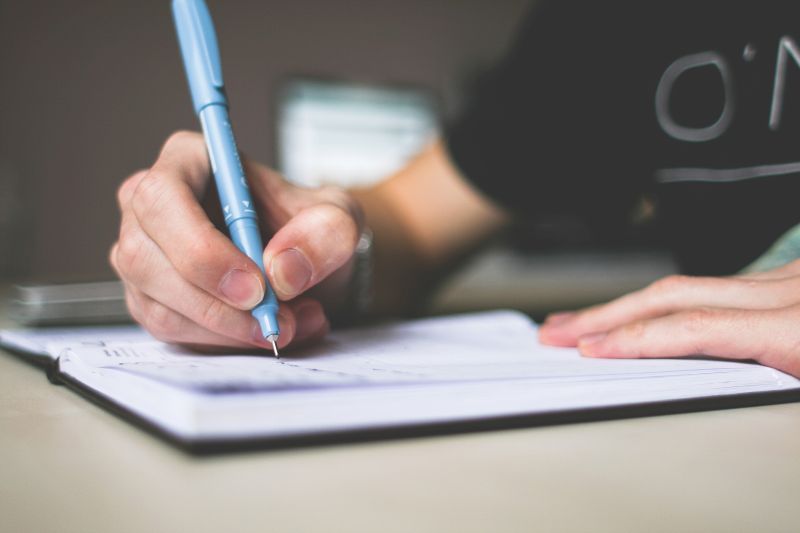 To get yourself organised, the best way to ensure you don't forget anything (or indeed take too much with you) is to whip up a quick list of items you'll want to take with you. Think about the type of adventure and the location of the trip that you're going on. What kind of things are you going to need? Is the temperature likely to be warm or cold? How long are you going away for? Ask yourself a few questions to get started with. Try to break things down into categories and go from there.
There's usually not much opportunity for doing your laundry on a short trip, so its best to be smart with the type of clothing you choose to bring. Wool is naturally odour resistant so it will help to keep the pong at bay even if you wear it for a couple of days. Synthetic clothing is fast-drying, therefore you can give it a quick rinse in the bathroom sink or with water and it'll be dry in time for you to wear the next day.
So as an example, for a typical weekend microadventure, you'd probably want to pack the following kind of things.
Hiking boots or approach shoes
Walking socks and undergarments
1x Walking trousers
2x Base layer t-shirts
2x Mid-layer (usually a fleece or down jacket)
Waterproof overlayers (i.e. trousers and jacket)
Pyjamas or sleepwear
Swimwear
Accessories (for example sunglasses, hats, gloves, dependent on the weather)
Toiletries (will you need bug spray?)
Medicines and first aid
Documents, maps and money
Electricals
Towel
Stage three: prep like a boss
So, once you're happy with your packing list, you'll want to retrieve all of the items and lay them out neatly on your bed, floor or table. This way, you can go down the list and check everything is present and in order. Like so…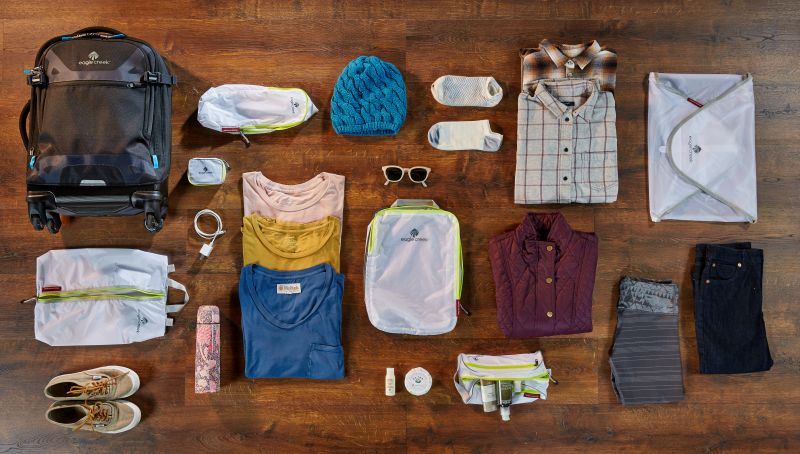 Stage four: time to pack like a pro
Now, to help keep the packing peace. This is where a few handy tips and tricks will make super easy work of fitting everything into your luggage and will keep it organised while you're away. Rolling your clothes instead of folding them can actually make more space in your luggage and can also help keep the majority of wrinkles at bay.
Dry bags
Dry bags are great for keeping things dry (surprisingly!), but I actually have a dedicated dry bag that I use differently when packing. I keep all my shampoos and liquids in there, so if anything were to explode, it would do so in the dry bag and most probably keep itself contained. There's nothing worse than opening your bag to find everything is smothered in Ju-ju Berry Herbal Essences conditioner. Yep, I learned the hard way that day.
Travel containers
Leak proof travel containers such as silicone bottles are a great way to take only the shampoo and shower gel that you need, rather than having to find the space for the whole bottle. They are stronger than normal the normal bottles they come in, so are less likely to squash in your bag. They are also leak-proof therefore are much more suitable for being packed because there is nothing worse than a shampoo explosion over all your clothes!
Packing cubes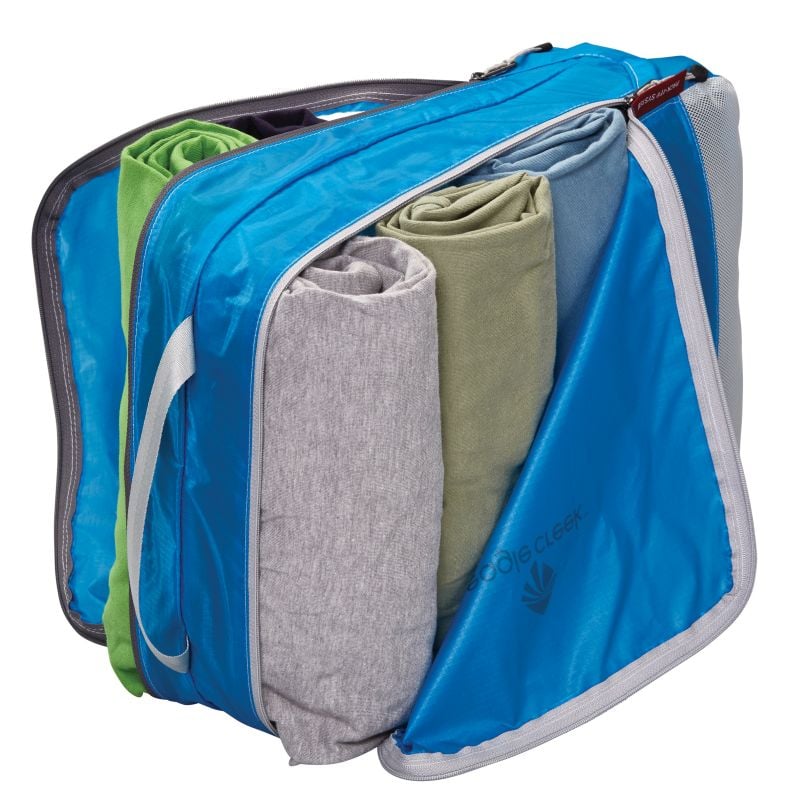 Packing cubes and organisers are a godsend. You can keep your shoes off your nice clothes, your smelly socks away from your toothbrush, and all your important documents safely together. Dreamy. You can also get special ones that keep your shirts and trousers folded flatly, so you can shove them in your bag and get them back out without looking like you've slept in them. They can also help you by limiting the amount of stuff you take, if you having a packing cube dedicated to trousers, you'll only be able to squeeze a certain amount in, therefore, you won't get carried away by taking eight million pairs for a weekend trip!
Eagle Creek offers various sized packing cubes and capsules, all with different jobs. Some keep your shirts neatly folded and help reduce creases. Others keep all your toiletries stashed away from the rest of your stuff. They also come in different colours so, if you want to be really fancy, you could even colour code your undies from your t-shirts.
Head over to the Eagle Creek website to check our their full range of packing systems or check out their ultimate packing list.