As with all avenues in life, the hiking world has a whole host of different characters. And while variety is very much the spice of life, we thought it would be fun to find out what sort of hiker we all are. So we made a quiz.
Where do you fit into the hiking world? Find out below. Make a note of your answers and then find out your category at the end based on which answer (A/B/C/D/E/F) you had most.
Questions
What is your standard accommodation set up?

A. Finishing the day in time to get back to your own bed at home
B. A posh bell tent with electric hook up and plenty of luxuries
C. Bivvy bag or, in summer, just a sleeping bag and mat
D. A mid-range three-man tent
E. A range-topping expedition tent
F. Hostel or bunkhouse
How far do you like to venture on your trips?

A. You tend to drive to the location before taking the last bit on foot
B. Too much walking isn't part of the plan, day adventures all the way
C. Long-distance, self-sufficient, human powered trips are what it's about
D. As much as you can cover in a day
E. It's not about distance, it's all about altitude
F. Small distances for stunning views
Which of the following would be your ideal adventure destination?

A. Chamonix
B. Upmarket campsites on the south coast of France
C. Scotland or Norway, where wild camping is legal
D. The Lake District of the Peak District, for all of the wonderful walks
E. The Himalayas
F. New Zealand, for all of the picture-perfect views
Where are you most likely to be found on the weekend?

A. Shopping for more gear in Snow and Rock
B. Having drinks outside your fancy tent set-up in Cornwall
C. Wild camping
D. Taking an arduous stroll in the countryside with fellow walkers
E. Preparing for an attempt on a Himalayan/Alpine summit
F. Taking a selfie at the top of your nearest mountain
Who is your adventure inspiration?

A. Bear Grylls
B. Ben Fogle
C. Alastair Humphreys
D. Alfred Wainwright
E. Ranulph Fiennes
F. Casey Neistat
What do you normally carry on your person while adventuring?

A. An extra jacket, camera and an umbrella
B. A jumper, camera, picnic blanket and picnic
C. Everything you need to be self-sufficient. Gear, food, water, etc.
D. Outdoor clothing, lunch, walking poles
E. Climbing and safety gear, plus enough outdoor clothing to handle the elements
F. Smartphone, camera, power bank (in case your phone runs out of battery) and extra layers
What can you normally smell when waking up in the morning?

A. A full English breakfast
B. Poached egg and salmon
C. Nothing but crisp mountain air
D. Porridge and black coffee
E. The blood, sweat and toil of your fellow adventurers
F. Your toast burning in the toaster
What brand of gear do you mostly use?

A. Arc'teryx
B. Fjallraven
C. Alpkit
D. Sprayway
E. Rab
F. The North Face
The results
Mostly A: The Pretender

You've got some of the best kit on the market and spend a small fortune regularly updating your adventure wardrobe but never truly put it to the test. Your adventures tend to consist of dog walks and road trips, but you enjoy things nonetheless.
Distant cousins with the Glamper, you too enjoy life's luxuries and do not dabble in anything too arduous. You enjoy getting out there, but it's more about the destination than the journey.
Mostly B: The Glamper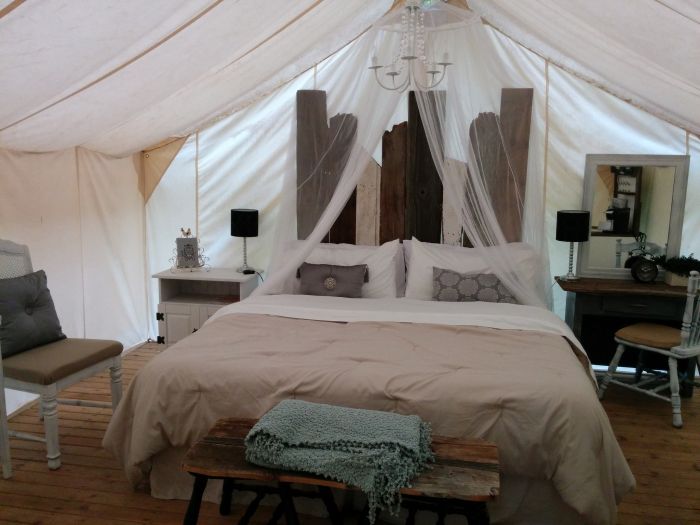 Photo: Dan Ox
Spending time outdoors is something that you love to do, so long as you have a luxurious camping set-up waiting for you at the end of the day. We're talking a multi-compartment tent complete with bedrooms, living area, wardrobe and table and chairs.
You'd never be caught wearing the same clothes the next day and would be horrified at the thought of having to be without your home comforts. You don't go far, but you certainly go in style.
Mostly C: The Ditch Sleeper

You spend most of your spare time outdoors and to say that you enjoy roughing it would be an understatement. You leave the tent at home and go minimalist with a bivvy bag or even just a sleeping bag and mat.
You enjoy getting a decent amount of miles under your belt and generally are just happy to be outdoors. The simpler things are the better.
Mostly D: The Militant Rambler

You live to walk. Most of your weekends are spent in the countryside, often with other hiking enthusiasts, as you cover an impressive amount of mileage in a day.
You're no thrills in your approach to the outdoors and like things to be kept in order. With the same reliable gear from 10 years ago, you're happy to continue doing as you have always been doing – exploring the beautiful British countryside.
Mostly E: Ranulph Fiennes

Of course, you're not the man himself. You didn't hack off your frostbitten fingers and you didn't have a heart attack on Everest. But you do find yourself in the same circles.
You are at the pinnacle of adventure, tackling some of the world's highest and most majestic peaks. You are incredibly competent in the outdoors and can often be found pushing yourself to your limit.
Mostly F: The Social Media Maverick

We all do it to some extent. You get to the top of a mountain and the temptation proves too much, you have to take a selfie. Only, as a Social Media Hiker, you're snapping and tweeting every step of the way.
You can't even answer nature's call without sticking something up on Facebook about it. Viewpoints, rivers, cows, fellow hikers… nothing gets away from the Social Media Hiker, who is just as interested in documenting the journey as the adventure itself.
What category did you find yourself in? Do you think it was the wrong one? Let us know in the comments.