Over the weekend, a team of 10 Nepalese and Sherpa climbers became the first mountaineers to summit K2 in winter, ticking off one of the last 'firsts' in high-altitude mountaineering.
A notoriously difficult and deadly peak to climb, more people have been to outer space than have stood on top of the world's second-tallest mountain, which reaches a height of 8,611m. And, before this weekend, none had done so in the winter, mountaineering's toughest season.
After enduring a battering from hurricane-force winds, which devastated camps lower down on the mountain, the 10-man team announced their intention of a summit push after reaching the final high camp over the weekend.
Summit day
Setting off in the early hours of the morning, the climbers made slow progress as they ventured higher on the mountain than any climbers had ever managed previously during winter, navigating the treacherous 'bottleneck' and 'traverse' sections of the climb.
As each member of the team made it past these obstacles, all located in what's known as 'the death zone', the altitude at which human life can no longer be sustained for any extended period of time, questions were asked over who'd formally register the first ascent.
But, in a fantastic display of solidarity and national unity, each climber stopped 10m from the summit and waited for every member of the group to gather, before climbing the final metres together while singing the Nepalese national anthem.
Congratulations to all involved in what is a truly historic achievement.
The first summiteers were:
Team Nimsdai: Nimsdai Purja, Mingma David Sherpa, Mingma Tenzi Sherpa, Geljen Sherpa, Pem Chiri Sherpa, Dawa Temba Sherpa. Team Mingma G: Mingma G, Dawa Tenzing Sherpa, Kilu Pemba Sherpa. Team SST: Sona Sherpa
We spoke to Nims days before his record-breaking climb and you can read the interview in the latest issue of WFA, out now and available HERE.
Meet Nirmal Purja MBE, the 'super-human mountaineer'
"If you make a mistake then you die. It's about controlling the fear, rather than the fear controlling you."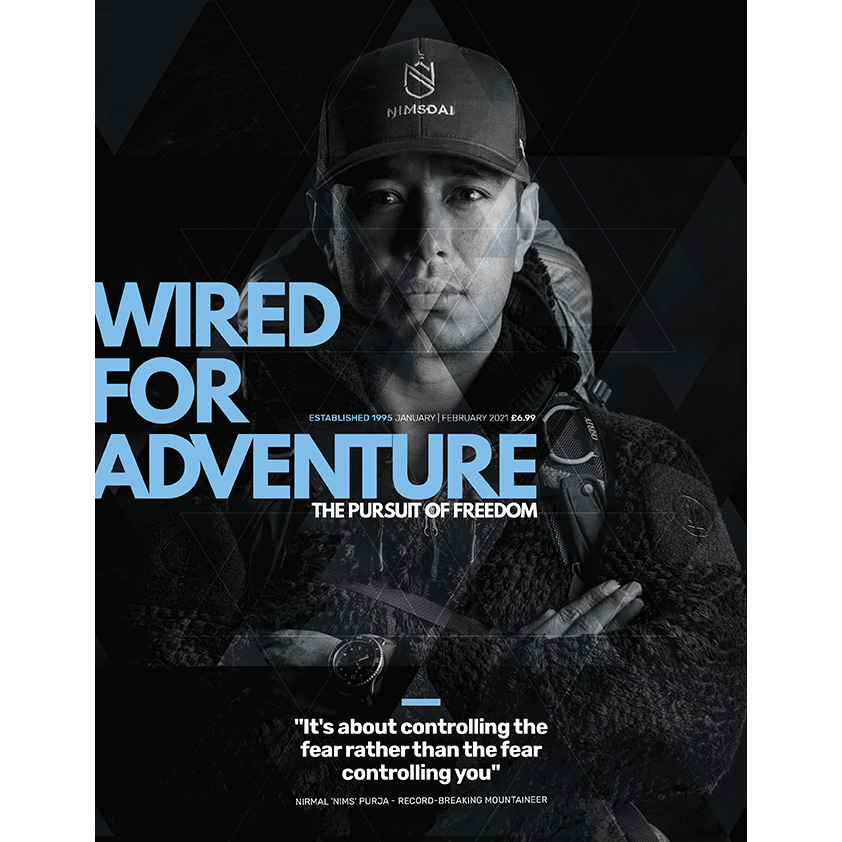 Leading the team was Nirmal 'Nims' Purja MBE. Known as the 'super-human mountaineer', Nims is famous for climbing all 14 of the world's 8,000m-plus peaks in just under seven months.
And, as he revealed yesterday in social media posts, he summited K2 without using supplementary oxygen, a sticking point for some commentators who champion climbing without that particular aid.
Speaking after the climb, he said:
"What a journey. I'm humbled to say that as a team, we have summited the magnificent K2 in extreme winter conditions. We set out to make the impossible possible and we are honoured to be sharing this moment, not only with the Nepalese climbing community but with communities all across the world.
"Mother Nature always has bigger things to say and standing on the summit, witness to the sheer force of her extremities, we are proud to have been a part of history for humankind and to show that collaboration, teamwork and a positive mental attitude can push limits to what we feel might be possible."
We caught up with Nims before he headed to Pakistan to talk about his record-breaking climbs and his attempt on K2, and you can read that interview and more background on Nims in the latest issue of Wired For Adventure Magazine, available today HERE.