Sometimes, the best hikes are the extreme hikes. The type of adventure that gets your blood pumping, the adrenaline flowing and has moments that'll give you the same feeling as when you miss that bottom step on the stairs (and your stomach literally jumps into your mouth).
Extreme hikes push us to our limits. It can get pretty hairy at times and at some points along the way you'll just want to give up, but if you push yourself through, the reward of reaching the top and completing what you originally thought to be impossible, is like nothing else. It's an epic feeling of pride, joy and… well, sometimes relief!
With that in mind we teamed up with Scandinavian Nordic tipi manufacturer Tentipi, who create versatile and reliable tents which are perfect for adventuring, to look at seven of the most extreme hikes in the world for thrill-seeking adventurers.
The West Coast Trail, Vancouver Island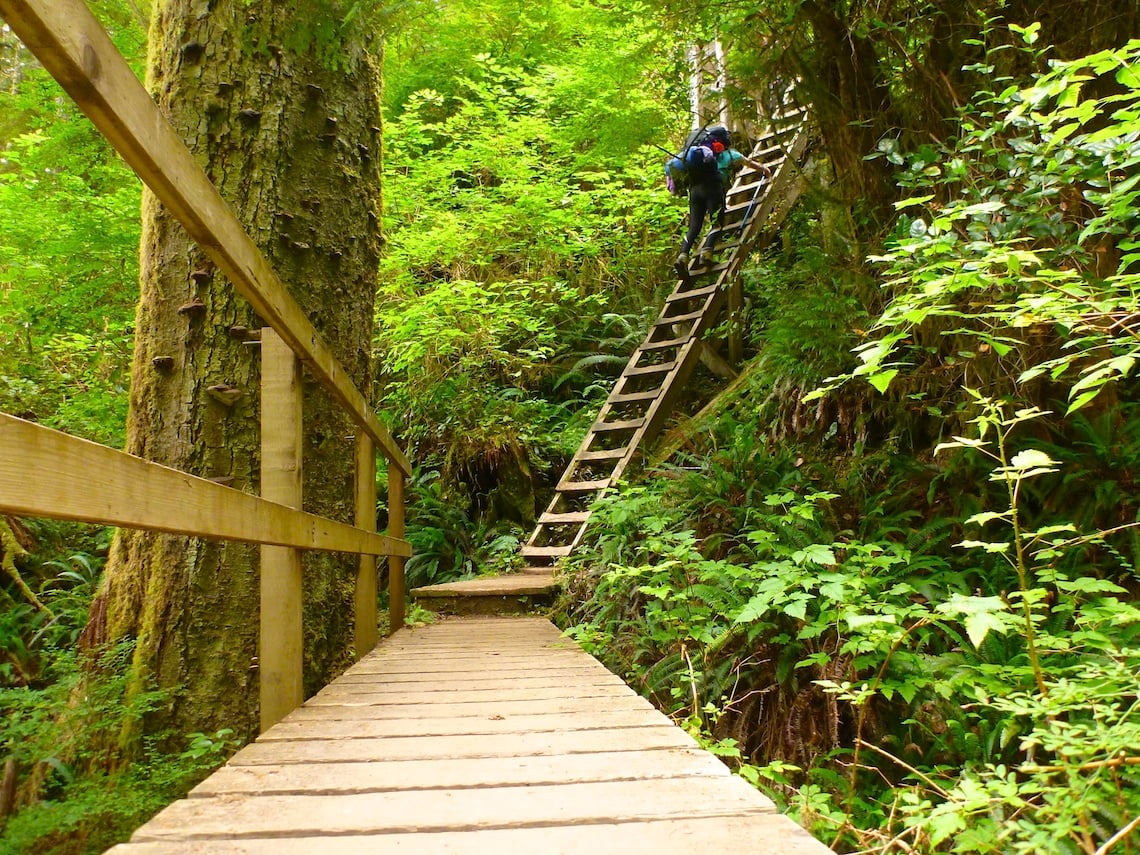 Vancouver Island is an island just off the south west coast of Canada. It's known for its stunning scenery and jaw-dropping view points, but it's also well known for the West Coast Trail. This challenging 46-mile trail takes backpackers around five-seven days to complete and is jam-packed full of ancient rugged paths, steep slopes and muddy trails. Hikers will need to be prepared to do a whole load of climbing on rickety wooden ladders that get pretty darn steep, stretching up through the forest and rock faces. Check out more of our favourite adventures in Canada here. 
The Maze Overlook Trail, Canyonlands National Park

Situated in south east Utah, this trail finds itself in the most remote section of Canyonlands National Park. It puts even the toughest hikers to the test by leading them through its red maze-like paths, most of which are poorly marked. It has hikers climbing enormous slick rock faces, scrambling out of extremely deep canyons, negotiating through tight crevasses and descending down incredibly steep drop-offs. Not only is the hike itself hugely demanding, but temperatures can often rise above 38C and you're not likely to find any water sources hanging around.
Aonach Eagach, Scotland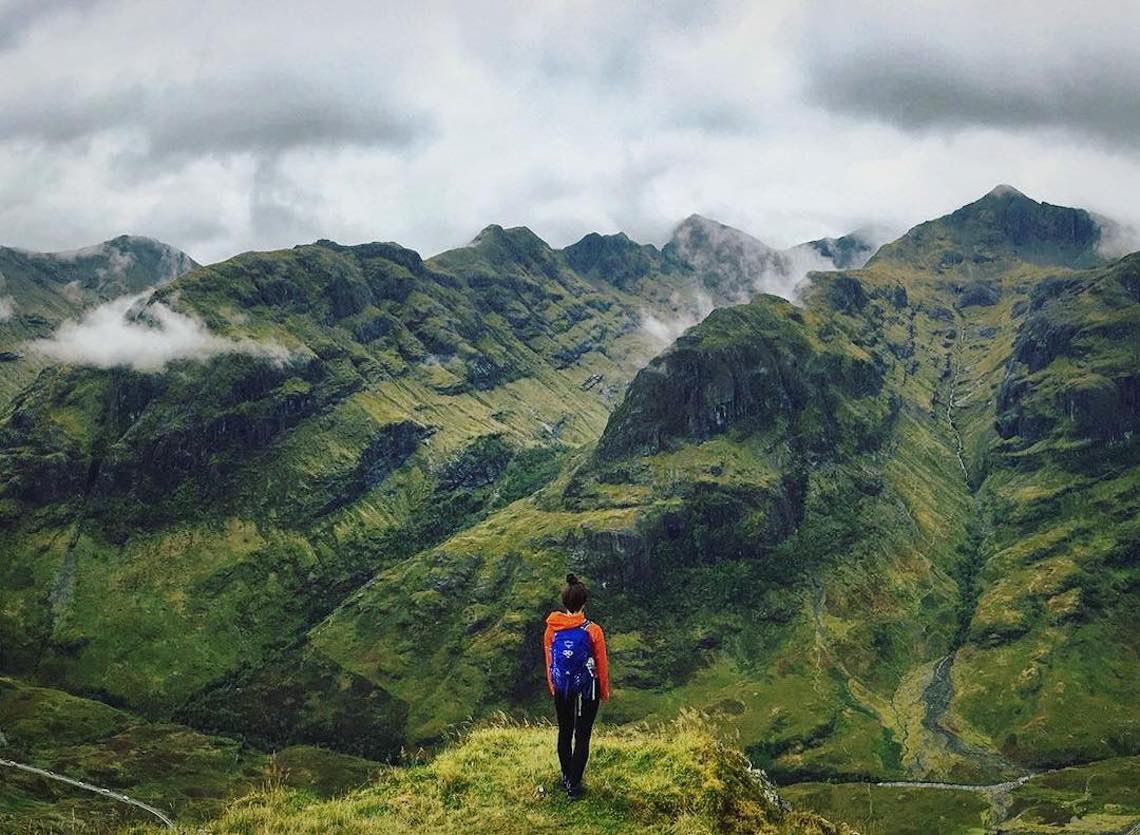 This epic ridge, set within the exceptional scenery of Glen Coe in Scotland, is the narrowest and one of the most iconic knife-edge ridges in the UK. Technical scrambling is required on this route and once you've started, if the Scottish weather decides to take a turn for the worse (which it quite often likes to), there are no shortcuts to get you back down. It's an extremely hard and exposed grade two scramble and is of rough terrain, so you'll need to be used to activity of this level if you want to tackle this one. Check out our full guide to the Aonach Eagach here. 
Mount Huashan, China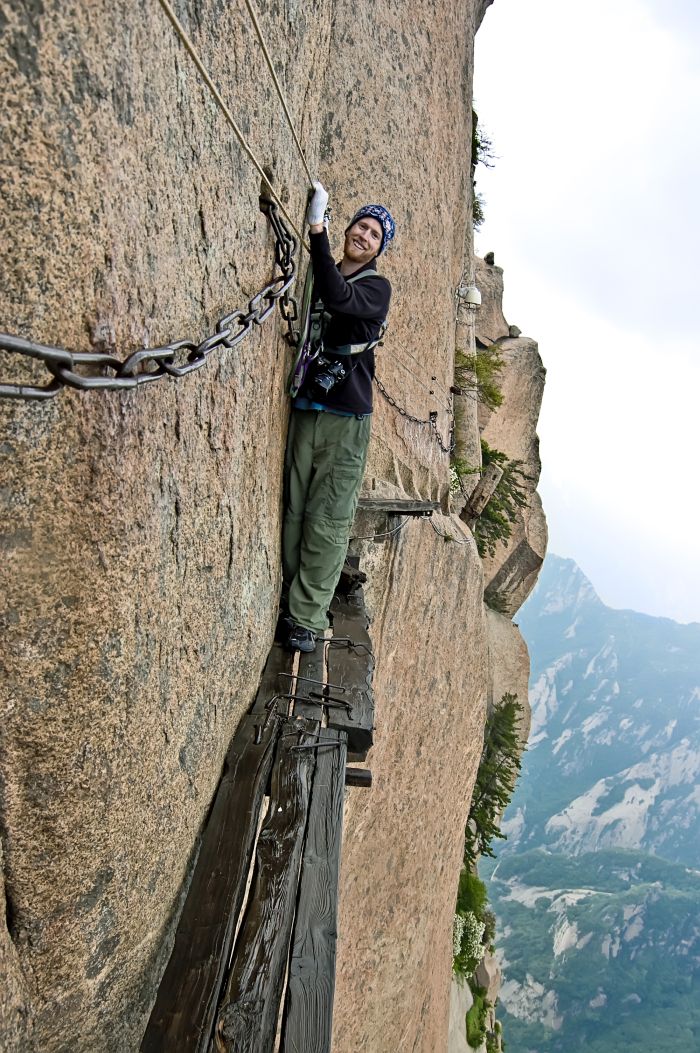 If heights aren't your thing, this one will definitely make you feel more than a little bit green. This via ferrata hiking trail is situated on Mount Huashan and is mostly a sheer cliff-side climb. It dangerously dangles tourists around 600m in the air while they traverse across narrow and rather flimsy looking wooden planks. If you dare to look anywhere other than the cliff you're bolted on to, then you'll be rewarded with the staggering sacred mountain scenery around you and the luscious valleys below.
The Haiku Stairs, Hawaii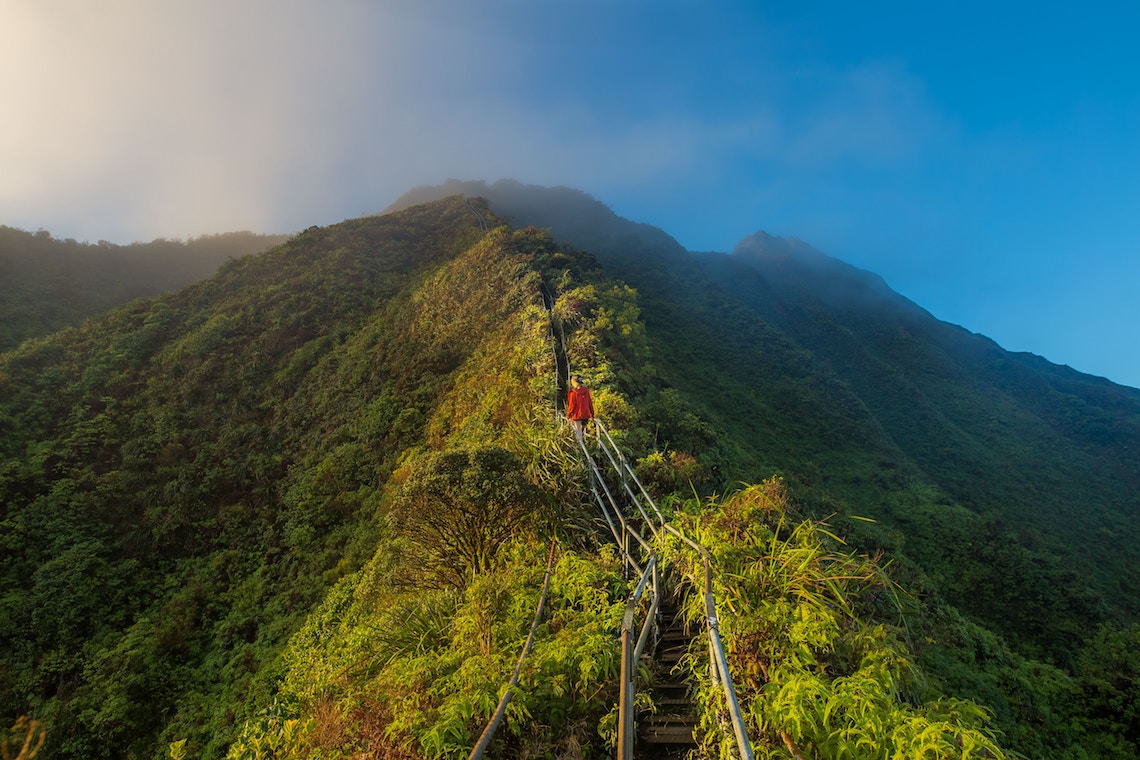 Located on the Hawaiian island of Oahu and also known as the Stairway to Heaven, this famous 4,000-step trail was originally created during World War Two for military access to the radio antennae which is situated at the top of the mountains.
The trail consists of a series of mostly vertical metal staircases and is extremely dangerous. In fact, so dangerous that officials have made it illegal to hike, although many tourists choose to ignore this, deeming it worth the risk of being arrested for the mind-blowing views of the dramatic Hawaiian landscapes at the top. If you like taking risks, there is also a rickety old swing on the edge of the mountain side – if you dare to sit on it!
Caminito del Rey, Spain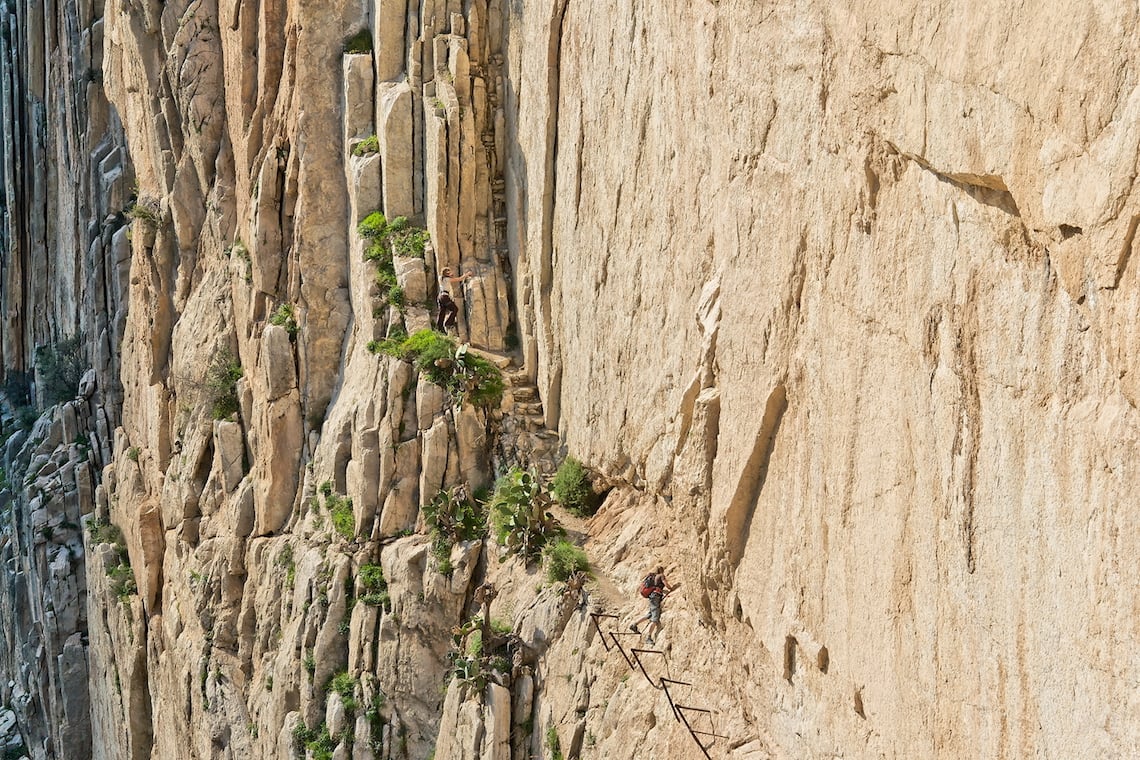 Famous for being one of Spain's most extreme hikes and before its staggering £4million restoration, one of the most dangerous footpaths in the world, this 100-year-old, 100m-high sketchy walkway is not for the faint hearted. Sometimes referred to as The King's Little Pathway, this two mile route takes hikers through astonishing limestone cliffs via a series of narrow wooden paths.
Before the restoration, the paths were made from concrete and in many places had crumbled away leaving nothing but the steel beams that had once supported them, which in some cases were actually rotting away themselves. Now the restoration has taken place, the footpath isn't as thrillingly dangerous as it used to be, but is still seriously epic. The views of the valleys and gushing blue rivers below are superb, making it one hell of a sensory tingling hike. Check out our guide to conquering Spain's highest mountain here.
Half Dome, Yosemite National Park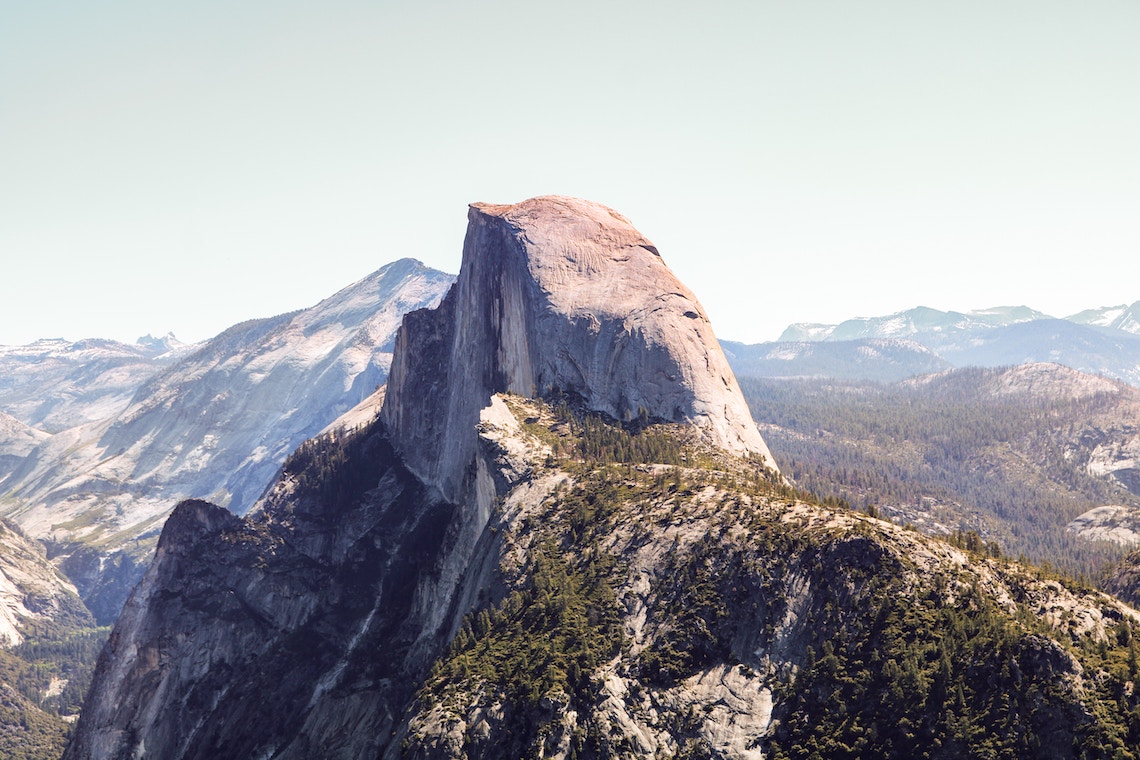 This awesomely tough 16-mile route takes hikers through some of the most awe-inspiring views that California's Yosemite National Park has to offer, with glorious waterfalls such as the Nevada and Vernal Falls, the impressive Liberty Cap and not to mention the magnificent views of Yosemite Valley itself.
On the last 120m of the trail, hikers will find themselves scrambling (without ropes) over the spine-tingling granite slope to the top of the Half Dome, towering an epic 2,694m above sea level. Once the top has been reached you'll be generously rewarded for your efforts with the jaw-dropping panoramic views on display.
Extreme hikes: How to do it yourself
Tentipi offer a diverse range of adventure tipis, built to handle the extremes that expeditions and adventures throw at them. They are light, spacious, reliable and versatile – the perfect recipe for an enjoyable outdoor sleeping experience. From small tents ideally suited to hiking and backpacking to well, huge ones that'll easily fit 15 of your expedition companions inside, you're sure to find the perfect tipi best suited to your next adventure.

Not only do they have an incredible range of tents, but they also offer a wide range of accessories and heating and cooking equipment. To browse Tentipi's full range, click here.