www.fjallraven.co.uk | £145
I'd heard a lot of good things about the Fjallraven Women's Abisko Trekking Tights and after spotting a pair at a trade show in Germany earlier this year, I just knew I had to get my hands on a pair in time for an adventurous trip I was going on in Slovenia. I certainly didn't regret it.
During the spring, summer and autumn months, I find trekking tights to be the most comfortable option for hiking and other adventurous activities. These particular tights were dear friends to me while trekking Slovenia's highest mountain – Mount Triglav (2,864m), tracing the trails around the famous Lake Bled, along with exploring other areas of the incredible Julian Alps.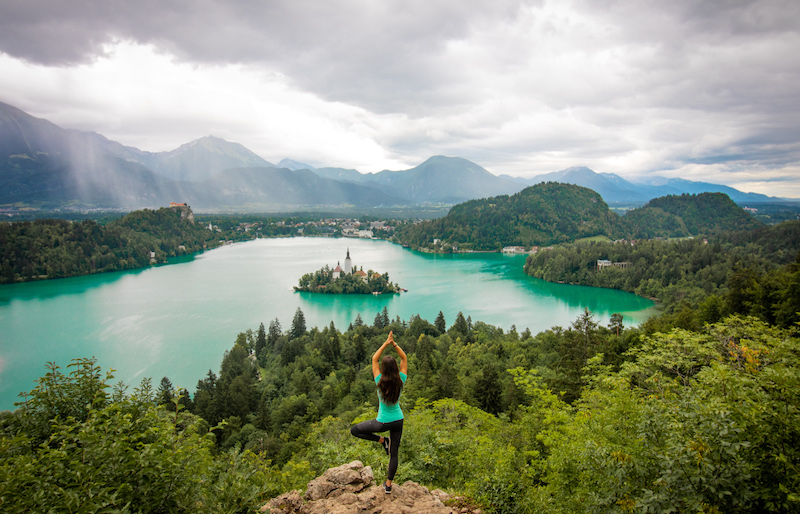 The Fjallraven Abisko Trekking Tights are constructed using a highly durable and functional stretch fabric that is made up of a polyamide, aramid and elastane mix, which enables the tights to offer you great freedom of movement. This was particularly useful when scrambling a steep trail to the view point of Lake Bled and when stretching to reach the next step on the via ferrata to the summit of Mount Triglav.
The tights feature reinforcements over the bum and knees, which will resist water if you sit or kneel on damp ground and help protect you if you come into contact with stones or rocks. This was perfect for when I was kneeling in grass on top of Velika Plenina trying to get that perfect shot of the gorgeous flowers and um… sliding back down Mount Triglav on my bum during the trickier via ferrata sections.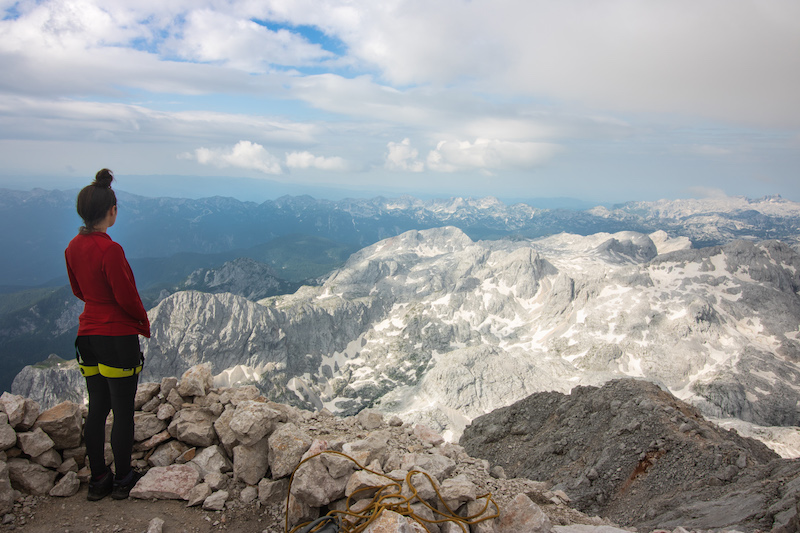 Weighing in at 265g, the Fjallraven Abisko Trekking Tights are super lightweight and really easy to fold down into luggage or a smaller rucksack. They offer a good amount of storage – a generously sized pocket on the right-hand leg, which was big enough to fit a map inside, and a smaller (snack-sized) zipped pocket on the left-hand side.
Not only did I find the stretch of these tights to be brilliantly comfortable, but the material also feels nice and soft against the skin. The waist can be adjusted via a drawstring on the inside to aid comfort around your middle (or in my case, to allow room for an extra helping or two of strudel). The waist also features a little zipped security pocket and a loop to attach gear or a light jacket to.
I had a mixture of warm and very rainy days in Slovenia, and the Fjallraven Abisko Trekking Tights fit perfectly underneath a pair of waterproof trousers. On a day that I (stupidly) forgot my waterproofs, I did find that they dried quickly, and I was able to wear them again the next day. In fact, I wore these tights quite a few times during my week-long stay in Slovenia and I have to say, they didn't pong at all. During the warmer days, I didn't find that the tights made me feel too hot, though any hotter and I would probably need to move on to a pair of shorts.
Fjallraven Abisko Trekking Tights verdict
All in all, I thought the Fjallraven Abisko Trekking Tights were very stylish looking (I had a black pair, but they also come in Dark Grey, Deep Blue, Glacier Green and Navy). Not only did they look good, but they performed brilliantly too. I'd be happy to recommend the tights to any of my fellow female hikers and I will be reaching for them again and again on many adventures to come.
You can read more about the Women's Abisko Trekking Tights on the Fjallraven website, they retail at £145. You can also check out our other product reviews in the gear section of our website.