www.jack-wolfskin.co.uk | £200
This is a nice, spacious tent at a good price from German brand Jack Wolfskin. At 2.49kg (or 2.17kg stripped down) it probably isn't one to consider for lightweight wild camping, but on the other hand, if you did decide you wanted to give it a go, split between two it might be OK. The pack size is quite big, as the poles don't fold down that small, but you'd manage.
As the name suggests, this is a dome tent. It pitches inner first, with two (pre-joined-together) poles forming a cross for the inner tent to clip to. There's then a final smaller pole to go over the top. The downside of a tent pitching inner first is that if you're putting it up in the rain, the inner tent will get wet. It's also a little more faff than if you put up both inner and flysheet together, but it isn't complicated. A positive point is that the tent is free standing, and if it's really warm and dry, you can leave the flysheet at home and just use the inner tent, which would be super light weight.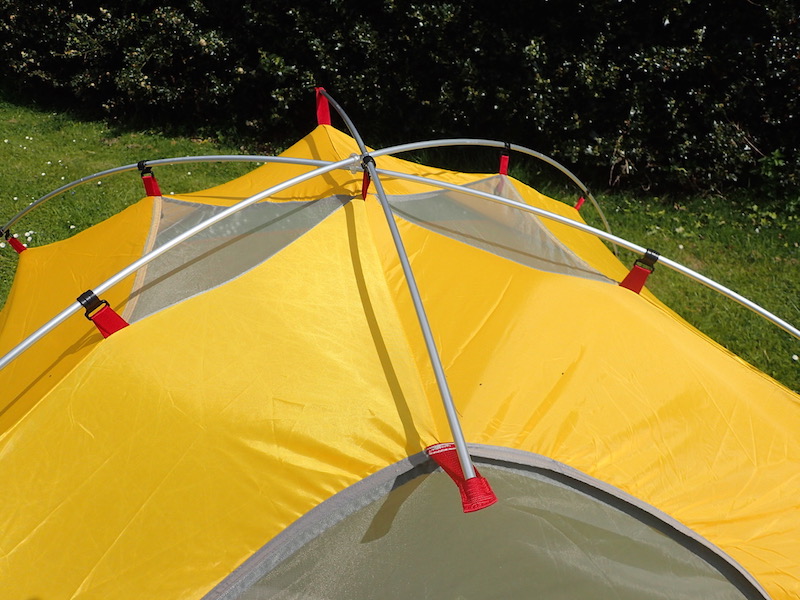 I like the amount of space you get with the Skyrocket II Dome Tent. A two-man tent is never going to be luxurious, but there's plenty of headroom for two people to sit up inside, even if you're quite tall. There's also a bit of extra space once two roll mats and sleeping bags are in, for a couple of daysacks or anything else you want to keep in there.
There are lots of pockets to keep smaller items in, although unfortunately these are all on one side of the tent, so the person on the far wall will have a bit of a stretch. However, there is also a nifty mesh panel that clips to the ceiling, offering more storage here, and there are hooks so you can hang things from the roof too. The inner tent is yellow, which makes it feel nice and bright.
The tent has one door, meaning the person on the far side will have to clamber over their trekking buddy to get out. There's a porch for rucksacks, boots and similar; the porch can be rolled completely back in good weather. In terms of ventilation, there are two windows high on the outside of the tent, and the inner tent has corresponding mesh panels to allow airflow. The inner tent door is also mostly mesh, and it has a two-way zip.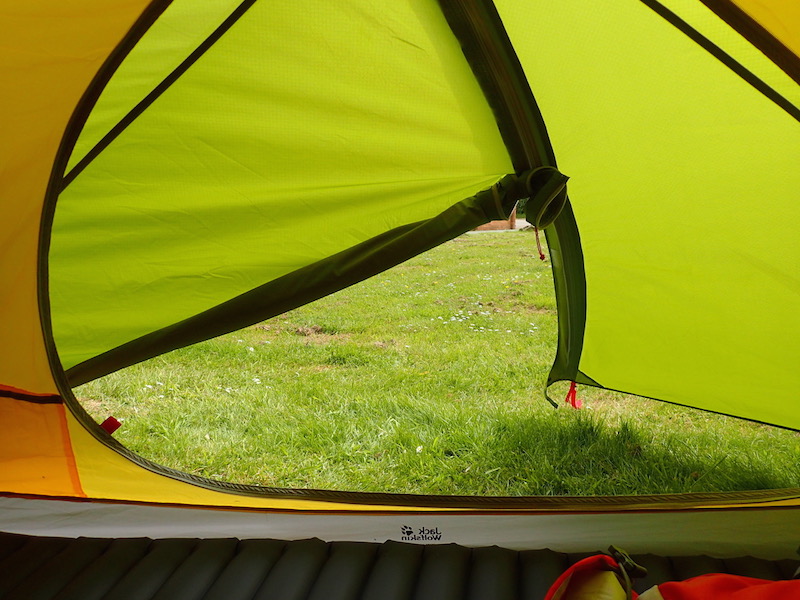 The outer door has a nifty feature – you can open it half way, roll the rest of the fabric up and clip it into place, offering extra ventilation options (and the extra long toggle on the zip makes it easier to find in the dark). This would be even better if it were a two-way zip as well, so you had the option of opening the door from the top too. Another thing that's good in the dark (or at least low light) are the guy ropes, which are nice and bright, to minimise tripping over them.
Jack Wolfskin describes this as a summer tent. The flysheet has a 4,000mm hydrostatic head and the groundsheet 5,000mm, but the tent comes with additional seam sealant, which the company recommends you use to reinforce water-resistance on weaker seams – a downside on an otherwise solid tent. The porch door is well protected with a storm flap, which is held in place with Velcro tabs.
How a tent looks from the outside isn't very important, but still, I like the look of the Skyrocket II, with its cool Jack Wolfskin pawprint on the side. It's a nice tent to be inside too, with lots of space, and it's a good price.
Jack Wolfskin Skyrocket II Dome Tent verdict
The Jack Wolfskin Skyrocket II Dome Tent is a cool summer tent that offers lots of space and comes in at a good price.