£29.99
Unlike the world 10 years ago, we now all tend to be attached to our smartphones no matter where we are and what we are doing. That means that even when we are climbing a mountain in the Lake District or kayaking in Croatia, we'll have our phone with us no matter the weather. It's a practice that creates a number of problems, not least how we manage to keep our phones dry. We got our hands on the Sea to Summit TPU Audio Waterproof Case to see if it's the answer.
As you might have guessed from the photos and from the name, the case does indeed have a 3.5mm audio connector that gives you the ability to listen to music while the phone is in the case. But we'll come to that later. Let's start off with the basics of any waterproof case. Does it actually keep moisture out?
Well, to begin with we put the case to work in the best of the British weather… pouring rain. The case worked just as it was supposed to with no water getting inside. This is thanks to the RF welded seams and the comprehensive closure system that features a waterproof zip lock and a 4x roll top closure that is secured which double velcro.
It is claimed that the case will remain watertight even when submerged at 10m for an hour. While we couldn't test the depth – and chose not to test the hour of submersion for the sake of our smartphone – we did submerge the case (and phone, eek!) in shallow water. Rather impressively, no water got through and there was no need to make a trip to the phone store!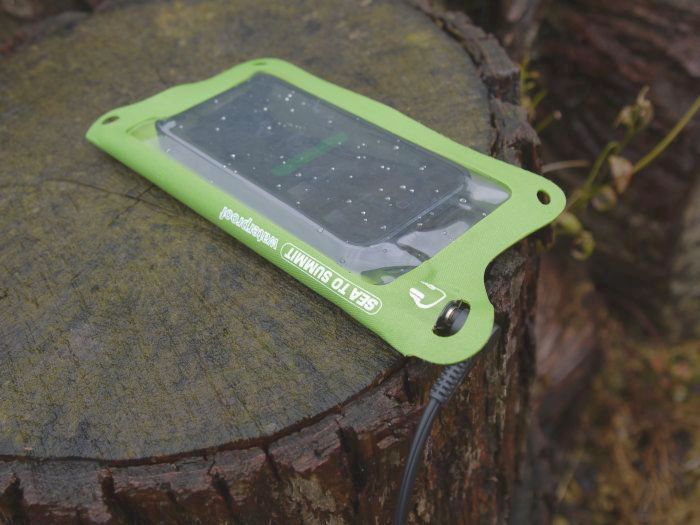 The audio works in exactly the same way as it does on the phone with a cable connection your phone's jack to the exterior jack. We found that the audio clarity remained unchanged and it even continued playing uninterrupted while in water.
Lashing points on each corner of the case also help to make easy work of securing it offering peace of mind if out on the water. The touch screen ability of the phone remained perfectly functional thanks to the Thermoplastic Polyurethane (TPU) windows and it was easy to operate any buttons on the side too. An iPhone 5 was used as our test subject but it is worth noting that there is plenty of space allowing it to fit a range of phones.
For a wet weekend in the hills this case would be more than adequate and to be honest, we'd even be confident enough to use it for kayaking so long as it was tied onto something. The only thing you'll need to bear in mind is that it is not the most buoyant of items with a smartphone in.
In a line: Waterproof, functional and a useful piece of kit for any outdoors enthusiast.
Adventure Travel magazine rating (out of 10):
Protection: 10
Function: 10
Value: 8
Overall: 9
Sea to Summit Audio Waterproof Smartphone Case review