Scotland is famed for its spectacular coastlines, stunning landscapes, and beautiful lochs – all of which make it the perfect location for hikers. Whether it's a day's walking or a trip that lasts a couple of weeks, adventurers from far and wide flock to sample the best hikes in Scotland.
But there's a problem: the midges. These pesky, flying insects have been the bane of many an adventure in Scotland between April and September (especially July and August). Months that just happen to be the ideal time to hike the Scottish Highlands.

So, we've teamed up with leading outdoor retailer Trekitt to guarantee a bite-free break with their new Royal Robbins Bug Barrier collection. Trekitt specialises in offering quality gear for all your hiking adventures, as well as top-notch advice and product reviews on their popular YouTube Channel.
Inspired by the Royal Robbins Bug Barrier collection, we've got together with Trekitt to compile a list of five fantastic Scottish hikes you can still try during peak 'midge season'. It's an eclectic mix of routes to enjoy bug-free, provided you go well prepared!
Find out more about the collection at the end of your guide. First, though, let's take a look at those five stunning Scottish hikes to try this summer.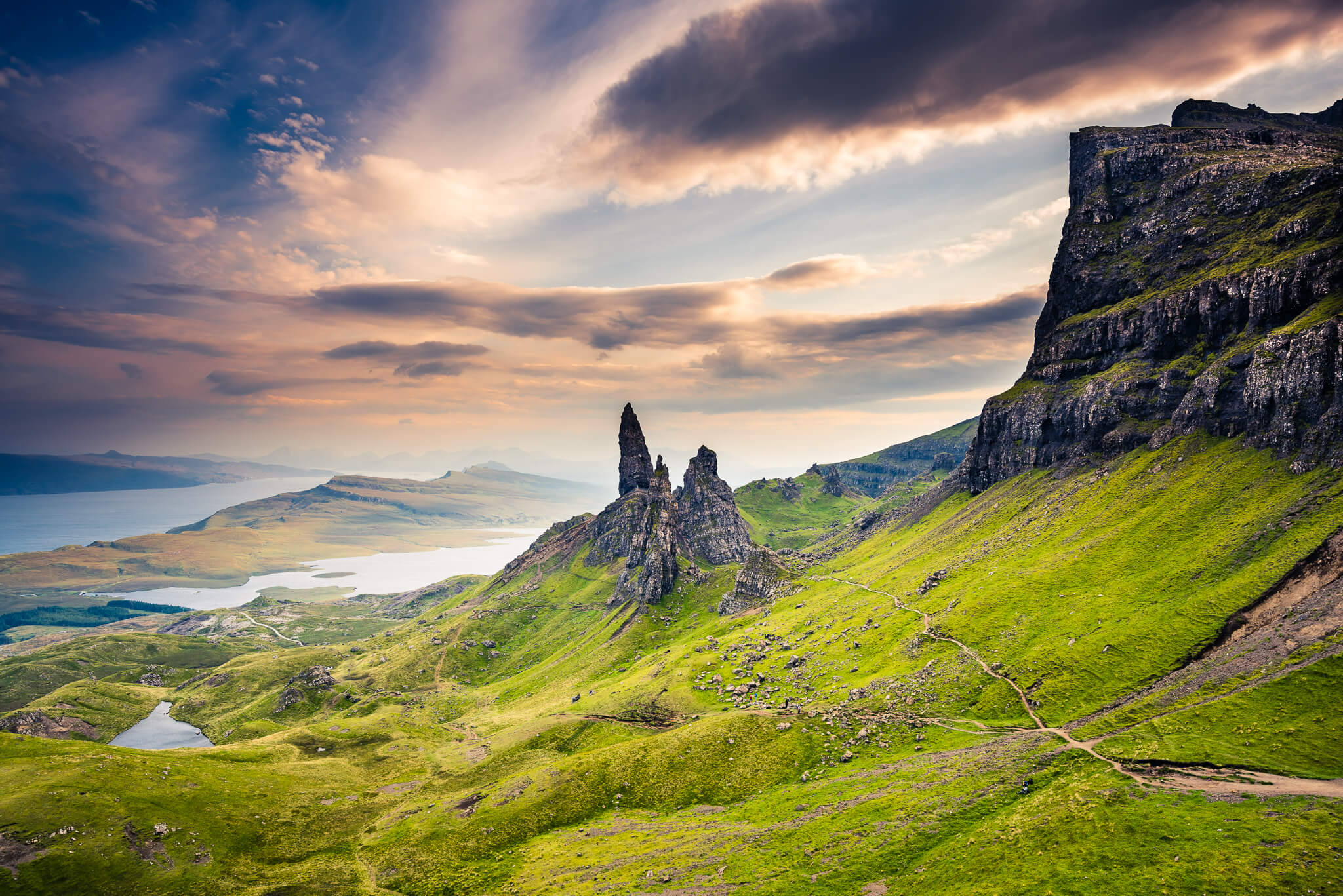 1. Old Man of Storr, Isle of Skye
Distance: 4.5 miles
Time: 1.5-2 hours
On the Isle of Skye, you'll find one of the best hikes in all of Scotland. It's one of the easiest on our list too, taking around 2 hours to finish and offering up some of the most spectacular views anywhere in Britain.
There's an obvious path to the top and the bottom that's used by hikers and day-trippers alike. Just be careful with a few sections of loose rock along the way.
2. Achmelvich Beach and Alltan'abradhan
Distance: 3.75 miles
Time: 1.5-2 hours
One of the best coastal hikes in Scotland, this route starts at Achmelvich Beach car park and winds around the bay. Along the way, you'll see the ruins of an old grain mill thought to have been carved from the 731m peak of Suilven and have a look at Europe's smallest castle, Hermit's Castle.
Hiking the 3.75 miles of this trail also brings you into contact with a diverse variety of wildlife, including seals, basking sharks, otters, and ospreys. You might even spot a white-tailed eagle.
Be ready with your camera as well, because the views along this legendary stretch of Scottish sand are something you'll want to remember.
3. Isle of Iona
Distance: 5.5 miles
Time: 2-2.5 hours
Off the south-west coast of the Isle of Mull, you'll find Iona. And on Iona, there's a glorious 5.5-mile loop to enjoy.
Starting from Baile Mòr, you'll pass through Martyrs Bay, the intriguingly named Bay at the Back of the Ocean, and finish at the south end of Iona on St. Columbia's Bay.
As the best Scottish hikes go, this one's a cracker. Expect great views at every turn and look out for a few rocky, uneven sections as you go.
4. Ben Nevis / Fort William
Distance: 10.5 miles
Time: 7-9 hours
If you're up for it, why not hike to the top of Ben Nevis (1,352m) – Britain's highest mountain. You'll find steep paths throughout and the upper sections can get pretty rough and stoney. But the route is clearly marked and the vista from the top is well worth it.
Climbing Ben Nevis isn't all about photo opportunities. It's the sense of achievement. The fact you're standing at the highest point in Britain.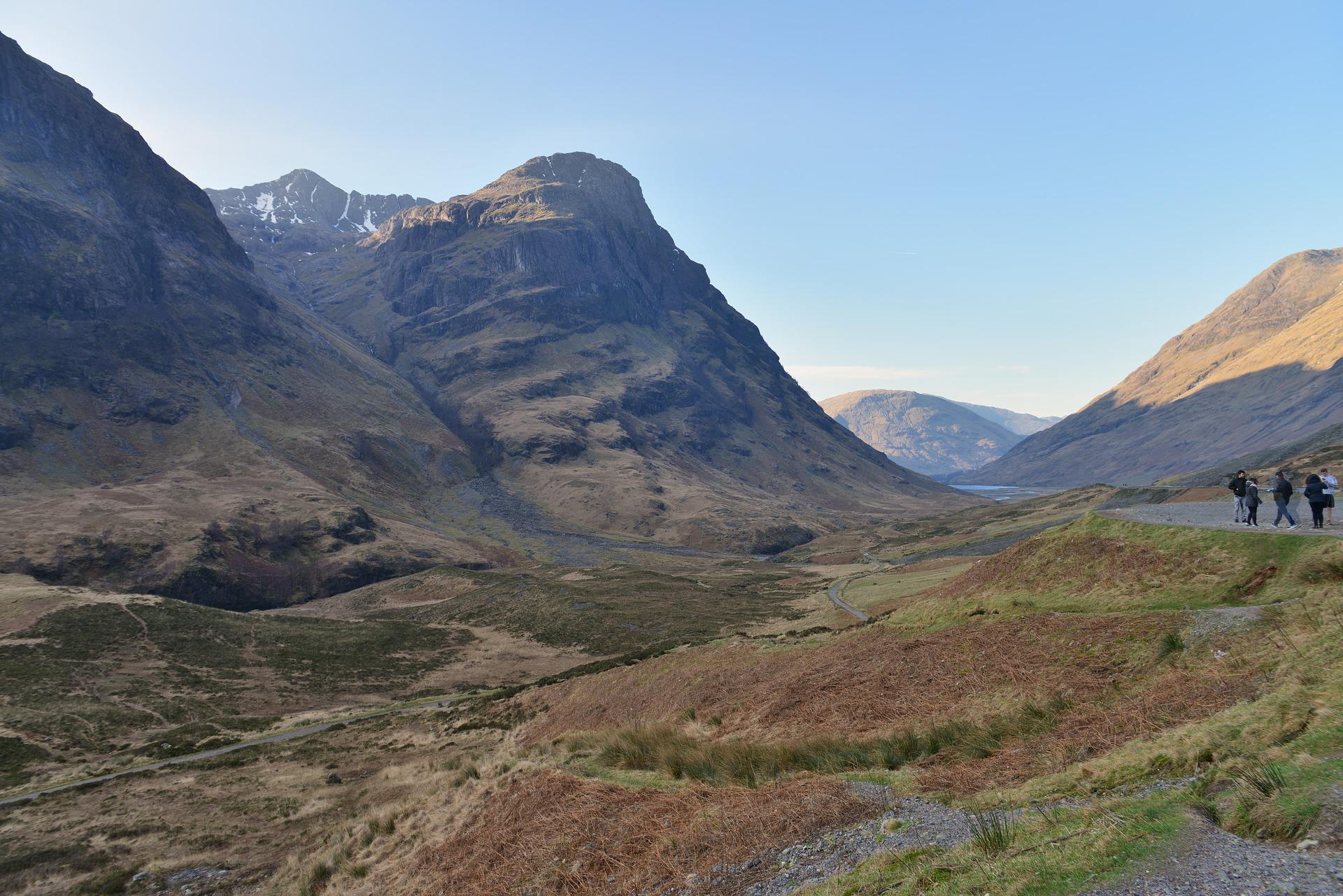 5. West Highland Way
Distance: 96 miles (full)
Time: 6-8 days (full)
Stretching from Milngavie (near Glasgow) to Fort William, the West Highland Way is one of the best hiking trails anywhere in the world. To complete the full 96-mile route, you'll need at least 6-8 days.
But don't worry if you've only got one day to spare. Because you can take on shorter sections of the trail, such as the 12-mile stretch from Milngavie to Drymen. It's relatively flat and you'll come across smaller lochs and rivers along the way. And when you reach Drymen, you'll be glad of plenty of places to enjoy a well-deserved rest.
Hike in Scotland with confidence this summer
To beat off the 'midge season'  this summer and enjoy any of the fantastic Scottish hikes above, you need gear that'll provide you with an effective shield from biting pests. But you also need kit that's lightweight, durable, and comfortable.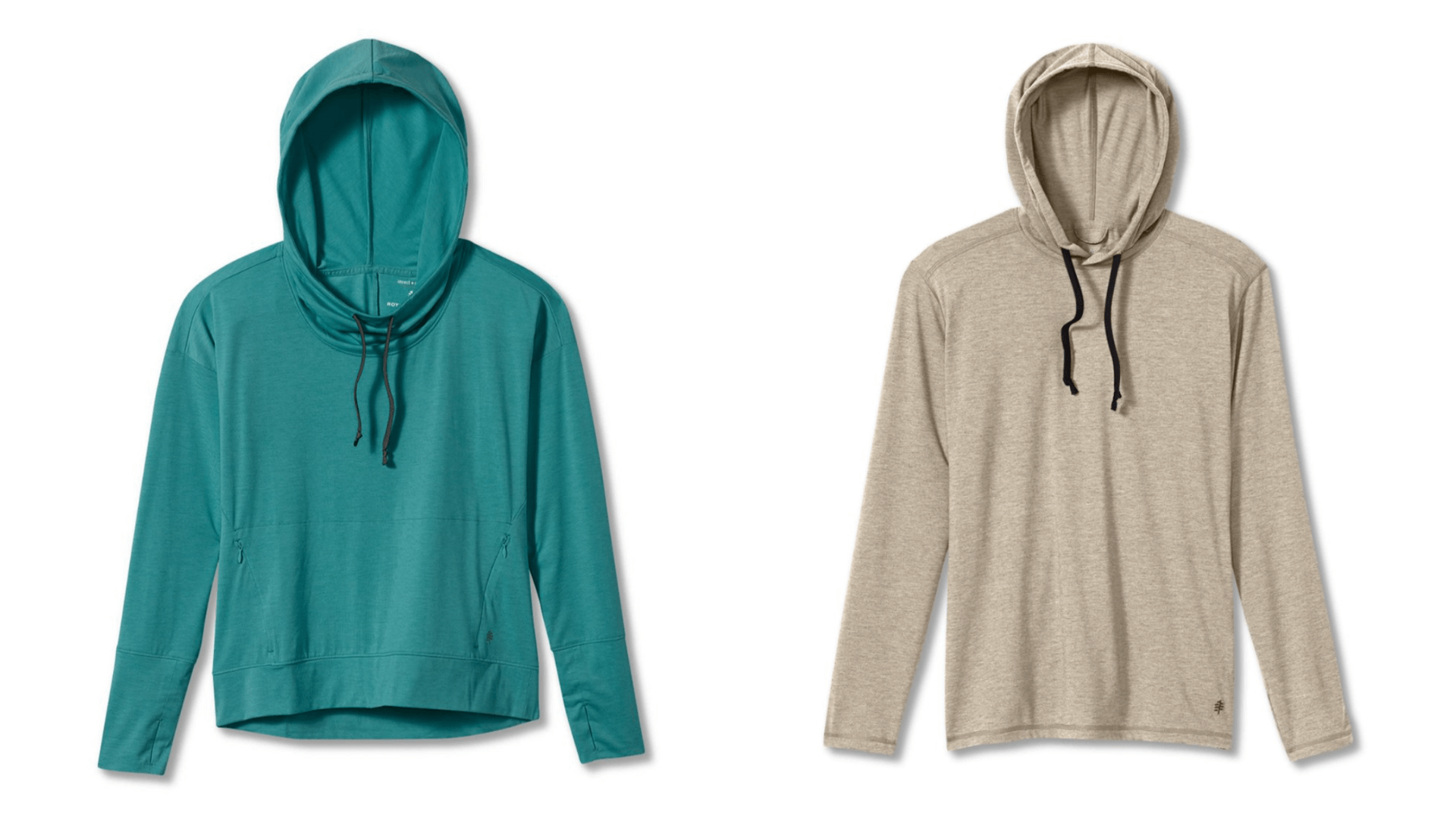 This makes the Royal Robbins Bug Barrier collection an ideal companion on your next Scottish hike. All the gear in the range benefits from being durable and is made from lightweight material. But it's the innovative Bug Barrier technology that you'll love the most. Here, the fabric has been specially treated to keep midges at bay (along with mosquitoes, ticks, and other insects that carry disease).
Take the Royal Robbins Round Trip Hoody (available in both men's and women's). It's made from a material known as Drirelease that wicks moisture away from your skin to let it breathe. You'll be thankful, too, of the hoody's quick-drying properties. So, if Scotland's weather takes an unfortunate turn, you won't have to worry about lugging around damp, clingy clothes for the rest of the day. And because the hoody fully covers your arms, upper body, and the back of your head (if required), you're protected in areas most prone to a Scottish midge attack.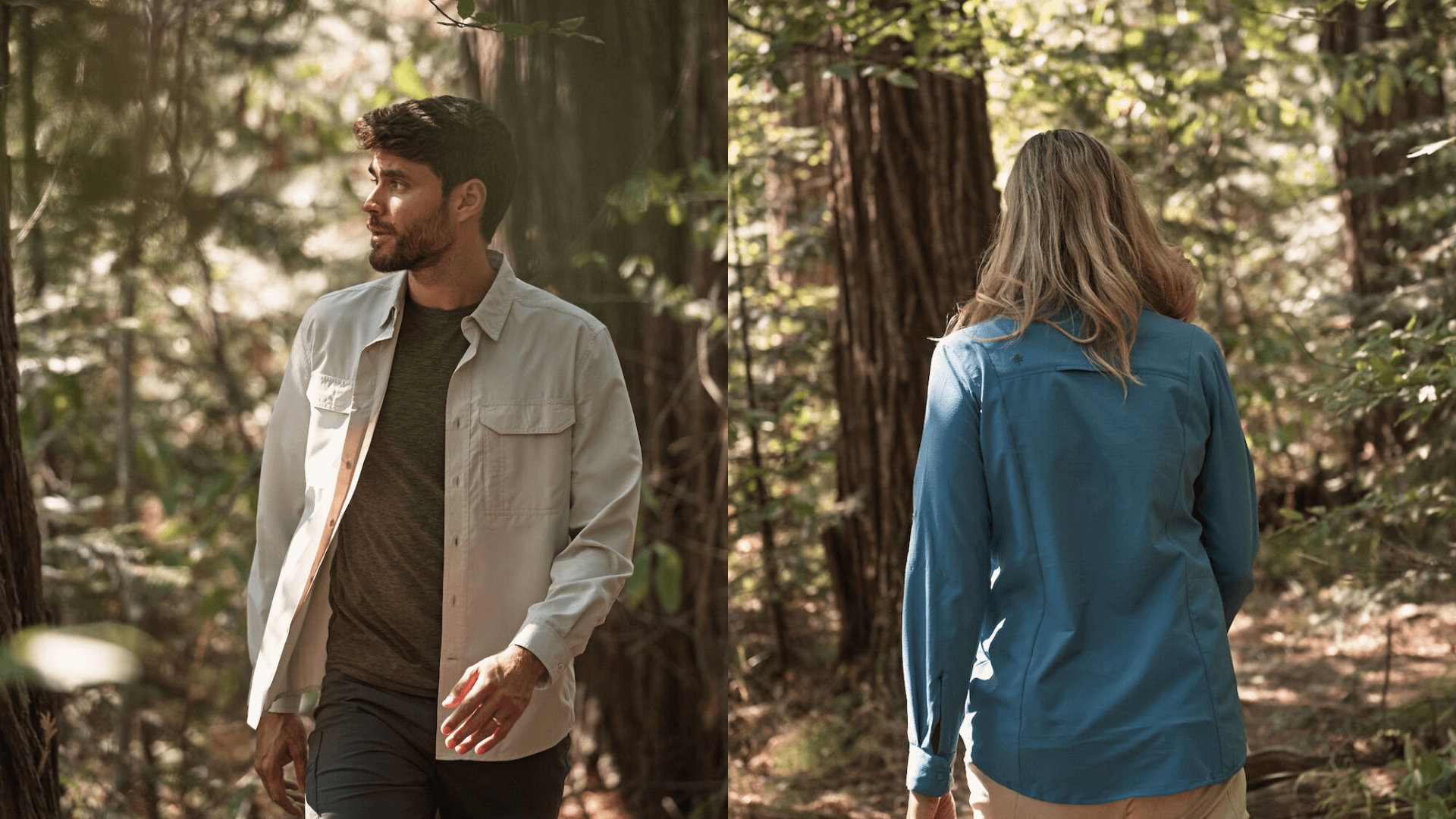 Then there's the Royal Robbins Bug Barrier Expedition range (available in both men's and women's). Built to be super-lightweight, durable, and comfortable, this is a shirt that stretches to your body as you move. You'll also be glad of the wrinkle-resistant fabric that prevents the material from creasing up, allowing you to make the most of your summer adventures. Most importantly, you'll end each and every day bug-free!
Get ready for your next Scottish hike
Visit Trekitt's wide range of Royal Robbins Bug Barrier clothing in their online shop at trekitt.co.uk. Happy travels!