www.sprayway.com | £30
The Sirius 25 has to be what most people envisage when they think of a rucksack for a day of leisurely hiking in the countryside. And for me it has everything I want for a day out with my very energetic dogs. It fits all I need to see me and them through the day, with good features and an attractive price tag, which is what I have come to expect from Sprayway: a quality, useable product at a realistic price. 

The material is a strong and durable Cordura-type fabric that will cope well with the knocks and scrapes that come with being chucked on the floor several times a day at rest stops. It has a weather-resistant coating that will see off light precipitation, and there's also a rain cover in a pouch in the bag's base.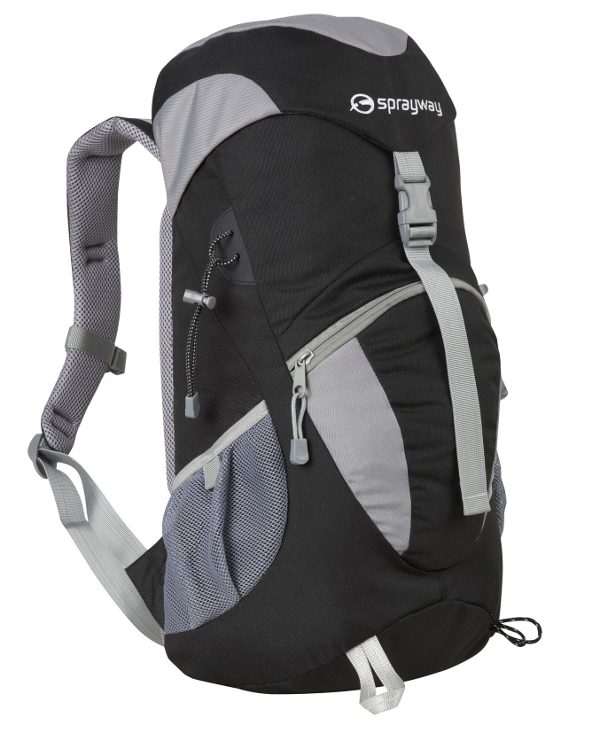 The Sirius 25 has a simple back system with a semi-rigid internal sheet to give the bag shape. The external padding on the back and lumbar region is soft but supportive and it's lined with airy mesh to help wick away moisture. The shoulder straps are reasonably wide with firm padding and there's a chest strap but no waist strap, so the bag is very comfortable for lighter loads, but for heavier kit I'd opt for a more technical pack with a waist band to support the weight.
There are no pockets in the lid which is unusual as I find this a useful place to store small items. The main compartment is a decent sized space with a sleeve for a hydration system. On the outside of the pack there's a zip-up pocket on the front that could be used for smaller things such as snacks or money. There are two mesh side pockets for drinks bottles, and there loops so you can stash trekking poles or even an umbrella.
I like the Sirius 25. It's comfortable, well-made, affordable and an ideal bag for gentle hiking or even commuting.
Sprayway Sirius 25 Verdict
A great value for money daysack.