If you've found your way onto this website, then it's likely you can't help but love mountains and all the incredible adventures that come with them. There's nothing like the satisfaction of reaching a summit, the challenge of the journey there and all the breathtaking views along the way. Due to their mind-blowing scenery, unique features and often monumental challenges, some mountains around the world have now become legendary, with tourists descending in droves every year to tackle the summit or catch a glimpse of these famous giants… which has led to some pretty funny reviews.
Here at Adventure Travel, we know that weather, altitude, and steep gradients all play a part in making mountain climbing a challenging yet rewarding hobby. Whether you're a regular up our beloved Ben Nevis, or you like exploring a little further afield, there's nothing like a good mountain to quench that thirst for adventure. Apparently not everyone feels the same!
Here are eight hilariously funny reviews of our favourite mountains from tourists who were clearly a little out of their depth…
Like this person, who was hoping for a little more from Mont Blanc:

Or this person, who thought the wine list at Everest Base Camp was lacking:

Or this guy, who thought climbing Everest would be a doddle:

Not to mention this fella, who forgot just how high some mountains can get: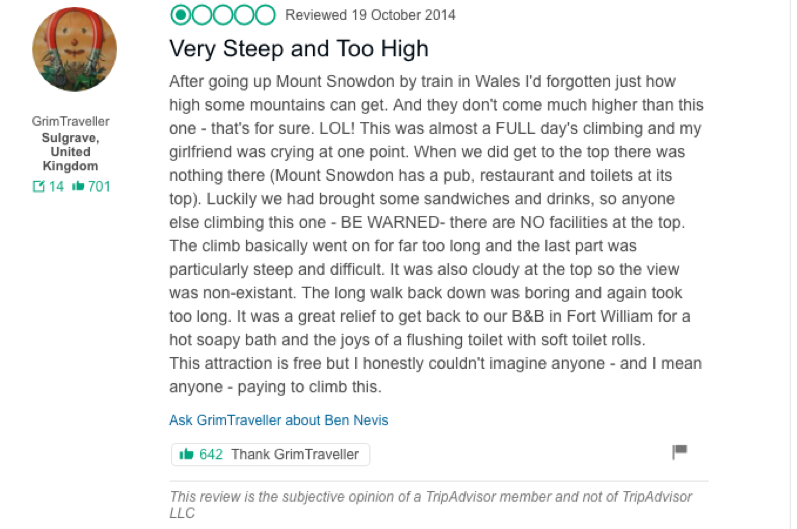 Or this person, who found the Himalayas a little chilly: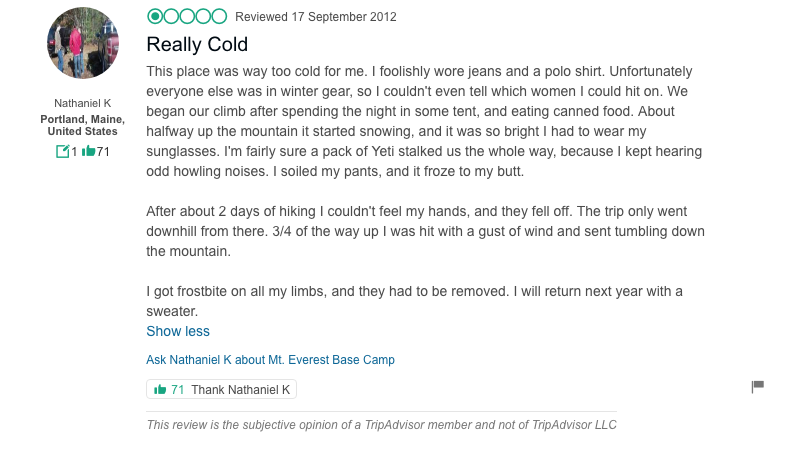 This person, who had a dramatic encounter at Table Mountain:

Also, this guy who thought Ben Nevis was "far too steep":

And finally, this guy, who just went to Snowdon looking for a party:

These funny reviews don't do these wonderful mountains justice but they sure are hilarious!
All reviews were taken from TripAdvisor and Google Reviews. 
Found any more funny reviews for your favourite places? Let us know in the comments below!