Colorado's highest mountains are the focus of a popular and challenging quest: to stand on top of all of the state's 14,000ft summits (14,000ft is a less snappy 4,267m in metric terms). The 53 peaks that make up the group offer a variety of hiking options, ranging from simple walk-ups to thrilling, exposed scrambling.
The '14ers' are geographically dispersed throughout the state and each region offers a different hiking experience. The Sawatch Range in central Colorado is characterised by large, dome-shaped peaks with gentle slopes, while the volcanically forged San Juan Range in the southwest pokes into the sky like a collection of jagged, broken teeth.
The easiest summits see hundreds of visitors on sunny, summer weekends while the most difficult peaks may only have a few dozen steely-nerved ascents in a season.
Progressing along with the peaks is part of the appeal for such a quest. All of the 14ers have well-established routes and about 40 have maintained trails suitable for man and dog alike (my border collie Fremont has climbed many of them with me). Two summits, Mount Evans and Pikes Peak, have paved roads to the top, whereas the 10 toughest peaks require skilled off-trail route finding and respectable scrambling ability.
All of this is good news for visitors to Colorado who may only have enough time to hike one or two mountains: there are 14ers for every skill level.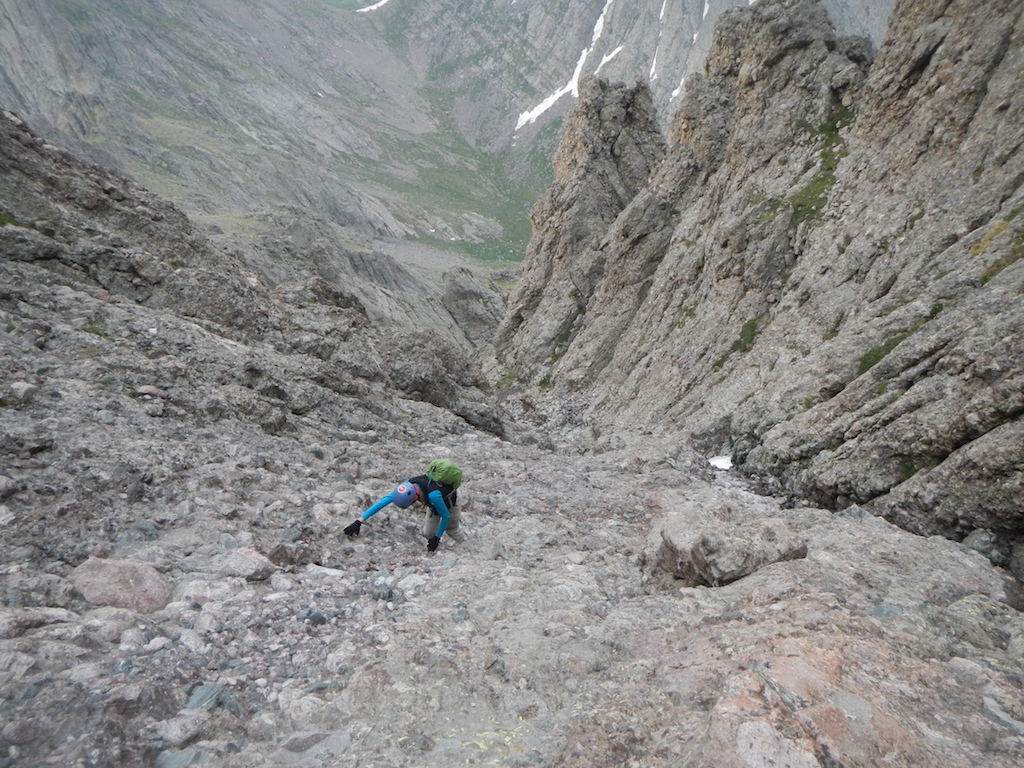 What is a 14er?
It would seem rather straightforward that any peak with a summit over the given elevation would be worthy of 14er status but this is not quite the case. There are a handful of lofty summits that top out over 14,000ft yet are not 'official' 14ers.
The definition agreed upon by US Geological Survey and endorsed by the Colorado Mountain Club (the voice of authority in these matters) is:
'A 14er is any peak that rises over 14,000ft with a prominence of over 300ft from any connecting saddle with a neighbouring peak.'
By this definition there are 53 summits, but most finishers consider a list of 58 to be the true end of the quest, adding in five extra peaks that are pitifully close to matching the criteria but fall short in the prominence department.
The lowest 14er, Sunshine Peak, barely makes the club at 14,001ft, while the king of the Rocky Mountains is 14,433ft Mount Elbert, an accommodating mountain that has several non-technical trails leading to its rounded summit.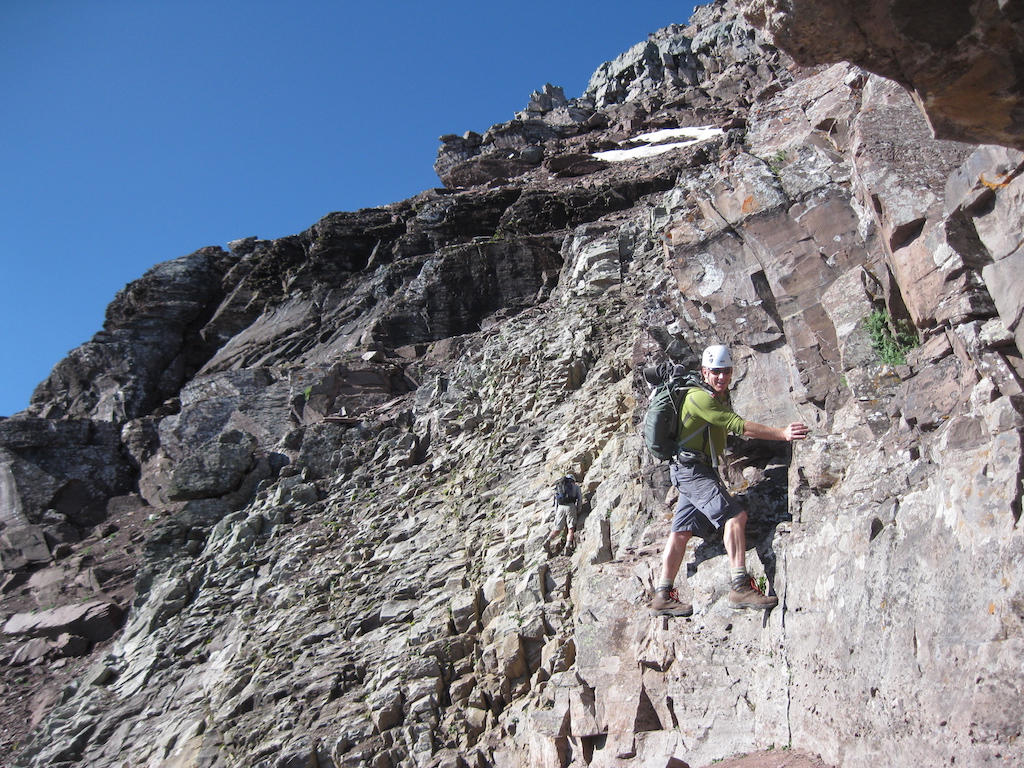 The challenge
You need to be fit, mountain savvy and invest a good deal of time if completing all of the 14ers is your goal.
Besides the obvious logistical issue of the scattered locations of the peaks, there are many other considerations when it comes to safely navigating in alpine terrain. All the 14ers rise above the tree-line (which is at about 11,000ft or 3,350m in Colorado), meaning a bulk of the travel must be done exposed to the elements.
Prime hiking season is June – September and it's notorious for violent thunderstorms that hammer the mountains nearly every afternoon, so getting an early start is vital – usually pre-dawn.
The lack of oxygen at 14,000ft is of concern for all hikers but is of special concern for those arriving from sea level. The burning radiation of high-altitude sunlight can quickly toast bare skin and scorch exposed eyeballs. Weather can be a wild card any time of the year and spring offers the unique challenge of high-running rivers and half-frozen, messy trails.
Finally, the most challenging peaks have gut-wrenching exposure and serious fall potential – it is a sad fact that nearly every year has a death on a 14er. If none of these factors intimidates you, then read on.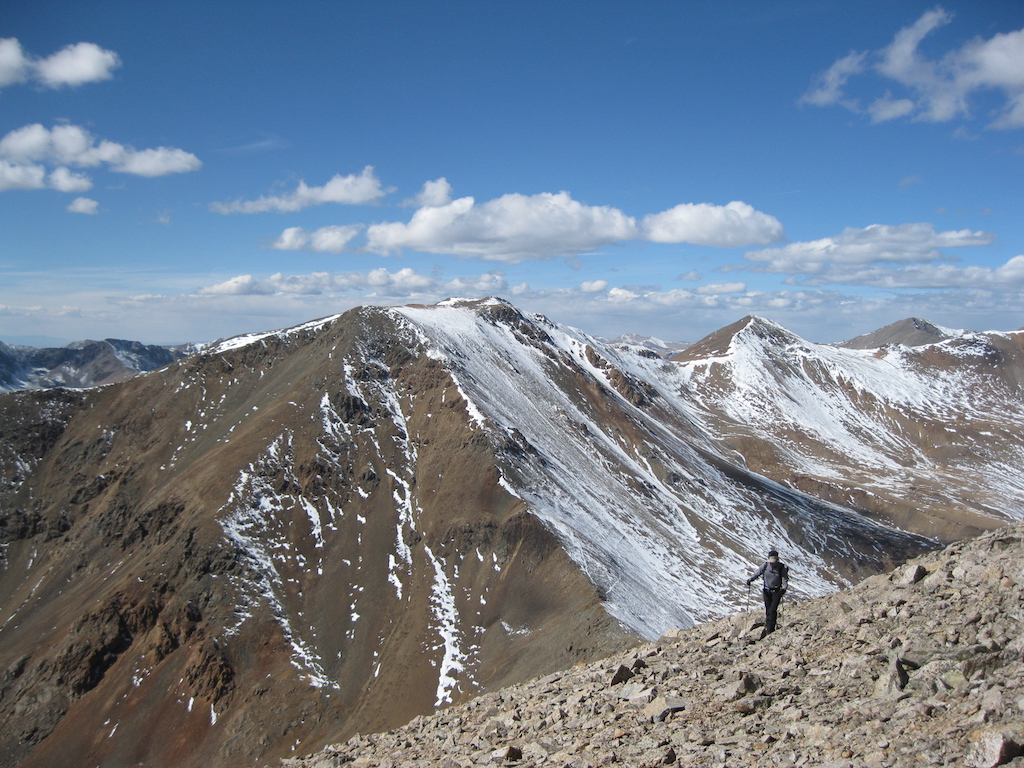 The reward of hiking 14ers
Of course, there is no reason why you have to climb all the 14ers. The American west is an amazing landscape and from the high peaks you can see deep valleys, long rivers and rolling summits stretching horizon to horizon.
A bounty of wildflowers stubbornly blooms above the tree-line and a menagerie of wildlife, from the mouse-like pika to mountain lions, call the high mountains home.
The camaraderie is strong in the high peaks and it's an interesting phenomenon that the higher you go, the nicer people become. Mountains are cherished in Colorado and the community does well to keep them clean and accessible.
And there are plenty of perks that go beyond the actual task of hiking the mountains. Road trips along Colorado's highways are scenic and rarely boring. Mountain towns are fun, quirky places and let's face it, there's nothing quite like a good pint and a robust meal to finish off a great day in the hills. And dare I say, the mountains can even be romantic, assuming your partner is fond of a good work-out hiking in the hills.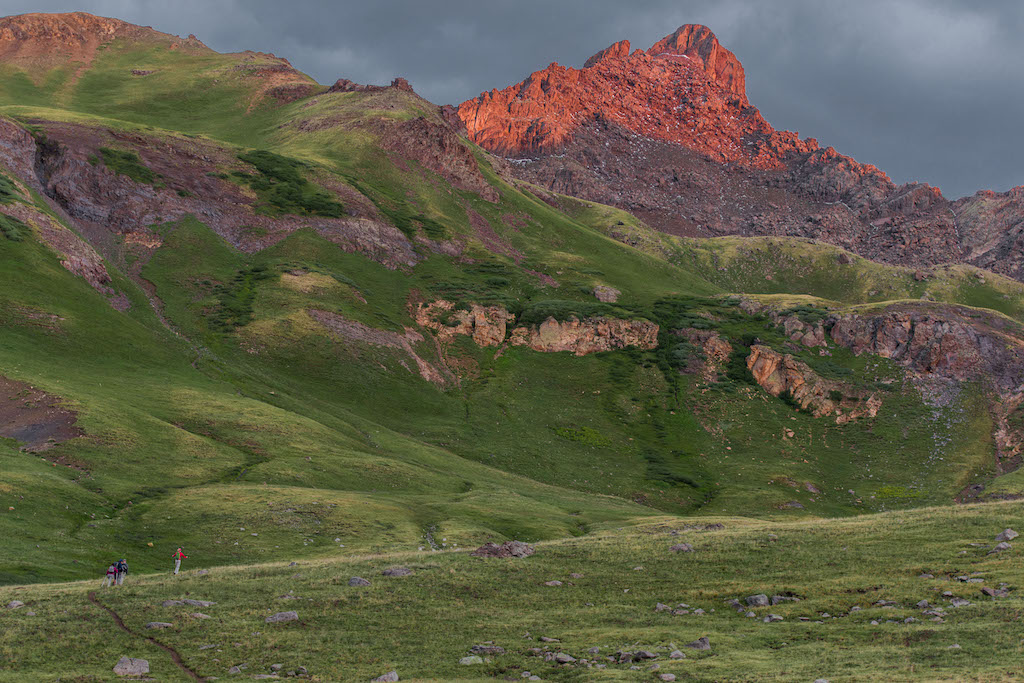 The classics
Among the 14ers, there are several that are considered Colorado classics. The aforementioned Mount Elbert (14,433ft) is the highest peak in the state, just edging out nearby Mount Massive (14,420ft). You can hike both of them in a weekend as the standard routes start at trailheads literally across the street from one another.
Pikes Peak (14,110ft) is symbolic of the old west and has a developed summit that can be driven to in the summer months. Longs Peak (14,255ft) is considered the consummate gateway peak that separates the moderate mountains from the difficult summits and is highlighted by the famous Keyhole route. To reach this gutsy summit you need to tackle a natural rock passage that reveals a system of exposed ledges and exciting scrambling en route to the highest point.
Grays Peak (14,270ft) and Torreys Peak (14,267ft) are often climbed as a pair and are an excellent choice for those short on time thanks to their well-travelled trails and close proximity to Colorado's largest city, Denver (about an hour away).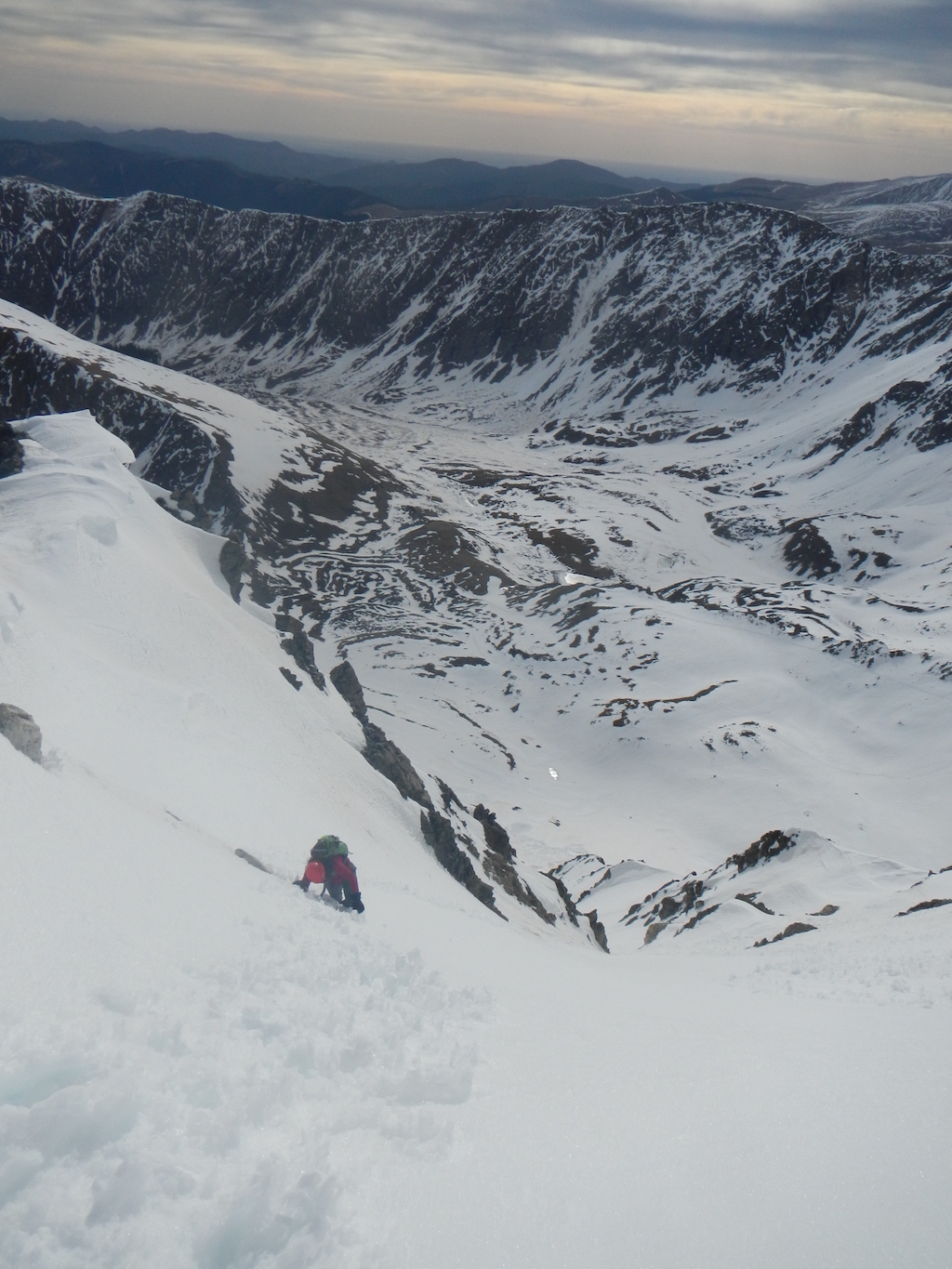 And for those ready to test their mettle, either Little Bear Peak (14,037ft) or Capitol Peak (14,130ft) are considered the toughest of the tough, featuring long days (both over 15 miles by their easiest routes), big exposure and difficult route finding.
Nearly every one of the 14ers has its champion. Some are renowned for their scrambling, others for their mining ruins and still others for aeroplane wrecks. Some, such as the Maroon Bells (twin peaks dominated by 14,156ft South Maroon Peak), are gorgeous from a distance but a crumbly mess up close.
Others, such as the trio of Mount Democrat (14,148ft), Mount Lincoln (14,286ft) and Mount Bross (14,172ft), are fun because they can reasonably be hiked in one day. The only way to find a favourite is to get out there and hike!
Best peaks for visitors
Travellers coming to the Rocky Mountains should asses their fitness level and give appropriate time for acclimatisation to altitude before attempting a 14er. That said, any reasonably fit individual with a love of hiking should be able to enjoy a day on the 14ers.
If you are truly concerned about altitude sickness, there are prescription medicines, such as Diamox, that can help your body adapt – a good thing to know if you are short on time. You can also read our piece on how to treat, prevent and recognise altitude sickness.
Selecting a 14er to explore is often based on where you are visiting. In the Denver/Boulder metro area, the aforementioned Grays and Torreys Peaks are the best bets for a good day out, though they can get a little crowded on summer days.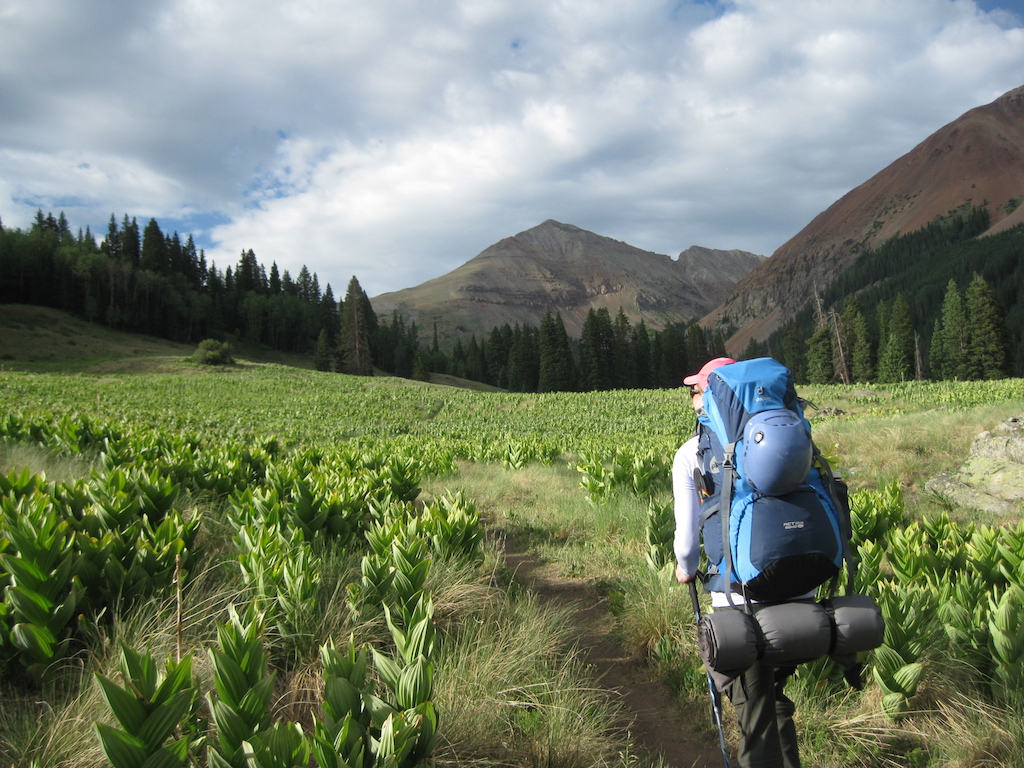 Mount Bierstadt (14,060ft) has a tidy six-mile round trail and is also roughly an hour from Denver. If you're in it for the views and don't need a big hike, Mount Evans (14,264ft) too is about an hour from Denver and has a paved road to the summit.
Quandary Peak (14,265ft) and Mount Sherman (14,036ft) are two of the least difficult summits that are about a two-hour drive from the Denver area. Mount Elbert is a 2.5-hour drive from Denver and is near the small town of Leadville in the heart of Colorado's highest peaks.
Or if you think all this nonsense about taking it easy is boring, go ahead and give Longs Peak a go when you are visiting Denver – it's about a two-hour drive to the trailhead. Just be ready for over 15 miles and 4,400ft (1,350m) of elevation gain! Start early – a 2am start is typical on Longs.
If your travels take you to central Colorado, Castle Peak (14,256ft) is roughly 30 minutes from the famous mountain town of Aspen and is an excellent, non-technical walk up. More challenging from the Aspen area is Pyramid Peak (14,018ft), a true mountain scramble with a brief, steep and burly approach. The chances are you will be visited by the skilful mountain goats that call Pyramid Peak home when you come to visit.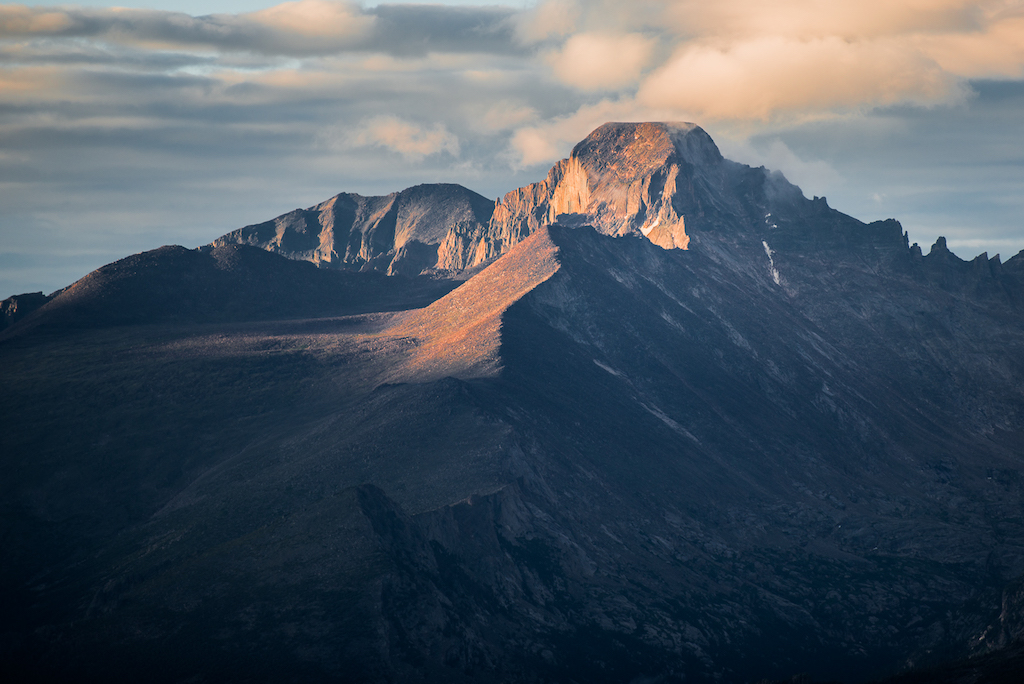 In the southwest, Red Cloud Peak (14,034ft) and Sunshine Peak (14,001ft) are a nice duo that can be hiked in a day and highlight the iron-rich, red rock that makes up many of the western mountains. And if you have the time, one of the most unique experiences in Colorado – for locals and tourists alike – is found in Chicago Basin, where Windom Peak (14,082ft), Sunlight Peak (14,059ft) and Mount Eolus (14,083ft) await.
A trip up these 14ers involves taking an old steam train to a trailhead in the middle of the mountains. Here you disembark along a seven-mile trail to set up camp in the basin below the three peaks and hike them at will. When you've had your fun, pack up and return to the isolated wilderness train stop, where you will be shuttled back to civilisation.
Resources
The community at the 14ers website has a wealth of information about each of the 14ers. There are free maps, resources and hundreds of trip reports available as well as an active, friendly forum. The experienced community is glad to offer up help but be prepared for them to invite themselves on your adventure (we can't help it, we love mountains!).
If you are a fan of print guides, Colorado's Fourteeners by Gerry Roach has all of the standard routes as well as many technical options for mountaineers. And if you are looking for a book that highlights the best 14ers along with many of Colorado's best peaks below 14,000 feet, may I humbly suggest Best Summit Hikes in Colorado by yours truly, James Dziezynski.
The first 30 pages of the book serve as an excellent primer for Colorado's mountains, with detailed information about gear, weather patterns, seasonal conditions and nutrition. The hikes in the book are detailed with maps, GPS descriptions and accurate driving directions.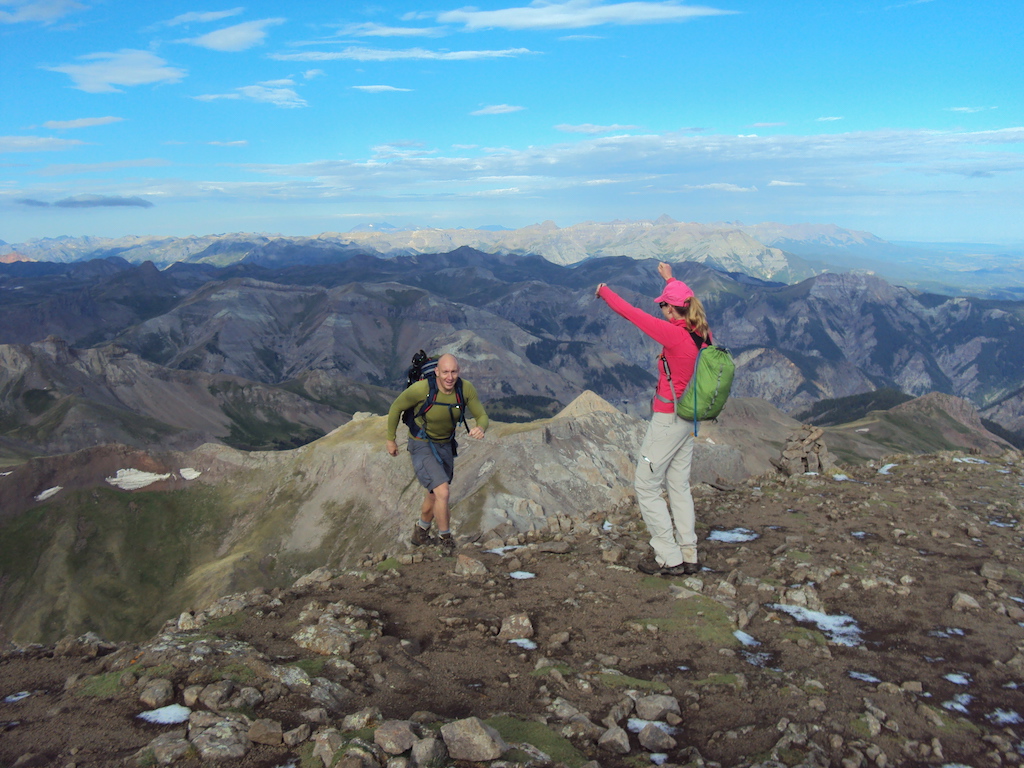 How to climb a 14er
Finding a base
The majority of visitors arrive through Denver International Airport – flights from the UK take about 10 hours direct, but you may find it cheaper to fly with a change.
The Denver/Boulder/Golden metro area is a great place to get used to the altitude, at 5,280ft (about 1,600m) above sea level. A day or two at this elevation will prepare you for adventures in the high mountains.
The mountain town of Frisco is a great central point when exploring the 14ers and the elevation of nearly 9,000ft (2,750m) will help you acclimatise – even while you sleep! There are plenty of hotels to choose from here.
Even deeper in the mountains is the old mining town of Leadville. At 10,000ft (3,050m), it's one of the highest towns in Colorado yet features modern lodging, stores and restaurants. The trendy mountain towns of Aspen, Vail and Telluride are all popular destinations but be warned, they can be a bit pricey.
If you're looking for a more grassroots experience, you can hire tents and other gear at any of the several REI stores throughout Colorado. There are shops in both Denver and Boulder. While camping regulations vary from place to place, the bulk of the 14ers are located in national forests that have paid campgrounds or free backcountry camping. The 14ers website can give you more information relative to the mountain of your choice (only one 14er, Culebra Peak, is on private land and requires a fee to hike).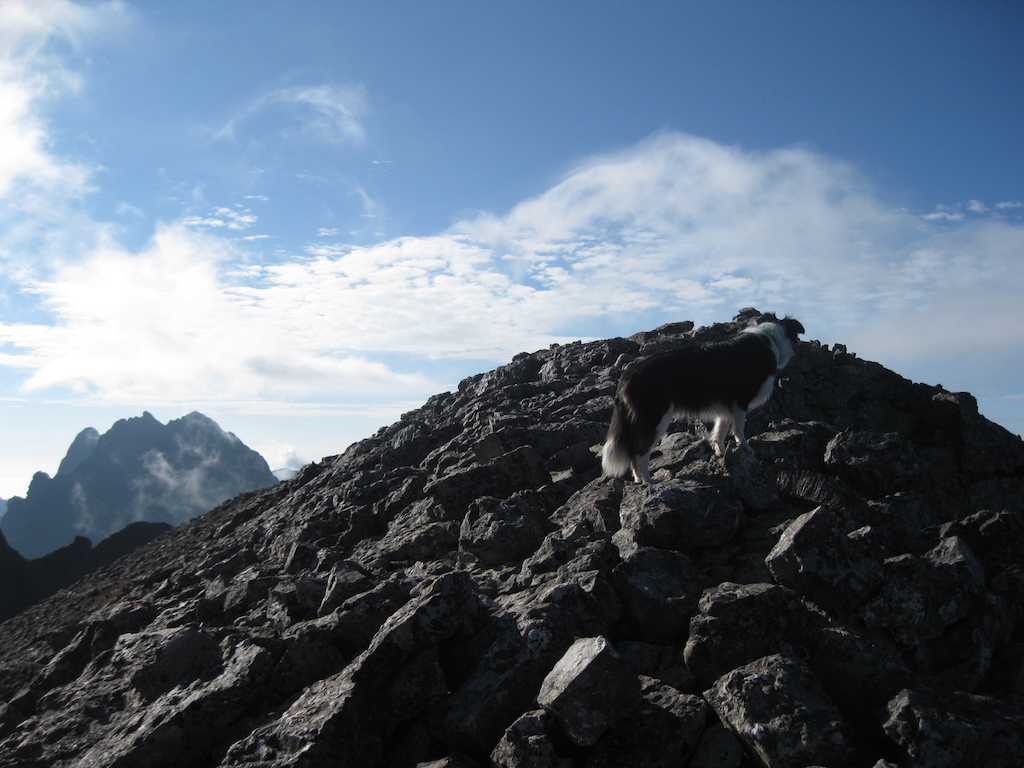 Best time to climb a 14er
The best time for hiking Colorado's 14ers is between late June and early October, with the first snows often arriving mid-September. Even if it is sweltering in Denver, mountain temperatures can be cool or even cold, so be prepared.
What to take when climbing a 14er
Normal summer temperatures are roughly 15°C in the day to -7°C at night. Colorado's summits can also be very windy, so bring windproof layers and warm gloves. Be ready for snow until early July. After that, good hiking shoes will be fine for most peaks, although you may prefer hiking boots on the off-trail 14ers.
Hiking poles are nice on the long descents and since most 14ers require 3,000ft of elevation gain, they can really save your knees. Dress in layers (no cotton) – you may go from shorts to snowsuit in the same day!
Sun cream is vital when visiting Colorado's high peaks – don't be shy, slather yourself on a regular basis. Quality sunglasses are equally important as well. Make sure to drink lots of water, as the thin air is drying you out quicker than you think. Two or three litres of water is typical for a single day out, and adding in electrolyte-based energy drinks is a good idea to avoid cramps.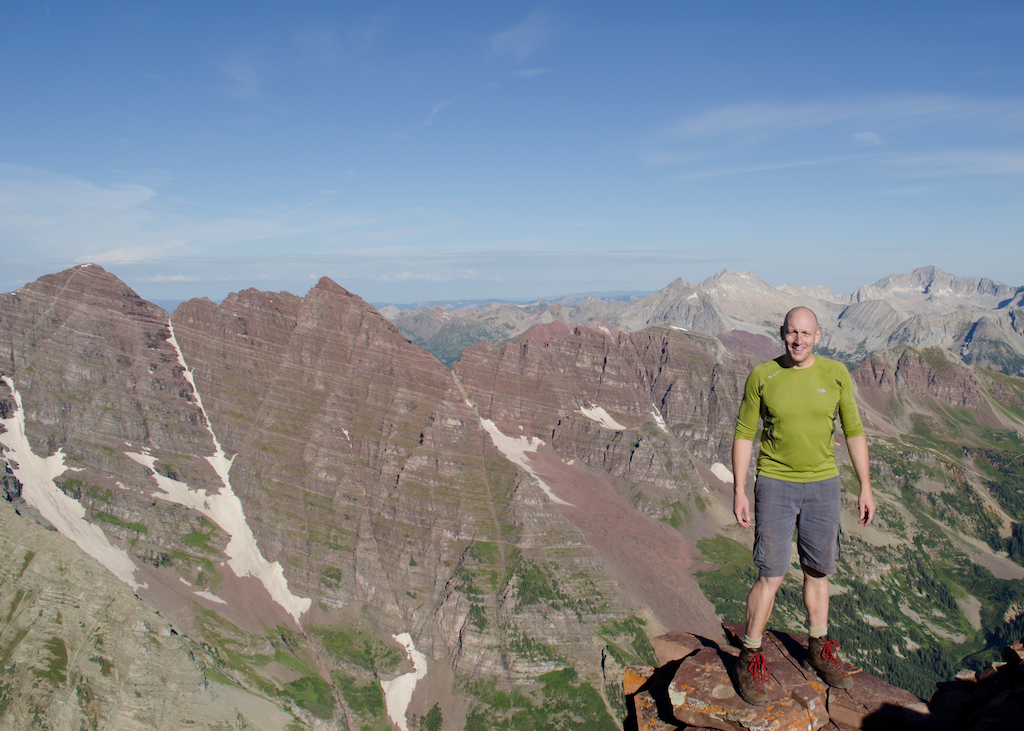 I often suggest eating energy gels and sweets at altitude, since digestion can be affected by the lack of oxygen and you want easy to digest energy that works (carb-heavy foods can really slow you down). Because the high peaks are above treeline, GPS units work quite well but come equipped with a map and compass as well.
If you are hiking out-of-season, remember proper avalanche gear. Finally, I like to take preventative Ibuprofen before and after hikes to stave off any potential headaches and quell any residual aches and pains.
A note on timing
Perhaps most important when climbing a 14er is to get an early start. While the 5am wake up can be painful, summer storms are almost guaranteed every day at around 2pm. The general rule is to be off the summit by noon at the latest (though my personal rule is off the summit by 11am). You do not want to be trapped above timberline during a thunderstorm.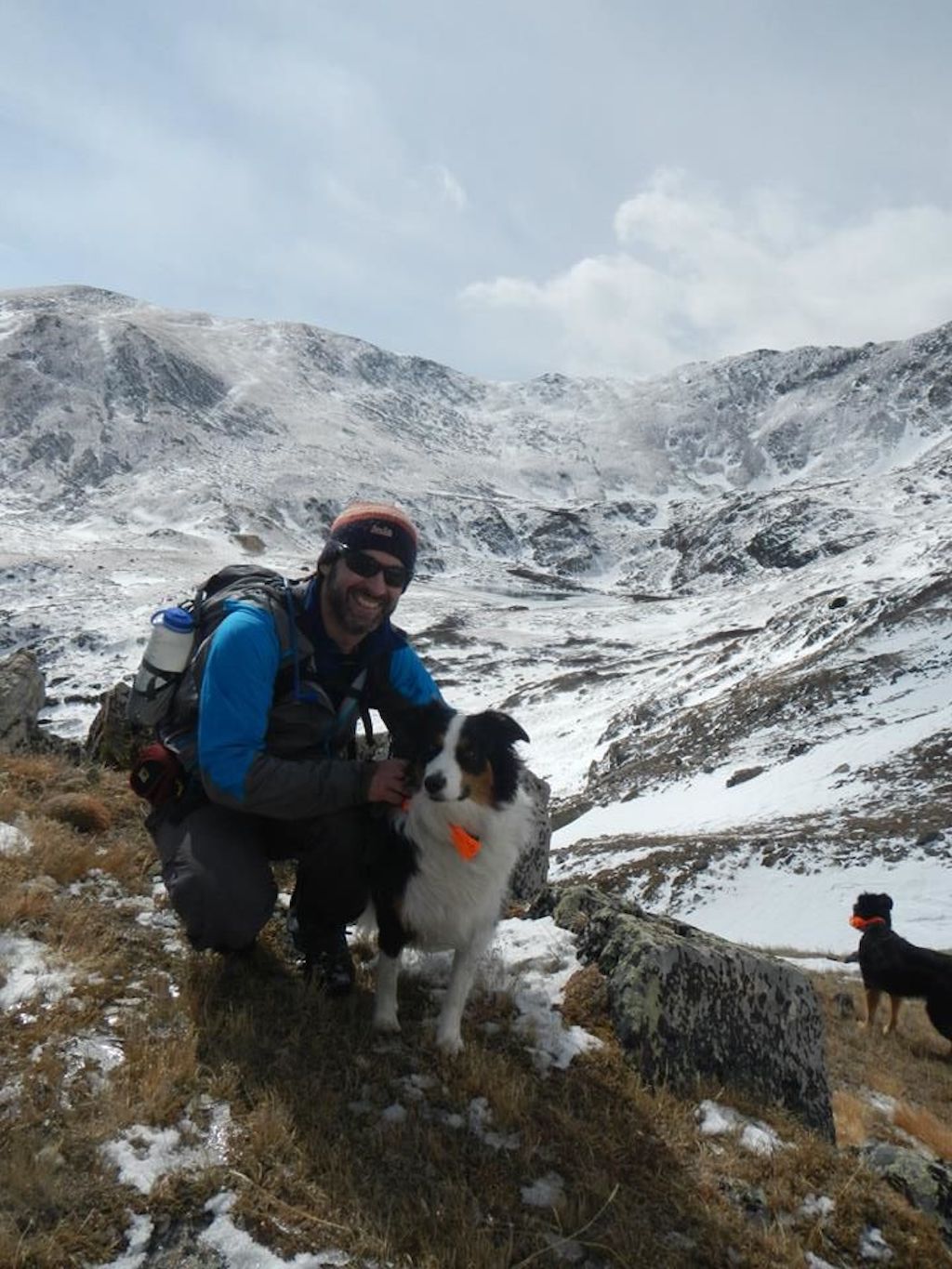 A personal note
Living in Colorado, I've been fortunate enough to have hiked all the 14ers, some of them several times. Along the way, I've met many hikers from the UK, Germany and other parts of Europe having a fantastic time in the hills.
While the 14ers must be taken seriously, anyone with mountain experience can expect to fully enjoy a day in the Rockies. Colorado hikers are generally a friendly, laid back, well-travelled lot and are glad to help with any questions you may have.
And, to back up my claim, if you are planning a trip to Colorado and would like more information, feel free to drop me a line at [email protected].