www.merrell.com | £135
Randy Merrell began making handmade, custom hiking boots over thirty years ago, and has since evolved the brand into a well-respected, quality manufacturer of outdoor gear. Nowadays, Merrell prides itself on producing hiking equipment with a focus on comfort, durability design and versatility, so I was intrigued to test out the Merrell Moab FST 2 Gore-Tex hiking boot, to see how they fared. The boots in question are a lightweight (736g) mid cut textile hiking boot with a waterproof Gore-Tex membrane, suitable for hiking in a variety of conditions.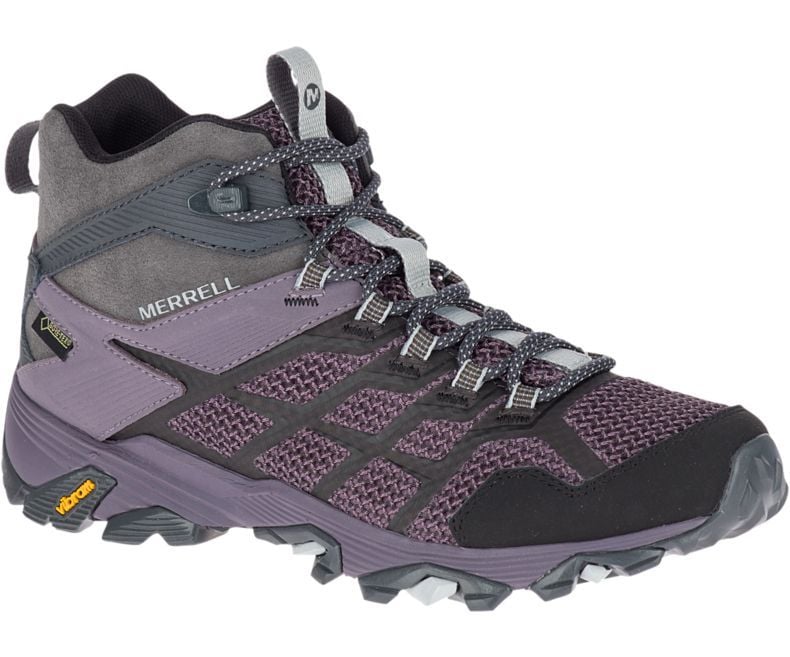 In terms of design, the Merrell Moab FST 2 boots looked great straight out the box, a lovely understated aubergine in colour with black and grey detailing. They're also available in plain black or black with electric blue detailing, which I really liked the look of as well – just a little splash of colour is about right for me. The style is modern and athletic, almost like an amalgamation of a trainer and hiking boot combined.
Looks aside, as soon as I got these boots on I knew I was in for a treat. They feel comfortable straight away, with plenty of cushioning around the foot so they're really secure without being restrictive. The fit was pretty spot on as well, I'm generally a size four-and-a-half so I ordered a five and had the perfect amount of room for a thick pair of socks. They're comfy from the moment you put them on.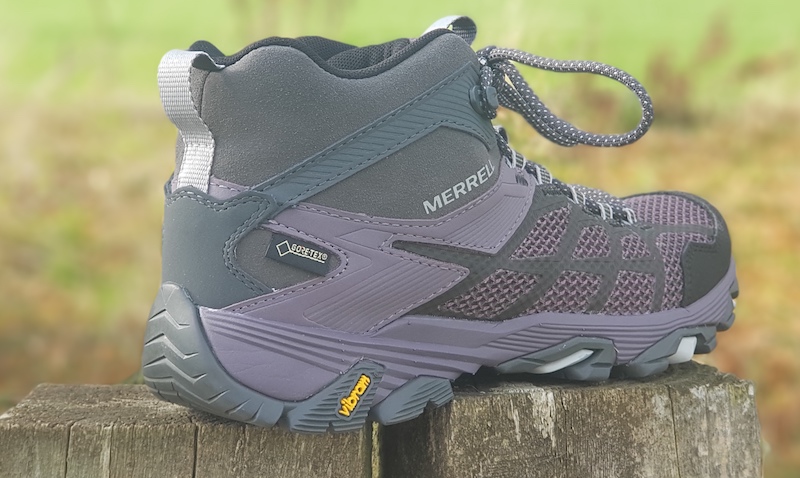 Despite feeling incredibly light they do offer a decent amount of support around the ankle, while a degree of flexibility is provided by the Kinetic Fit Base, contoured to the same shape as your foot. I was surprised by just how flexible the sole was – straight away you notice that the boot flexes with your foot as you walk. Meaning, I definitely wouldn't want to be lugging a heavy expedition pack over uneven ground in these, but for moving light and fast, they're perfect. As the name suggests, the boots are lined with a Gore-Tex membrane which is waterproof and breathable, a bellows tongue for added security against wet weather.
While the bottom of the boots feels extremely malleable, the Vibram Megagrip outer sole adds a good degree of stability, traction and slip resistance. When put to the test on a variety of terrain, the boots fared well, giving a good amount of grip even in wet weather. The thick rubber sole also gave me more confidence in the longevity of these boots.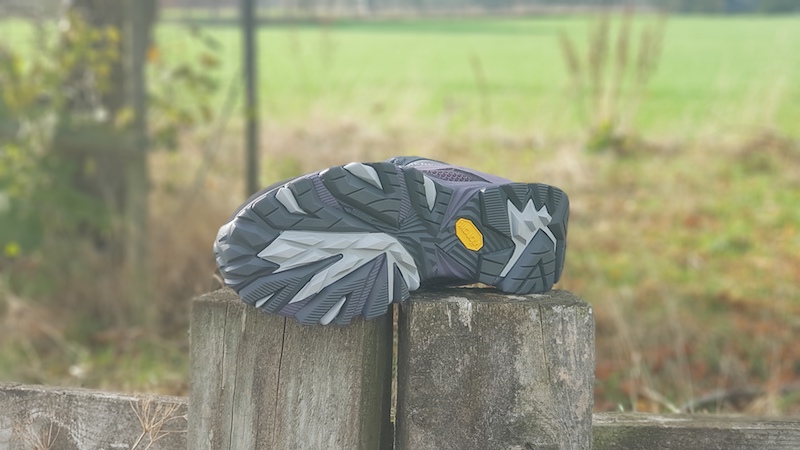 In terms of versatility, it's true that they are very much a hiking boot, with the mesh lining and lightweight design making them perfect for summer strolls, while the grippy outer sole and Gore-Tex membrane ensure they are just as practical for low level wintery treks or wet weather hiking. The fact that they're so comfortable and lightweight means you could easily throw them on to run errands or walk the dog in.
Merrell Moab FST 2 Verdict
An insanely comfortable and lightweight pair of hiking boots that are ideal for a range of walking and hiking, with a design that looks as good as it feels.