www.paramo.co.uk | £245

I've long been a fan of Paramo Nikwax Analogy waterproof clothing. It was the kit of choice for many of my colleagues (in a former occupation) when long hours had to be endured outdoors in all weathers. Their knowledge about what worked for them in such conditions inspired me and a few others to invest in the brand and I can only endorse their findings.
So I knew that the Alta II wouldn't let me down in this test. My old faithful Paramo jacket was put out to grass long ago but the Alta is pretty much identical to it and it was like welcoming back an old mate.
The fit is classic, it's soft and roomy and the three-quarters length is ideal when walking as it covers and protects down to mid-thigh.
Of course it has a good sized hood with a wired peak all of which can be rolled up and clipped away if required.
There isn't a waterproof membrane in this coat because it uses the Nikwax Analogy system in its pump liner which mimics the action of animal fur by pushing moisture outwards so protecting you from rain, condensation and perspiration. The outer is treated with DWR to repel the rain whilst letting the moisture from inside escape. So what you have is a waterproof, windproof but breathable jacket that works exceptionally well wherever you choose to wear it. It has be to mentioned, that because of the technology in the fabrics the seams do not need to be taped either. The DWR will need to be re-treated from time to time using Nikwax aftercare products.
At just over 900 grams it can't be described as lightweight and the pack size is on the bulky side for a rucksack. However, neither is prohibitive.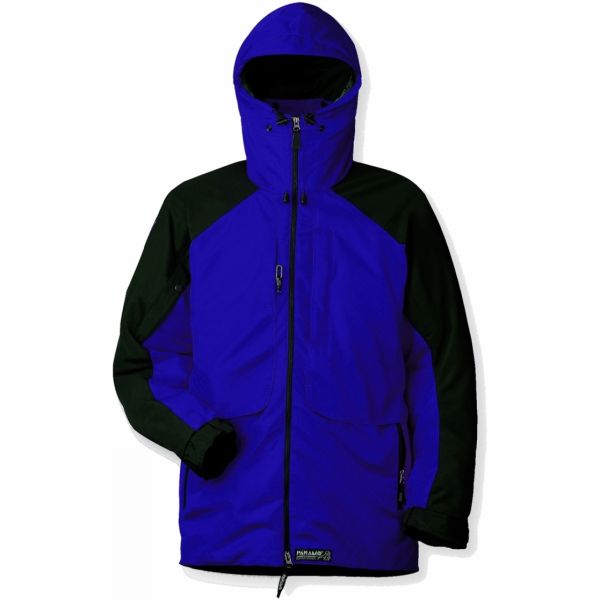 The full length 2-way zip at the front is ideal for added ventilation or access to trouser pockets. It is backed by a storm flap that is held in place by small snap fasteners if required.
Adjustment is plentiful and all of them are operated with ease even with a gloved hand. The hood has drawstrings around the face and one at the back to get the fit just right. The hem has double adjusters and there is one around the waist, the toggles for which are concealed in the lower pockets out of the way. Naturally the cuffs have good adjustment too, which can be rolled up for better cooling and will accommodate a glove with ease.
There are two vents on the upper arms which have zips covered with a flap. Pockets are spacious. The lower side pockets have side openings for better weather protection. Because the jacket is longer than some others the pockets will be below a pack's waist belt so still useable. There are 2 chest pockets one of which will take an O/S map. There is one inner pocket which is also big enough for a map.
A nice feature is the 2 foam pads that run down the back which will make carrying a pack more comfortable.
Paramo Alta II jacket review
In conclusion, the Paramo Alta II is a great all-rounder that will perform to a high standard. This is a classic jacket that I still love to wear.