I'm an average skier – about as good as a four-year-old Austrian kid. Blue and red runs are where I feel comfortable; black if the snow is good and I'm feeling intrepid. But for the next few days I'm going to have to step things up and find my best form.
I'm in the uber-cool Swiss resort of Verbier for a two-day ski touring and off-piste adventure. No easy, smoothly-manicured runs for me this time around; just gnarly, ungroomed backcountry, energy-sapping ascents and technique-testing downhill. Gulp.
Verbier is located in Val De Bagnes in southern Swizerland, close to the borders with France and Italy. It's known for its fusion of glamorous après-ski and opulent luxury with high-octane, sporty adventure; a combination that attracts a youthful, energetic crowd. But, in recent years, a new discipline has gained hipster status – ski touring.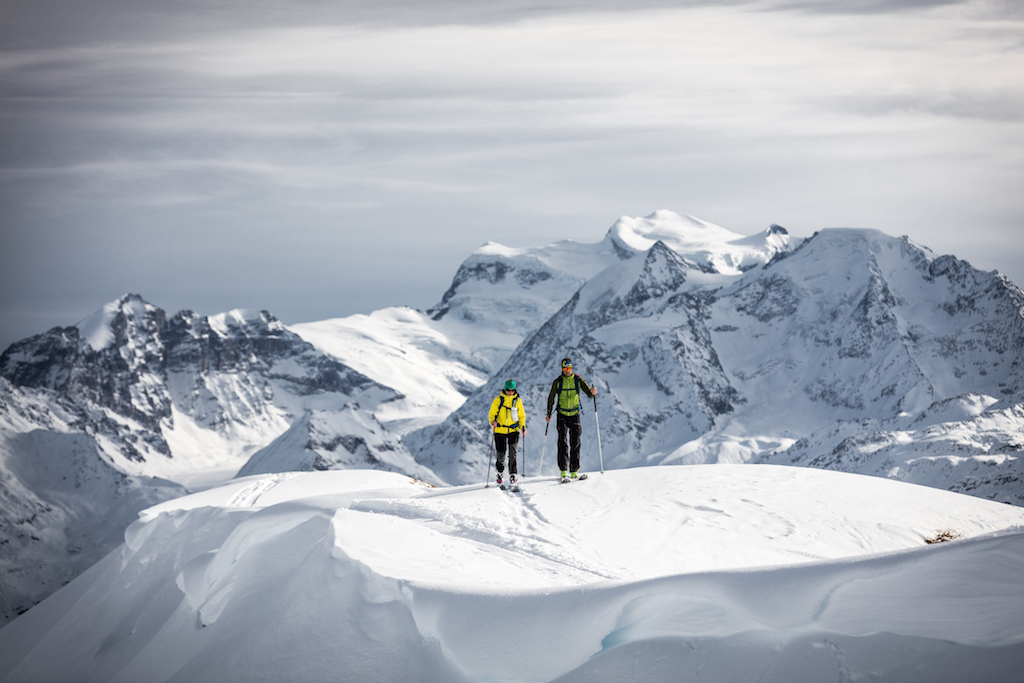 Forget the nightlife or haute cuisine, this new trend is all about back-to-basics: escaping into the wild, rugged mountains for a sense of adventure and freedom you won't find in resort.
Ski touring is skiing in the backcountry on unmarked and unpatrolled terrain. There are no lifts here, so the discipline involves 'skinning' uphill – usually to mountain passes or remote huts – before skiing downhill on off-piste, ungroomed slopes.
The uphill requires a specific set-up: you strap grippy 'skins' to the base of your skis, enabling traction as you ascend, while the heels of your boots are not bound to the skis, allowing a natural gliding motion as you climb step-by-step.
The off-piste downhill, meanwhile, requires solid technique, a head for heights and outdoorsy grit, as you battle chopped-up powder and untamed, gnarly ground. I'm excited – and apprehensive – about giving it a go.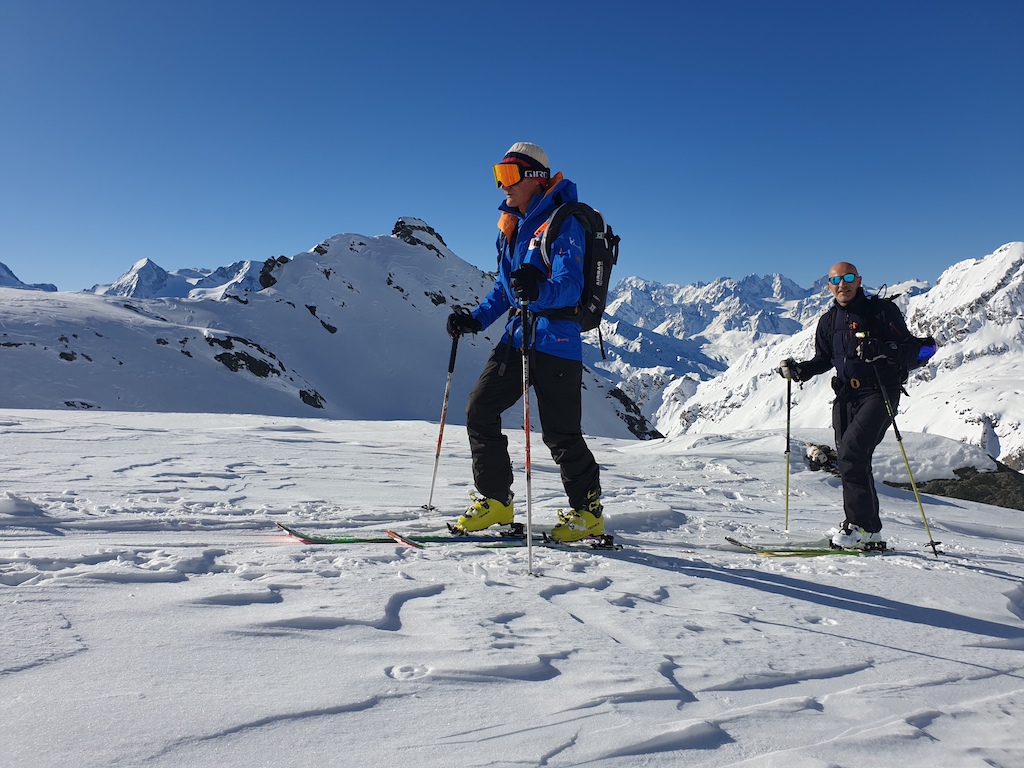 My nerves go up a notch as I meet Xavier De Le Rue, one our guides for the trip. He's a three-time Freeride World Tour Champion, one of the world's best big mountain snowboarders, and he has some epic tales.
As we socialise prior to hitting the slopes, he recounts the story of a close encounter with a huge avalanche – and death. 'It felt like I was being crushed by a giant wave of snow', he says, somewhat unfazed. I must look nervous because he pauses, thoughtful, and adds 'but don't worry, you'll be fine'.
Eek. My skiing is rusty and I'm a little anxious about what lies ahead. But the array of high-tech safety gear I'm wearing is putting my mind at rest. Xavier survived that tsunami of snow by deploying his airbag, a large balloon – housed in a backpack – that inflates at the pull of a cord, thus making the wearer larger so they naturally rise to the surface, rather than being buried alive.
I have my own airbag on my back, as well as a shovel, probe, and an avalanche transceiver that will emit pulsed radio signals if I need rescuing. 'Do you have any special devices that can make me a better skier?', I ask the rental shop attendant, hopefully. 'Pardon monsieur, non.'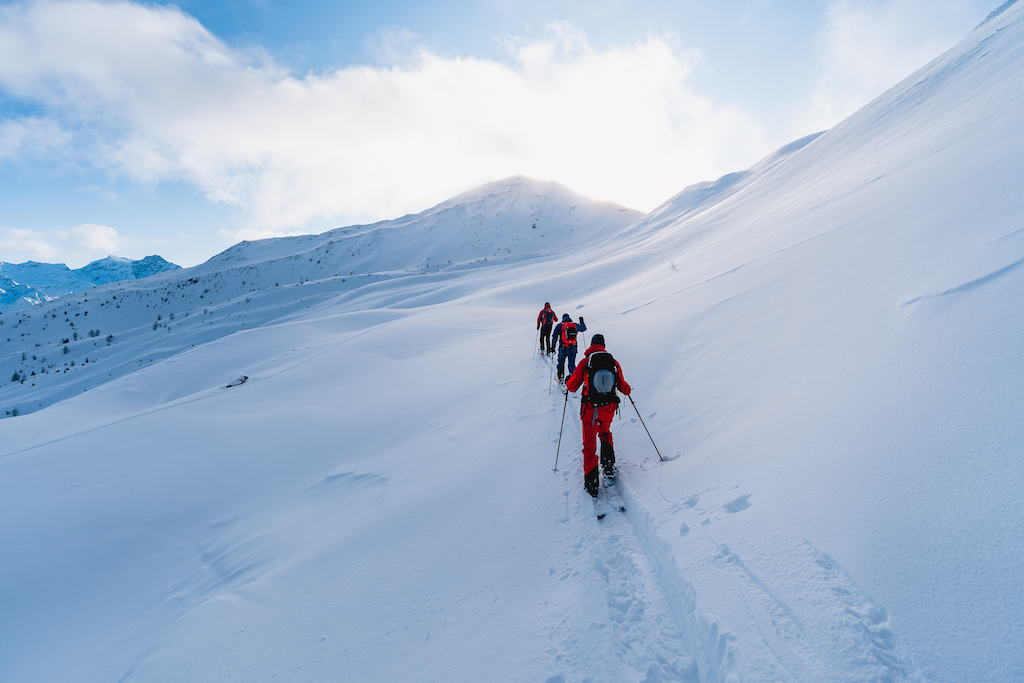 Five minutes into the off-piste action and disaster strikes. Perhaps my pre-skiing nerves weren't unfounded, after all? We stop at the crux of a sweeping, snowy ridgeline and one member of our five-strong group innocuously bends down. There's the sound of an ACL-tearing, knee-buckling 'pop' and our unfortunate comrade is rendered immobile.
Exclusion from the skiing is immediate, replaced instead with an emergency helicopter ride to the hospital. Maybe the ligament was just ready to give way – but I take it as a stark reminder of the dangers of this type of skiing.
Away from the managed slopes of the resort, the risks of injury, avalanche and disorientation are much higher and any rescue operations are significantly more complicated.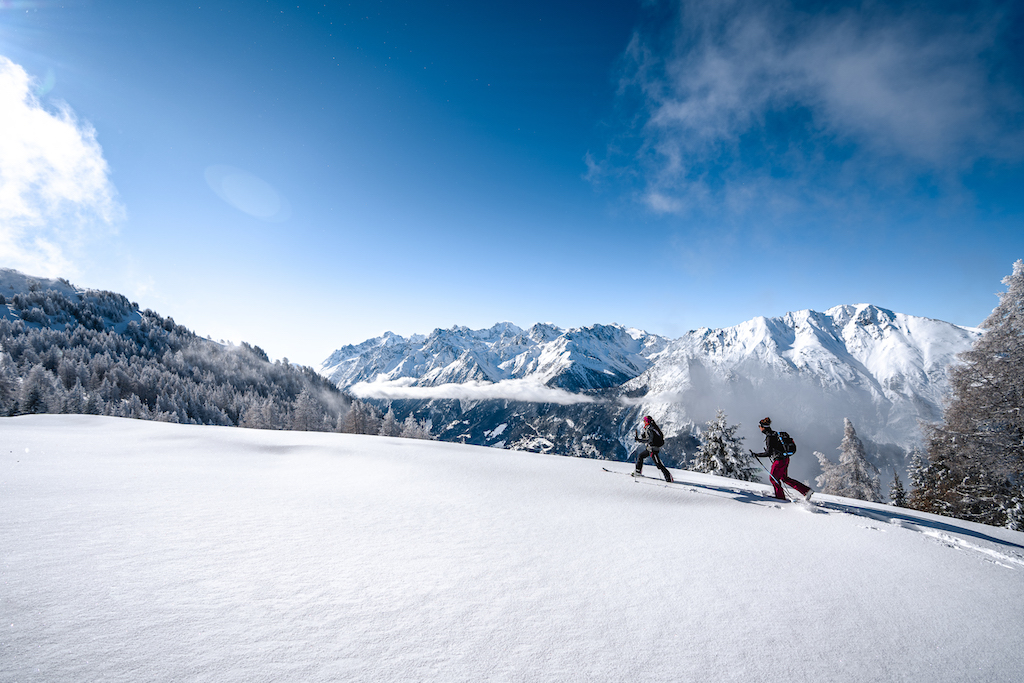 Despite the drama, I get through the morning of acclimatisation skiing unscathed, bar a few embarrassing but non-serious crashes. As the centrepiece of Switzerland's largest ski area, the 4 Vallées, Verbier provides access to 250 miles of slopes, 80 lifts rising to a highpoint of 3,300m at Mont-Fort, and 11 marked off-piste routes.
I've barely scratched the surface but I still feel exhausted – and decide to reward myself with a hunger-satiating pizza at Le Dahu restaurant. I need sustenance for the expedition ahead. We will spend the next day and a half out in the Alps, ski touring over high passes, sleeping in a remote mountain hut, and carving up fresh powder on the off-piste downhill.
'Try not to lift each ski off the ground', says Gilbert, our second leader from Les Guides de Verbier, as we plod slowly uphill through fresh, undisturbed snow. 'But instead slide your toes along the snow – it's easier and will use less energy'.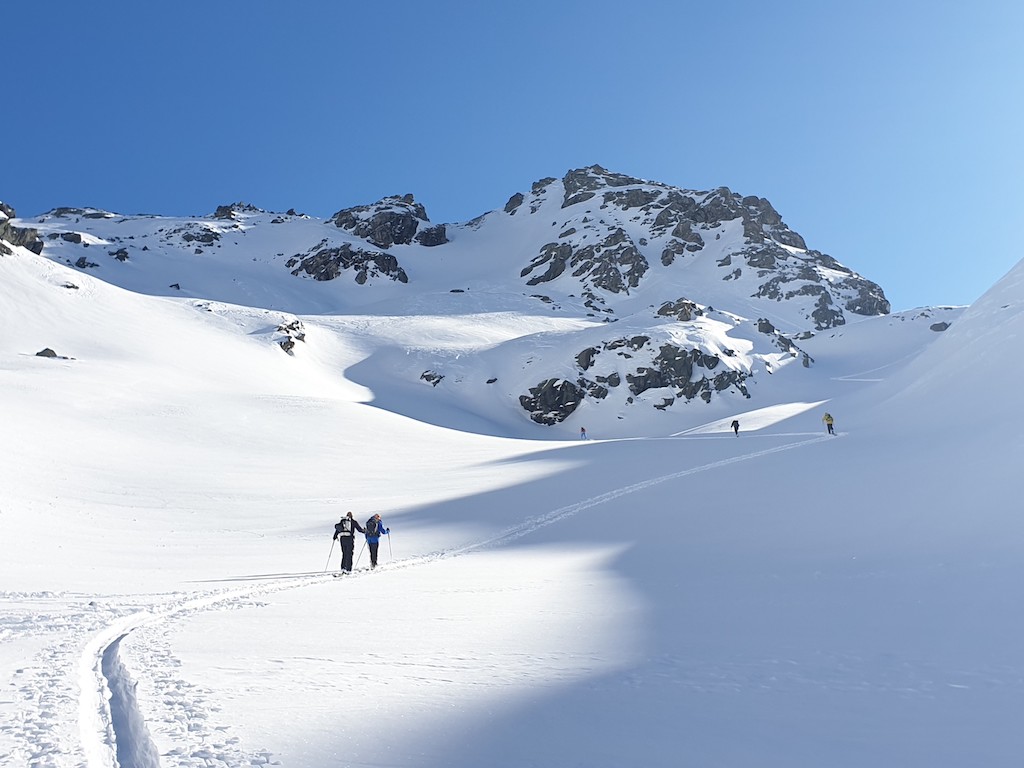 We've been at it for a few hours but, half-mesmerised by the horizon of razor-edged ridges and spiky summits, I'm struggling to concentrate on my technique.
What I lack in technical know-how I make up for in outdoorsy grit, and we arrive at our home for the night in good time. Cabane du Mont-Fort is a rustic mountain hut with simple bunkrooms, hearty meals (cheese fondue, anyone?), and a tranquil ambience that feels a million miles from the hustle and bustle of swanky downtown Verbier.
I spend the evening on the terrace, watching the setting sun paint a swirling, marbled masterpiece of pinks, oranges and yellows over a distant Mont Blanc.
The following morning we march uphill, initially over a groomed piste before striking off over untouched terrain aiming for Col de la Chaux at 2,940m. The cloudless sky is azure and there's barely a breath of wind – it feels like spring.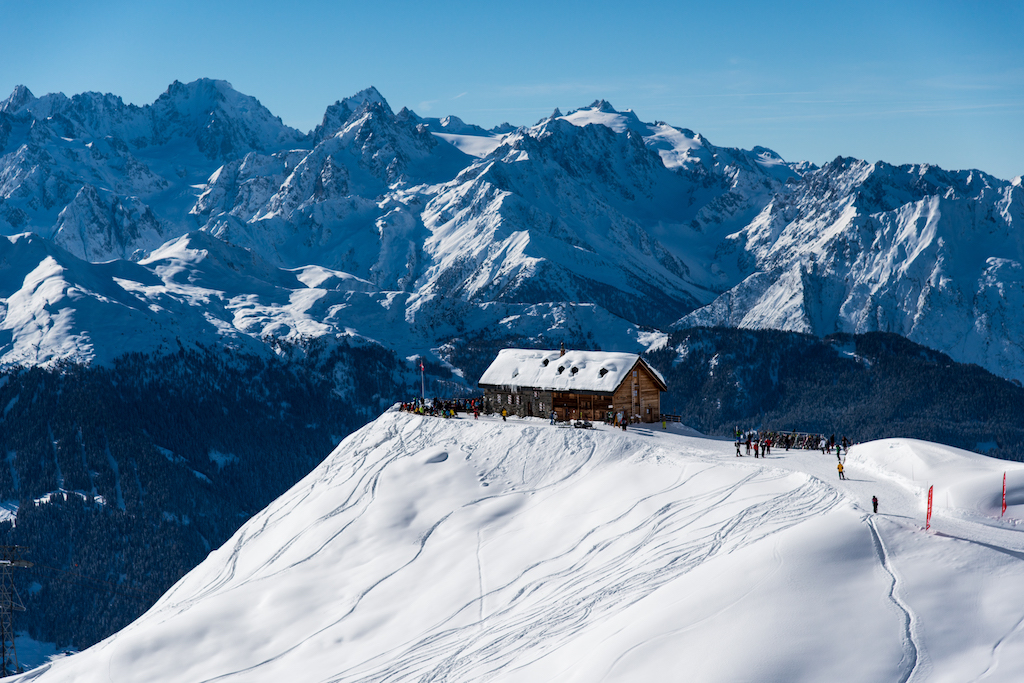 We wind downhill through delicious powder before re-skinning our skis and ascending yet again to Col de Momin, which just tops 3,000m. I stop and rest – and remove my fiery orange SunGod goggles to ogle the surrounding landscape.
Layers of snowy peaks tower majestically into the blue sky, their dark flashes of exposed, craggy rock starkly contrasting the softness of the ubiquitous white. It is alpine beauty and drama that makes my soul sing. No wonder ski touring is the hippest new trend.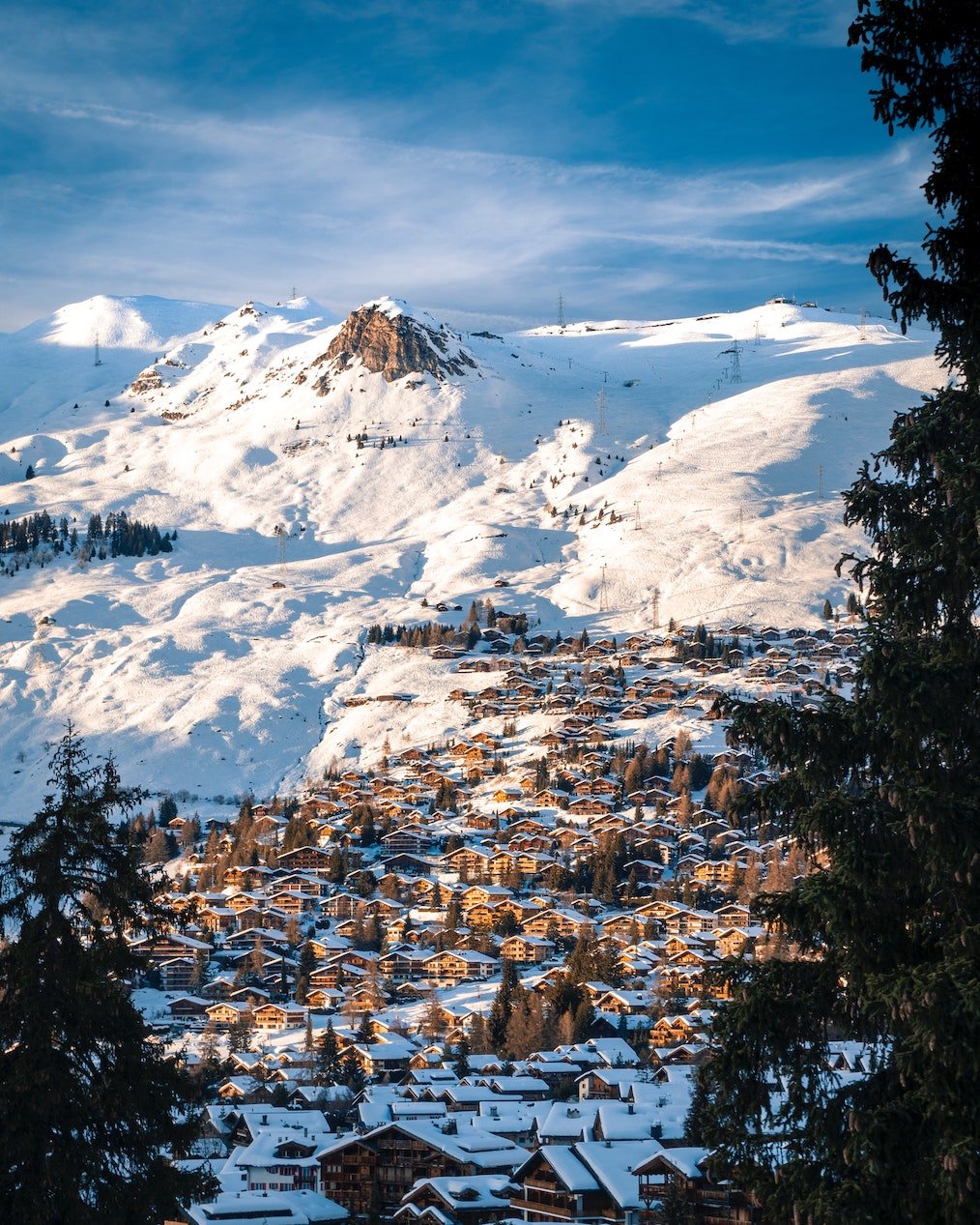 Let's go: All you need to know about ski touring in Verbier
How to get to Verbier
Getting to Verbier is pretty simple. The easiest option is to fly to Geneva and take the Verbier-Express direct train to Le Châble before taking a bus or the cable car up to Verbier. Swiss Airlines operates more than 170 weekly flights to Switzerland from London Heathrow, London City, Manchester, Birmingham, Edinburgh and Dublin, from £55 one-way. Other airlines, including EasyJet, offer budget flights to Geneva. For train tickets, visit the SBB website.
Accommodation in Verbier
The three-star Hotel Ermitage costs £319pp, based on a double room for three nights at half-board. Cabane du Montfort costs from £41pppn for room only and £73pppn for half-board.
Ski touring guides in Verbier
Guides de Verbier provides guides for ski touring, from £107 per person.
Verbier ski passes
A six-day ski pass costs £276 for the Verbier valley, or £282 for Verbier 4 Vallées
Food
Recommended restaurants include Chez Dany, Le Dahu, Le Rouge, and La Pergola.
Alternative activities in Verbier
V Bier offers an interesting brewery tour, including tasting of its range of beers, or if you fancy something a bit different away from the slopes, why not join a yoga, pilates, or fitness class with Wholey Cow.
More information
For more information visit www.verbier.ch or www.MySwitzerland.com.