Sri Lanka is a beautiful, tear-drop shaped island located just to the south-east of India, and is a haven for us adventure travellers. The country boasts rolling green hills, luscious tea plantations, vast mountainous regions, glorious national parks and pristine coastline. The culture is rich, the people are some of the friendliest I've ever met, and the food is absolutely out of this world. It's also very cheap, which is perfect if you're travelling on a shoestring.
Sri Lanka is around four times smaller than the size of the UK, so as you can imagine, it's easy for travellers to explore a whole lot of the island, even if they're short on time. Which is why, when I found myself with two weeks spare at the beginning of the year, I decided to see what Sri Lanka had to offer.
The beaches of southern Sri Lanka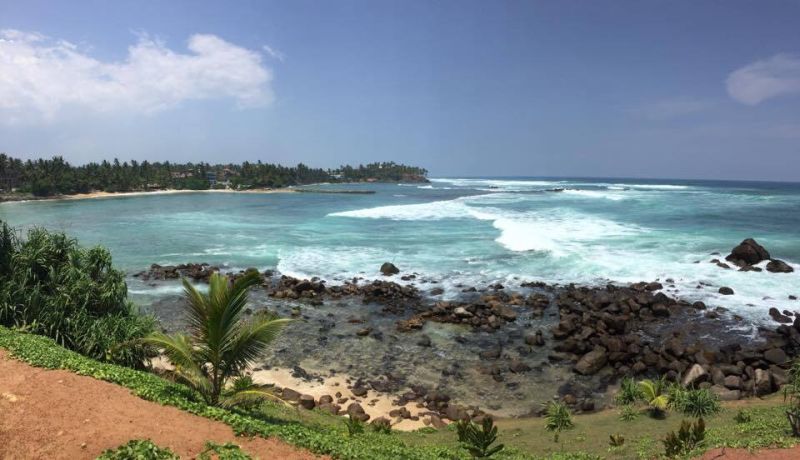 After stepping off the plane in Colombo, the first thing I did was head down south. I was fed up of the British weather and was hungry for sun, sand and relaxation – well, the south has just that. We headed down to a small seaside town called Mirissa by train from Colombo, which took around four hours. It was so gorgeous that we ended up staying here for a couple days.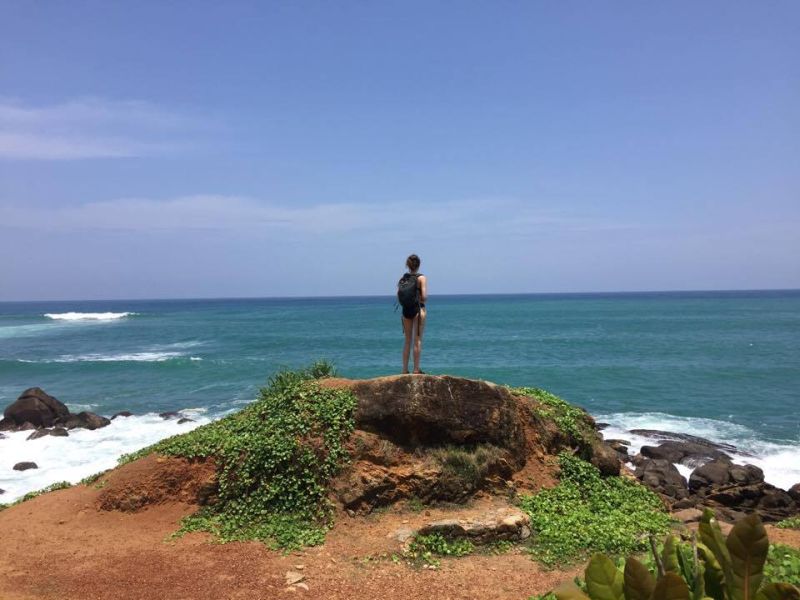 We ate great food at many of the beach front restaurants, went whale and dolphin watching, and explored the rugged coastline on long walks. All the while, the glorious sun beamed down on us and made the rich blue sea look as if it were covered in millions of diamonds. One afternoon, we were sat sunbathing on the beach and a nest of baby turtles hatched before our very eyes, making their way into the ocean to start their journey into life.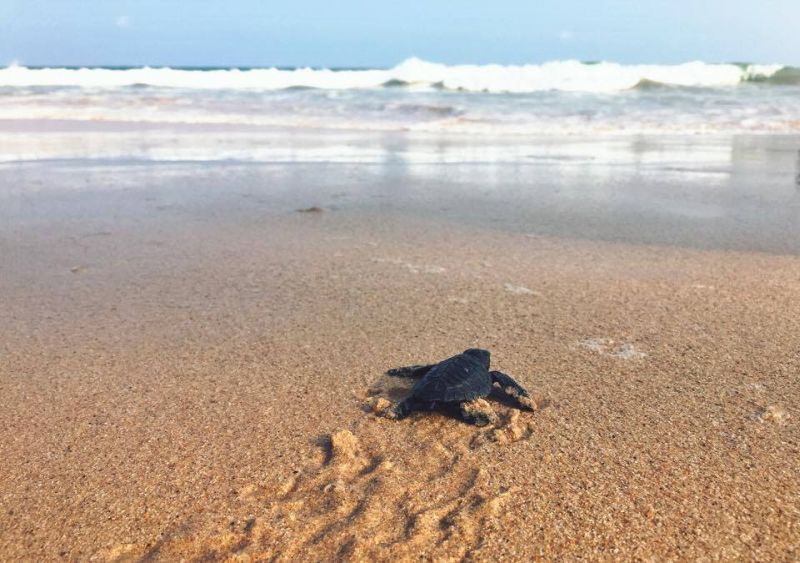 There are many fantastic towns to be explored in the south and this is where you get the very best beaches and weather that Sri Lanka has to offer, so make sure you pencil in a few days to explore it all.
The luscious mountains of Ella
Now, Ella has to be my favourite place in Sri Lanka, in fact, it's easily one of my favourite places I've ever been in the world. It's the perfect destination for a spot of hiking as you'll find this hilly region is much cooler than most of Sri Lanka. You'll want to spend a good few days here as there is so much to explore. Tea plantations stretch for miles across the hills, waterfalls cascade down giant cliffs, and the mountains sore high all around you.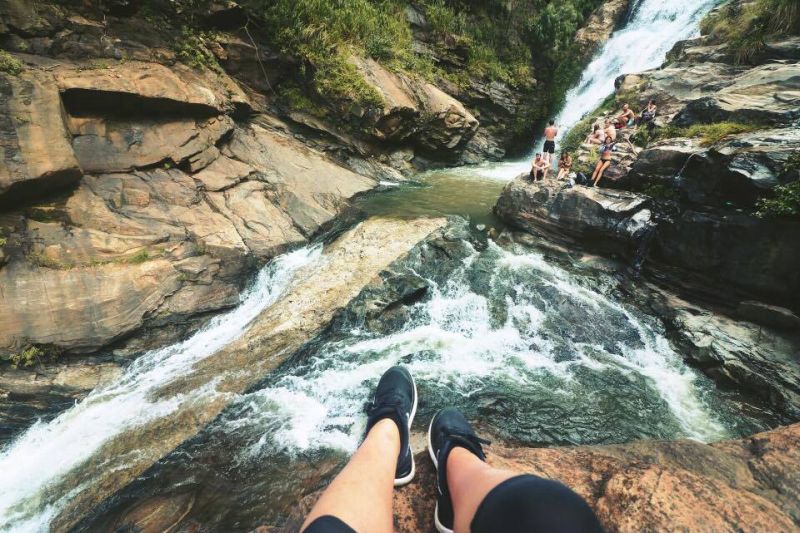 Most travellers head for Adam's Peak in the early hours of the morning to reach the summit (2,243m) in time for sunrise. However, two girls warned me away from this idea as they had done just that, that morning only to find too many travellers had the same idea. They unfortunately, had to queue for over two hours to reach the summit, only to have missed the sunrise when they got there. I would suggest tackling Adam's peak once the sunrise rush is over or head up later in the afternoon and stay up there until sunset, if you don't mind going back down in the dark.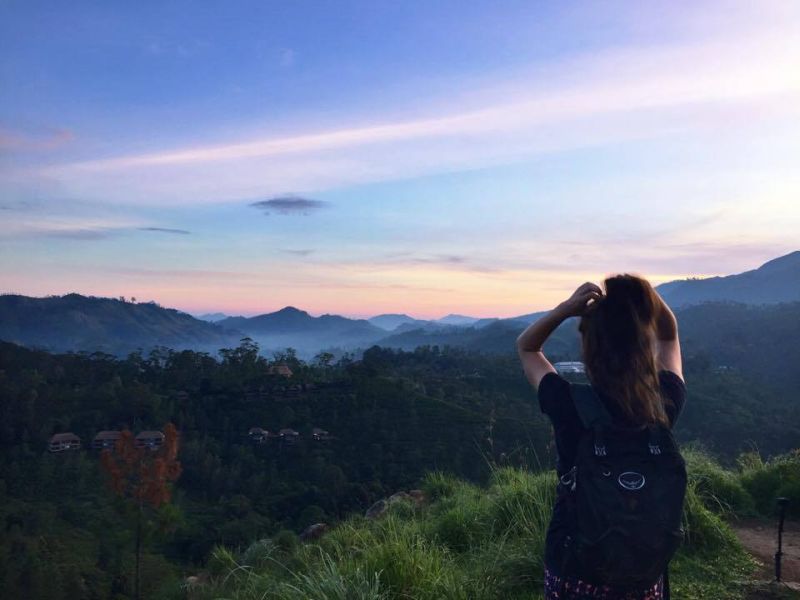 Now, if you do want to catch the sunrise somewhere spectacular, head to Little Adam's Peak. It's a much shorter climb (1,141m) and when we arrived, there were only four other people waiting at the top. This meant we had unbelievable 360 degree views pretty much to ourselves. It was breathtaking, the skies faded from purple hues to gorgeous pinks and the landscape echoed with the sound of monks praying in the temples. Truly an unforgettable experience.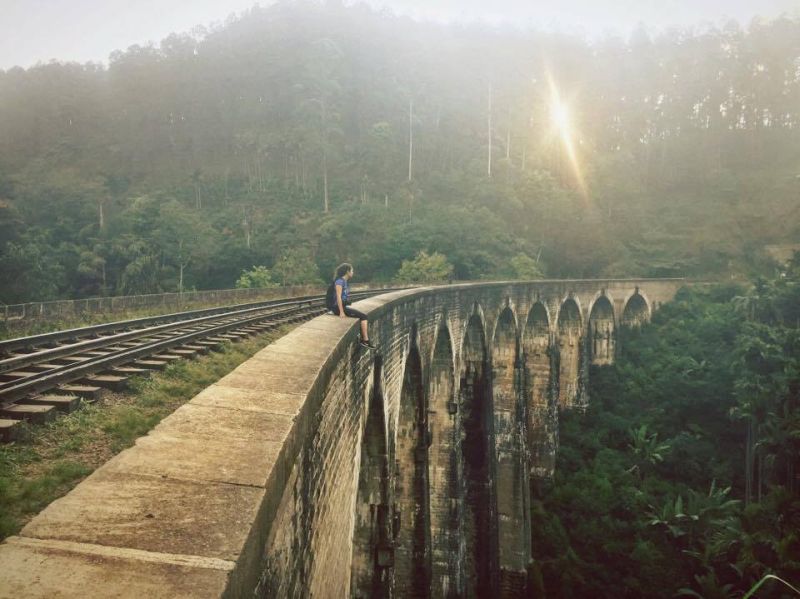 There are many other things to do in Ella, such as a traditional Sri Lankan cooking course (we cooked a curry which had 40 cloves of garlic in it!), tea plantation tours (which was fascinating and you get to sample lots of tea), and the Nine Arches Bridge which is well worth an afternoon stroll and is a great photo opportunity.
The most incredible train journey of my life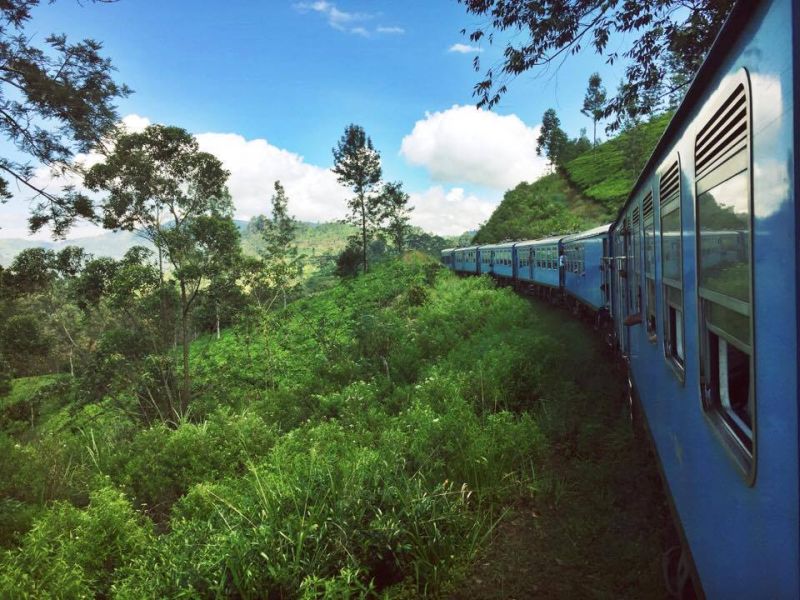 When you've explored all that Ella has to offer, you need to experience the famous train ride from Ella to Kandy. You just must. You'll want to catch the train no later than 6:30am as it heads north on a five-hour journey to Kandy. Oh, and buy a second class train ticket – it's much less crowded than third class (sardine can springs to mind) and first class is air conditioned so you're not allowed to open the windows. Trust me, you'll want to open the windows so you can appreciate the views to their full potential.
This train journey was, without a doubt, the most mesmerising train journey of my life. No words could fully describe how sublime the scenery was. Mountains, rolling hills, rivers, waterfalls, tea plantations, quaint villages, vast open landscapes – it had it all.
National parks in Sri Lanka

There are many national parks in Sri Lanka, but we decided to go to Yala National Park which is situated in the west. We were told it's a fantastic place to spot elephants and leopards. We stayed in a town called Tissamaharama which was around a 20-minute dive from the park's entrance. There were lots of guest houses to choose from and the owners were very helpful in organising a safari tour (at a good price) which would collect us and drop us back.
It's a very early start but boy, is it worth it. The entire trip was around six hours and we had so many personal encounters with wild elephants, monkeys, deer, and birdlife. We also spotted many crocodiles, leopards and a rare sight of a sloth bear, which was apparently getting drunk off yellow fruits in a tree before his afternoon nap – now, that's the life.
The sacred Sigiriya Rock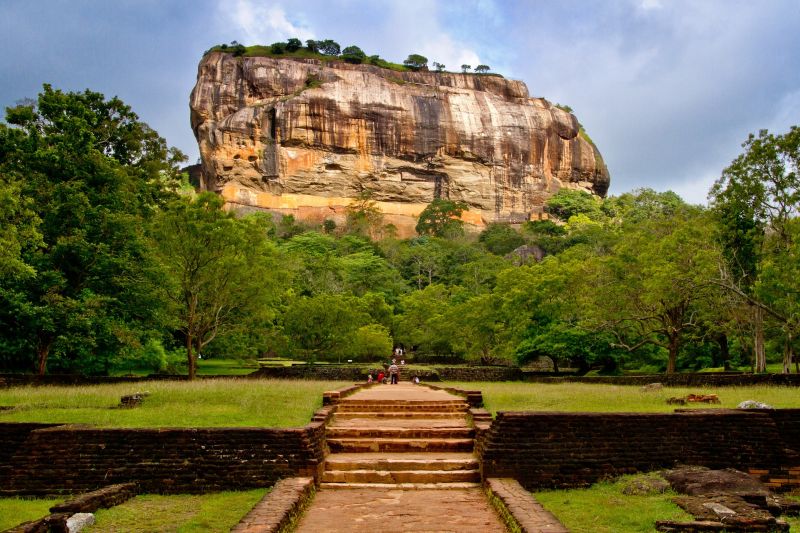 The only place I didn't manage to tick off my Sri Lankan bucket list was Sigiriya Rock. The monsoons had started to creep in and when we arrived by bus, the rain was hammering down and lightening forked across the sky. 'Probably not the best idea to go climb a massive rock' I thought to myself. There would have been plenty of time in our two-week itinerary to have done it, but the area's weather looked pretty dull for the next week. So, we decided to give ourselves a bit longer to explore the north instead.
The islands of northern Sri Lanka
For over 25 years, northern Sri Lanka suffered a tragic civil war which killed thousands of its people and caused significant damage to the environment and economy. The war ended in 2009, and the military has been working to rebuild the area ever since. Therefore, tourism is uncommon in the north and the land is relatively unexplored by Westerners. Northern Sri Lanka should not be crossed off the list when visiting the country, as it offers a different kind of beauty that the central and southern parts just don't have.
I would recommend hiring a scooter or small motorbike for your time here (if your insurance covers you and you know how to ride one), as there is a whole host of staggeringly beautiful islands scattered around the northern tip. I stayed in Jaffna as a base for around two days and spent my time exploring the wide coastal roads by two-wheels. The locals couldn't believe their eyes when they saw us (a couple of sunburnt tourists) and we were met by nothing but big beaming smiles, excitable waving and friendliness of the purest kind for our entire stay.
The northern islands are truly stunning, the water is vibrantly blue and the roads stretch for miles past golden temples, pristine sands and palm trees. However, the north is also home to a harrowing beauty; homes that have been wrecked by bombing, derelict buildings and temples, which is a fascinating reminder of the unrest that happened here.
An entire beach resort to ourselves in Kalpitiya
Because we visited in late April, there weren't many tourists about in most of the places we visited, but we were pleasantly surprised when we arrived at our beach hut resort in Kalpitiya to find that we were the only guests visiting for our two-night stay. This meant we had the resort, miles of sandy beaches and an in house chef all to ourselves. As you can imagine, the staff spoiled us and we thoroughly enjoyed our stay here before we had to fly back home.
We spent a lot of our time exploring the coast's edges here, chilling in hammocks and eating (a lot). We were told that in the summer season, many tourists flock to the seas of Kalpitiya and its surrounding towns for the incredible surf, with kite surfing being the most popular activity.
How to get to Sri Lanka
My flight from London to Sri Lanka cost me roughly £480 (return) in April. If you're savvy with your timings and use websites such as Skyscanner, you should be able to find a relatively cheap flight too. I flew from Heathrow to the capital city of Colombo (via a transfer in Dubai) which took, in total, around 13 hours.
How to get around Sri Lanka
Transport in Sri Lanka is cheap and readily available. The best way to travel around the island is either by train or bus and if you need a lift from the station to where you're staying, an abundance of friendly Tuk Tuk drivers are usually poised and ready to go. Just make sure you negotiate a price with them before you get in.
Accommodation in Sri Lanka
I used Airbnb for the majority of my stay, failing that, I used other websites such as Booking.com. I found it was easier to book accommodation the day before or the morning of the night I intended to stay. This way, I wasn't tied down to having to leave a place if I wanted to stay an extra day and my itinerary was flexible should I get any great recommendations from locals or fellow travellers.
Spending money in Sri Lanka
You'll find that, after the costs of your flights, Sri Lanka is an incredibly cheap place for you to explore. The country's currency is the Sri Lankan rupee and in the two weeks that myself and my friend visited, we spent not much more than £400 (each) on food, drink, accommodation and travel. We didn't skimp out either.
Visa required for Sri Lanka
You will need to purchase a visa online before you visit or purchase one at the airport in Colombo when you arrive. Just make sure you bring US dollars with you for when you arrive as they only take cash. It cost me around £30, but best to check the updated information on the Sri Lankan ETA website for the full details.