Bermuda is famous for its pink-sandy beaches, pastel-coloured houses and gorgeous turquoise waters. But dig a little deeper and you'll find that it's also a hot spot for adventurous souls, with plenty of action-packed activities to get your heart racing and adrenaline pumping.
Dive into the blue from the top of craggy cliffs, explore exceptional nature reserves, cycle across the sea on a Hydrobike and discover the beauty of natural crystal caves. Undoubtedly, Bermuda offers something to wet the appetite of every type of adventurer.
Excited by the prospect of sun, sea and thrills, we put together an Adventure Travel guide to Bermuda, for those who would love to visit this pristine paradise and add a little extra excitement into the mix.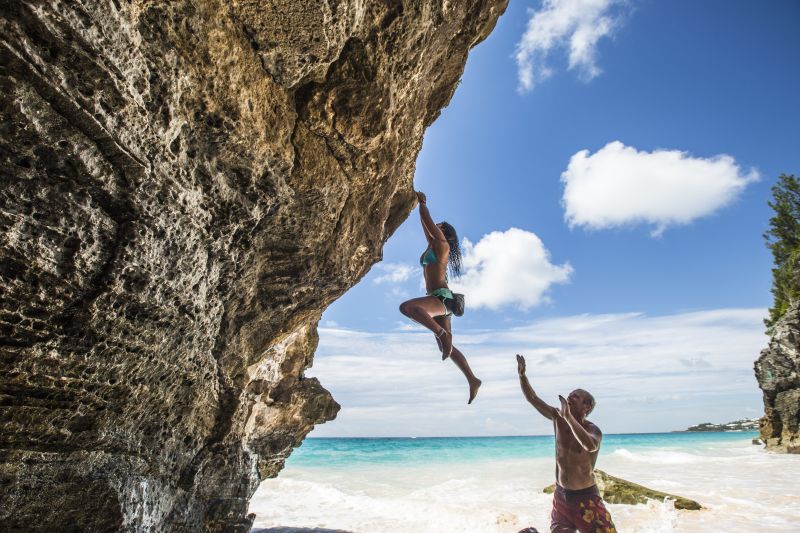 Rock climbing in Bermuda
Bermuda is a fantastic playground for climbers. The dramatic coastal rock formations are ideal for those who love deep water soloing (DWS) – this is where a climber will climb unsupported at high tide with just the water below for protection. There are also many sport climbing opportunities if you prefer to climb with ropes and gear. The best DWS climbing spot is situated in Clarence Cove, which offers heaps of different skilled bouldering routes and when you reach the top you can cliff dive into the gorgeous blue waters below. Head over to the Great Head Park on St. David's Island and you'll find Bermuda's tallest cliff, measuring a whopping 30m. This is a perfect location for sport climbing and boasts dramatic views at the top.
Please note that climbing in Bermuda without an instructor is done only at your own risk. It is also a criminal offence to disturb or damage Cahows and Longtail bird nests on the cliffs, so please be careful when climbing and keep your eyes peeled for nests.
Wow factor: 5/5
Hot locations: Clarence Cove, Great Head Park, Trespasser's Cove, Pirate Cove, Nereid's Wall, John Smith's Bay, Scaur Hill, Tsunami Wall
Exertion level: moderate to vigorous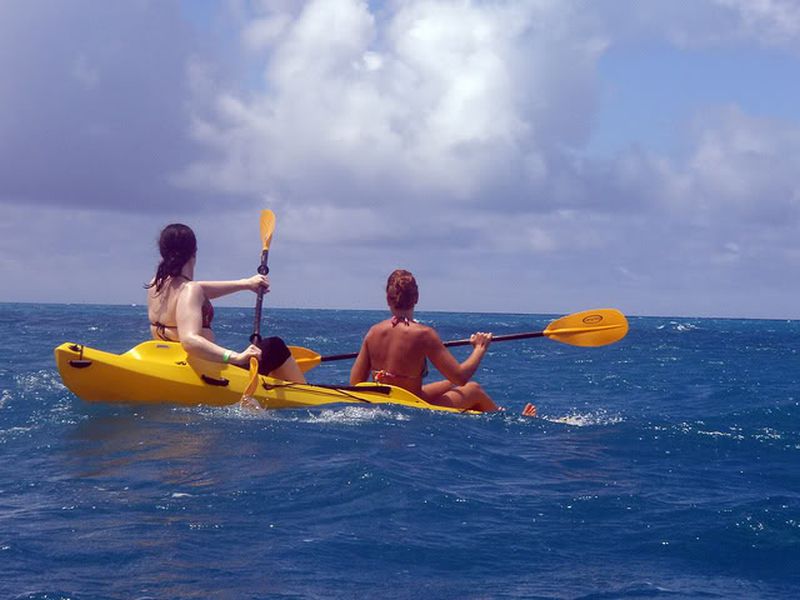 Photo: Mary Fairchild
Kayaking in Bermuda
Bermuda is well known for its stunning beaches and hidden coves, all of which are just begging to be explored – and what better way to explore them than by paddle? Sit back, and glide over the exquisitely blue waters and marvel at the staggering sights of magnificent cliffs, carved rocks and buzzing wildlife all around you. You can hire kayaks and paddle on your own or if you'd prefer to be in a group, you can join a guided tour. Island Tour Centre offer a super cool twist to paddling as their kayaks feature glass bottoms, meaning not only can you appreciate the sights all around you, but what's down below too.
Wow factor: 4/5
Hot locations: Daniel's Head Beach, Whalebone Bay, Walsingham Nature Reserve, Baileys Bay
Guides and rentals: Island Tour Centre, Crystal Clear Kayaks, Blue Hole Water Sports
Exertion level: light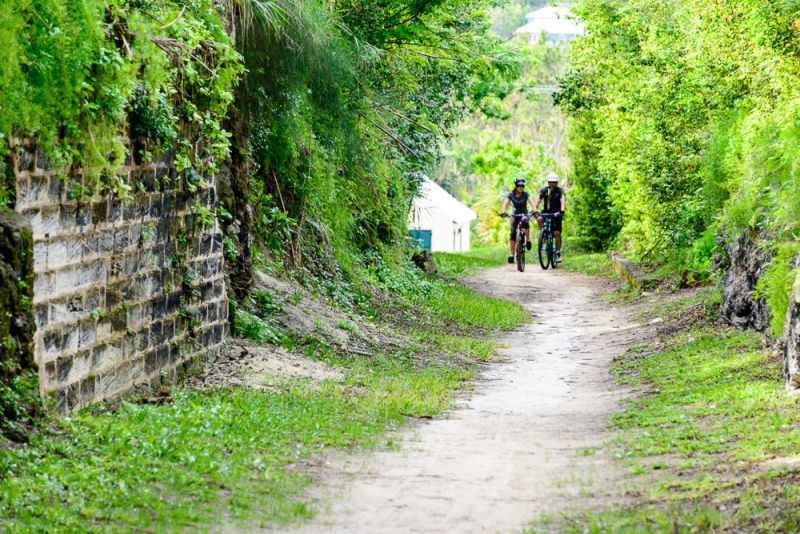 Photo: Craig Stanfill
Cycling in Bermuda
Cycling around the island is a fantastic way to pick up the pace and take in Bermuda's unforgettable scenery. A popular route is the Railway Trail; this 18-mile route was once a railway line which closed shortly after the Second World War due to poor maintenance and lack of profit. Just 40 years after it closed, the line was transformed into what is today a fantastically beautiful cycling route. If you're more of an adrenaline junkie, then you need to take a visit to Ferry Reach Park. This 62-mile off-road trail is a mountain biker's paradise, packed full of rugged terrain to challenge your two-wheeled skills.
Wow factor: 4/5
Hot locations: Railway Trail, South Shore Road, Spittal Pond, Hog Bay, Ferry Reach Park
Rental companies: Elbow Beach Cycles, Eve's Cycles, Oleander Cycles
Exertion level: light to moderate
>>> Check out 10 photos to prove why Bermuda should be on your bucket list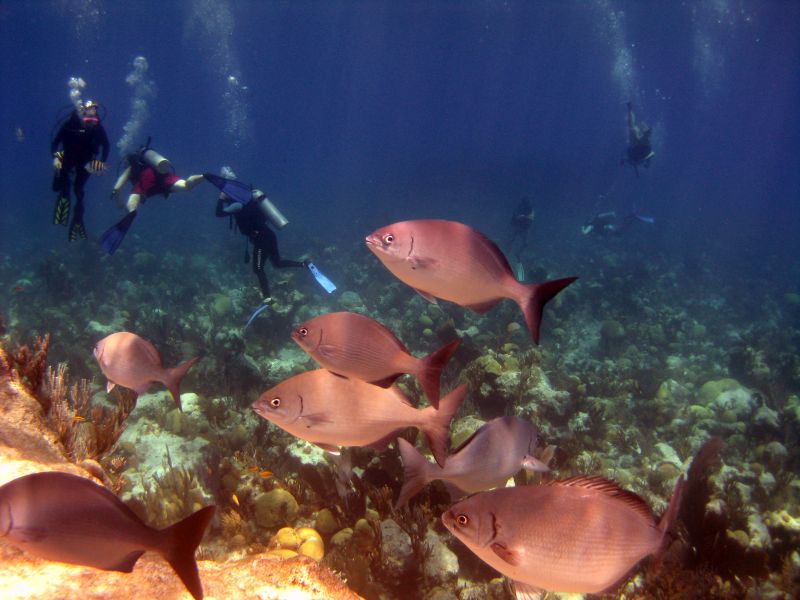 Photo: Mark Yokoyama
Scuba diving in Bermuda
If you dive deep into the waters of Bermuda, you'll find an exciting new world to explore. There is a whole array of alluring marine life to discover, from swimming alongside sea turtles and eagle rays to enormous rainbow parrot fish and vibrant coral reefs. Once you've become acquainted with the local aquatic life, take the time to explore some of Bermuda's many fascinating shipwrecks. One of the most popular wrecks is the Constellation, which is a well-known wreck that sunk in 1943 and was the inspiration for Jaws author Peter Benchley's follow-up novel The Deep.
Wow factor: 5/5
Locations: The Constellation, Tarpon Hole, South West Breaker, Virginia Merchant, Hangover Hole, The Cristóbal Colón, The North Carolina
Guides: Dive Bermuda, Fantasea Diving & Watersports, Blue Water Divers, Tucker's Point Dive & Water Sports
Exertion level: Light to Moderate activity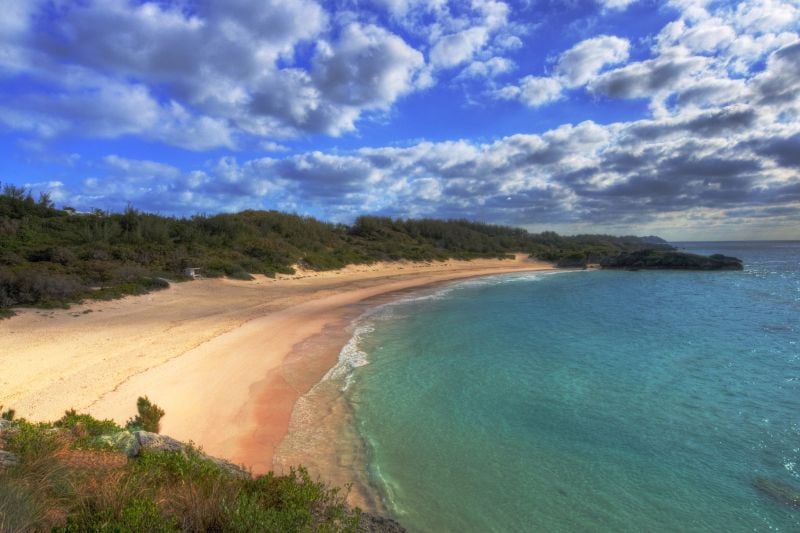 Photo: Brook Ward
Hiking in Bermuda
There are plenty of varied and picturesque walking routes to enjoy in Bermuda, which take you through some of the most intriguing parts of the island. The Walsingham Nature Reserve is just one of these amazing spots and is just begging to be explored. This 12-acre paradise is home to vast forests, sparkling blue lagoons, and breathtaking natural crystal caves. Cooper's Island is another nature reserve which is a great place for hiking, it's packed full of nature trails, and you'll be able to spot interesting species of wildlife such as herons and giant land crabs in the salt marsh. Renowned for jaw-dropping beaches and coves, Bermuda boasts staggering coastal walks which give you the opportunity to marvel at the jagged cliffs, pink-sands and bright blue waters from above. You really won't be short on beautiful walking routes here.
Wow factor: 4/5
Hot locations: Walsingham Nature Reserve, Coopers Island Nature Reserve, Blue Hole Park, Railway Trail, South Shore Park, Hog Bay Park, Paget Marsh
Exertion level: Light activity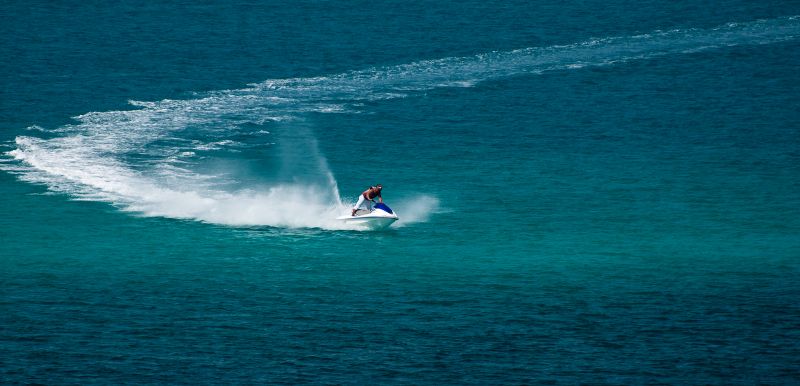 Photo: Larry Lamb
Water sports in Bermuda
Head to the waters and you'll be spoilt for choice when it comes to thrilling water based activities. You can race across the waters on jet skis, shoot into the sky by flyboarding, and explore the coral reefs by sea scooter, or, if you want to combine your love for cycling and the sea, why not give Hydrobiking a go!? Another incredible way to explore the seas of Bermuda is to take to the sky by parasailing, sit back, relax and enjoy the spectacular birds-eye-view of reefs, historic forts and beautiful beaches. From windsurfing on Grotto Bay Beach to kiteboarding on Elbow Beach, with so many water activities to choose from, you're sure to find the one's that suit you.
Wow factor: 4/5
Hot locations: Shelly Bay Beach, Achilles Bay, Elbow Beach, Horseshoe Bay Beach, Tobacco Bay Beach, The Great Sound
Rental companies: Island Winds, Hole Water Sports, Crystal Clear Kayaks, K.S Watersports, Sea Venture Watersports
Exertion level: light to moderate
LET'S GO
When to go:
Good news, Bermuda doesn't suffer from any particular monsoon or rainy seasons, therefore, it generally has glorious weather all year round!
How to get there:
Flights from England to Bermuda average at around seven hours, it's often best to search sites such as Skyscanner to bag yourself the cheapest flights. You can sometimes find good deals with many well-known holiday companies, but best to shop around.
Where to stay:
Once you're on the island you'll find that there is plenty of accommodation for you to choose from. Depending on your budget, there are plush five-star hotels and resorts, guest houses, inns and cottages. You can also search sites such as Airbnb who also have heaps of different places to stay, varying in price.
The adventures are endless in Bermuda, in fact, there is so much to see and do that you'll probably struggle to fit it all into one visit. So, if you fancy taking a trip to this adventure paradise, head over to the Bermuda website for more information, inspiration and trip planning essentials.
Featured image: Kansasphoto