Eager to escape into the mountains no matter the weather, Rob Slade goes toe-to-toe with Storm Gareth and finds out what it's like to stay the night in a bothy in Snowdonia.
I've often heard people say that as long as you have the right gear, you should be more than comfortable in even the worst weather conditions. It's a saying that I have certainly put to the test on many occasions, but none more so than on one weekend in March. Along with a friend, I had headed for the north-west reaches of Snowdonia National Park at exactly the same time that Storm Gareth was rolling through the country, such is my luck.
The plan for the weekend was to summit Moel Hebog (783m) and march on to a local bothy, where we would stop for the night before returning the next day. Having never stayed in one before, I was eager to have my first bothy experience, and was thrilled that we'd not have to faff around with a tent in this horrendous weather.
With a fair old walk planned for each day, it was important for us to travel as lightweight as possible, so we were scrupulous when packing. Sleeping bags are typically one of the heaviest pieces of gear you'll carry on an overnighter; luckily, I had Rab's new Neutrino Pro 400 to test out, which weighed just 880g and packed down into its own dry bag, which was a bonus.
Anyway, rucksacks shouldered and map checked, we began our adventure. Ordinarily, the upper reaches of Moel Hebog are visible from down in the valley, but with the cloud enveloping everything above 450m we were limited to views of the surrounding fields and huge swathes of grey cloud overhead.
As we left the quiet streets of civilisation behind, we began our ascent through Beddgelert Forest. The route twisted and turned its way between huge walls of woodland, occasionally crossing a disused railway from years gone by. Wide tracks soon gave way to narrow footpaths slicing their way through the forest, many of which had turned into streams thanks to the huge volume of rain running off the hills.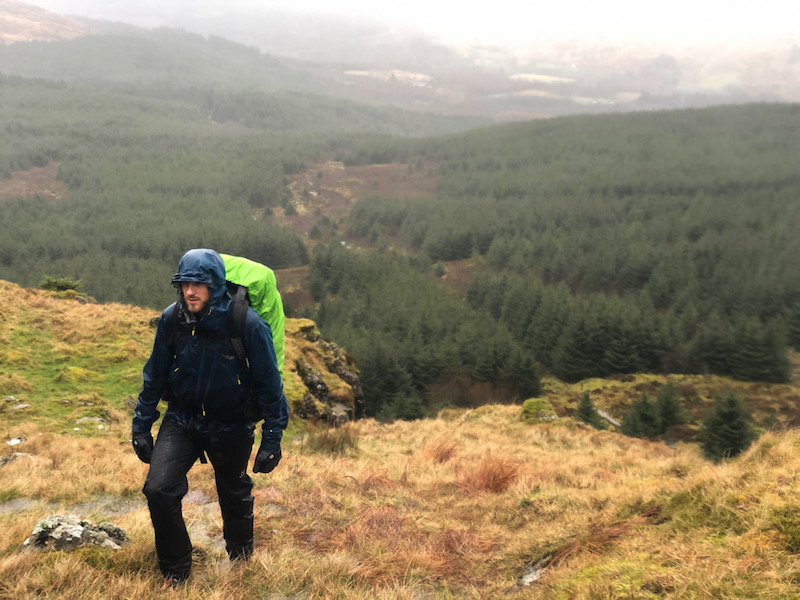 Every now and then we would come alongside a raging torrent of white water forcing its way downhill in whichever direction it could. At first, we loved coming across these boisterous waterways and watching on with awe as the power of nature showed its hand. Over the course of the day, however, we would become slightly less enamoured by them.
The first issue came about as we followed a narrow trail up through the forest. We rounded a corner and looked onward as the trail crossed what was once a narrow stream – only, now it had surely become far too powerful to cross. We took a moment to consider our options. Was it worth risking the crossing? At best we would have probably got away with damp feet, and at worst we could have easily been swept away, with our large packs weighing us down. In the end, we opted for a diversion.
Onwards we travelled until we eventually said goodbye to the forest and carried on gaining elevation on more open grassland strewn with boulders. We stopped to look back at the view. I'm always amazed by just how beautiful a place can look, even during awful weather, and this was certainly the case here. Below us, the deep green and brown of the forest disappeared into a haze of cloud, while streams of white water forced their way downhill. The view wasn't expansive, but it was certainly atmospheric.
The rain continued relentlessly, and as we ventured higher the wind continued to howl. Ahead of us, resting just beneath the cloud level, was the col we were aiming for, with Moel Hebog on one side and Moel yr Ogof on the other. We quickly arrived and, although we were very keen to make a break for Moel Hebog's summit, low cloud and only a few hours of daylight pointed toward a morning ascent being the wiser option. So, weather-beaten and longing for some shelter, we continued east and descended down to the next valley over. All that was left to do now was make it to our bothy before nightfall.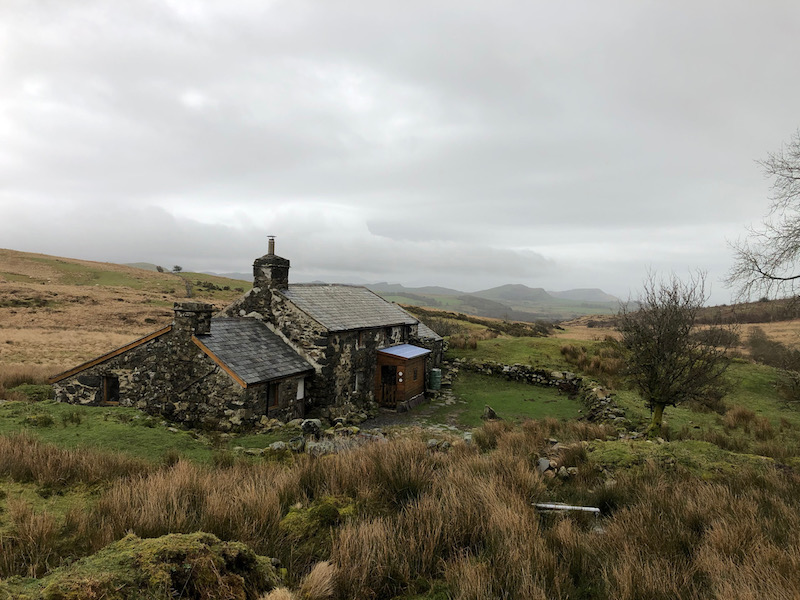 After a couple more hours in the pouring rain and another washed out trail diversion, we eventually made it and hastily rushed inside to escape the weather. For the first time in the day, luck was on our side. There were already a couple of guys inside the bothy, and one of them had brought firewood.
Kit decamped onto the hooks and drying lines around the bothy, we settled down to tuck into some food and get to know our companions for the night. Thinking about it, meeting and chatting with a couple of strangers around a fire has to be my favourite thing about going to stay the night in a bothy. Being away from technology and the tribulations of everyday life leads to a simpler experience, and one that I think everyone should enjoy more of.
After a few hours we headed upstairs, unloaded our sleeping bags and settled down. The temperature dropped sharply as we were away from the fire, so I really appreciated the warmth provided by the Rab Neutrino Pro 400 sleeping bag I was using. My experiences with the brand's sleeping bags have always been positive, and this showed no signs of letting up, with the 800-fill power, responsibly sourced down doing exactly what I needed it to. Despite the cold, damp conditions, I didn't stir once after pulling the hood over my head and cinching in the neck baffles.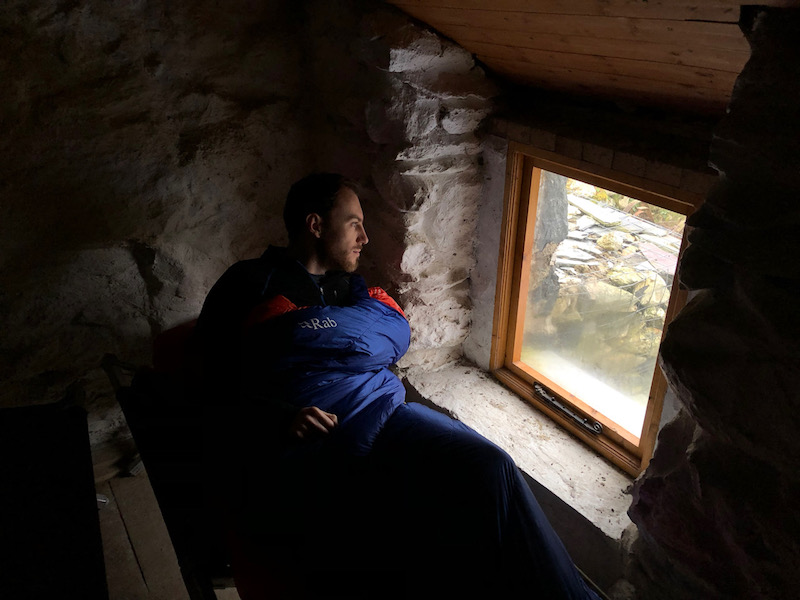 Waking with daybreak the following morning, we felt suitably refreshed and, after a quick breakfast and tidy up (see our article about bothy etiquette to ensure you're a responsible visitor), set out on our return journey toward Beddgelert. As it turned out, the weather hadn't got better overnight. In fact, as we made progress up toward the saddle below Moel Hebog, we realised it was actually worse. Hail lashed at our faces as the wind hounded the mountains, while low cloud clung to the damp, craggy land around us.
With the brutal weather seemingly set in for the day and the prospect of a summit view down to a big fat zero, we decided to cut our losses and start the journey back to Beddgelert. On the way down, we were once again treated to a beautiful view across the forest and into the dark, brooding valley below. It was a reminder that even when conditions don't go your way, there's still no better place to be than in the mountains.
The right kit to stay the night in a bothy
For our Snowdonia bothy adventure we were using Rab's new Neutrino Pro 400 sleeping bag, complete with 800-fill power, responsibly sourced down that has a lower limit of -8C.
Hand filled in Derbyshire, the Neutrino Pro 400 proved to be a reliable sleeping bag, with chevron-shaped baffles ensuring the insulation is held over the centre of the body and a trapezoidal chamber design tackling cold spots.

The sleeping bag, which uses hydrophobic down to make it suitable for damp conditions, also packs in plenty of features. You'll find a fantastic hood, effective neck baffles, a stash pocket and a dry bag compression stuff sack, which is a great addition for British users. It's lightweight (880g) and packs down to the size of a small loaf of bread, so it's a great option for multi-day treks, especially if you're planning to stay the night in a bothy.