It's a stunning autumn day in the Swiss canton of Valais. To your right, a vast alpine lake sparkles, catching the light like tiny, scattered sapphires. All around you, the sun filters through a canopy of autumn foliage, illuminating it like stained glass. The air is fresh and clean. You take a deep breath and a sense of extreme well-being washes over you.
Welcome to your guide to the best places to hike in the canton of Valais in Switzerland.
5,000 miles of trails
Hiking is one of the most popular activities in Valais – and for good reason. This stunning Swiss canton boasts over 5,000 miles of marked trails that are ready to explore. From scrambly paths up to high peaks and suspension bridge crossings that get the heart pumping, through to leisurely strolls in fragrant larch forests, there's something to suit all abilities.
Autumn is the ideal time of year to visit this hiker's paradise. The mild temperatures and abundant sunshine are perfect conditions for adventures on foot. Not to mention the fact that Valais boasts no fewer than 45 4,000m peaks.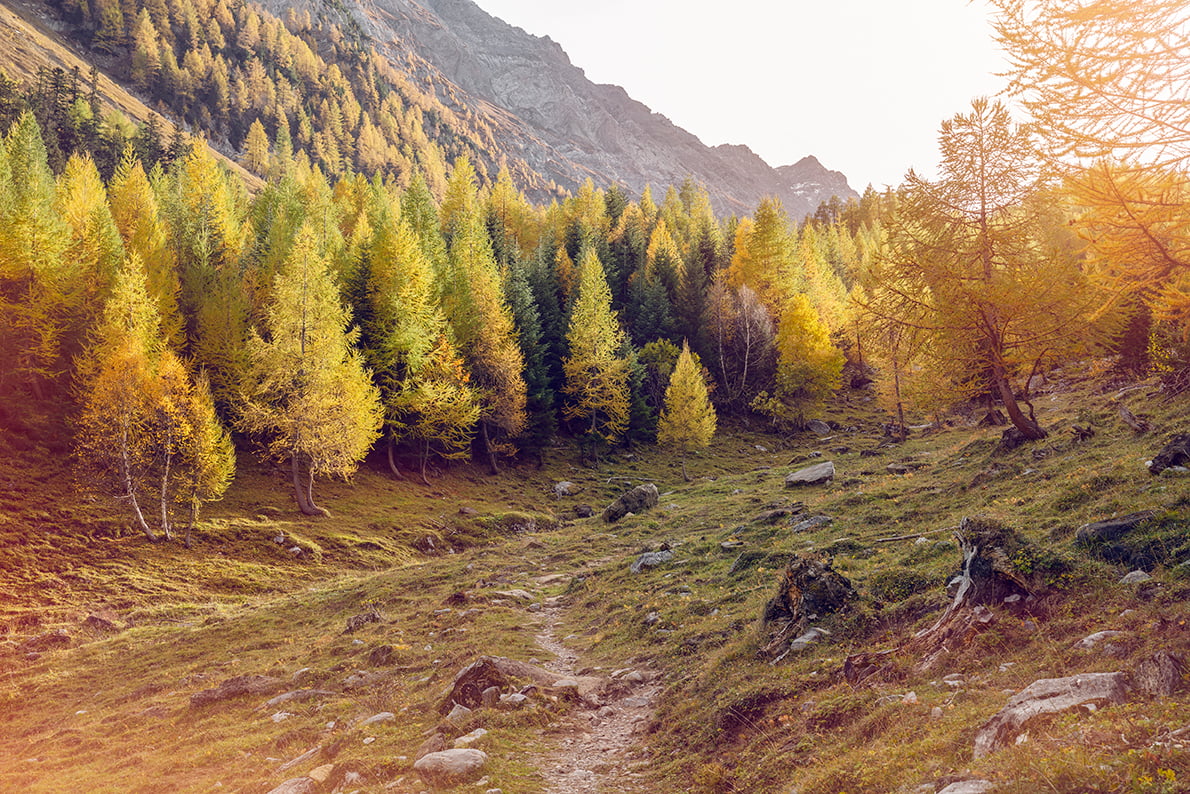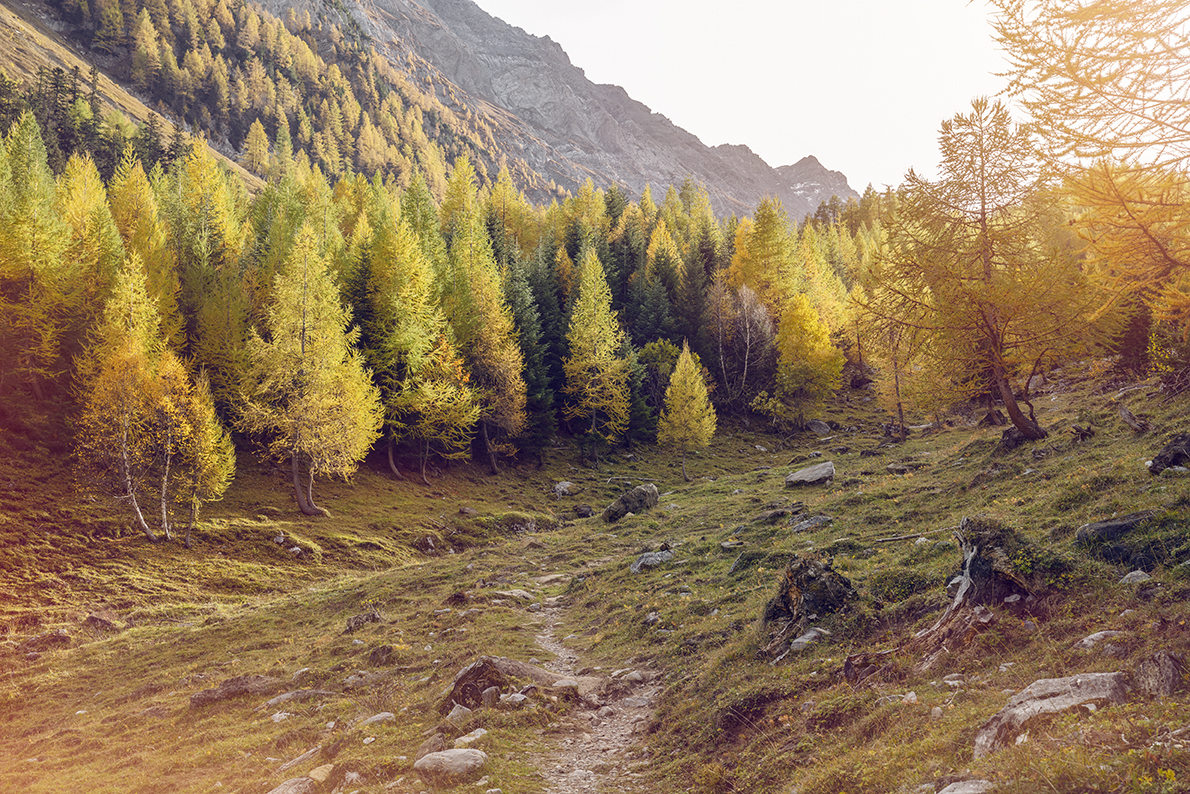 Two of the best places to hike in Switzerland are Aletsch Arena and Region Dents du Midi. Both are recognised for the variety of trails, accessibility, and unique cultural and culinary delights on offer.  
Located in the northeast of Valais, Aletsch Arena nestles on the banks of the Rhone. In the winter, its dazzling peaks are a hot spot for skiers. But there's plenty more to be enjoyed on foot in warmer months. Here, you'll find the Aletsch Glacier, a UNESCO World Heritage Site. This breathtaking natural phenomenon, which covers over 30 square miles and weighs in at around a billion tonnes, makes for a stunning day's hiking. 
Glaciers
There are some pretty impressive adventures to be had enroute to the glacier, too. For advanced hikers with a head for heights, the Aspi-Titter Bridge connects the Conches Valley to the Aletsch Glacier. Situated at the foot of the Fiesch Glacier, it spans the waters of the Weisswasser River, 120m up, with heart-stopping views across the valley. This is a technical hike that requires a bit of experience and stamina, but the rewards are epic.
If you're new to hiking or fancy something a little more laidback, the beautiful mountain lake of Bettmersee is a great spot for a relaxing stroll or lazy afternoon. This is the perfect place to explore if you like to throw in some water-based activities with your hike. Why not try stand-up paddleboarding? Or, if you're feeling brave, an invigorating dip in Bettmersee's glacial waters.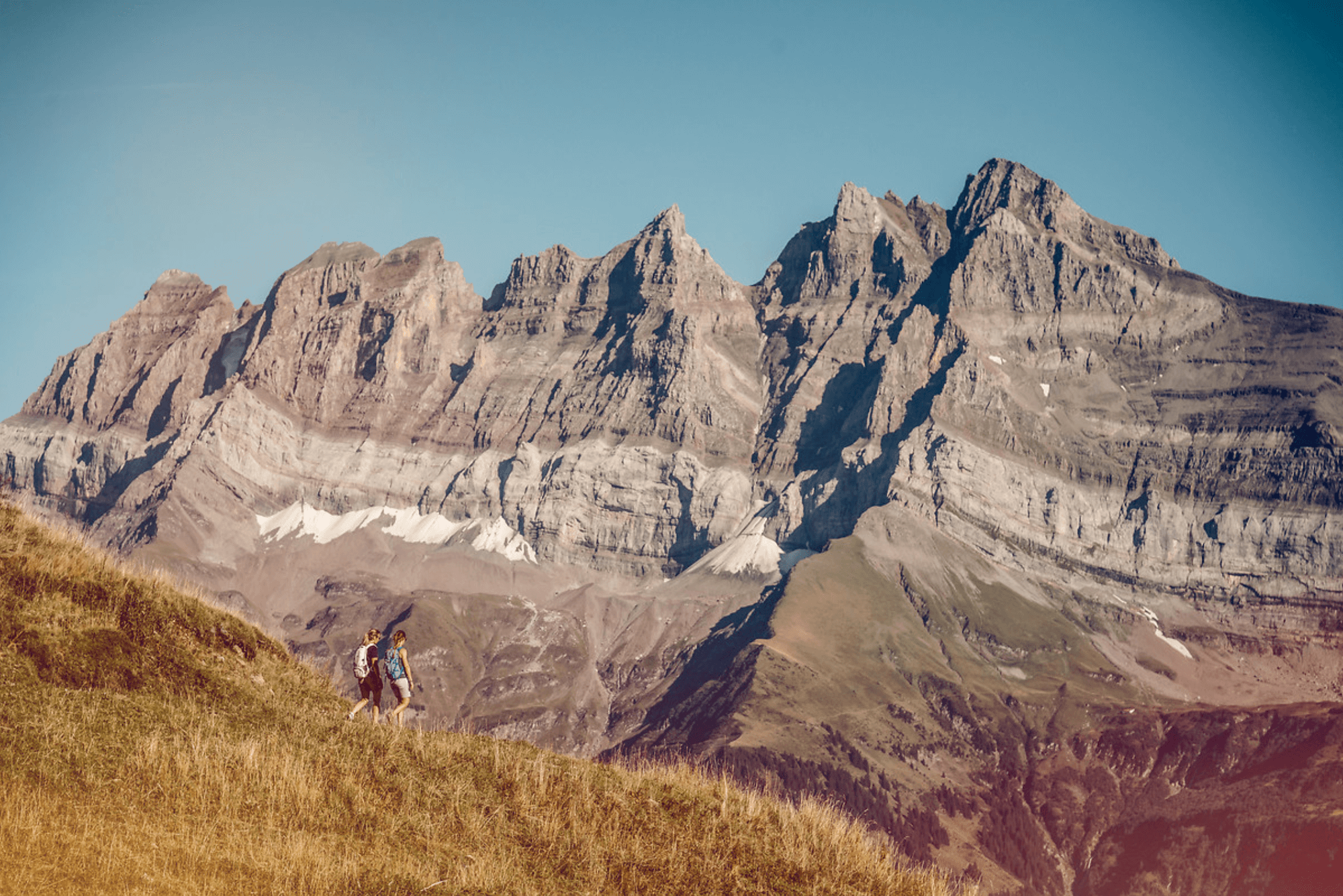 Towards the northwest of Valais, you'll find Region Dents du Midi. This area of Valais takes its name from the jagged 'dents' or 'teeth' of the seven mountain peaks that bite into the skyline, creating a dramatic backdrop to your adventure. Like Aletsch Arena, the six villages that make up the Region Dents du Midi are a winter skiing haven. But becomes a hiker's paradise in the warmer, autumnal weather.
A tour of the Region Dents du Midi through its mountain pastures is a fantastic way to take in all the iconic mountains and vistas synonymous with Switzerland. 
Food with a view

 
No visit to this hiker's paradise would be complete without sampling some of its delicious local delicacies and excellent home-grown wines. The region's intensely flavoured fruits, rare spices, and golden cereals are the result of thousands of hours of sunshine, making Valais a garden of delights that inspires gourmet chefs and wine-makers throughout the land. And, as we all know, nothing stirs the appetite like alpine air and a day out on the trails. 
Unsurprisingly, cheese features highly on the list of must-tries. Not least the traditional Raclette du Valais AOP experience, complete with a glass of chilled white wine and breathtaking mountain scenery. And don't forget to try some brisolee — roasted chestnuts — alongside your cheesy picnic.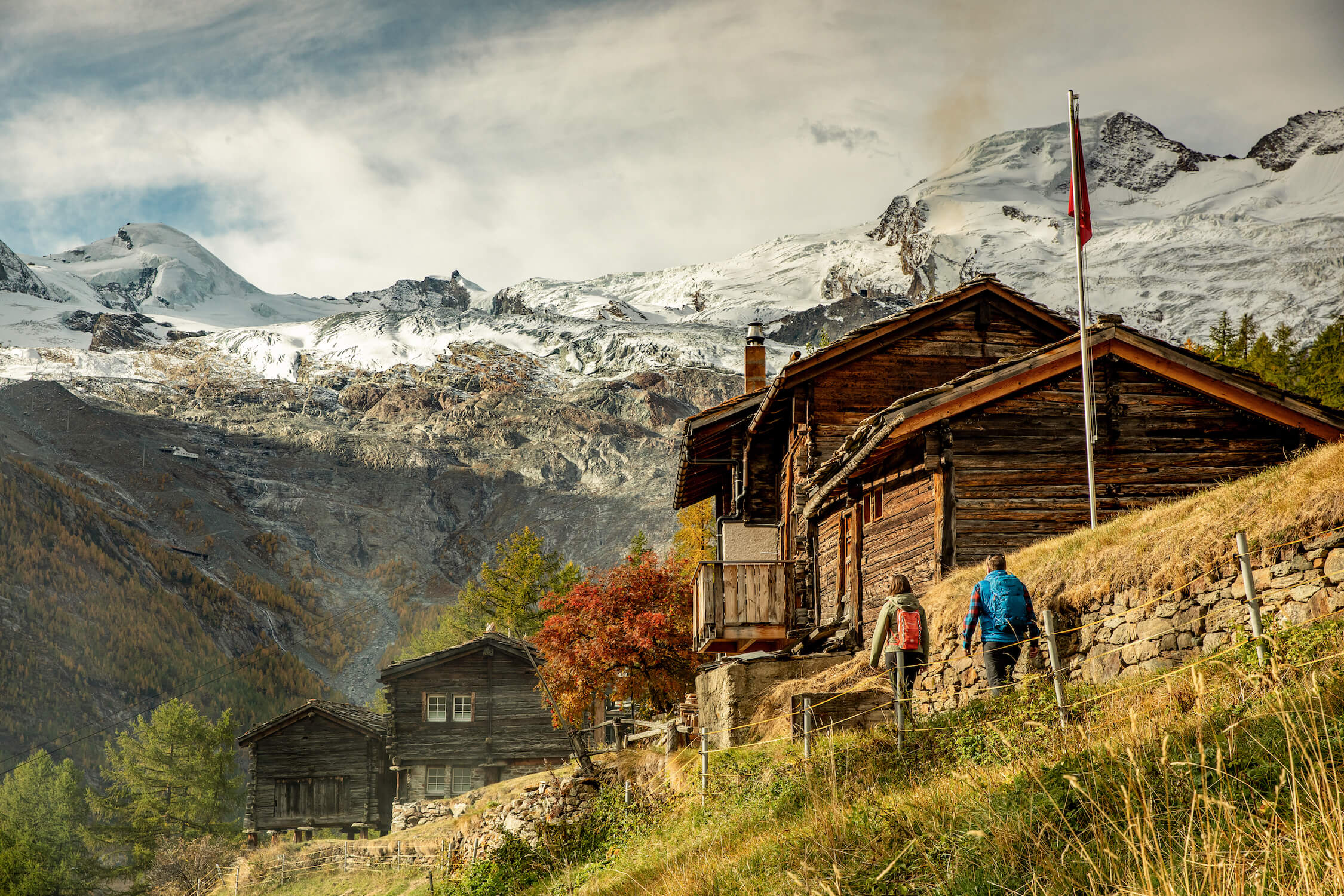 Wine and dine in luxury
If simply gazing at peaks while you dine isn't enough, in Saas-fee/Saastal, you'll find the world's highest revolving restaurant. The Allalin restaurant is situated at 3,500m on Mittelallalin with far-reaching views across the Saas Mischabel massifs, including Alphubel, Täschhorn, and Dom.
It takes one hour for the restaurant to revolve 360 degrees. During this time, you'll sample regional and international delicacies like the signature Valais platter, bratwurst, barley soup, and Linzer cake (a sweet apple-cinnamon dessert served with vanilla foam).
With vineyards covering 5,000 hectares, Valais is the largest wine-making region in Switzerland. A glass of local grapes makes the perfect accompaniment to all these tasty treats, and the ideal way to round off a day spent exploring the vineyard trails. 
At Les Celliers de Sion there are various ways to combine the two, with taste-inspired tours of the region available for those who love adventuring and eating well. Choose from gourmet hiking, gourmet biking, or wine-tasting experiences that will teach you the intricacies of the local grapes.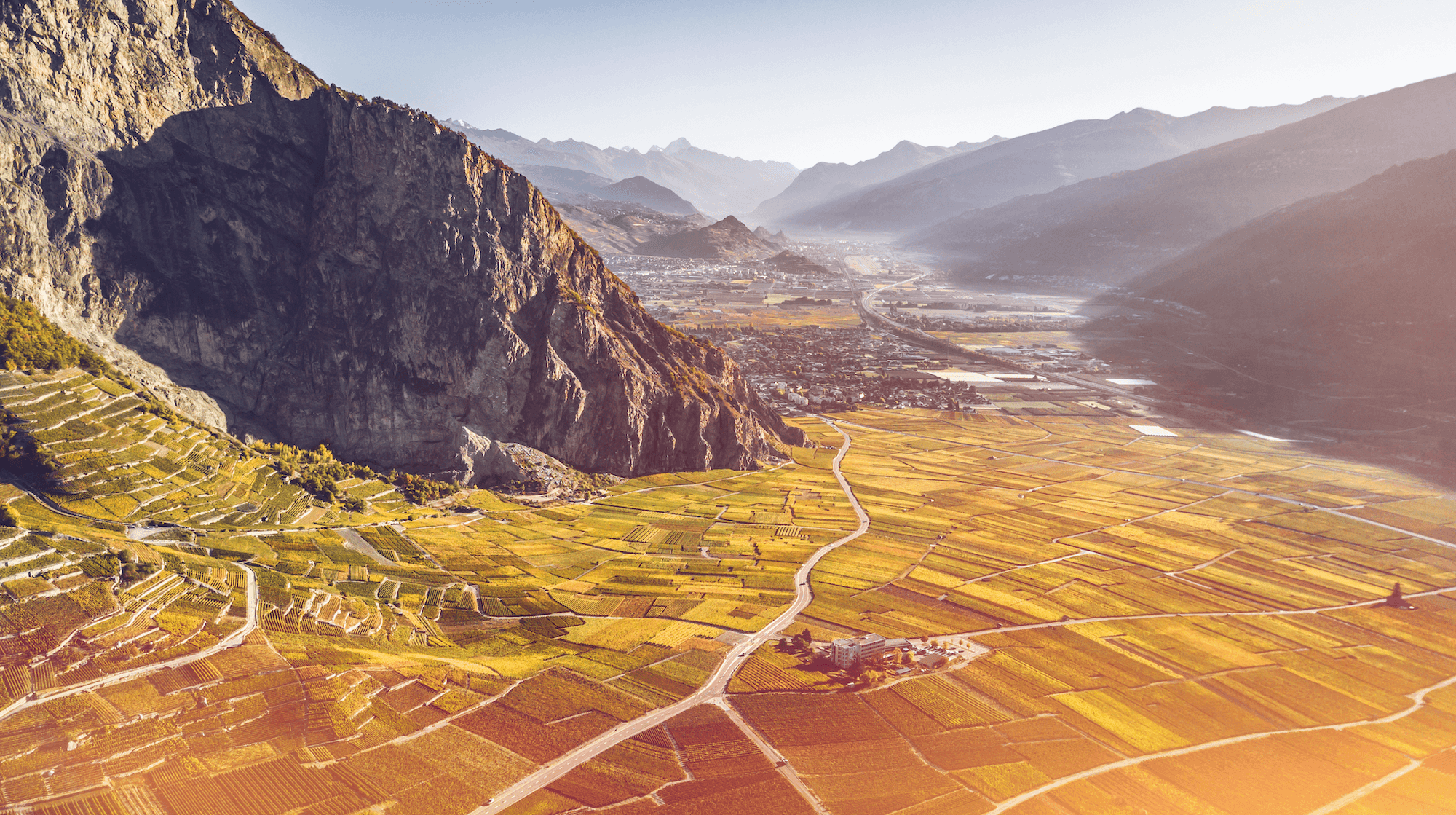 Find the best places to hike in Switzerland
Start planning your own autumn hiking adventure in the canton of Valais, Switzerland today. See visitvalais.ch/shop.