With so many options on the market it's understandable why people get confused as to which camping stove to buy. They serve a whole range of purposes and can be suitable (or unsuitable!) to a range of budgets. So, to help you out, we've carried out a group test and come up with five of the best gas camping stoves under £50.
5. Outwell Appetizer 2-Burner Folding Stove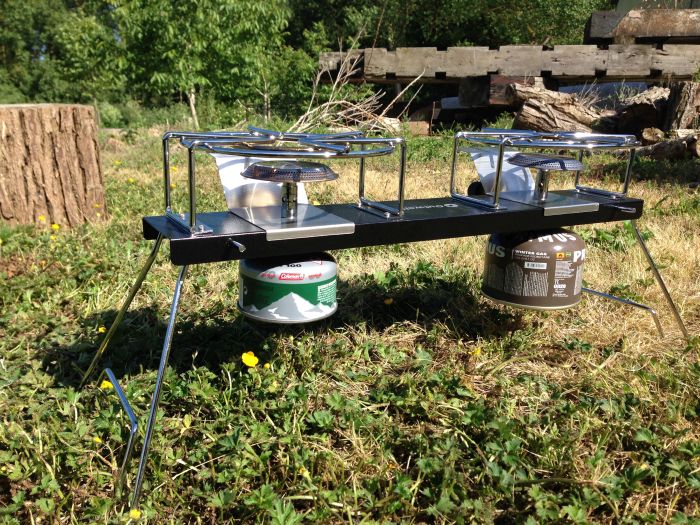 www.outwell.com | £29.99
In complete contrast to the Alpkit Kraku (number 2), we have the Outwell Appetizer 2-Burner Folding Stove. Whereas you'd be happy with  stuffing the Kraku in your pocket, you'll only be packing the Appetizer if you're using your car as a base. While it folds down, it's probably just a little bit too big and heavy to justify carrying it on your back for a whole day.
The Appetizer features, as the name suggests, two burners that run off independent gas canisters (so you'll need to buy two if you want to take full advantage) and if you're after a luxury camping experience where you'd like to cook your meat at the same time as your pasta, then this is the one for you.
The stove stands on two stable legs and the pot supports resemble the sort that you'd find on home cookers. This leads to an incredibly easy and hassle free cooking experience and the two temperature control knobs allow for a great deal of heat control, from a gentle simmer to a full-on boil. In terms of boiling times, the Appetizer was a bit slow off the mark though, taking just under six minutes to bring 0.5l of water to the boil.
While the boiling time may be slightly longer than the backpacking stoves in this test, it's a nice reminder of the intended use of the Appetizer. It's a family camping product so you're not necessarily going to be in a rush to get your water boiled and your food cooked in order to get some rest for an intense hike in the morning. No, this is for fair weather campers who are looking to spend the evening relaxing in a camping chair with a beer in hand while swapping stories with mates.
With this in mind the Appetizer is a very good camping stove, and I'll be packing it next time I'm camping from my car.
In a line: Too big for backpacking but perfect for car camping
Overall: 8/10
4. Vango Folding Gas Stove with Piezo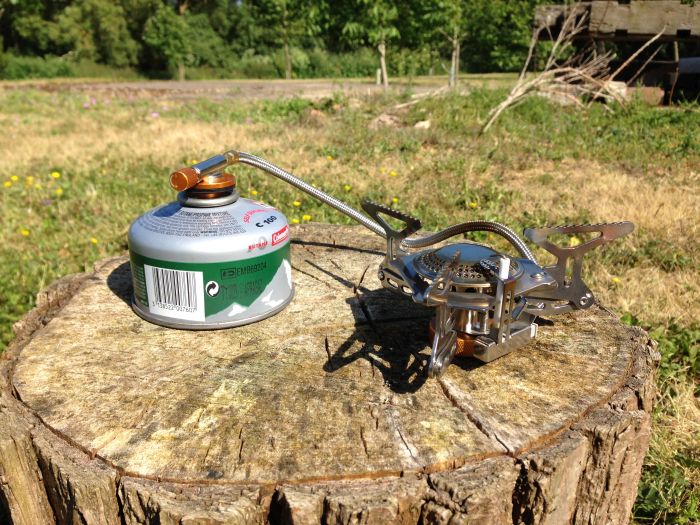 www.vango.co.uk | £27.50
Vango's offering is the Folding Gas Stove with Piezo which is essentially the same as the standard model, but it features a Piezo lighter on it so that you can get it going without a match or lighter.
As is the case with the standard model, this stove offers a low centre of gravity and very large pot supports to provide an incredibly stable base from which to do your cooking, even when using a large pot. The legs fold out to further stabilise the base and all of the moving parts feel well made and sturdy. The Piezo lighter is a great addition and it works, more often than not, on the first click. We think it's still best to bring one with you as backup in case a Piezo fails, no matter which stove you opt for.
The stove is fed via a 35cm fuel line which easily connects to a screw-top gas canister and once lit there's a nice level of heat adjustment to play with allowing you to get a simmer or a roaring boil if need be. In terms of efficiency and boiling times, when turned up to full heat the stove took three minutes and thirty seconds to boil 0.5l of water, a time that's comparable with the best in this review.
There's no denying that this model is an excellent buy if your intended use is low-level camping. The difference between the standard model and the Piezo comes out as a paltry £2.50, so when it comes down to it I would opt for the Piezo model every time.
In a line: Steady as a rock, a great stove.
Overall: 8/10
3. Edelrid Kiro TI – Highly Recommended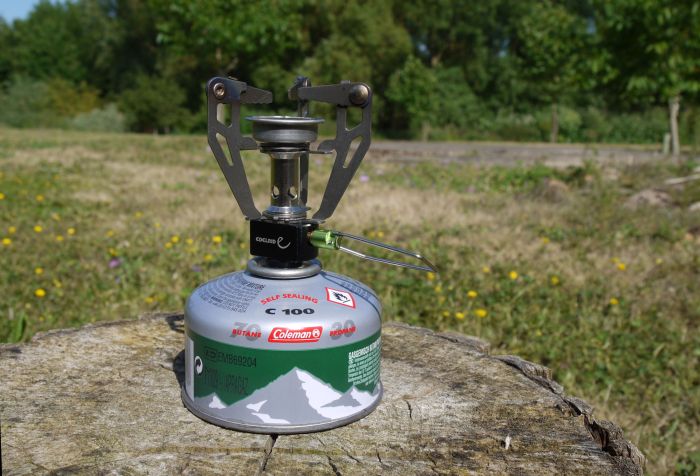 www.edelrid.de | £25
Edelrid's entry to this review, and the most expensive out of the six stoves on test is the Kiro TI, a lightweight (73g) on-canister stove that has a titanium body and an included stuff sack which offers neat and tidy storage.
First impressions of the Kiro TI are good, the stove offers a look and feel over and above the other sub £50 stoves in this review, everything about it feeling solid and well made. For such a lightweight stove it has surprisingly wide pot supports that offer a stable platform for pots and pans to sit on (they fold out to allow for smaller storage) and it's about as stable as you're going to get for an on-canister stove.
Performance is good with the boil time for 0.5l of water being up there with the best in this review at three and a half minutes. The temperature control is precise and the oversized wire control knob allows for easy adjustment. With the pot supports folded away and the wire controller neatly bent back on the stove, the Kiro TI offers a very small pack size that's going to be spot on for even the most weight and space conscious of us.
While the pot supports feel sturdy enough to take quite a bit of abuse the only slight issue we had was that they became a bit stiff to unfold after a few uses.
In all the Kiro TI is a very good, lightweight gas camping stove. It offers great quality for a sub-£50 product and at 73g it's light enough to shove in your pack and forget about. Boiling times and gas efficiency are great and it offers a stable base for your pots and pans.
In a line: Great quality and light weight
Overall: 9/10
2. Alpkit Kraku – Best Value for Money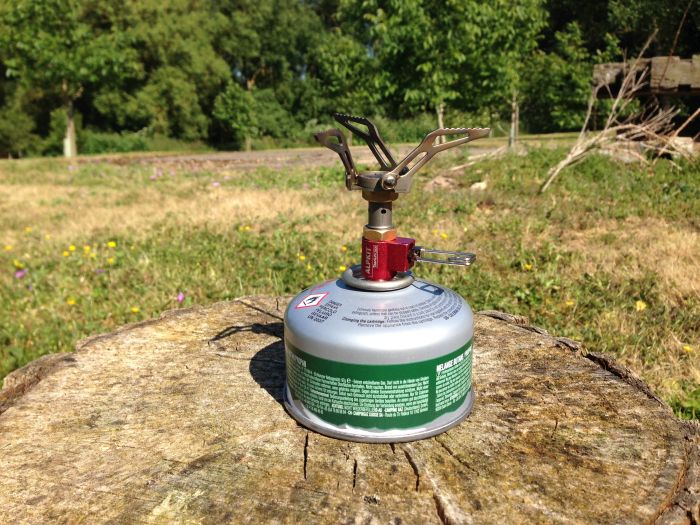 www.alpkit.com | £25
Designed for the solo adventurer, the stove weighs a miniscule 46g and sits in the palm of your hand when folded down to a clump that's no larger than half a pack of Polos. Initial thoughts are that a stove so small must only be able to offer a pathetic flame, but boy was I wrong. Once screwed onto a gas canister the Kraku was able to bring 0.5l of water to the boil in just under three and a half minutes, one of the fastest boil times in this review.
The feather weight is down to the use of a titanium body, a minimalist gas control dial (which strikes a brilliant balance of reducing size but still offering acceptable functionality) and a small burner head. The stove comes with its own stash bag and you'd better remember where you put it as it's so small I imagine it's easily misplaced.
As you might have guessed, the combination of a minimalist and on-canister design mean that it's not the most stable stove to be cooking on. Stirring food while the pot balances precariously on the three small pot supports is a nerve racking affair but if care is taken then you'll be OK.
If you're after a super lightweight stove that still offers a high power output, then stop looking, you've found it. For £25 the Alpkit Kraku is a bargain and a fine example that you don't have to pay through the teeth for ultra-lightweight gear. For those who prefer a more stable, easier cooking environment then you might find that the pot supports are just a little too small.
In a line: Incredibly light and surprisingly powerful for such an affordable camping stove.
Overall: 9/10
1. Karrimor Alpine Stove – Best in test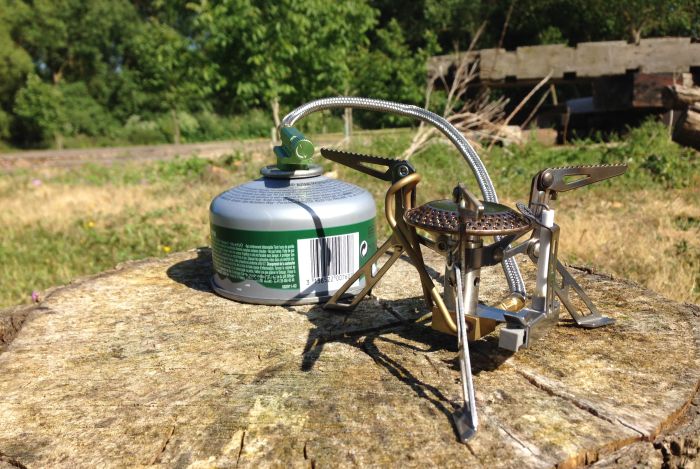 www.sportsdirect.com | £44.99
Karrimor's entry for this review is the Alpine Stove, a free-standing gas stove that features Piezo ignition and a useful storage sack, and it's actually a very good stove.
While the retail price of the stove is given as £44.99, you can pick it up for about £17 online. At this price the Alpine Stove is a perfect example of value for money and if you're an occasional camper, I don't see why you'd need anything more than this. In our tests the Alpine Stove brought 0.5l of water to the boil in four minutes, while this wasn't the fastest time it's certainly not bad. What I really like about the Alpine Stove is how stable it is in use. Of course that's the advantage of having a free-standing stove, but it felt positively solid and the centre of gravity is low enough to not cause any toppling issues.
There's a nice amount of heat control provided and it's also great to see a pre-heat tube that will allow more efficient and smooth use in colder temperatures. In terms of weight, the Alpine Stove is 169g and while it's not the lightest stove on test it's a decent figure for the weight conscious amongst us, especially when you consider its free standing design. The included Piezo lighter works well on most occasions, lighting on near enough the first click, and is a welcome addition.
All in all the Alpine Stove is a very nice stove indeed, we love how solid and stable it feels, but most of all we love that price tag, if you shop around and pick it up for £17 it's well worth a buy.
In a line: Superb value for money; one of the best camping stoves under £50.
Overall: 9/10