The great thing about colder weather being on the horizon is the prospect of getting out our cosy insulated jackets. They look good down the pub, prove you're a member of the tribe at the Banff Mountain Film Festival tour and keep you toasty on a windy summit. But which one should you go for? Well, here you'll find five of the best men's insulated jackets that money can buy…
Odlo Air Cocoon Jacket review
www.odlo.com/uk | £150
When I think of Odlo the first thing that comes to mind is the company's fantastic range of base layers that I use to keep me warm and comfortable when out on the hills or riding my motorcycle in the winter. But the Norwegian brand also produces a range of insulated jackets, the Air Cocoon being the brand's lightweight down offering.
The Air Cocoon makes use of ethically sourced Pyrenean duck down to provide warmth and the outer is constructed using Pertex Quantum, a lightweight fabric that has fantastic ripstop properties while also maintaining next-to-skin comfort, making the Air Cocoon a delight to wear.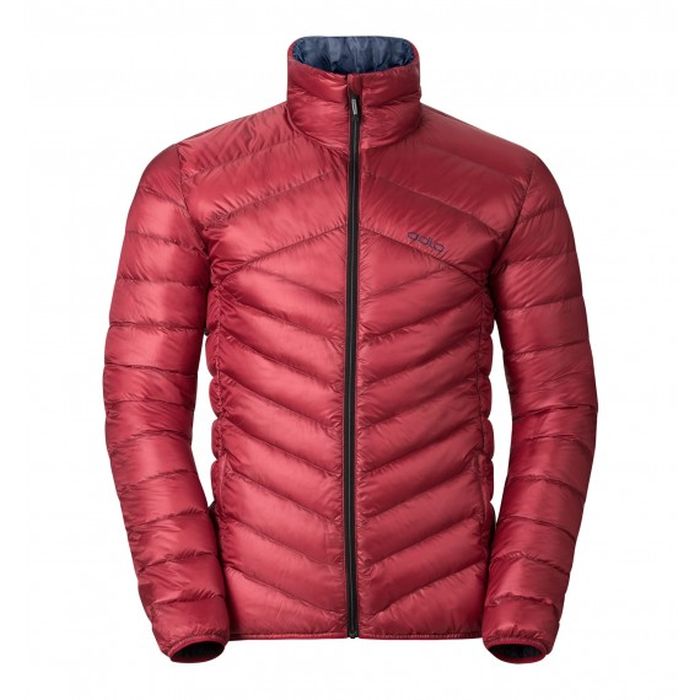 At 320g (in XL) the Air Cocoon is exceptionally light, and the warmth that is on offer at such low weight is mind boggling. This goes hand-in-hand with the tiny pack size of the jacket, rolling up to no bigger than your average supermarket-bought pineapple, meaning it'll have minimal impact on your rucksack.
You don't get a hood, so keep that in mind if it's a buying criteria for you, but you do get two nicely placed, zipped hand warmer pockets, an internal zipped chest pocket, and two large internal pouches. While all are welcome, I would like to see the hand-warmer pockets being slightly larger.
>>> 9 of the best winter hikes in the UK
While the Air Cocoon performs well, Odlo has also thought about the styling, and with some nice touches throughout, including the angled baffles that run the length of the torso, making this one of the more stylish men's insulated jackets on test.
In a line: The Odlo Air Cocoon is a decent jacket at a good price.
Warmth: 8/10
Weight and pack size: 9/10
Features: 8/10
Range of movement: 8/10
Overall: 8/10
Mammut Xeron review
www.gooutdoors.co.uk | £150
Swiss brand Mammut has a rich heritage of producing quality kit for harsh, mountain environments, and the Xeron jacket is its entry into this test. At £150 it sits in the middle of our price point and makes use of Mammut's own synthetic Ajungilak OTI Climate Fill insulation, to provide warmth, and Pertex Endurance fabric on the outer to make it tough and durable.
At 550g the Xeron is one of the heaviest jackets on test, and packs down to roughly the size of a football. This isn't great news if you're looking to keep weight down or if space is limited in your rucksack, but it makes up for it with the warmth provided and the features on offer. One of which is a fantastic hood that's a step above most others in this test. It's under helmet compatible, has a stiffened peak and is adjustable at three points to provide a perfect fit that keeps your head warm and moves when you move.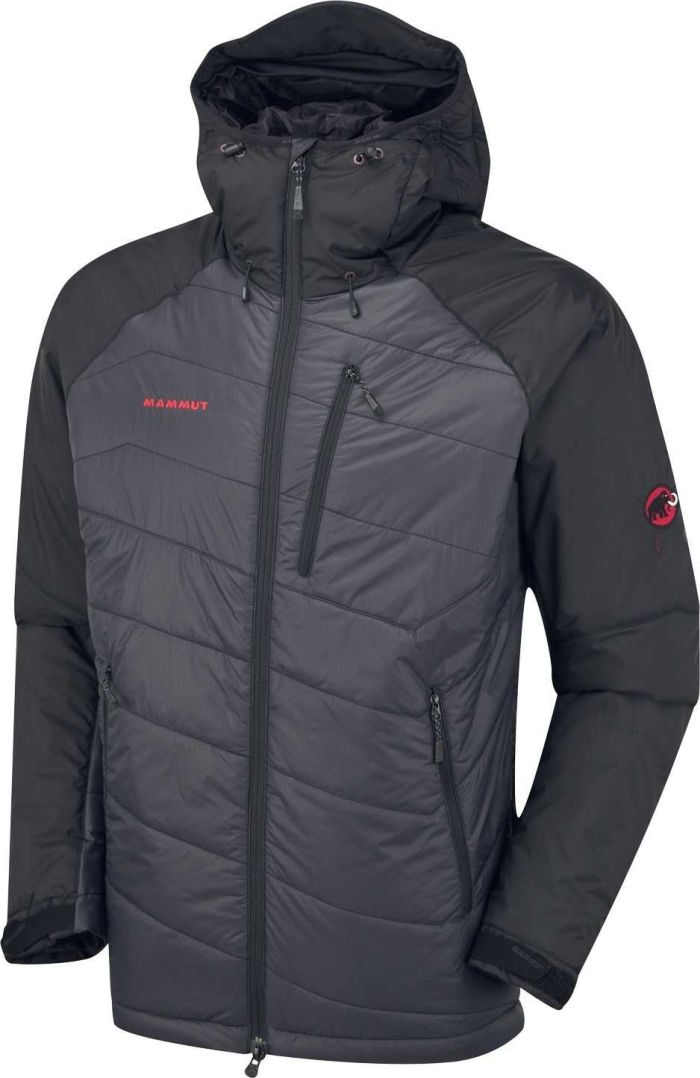 The Xeron is exceptionally comfortable to wear with a super soft next-to-skin feel, and the zipped hand warmer pockets are large, well placed, and luxuriously lined with a microfleece fabric. You also get a zipped chest pocket, but the Xeron lacks any internal pouches. The cuffs and hem are nice and easy to adjust, while the main zip is adequately protected by a baffle which helps ensure there are no cold spots.
When you look at all of this, it's easy to see where the extra weight comes from, and if you're happy to carry an extra 250g you won't be disappointed in the Xeron jacket.
In a line: Lightweight, great fit – the Mammut Xeron is a lovely jacket.
Warmth: 8/10
Weight and pack size: 6/10
Features: 9/10
Range of movement: 9/10
Overall: 8/10
Helly Hansen Verglas Down Insulator review
www.hellyhansen.com | £185
At £185 the Helly Hansen Verglas Down Insulator is one of the most expensive jackets in this test, and at 468g in a size XL you're not exactly paying for the cutting edge of lightweight technology. So what makes the Verglas worth this much?
Well, aside from having excellent styling that'll look just as good on the streets as it will on the hills, the Verglas couples useful features with a very good build quality to offer a mid-layer that's going to suit appeal to a wide range of people.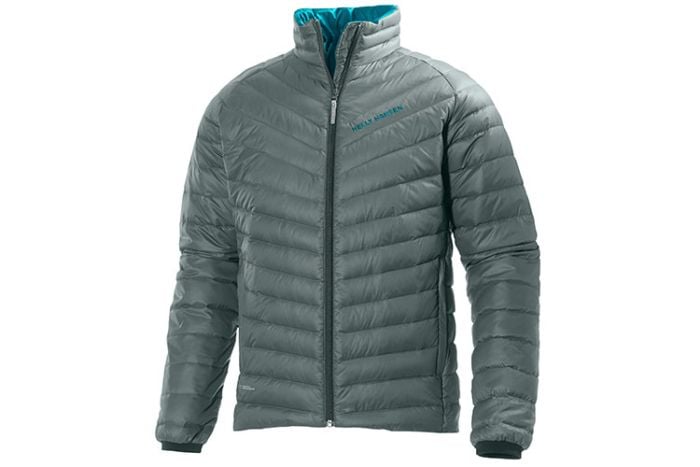 It uses a 700 fill power goose down with a composition of 85/15 to keep you warm and it does that job very well. Comfort is a big part of the Verglas experience and the Pertex Microlight fabric is nice and soft against the skin and the presence of a microfleece fabric lining the chin and the insides of the hand-warmer pockets is a welcome bonus. While this microfleece no doubt adds to the weight, it's a welcome addition when you want to put your hands somewhere warm on a cold day. You get a full-length zip baffle to prevent cold spots forming and elasticated cuffs and an adjustable hem allow you to trap warm air inside as well.
>>> Find more reviews of insulated jackets in our gear section
The jacket has an impressive loft but it's fairly bulky and it lacks a stuff-sack for easy storage. We also would have liked to have seen more pockets as the two hand-warmers are they only ones on the jacket. In terms of fit it's got a slim cut to it, too slim to use the jacket as a belay jacket that you can throw on over your outer layers but spot on for use as a mid-layer.
In a line: The Helly Hansen Verglas Down Insulator offers great styling and lots of warmth.
Warmth: 8/10
Weight and pack size: 7/10
Features: 8/10
Range of movement: 8/10
Overall: 8/10
Vaude Kabru Hooded Jacket review
www.vaude.com | £200

Reaching £200 the Vaude Kabru is the second most expensive jacket in this group test. Designed for use on windy summits, icy belays and frosty bivouacs, Vaude has used a premium 90/10 goose down to provide warmth. The Kabru bears the Vaude Green Shape tag, denoting which products are guarenteed to be environmentally friendly, using sustainable materials and resource-conserving manufacturing methods. The Kabru also uses responsibly sourced down, so top marks to Vaude for thinking about the brand's effect on the planet.
The goose down insulation provides an impressive loft, and the warmth on offer is astounding for the 528g weight of the jacket. While this is only 22g lighter than the Mammut Xeron, the Kabru is more packable, stuffing into its own pocket to a size no bigger than a loaf of bread.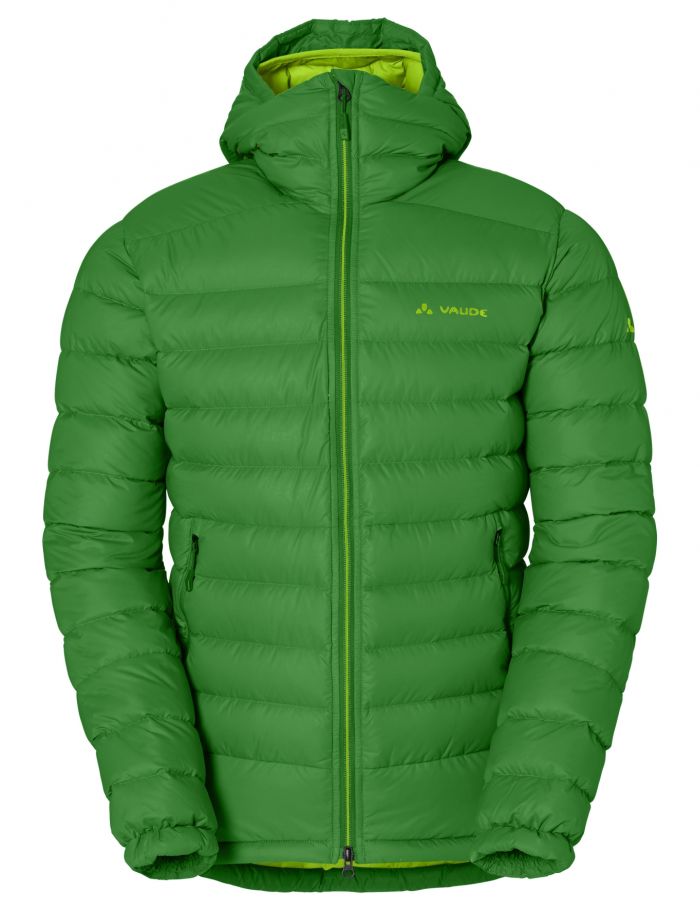 In terms of storage options, you only get two large, zipped hand warmer pockets, one of which is mesh backed and used as a stuff sack. I prefer to have at least one chest pocket, and an internal pouch, so the lack of pockets is disappointing for me.
The main zip is protected by an adequate internal baffle, and the well constructed baffles and even spread of fill throughout the jacket means that you're unlikely to develop any cold spots.
The hood is of very good quality, with plenty of insulation to keep your head warm, and it comfortably fits under a helmet, though it lacks any method of adjusting its volume, which is something I'd like to see included in a jacket of this price.
In a line: The Vaude Kabru Hooded jacket is super warm and super comfortable.
Warmth: 9/10
Weight and pack size: 7/10
Features: 6/10
Range of movement: 8/10
Overall: 8/10
Berghaus Ramche Down 2.0 review
www.berghaus.com | £350
I know what you're thinking, and no, that isn't a typo. The Berghaus Ramche Down 2.0 really is £150 more expensive than the next highest priced jacket in this test. Billed by Berghaus as offering the ultimate in warmth-to-weight precision, the Ramche 2.0 is a marvel to look at and it features more technology in it than you'd think a jacket could. Heat zones have been developed through sophisticated body-mapping technology, meaning the jacket has more insulation in areas that need it, and each and every baffle in the jacket has been scrutinised to see how it can work to provide optimum warmth for the area of the body on which it will be placed.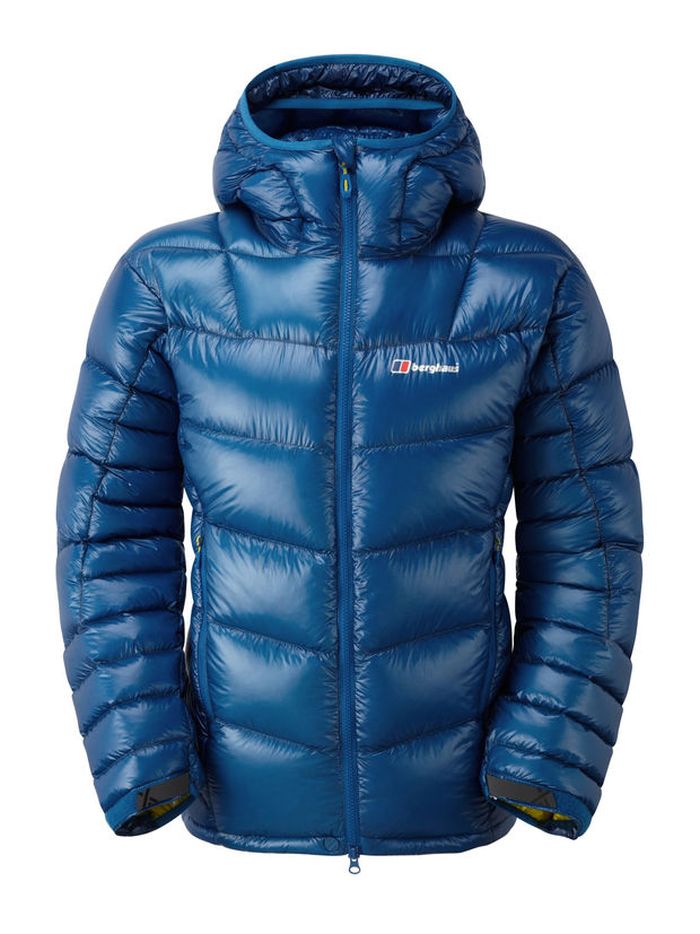 You can start to see where the £350 comes from now. It's not just technologically that the jacket impresses though, high quality components are used throughout to back up the theory with real life performance. Insulation is provided by NikWax Hydrodown, a water repellent down that's claimed to perform for up to 16 hours in damp conditions where 'normal' down products would struggle. It's not just marketing fluff either, having used Hydrodown on some particularly wet hikes, I can vouch for its effectiveness.
The outer of the jacket is a bit like marmite. It takes on a slightly shiny finish that some in the AT offices loved, while others turned their nose up at it. Fashion aside, it's windproof and durable beyond what you'd expect such a supple fabric to be.
>>> Need some cold weather adventure inspiration? Check out these six winter adventures you should go on this year!
Our size XL Ramche 2.0 weighed in at 527g on our scales, making it the fourth heaviest jacket on test, but this weight is offset by the immense amount of warmth on offer, and as the down is so packable the jacket can be packed up (in the included stuff sack) to a manageable tube that's no longer than a Pringles can and about twice as thick.
All in all, despite the jacket being astronomically priced, it's an exceptional piece of kit and is one of the best men's insulated jackets on test. It's no doubt going to be overkill if all you plan on using it for is the odd bumble into the British countryside, but if you're going to be hut-to-hutting in the Alps, or you plan on taking on some winter ascents, it's worth every penny.
In a line: The Berghaus Ramche Down 2.0 is one of the best men's insulated jackets you can buy and is worth the money if you're going to put it to good use.
Warmth: 10/10
Weight and pack size: 8/10
Features: 9/10
Range of movement: 9/10
Overall: 9/10
These men's insulated jackets reviews first appeared in issue 126 of Adventure Travel magazine. To make sure you stay up to date with the latest kit, and to find inspiration for your next adventures, check out the latest edition of Adventure Travel via our shop page.