A detailed review of the Craghoppers Kiwi Pro 30 daypack where we found out everything you need know know before you part with your hard-earned cash.
www.craghoppers.com | £35
British gear manufacturer Craghoppers has been making kit since 1965 when a group of guys in West Yorkshire decided they were going to climb Everest. The lads wanted gear that would be able to withstand the harsh conditions that they'd encounter on the mountain, so they went about designing and testing new fabrics and clothing. Their preparation helped them reach the summit of the highest mountain on earth and Craghoppers was born.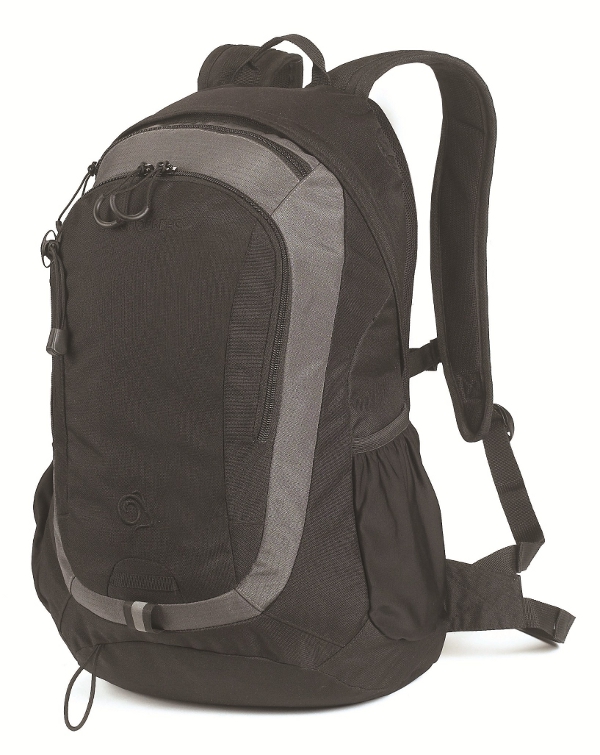 So, we introduce the Craghoppers Kiwi Pro 30, a 30-litre daysack that's made from a mixture of polyester and ripstop nylon with a water-repellent finish. The Kiwi seems smaller than other 30-litre rucksacks we've got on test – when I first picked it up I thought it was a 25-litre or even a 20-litre bag – but that said, the main storage compartment is large enough to hold the basic kit you'd need for a day hiking in the hills or bopping around town. There's also a sunglasses pouch, which has a soft lining to protect your eyewear from scratches, and an organiser pocket on the front so you can sort your life out.
The back padding on the Kiwi covers the places that it needs to (shoulder blades and bottom of back), and in the areas where there's no padding you've got what Craghoppers calls an Airflow system which helps prevent sweaty backs. It won't be as effective as a mesh support that holds the pack away from the body, but it will help to an extent.
The Kiwi Pro 30 isn't really in the running when compared with 'outdoor' packs for serious on-trail use, but where it scores well is in the general travel category. It's the type of pack that's great for walking around town; shorter hikes around the hills or for use as airline hand luggage.
Craghoppers Kiwi Pro 30 Verdict
Good value basic pack for short hikes, organised tours or around town.