An in depth review of the Craghoppers Reiko Stretch GTX jacket. See how Adventure Travel magazine gear editor Paul Jennison got on with the waterproof.
www.craghoppers.com | £250
We've all heard of Craghoppers and I have had a lot of their gear over the years. It's well made and robust and usually at a price that most can afford. So when the Craghoppers Reiko Stretch GTX Jacket arrived I was a little surprised that the price tag was right on the upper limit. But when you take time to look at the jacket's construction and features it is well priced and besides that it has everything I want in a waterproof shell.
Firstly I liked the fit. It has a good length in the body and arms and was roomy enough to accommodate my layers beneath with plenty to spare. It also has a good sized hood with a stiffened peak. The jacket is made using 4-way Gore-Tex stretch fabric with an active lining which has stretch panels for totally unrestricted movement. No membranes in this one as the outer is 2 layer nylon and elastane Gore-Tex which means the gore is laminated to the outer fabric making it waterproof and breathable. The seams are taped so water can't penetrate there either. The mesh style active lining which incorporates stretch panels on the sides and around the sleeves will help to wick moisture while keeping the outer away from your under layers thereby retaining body heat.
The jacket weighs 710g and packs down well enough to be stowed in your rucksack without taking up too much space.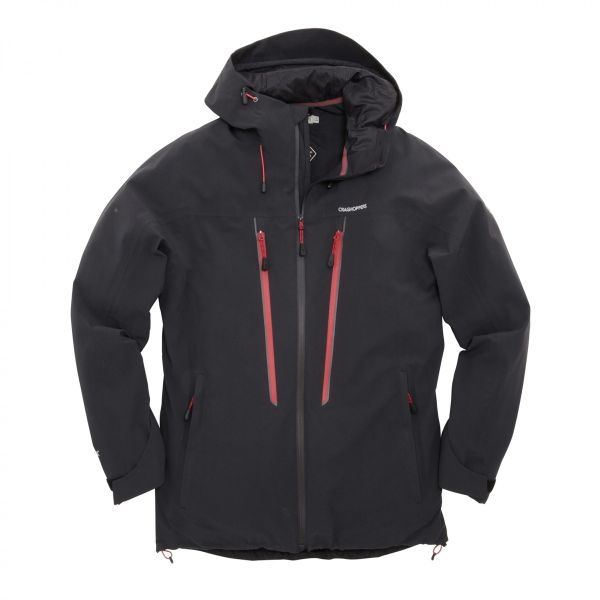 Craghoppers has employed a one-way waterlock zip down the front which has a storm flap behind it for complete weather resistance. The zip goes all the way to the top of the high collar which has a soft touch shroud to stop it digging in.
There are drawstring adjusters around the hem and hood which are easy to operate even with gloves on and make for a secure weather resistant fit. The cuffs have plenty of room if you want to roll them back for ventilation and gloves will go underneath with ease which can be sealed by using the Velcro fastening tabs.
Another good feature is the pockets. There are two lower ones with normal zips with a weather resistant flap to keep out the elements as long as you remember to close them! These also have a soft fleece type backing to keep your hands warm. However they are sited quite low and a waist belt from your pack will inhibit their use. I was pleased to see that there are 2 Napoleon chest pockets with waterlock zips. These are plenty big enough to house an OS map. On the inside there is a good sized zipped pocket to secure more vulnerable items such as a mobile phone.
Unfortunately there are no vents built into the jacket.
In conclusion I liked the Reiko jacket from the moment I put it on. The fit is great and my range of movement was not inhibited. The rainwater beaded off in a heavy down pour and I was warm and dry underneath.
Craghoppers Reiko Stretch GTX Jacket Verdict
Top price for this top jacket, but I'd recommend it to anyone.