Whether you're a fan of two-wheeled travel or a downhill speed fiend, check out these super-cool gifts for mountain bikers…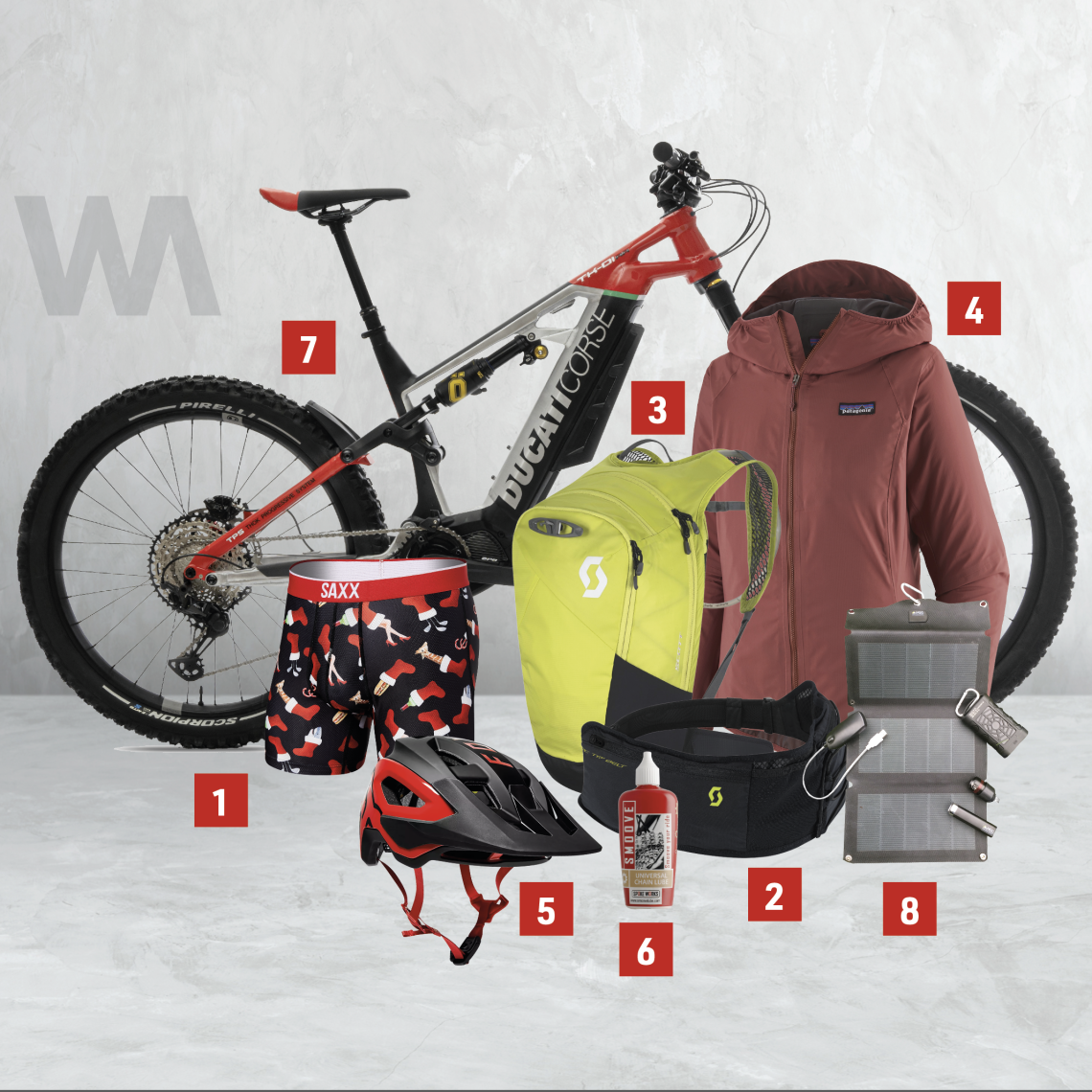 1 SAXX Volt breathable mesh pants
RRP £28
If you haven't worn a pair of SAXX pants you haven't lived. Up there with the most comfortable undergarments around, the company's 'ball park pouch' reduces friction and keeps everything in place. The Volt pants are made from a breathable mesh material to keep you comfortable when working hard.
2 Scott Trail RC Tr' belt
£37
Wrap the Trail RC Tr Belt around your waist for maximum comfort. Conveniently placed pockets will allow you to carry fluids in a soft flask and fuel for your shorter rides. With the open mesh and lightweight fabric dressed with the reflective RC logos, you'll be seen even at night.
3 Scott Pack Perform EVO HY'16 backpack
£119.99
Designed specifically for cycling, the Perform EVO Hy'16 features a 2-litre Hydrapack Elite reservoir and is designed to support your performance oriented trail rides all day long.
4 Patagonia Dirt Roamer jacket
£230
The lightweight and breathable Dirt Roamer jacket from Patagonia has been designed for the changing climates and altitudes unique to mountain biking, allowing you to dump heat on climbs, shed wind and light precipitation on descents and ridge lines, while also stretching to accommodate on-bike movements.
5 Fox Speedframe Pro helmet
£164.99
Designed with input from Fox Racing's pro mountain bike athletes, this top-tier open-face mountain bike helmet offers a market-leading feature set including MIPS, an easily adjustable multi-position visor, and a 360-degree fit system.
6 Smoove chain lube
£16.99
Keep your chain in tip-top condition with Smoove chain lube. It reduces chain wear and increases the lifespan of drivetrain components.
7 Ducati TK-01RR
£7,690
Take on the trails in style with the Ducati TK-01RR E-mountain bike. Geared towards the most extreme off-road, the TK-01RR comes equipped with a Shimano EP8 engine with 85Nm of torque to give you the edge when it comes to taking on the mountains.
8 MSC Expedition Solar Power Package
From £75
Keep your gadgets charged by harnessing the power of the sun with the MSC Expedition Solar Power Package. Complete with a robust power bank, an efficient solar charger, light accessories, and a number of nifty attachment points, the Expedition Solar Power Package is the ideal way to generate power each and every day.