www.scruffs.com | £59.95
Over the last few weeks I've been testing out a new hoodie from workwear brand Scruffs. It's called the Scruffs Speaker Hoodie and, as the name suggests, it comes with two speakers built into the hood as well as a pair of headphones. On receiving the hoodie I was a bit sceptical about how useful such features would actually be but after a few weeks of use I'm hooked and despite it not being the most technically blessed hoodie in terms of the material it's made from I find myself reaching for it instead of any of the other dedicated running jackets I have.
So, first things first, the Scruffs Speaker Hoodie retails at £59.95 and is available in two different colours/styles, black with orange detailing or marl grey with blue detailing. The hoodie I received was the grey style (as seen in the images) and in terms of styling, it's a pretty cool looking item of clothing. The subtle blue details work really well with the grey and there are a few nice touches like a smart zip pull which add a more aesthetic appeal to the jacket and I would happily wear it out and about and not just for running/working in.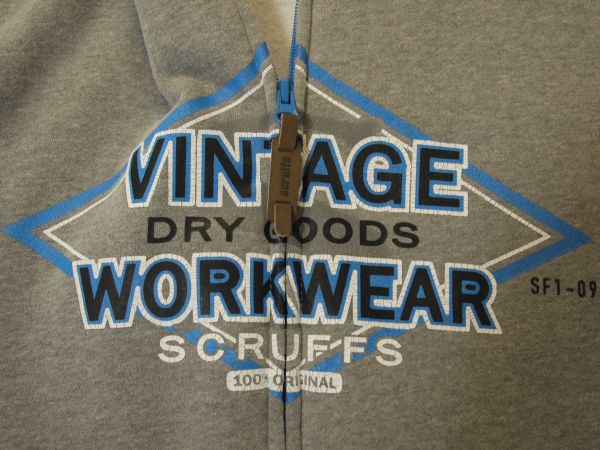 The hoodie features some nice styling designs.
The styling probably isn't going to be the main reason that you'll want to buy the Speaker Hoodie though (but it may well sway your decision) and the main feature is the sound system. Scruffs go as far as saying that it's 'revolutionary' and while I've seen jackets and hoodies that have built in speakers before there are none, at least to my knowledge, that work as well as this one (of course, if you've tried any other brands and think they're better leave a comment below!).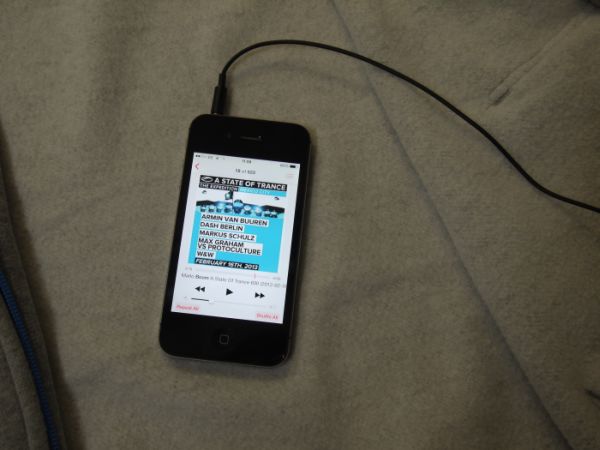 Phones/Mp3 players/media devices can be connected through the aux cable.
You get two sound outputs for your mp3 player/phone/media device (which can all be connected through the aux socket), a set of speakers which are built into the hood at around ear level and a pair of in-ear headphones. You can switch between the two outputs simply by pressing a button on the inside of the hoodie and play/pause your music as well as answer calls (more on this later).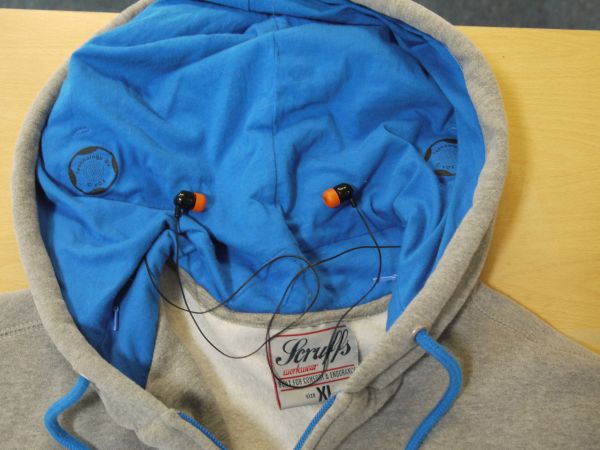 The speakers and headphones inside the hood.
When it comes to headphones I'm usually a bit of a picky customer, I like my music to be crystal clear so that I can enjoy it to its full benefit and while the speakers and headphones in the Scruffs Speaker Hoodie aren't the best quality they're still nice enough to use for listening to music. If you're looking for the best quality headphones then you're not going to find them here and there's a slightly tinny sound to them but they're by no means the worst I've tried.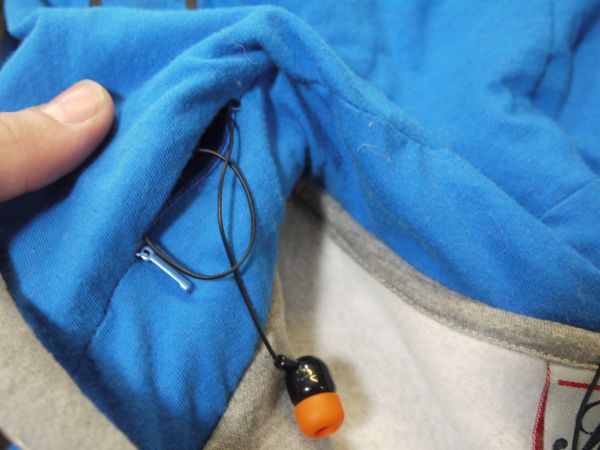 Headphones can be zipped into their pouch which is hidden away nicely.
They sit incredibly well in the ear and where I usually have a problem of keeping headphones in while running I had no such trouble with these. They're also comfortable when worn for long durations. My only criticism of the headphones would be that the wires feel a bit thin, flimsy and potentially easy to break – if they do break you'll likely have a problem replacing them as they're built in to work with the speakers.
While the buttons on the inside of the jacket work very well and are usable with gloved up hands, I would have loved it if Scruffs had included a volume changer as this can only be done through your device which is usually zipped away in a pocket.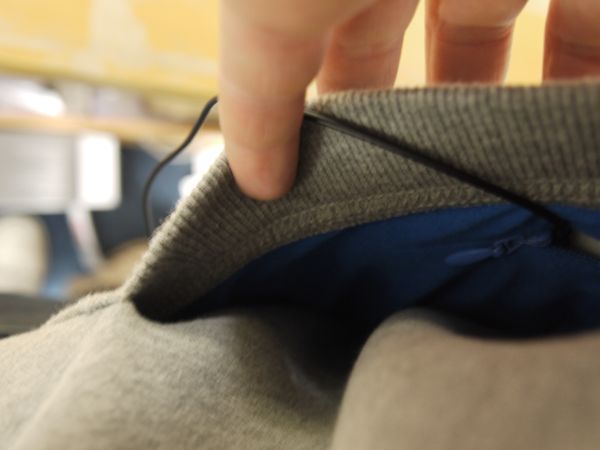 The left hand warmer pocket has a hidden zipped pocket for your device.
As mentioned above you can answer a phone call with the built in buttons if your hoodie is plugged into a device and the sound quality of the call is great. There's also a microphone included and everyone I called said they could hear me as if I was talking normally into my phone. I really like this feature as it can be a bit fiddly to answer calls while running or cycling and this makes it very simple.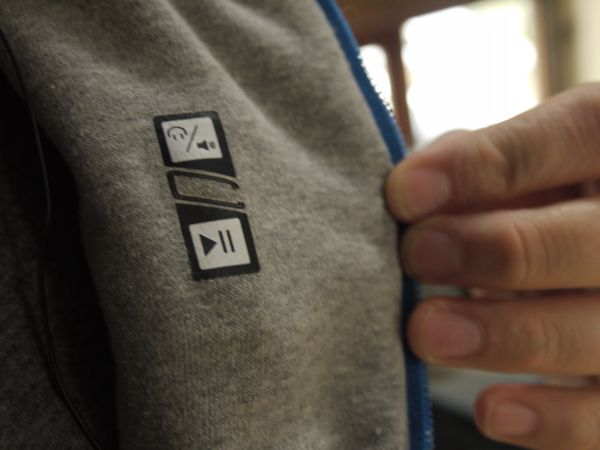 The function buttons are nicely worked into the jacket and easy to use. Would have loved a volume changer though.
After you've been running in the hoodie a few times you're going to want to wash it and I was pleasantly surprised to find that you can just zip the headphones into their pockets and throw the hoodie in the washing machine without having to take them out. The waterproof headphones and speakers are a great addition because too often have well meaning relatives and partners put my clothes in the wash without checking pockets for electrical products!
All in all I was pleasantly surprised with the whole Scruffs Speaker Hoodie experience. I went from being convinced that it was just a novelty idea that couldn't possibly be useful to using it on every run I went on. It's comfortable enough to wear casually and, while they might not have the best audio quality, the speakers and headphones are more useful than you would have first thought. Would I recommend it? I definitely would. Click here to buy it from Amazon.
Scruffs Speaker Hoodie Verdict
A comfortable and stylish hoodie with a great sound system. If the built in headphones and speakers were just a little bit better and had there been a built in volume changer I would have given the hoodie a 10/10.