The Vaude Brenta 30 is one of Adventure Travel's favourite hiking daysacks. Here's our full review.
www.vaude.com | £75
Vaude backpacks have earned a great reputation with Adventure Travel testers over the years and the Brenta 30 looks like it's not going to disappoint. Vaude says that the Brenta's a 'roomy hiking pack for day tours', and it looks a technically advanced one at that.
The main draw of this pack is its adjustable back ventilation system and its FLASH (or floating length-adjustable shoulder harness) shoulder straps. Thanks to two pull cords at the bottom of the bag, the mesh panel that's in contact with your back can be tightened, arching the back of the bag away from your body. This allows you to ventilate your back when things get hot, but also means the bag to keeps its stability on tough terrain.
The shoulder straps are just as easily adjusted to four sizes (small, medium, large and extra large) thanks to the floating length-adjustable shoulder harness. This is simple to do and it allows you to get a comfortable fit regardless of your back-length.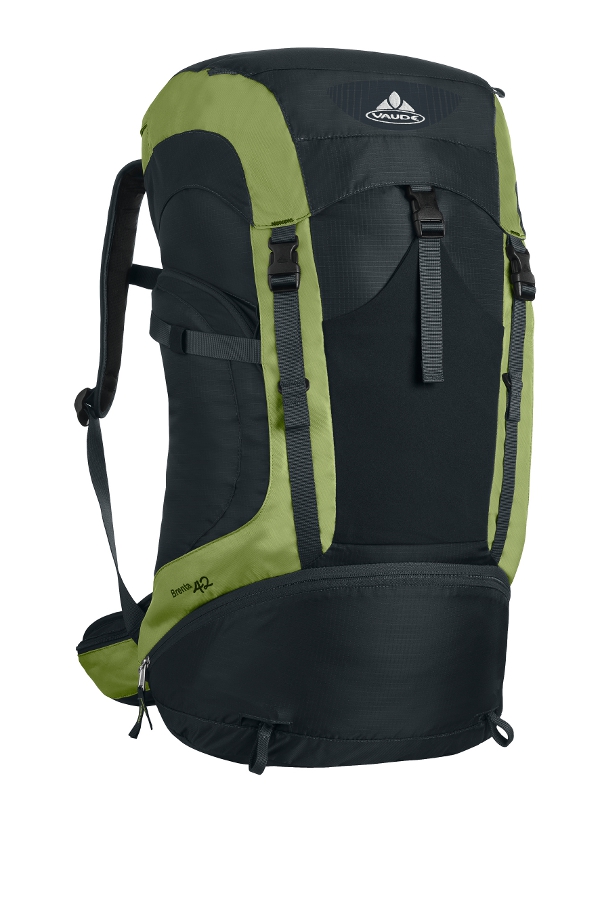 The Brenta also features a detachable rain cover to help keep the contents of your pack dry. There are two axe/pole loops that can be tucked away in to the body of the bag when not in use, and the side pockets are size adjustable: when zipped out fully they double in size and are big enough to hold a pair of waterproof trousers or a thin mid-layer. There's a stretchy front pocket which is big enough to hold a waterproof jacket or a two-litre bottle of water, and the large hip belt pockets and lid pocket help keep kit close to hand should you need it.
The Vaude Brenta 30 is a great all-round daysack. It won't look too fashionable on the streets, but out on the hills it'll look the part. The adjustable ventilation system allows the bag to be stable when carrying heavier weights, making it a great bag for via ferrata-ing or scrambling.
Vaude Brenta 30 Verdict
Great technical bag with brilliant adjustable ventilation.