Around March this year, sitting on my couch in Peebles, we looked at a map of the world and considered where we would go if we had limitless time and money was no concern. We would walk the Great Wall of China. We would travel the Trans-Siberian Railway. We would buy an old VW van and drive it to and through Africa. We would trek in the Himalayas, visit Everest Base Camp. Base camp? But why trek to the base of a mountain? We would climb Everest!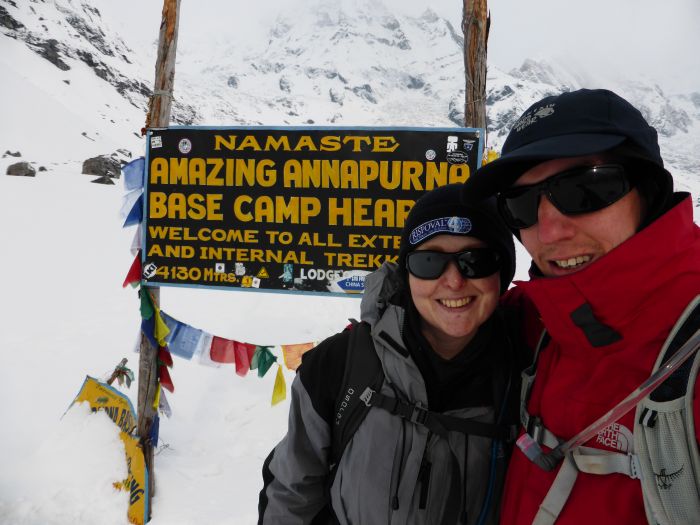 At some point during this discussion, it became apparent that my boyfriend Robert was taking this suggestion entirely seriously. He went a step further; he proposed climbing the mountain from sea level at the Bay of Bengal, to ensure we gained the entire 8848m under our own power. We both agreed it would be an amazing challenge, and the subject was dropped. But an idea had taken root. 
Two weeks later, and we found ourselves coming back to the same idea. We researched online, and discovered Tim Macartney-Snape had successfully ascended Everest from sea level in 1990. So it could be done: 1,200km due north across India and through (and up!) Nepal to Everest. Robert was convinced, not only was the expedition theoretically possible, but more practically speaking, we could do it. And we could raise money for charity as well.
I wasn't quite so sure. I could think of at least half a dozen reasons why it would be a very bad idea. Ultimately though, I couldn't resist the challenge. 'Let's go for it', I finally agreed in a Skype conversation. 0 to 8848 was born.
Allow us to introduce ourselves
Hi, our names are Rona McKay and Robert Porter. Through this column, we want to bring you with us on our expedition from sea level to the summit of Everest. Over the next two and a half years, we will show you everything we are doing to make this a success. From our fitness regimes, training climbs, and technical practice, through to organisation, fund raising, and gathering sponsorship.
We don't expect it to be easy, but with some luck and a lot of perseverance and hard work, we hope to not only make it happen for us, but to give you an insight into what goes on behind the scenes to make such an expedition happen. There are no guarantees in this. We can't be sure we will get the publicity, the sponsorship, the fitness, or the weather to be able to achieve all we want to, but we have committed to doing everything we can to make this expedition happen.
We are normal people; Robert, a 34 year-old PhD student based in the Netherlands and Rona, a 30 year old veterinarian. We have decided though to try to make this epic expedition a reality. Both of us are from Scotland, and we love hill walking, climbing, trekking and in general being outdoors. What we certainly are not, is elite athletes. Both of us have friends who could easily beat us in any physical challenge you cared to set.
We are starting from zero in more ways than one. Not only are we going to start from sea level, but we have no training or experience in extreme mountaineering, fund raising, publicity, or any of the other skills we are almost certain to need (like writing columns). Over the course of our preparations, we are going to have to become fitter, stronger, smarter, and more skilled. 
We visited Nepal for the first time earlier this year, and that has played no small part in our desire to attempt Everest. We walked the three passes trek in the Khumbu region, and trekked to Annapurna base camp. These were amazing experiences in themselves. They also provided us with some valuable information on our individual responses to walking at high altitudes, and the importance of good acclimatisation.
Even at the (relatively) modest heights of 5000+m, we experienced the fatigue and shortness of breath that reduced oxygen intake brings. We thought we were moderately fit when we left. We are going to have to be so much fitter to attempt even half of what we aim to with this expedition.
The Plan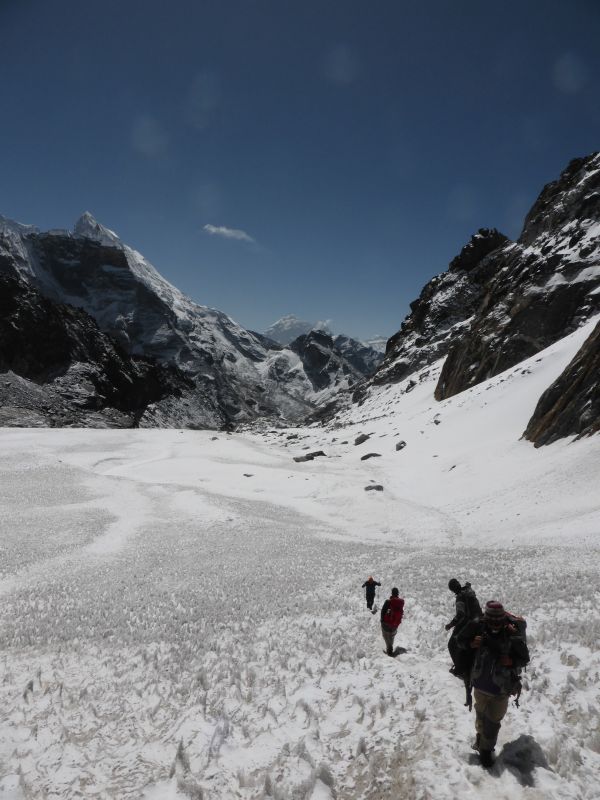 So, what exactly is the plan? You can't just turn up to Everest and start walking. Either legally (you need a permit from the government) or physically (without appropriate training, you wouldn't make it too far). We have created a provisional timetable for our major training trips. These include Mount Rainier (May 2015), Aconcagua (Winter 2015/16), Denali (Spring 2016), Cho-Oyu (Winter2016/17), followed by beginning our walk at the Bay of Bengal in February 2017. 
As many of you have probably figured out, the fact that you are reading this means we are not quite at zero in one respect. When we were working out how exactly we could make this expedition a reality, we came into contact with a lot of blogs about fund raising. The main message was that publicity is everything. That was when we had the idea for this column. Putting the word out there about what we want to do is the first step.
We made initial contact with Adventure Travel magazine in early June this year. We are writing this in August, and as it should be published around September it has taken us approximately three months to get here. This timescale is something we are quite pleased with as writing this column represents our first major step in this journey. We are hugely grateful that Adventure Travel wanted us to share our experiences with you. We hope you feel the same.
We have read about dozens of expeditions that sounded amazing. Crossing Antarctica, climbing the 7 summits, walking/cycling/canoeing around the world. When we read about these activities, we found we had two emotions, jealousy and curiosity. Jealousy is pretty easy to explain, these expeditions sounded amazing, and we would have loved to go on any of them.But we were also curious about how these expeditions actually ended up happening. How did they get money? From who? What was the training? Did they have special contacts? Previous experience? Did you have to be a professional athlete?
None of these questions ever seemed to get answered, and that is something we want to do our little bit towards fixing. Through this column, and on our website www.0to8848.org, we will give all the information we can about who we have contacted, for what, why, and when, along with the texts of emails we send out and details of any agreements we reach. Our hope is that these can provide a basis for others to see how they could something similar if they wanted. We certainly wish it existed already.
As well as the grueling physical challenge, we hope to raise £200,000 to provide scholarships, safe houses, counseling, and skill development to victims of child prostitution and trafficking through Bantuan Coffee (www.bantuancoffee.org). This is a foundation that Robert helped to establish in 2012, which provides much-needed assistance to victims of child prostitution and trafficking in Indonesia. There are approximately 70,000 victims of child prostitution every year in Indonesia alone, so there is a lot still to be done. Hopefully, at the end of this expedition, we will be able to provide a lot of care to a lot of children.
We hope that you will enjoy reading along with us, and if you have any questions we will do our best to answer them. You can post comments and questions below, and keep up to date on a more regular basis at www.0to8848.org or by following us on twitter (@0to8848). The next step is getting a training plan, and a vaguely accurate cost estimate, and a schedule, and a route, and sponsorship…
We have a lot of research to do and emails to write. In the next column you can find out how many of these things we have achieved. It's going to be a busy couple of years.
Rona & Robert
Be sure to check back soon for part 2 of Rona & Robert's blog