Flights to many of Europe's major cities are regular, short and affordable, making it easier than ever to jump on a plane on a Thursday night or Friday morning and return on a Sunday evening, with 72 hours of adventure coursing through your body.
Sure, city breaks are hardly revolutionary, but we're going to make it as easy as possible for you to escape the city and explore the beautifully varied landscapes of Bavaria, Germany. Better yet, you'll be able to do it while using only one day of annual leave. So, what are the sights you absolutely can't miss if you only have 72 hours in Bavaria? We've rounded them up below, plus all the practical information on where to stay and how to get there. 
Visit Neuschwanstein Castle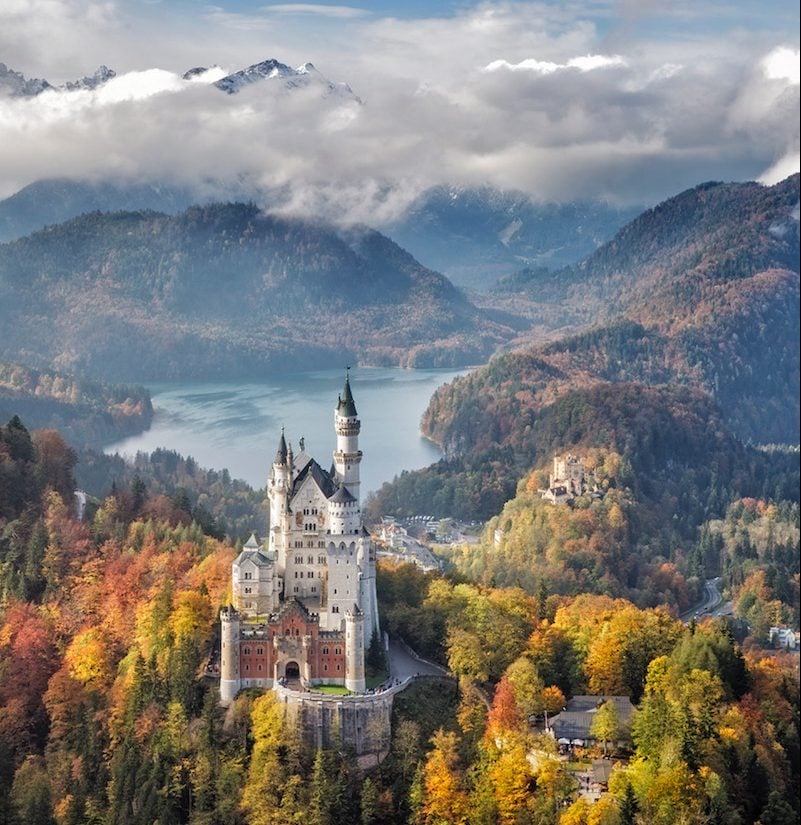 Looking like something straight out of a Disney movie, Neuschwanstein Castle is a remarkable piece of architecture found near the village of Schwangau. If you only have 72 hours in Bavaria, you won't want to miss it. It rises boldly out of a patchwork of trees and commands an imposing presence over nearby towns, with its iconic towers stretching ever skyward. To the south, the Alps strike out into the sky, with vibrant blue lakes settling at their feet. It's not just the castle that delivers on its fairytale views.
Take a tour of the castle's interior and you'll be joining the 1.3 million other tourists that do it every year, with as many as 6,000 passing through each day in summer. With that, it's perhaps best to avoid July and August, or to view the castle's beauty from afar (hit up Queen Mary's Bridge for one of the best vantage points or take a look at a map and choose your own). Whatever you decide to do, the colours and contortions of the surrounding landscape will ensure you'll be leaving with a spring in your step.
Hike and swim Alpsee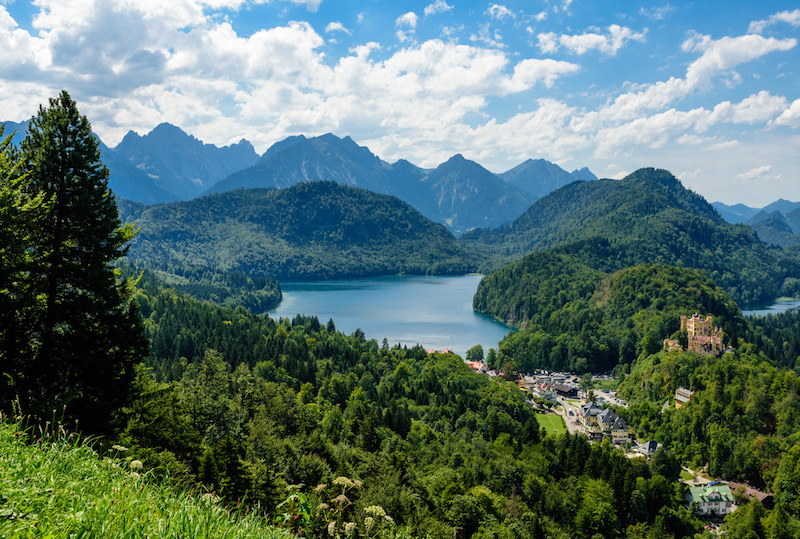 Found in the Ostallgäu district of Bavaria, Alpsee is a picture-perfect lake nestled among the foothills of the Alps, just a couple miles south of Füssen. Catch it on a sunny day and you'll fall in love immediately. The hills around the lake are covered in endless shades of green, with dense forest stretching into the distance. At the southern end, Alpine peaks burst skyward with an air of authority that is oh-so-tempting to challenge.
Before conceding to the draw of the mountains, take a three-mile walk around the beautiful trail that encircles the lake, stopping to enjoy the different views as you go. There are numerous sheltered bays around the perimeter of the lake that make for a pretty wild swimming spot, with the water taking on an almost Mediterranean hue that'll prove hard to resist. During summer, there's even a dedicated swimming spot that comes complete with showers and changing facilities.
Climb Säuling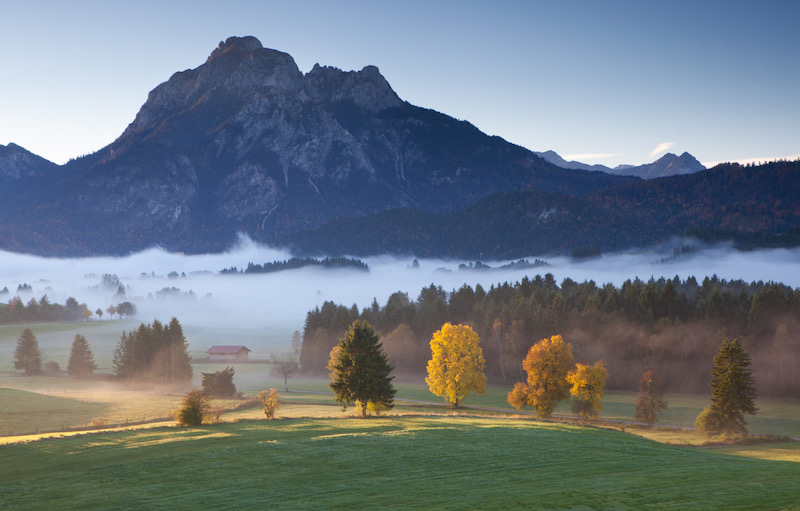 Now's the time to scratch that mountainous itch that has been eating away at you. Säuling (2,047m) is a striking natural pyramid of rock that can be recognised from miles away, such is its iconic shape, and is an ideal route if you only have 72 hours in Bavaria. Despite how it may look, this is a mountain that is well within the grasp of fit hikers, and it delivers stunning panoramic views across Bavaria and into Austria.
You can climb Säuling by starting in the town of Füssen, with the most popular route taking you past the iconic Neuschwanstein Castle to Wildsulzhütte and onward to the summit via Pilgerschrofen (1,759m). It's not an easy climb by any stretch, with roughly 1,300m of elevation gain, but once you're at the top you'll be thanking those sore legs.
From the summit, you'll have a different, but equally stunning view, in every direction, from the lakes of Alpsee and Hopfensee, to the Austrian Alps stretching south. In truth, the hardest part will be dragging yourself away from the beautiful summit and making your way back down to Füssen.
Tackle the Zugspitze and swim Eibsee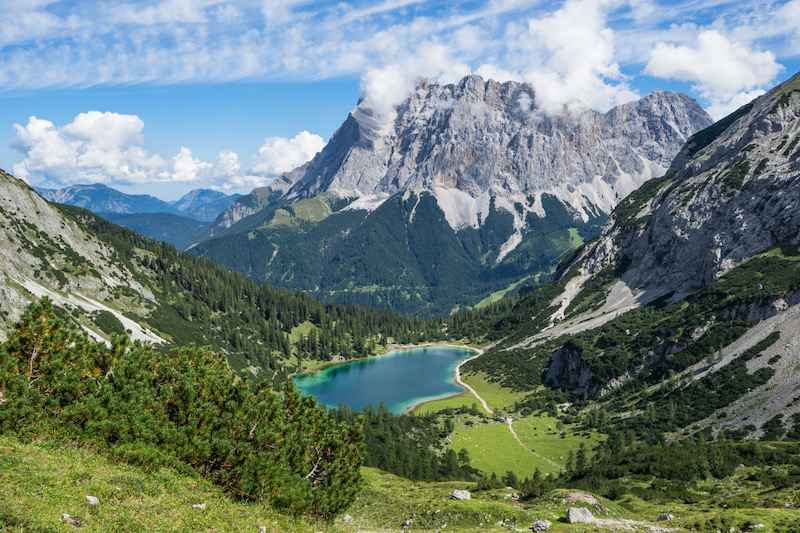 At 2,962m, the Zugspitze is Germany's highest mountain, but that shouldn't stop you from reaching its summit on this whirlwind trip. Setting out from Garmisch-Partenkirchen, you can take the Zugspitzbahn (a rack railway) for a large chunk of the ascent, arriving at a large open plateau (the Zugspitzplatt) some 2,588m above sea level. Sure, ordinarily we might call this cheating, but if you only have 72 hours in Bavaria, you might have to cut some corners.
Most hikers or mountaineers tend to climb the Zugspitze over two days, but taking the rack railway most of the way means you can enjoy the short ascent to the true summit and take in the jaw-dropping views, before putting one foot in front of the other on the descent. After a couple of active days, maybe it's not such a bad idea after all. And the best bit? The route back to Garmisch-Partenkirchen will take you via Eibsee, a beautiful lake with dazzling, turquoise waters that wouldn't look out of place in the Caribbean and is perfect for a quick dip.
72 hours in Bavaria: where to stay?
Füssen
Being just over an hour and a half from Munich Airport, Füssen is an ideal base for your first night in Bavaria. Tucked away at the foot of the Alps, the town is quintessential Bavaria, with beautiful buildings and plenty of places to grab a drink or a bite to eat. Plus, there is no shortage of guest houses and Airbnb rentals, so you should find something to suit your budget. Of course, the real highlight of a stay in Füssen is just how close it is to nature.
Garmisch-Partenkirchen
Spend your second evening here and you won't be disappointed. Garmisch-Partenkirchen is perfectly placed for more exploration, with a couple of pristine lakes nearby and the highest mountain in Germany just a stone's throw away. The scenery around here is stunning, so even driving or walking around with no set itinerary will prove to be fruitful. If you have spare time, be sure to check out nearby Partnach Gorge. Again, accommodation and food/drink options are plentiful, but make sure you book early if you're travelling in summer.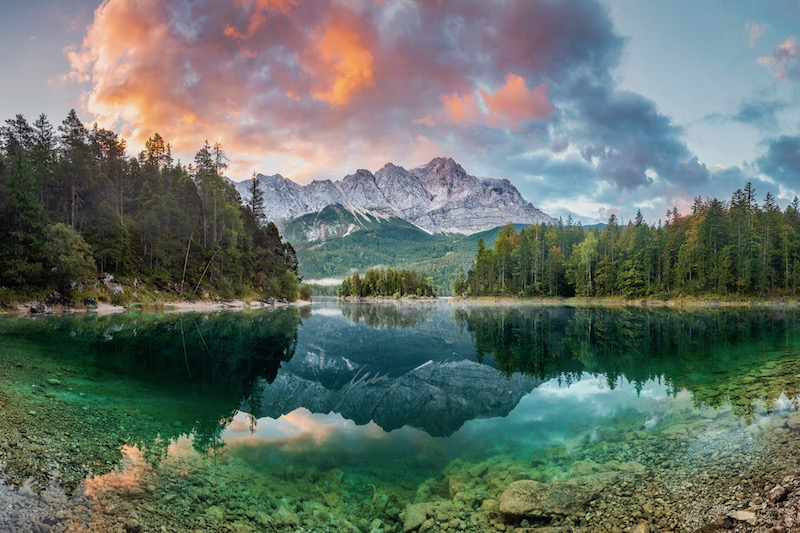 72 hours in Bavaria: What to eat?
Kasespatzle: A specialty in Bavaria and surrounding areas that consists of egg noodles, butter and cheese topped with sauted onions.
Schnitzel: Popular across Germany, schnitzel is typically a very thin slice of pork (though sometimes it can be other meat) that is coated in flour and breadcrumbs and fried until crispy.
Weisswurst: This is a traditional Bavarian sausage that is made from minced veal and pork. It is usually eaten before noon, and often comes accompanied with a pretzel and sweet mustard.
Sauerkraut: A classic German speciality. Sauerkraut is finely-cut raw cabbage that has been and pickled. It may well be an acquired taste, but everyone should try it once.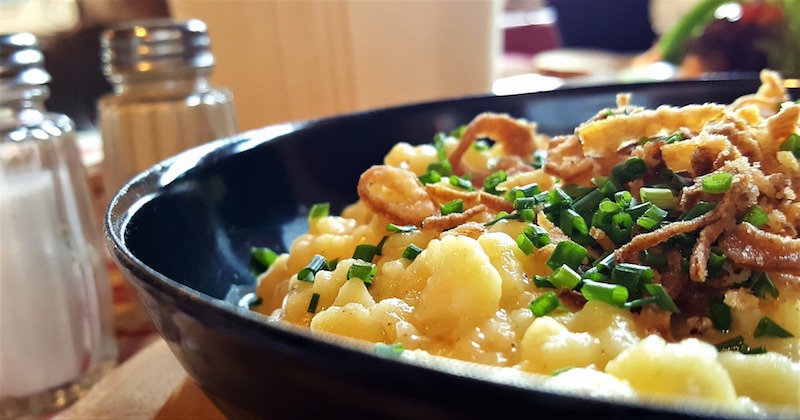 72 hours in Bavaria: How to get there
You can fly from London to Munich for less than £100 return, depending on the dates. Our pick would be to fly out on a Friday morning from London Heathrow (departing at 6:55am) and return on a Sunday night (departing at 7:45pm) with Lufthansa for just over £100.
Alternatively, you could easily fly out from Luton, Gatwick or Heathrow on a Thursday evening and return on the Sunday evening, giving you almost three whole days to explore. Prices for these flights start at around £60 return. See www.skyscanner.net for an overview of fare costs.
Once you've arrived, the best way to get around is to hire a car. Assuming you don't want to be crammed into a Smart car, expect to pay roughly £40 per day. You'll then have the freedom to travel and explore at your own pace.