There are few better ways to enjoy Britain's collection of waterways and stunning coastline than by kayak. It's a lovely hobby for a weekend, as you paddle along far from the hustle and bustle of everyday life.
With plenty of travellers on the lookout for adventures closer to home, we've teamed up with Jonny Hawkins of Highland Adventure School to bring you this beginners guide to kayaking. So, without further ado, it's over to Jonny.
What boat should I buy?
With so many options out there, picking the right boat can be a little daunting. I thought I would help by sharing some thoughts on which boat to buy and how to take your first paddle strokes safely.
I have listed the boat styles in order of water difficulty, from sheltered, inland water to white water rivers. First up, you will want to think about what water you wish to paddle. Be honest with yourself here, as your choice will affect the speed, ease of handling, and performance in certain conditions of the kayak.
Although you may have big dreams of tackling white water rapids, if you live by the coast you may want to start off with something longer and slimmer to tackle coastal waters instead.
Sit on Top Kayaks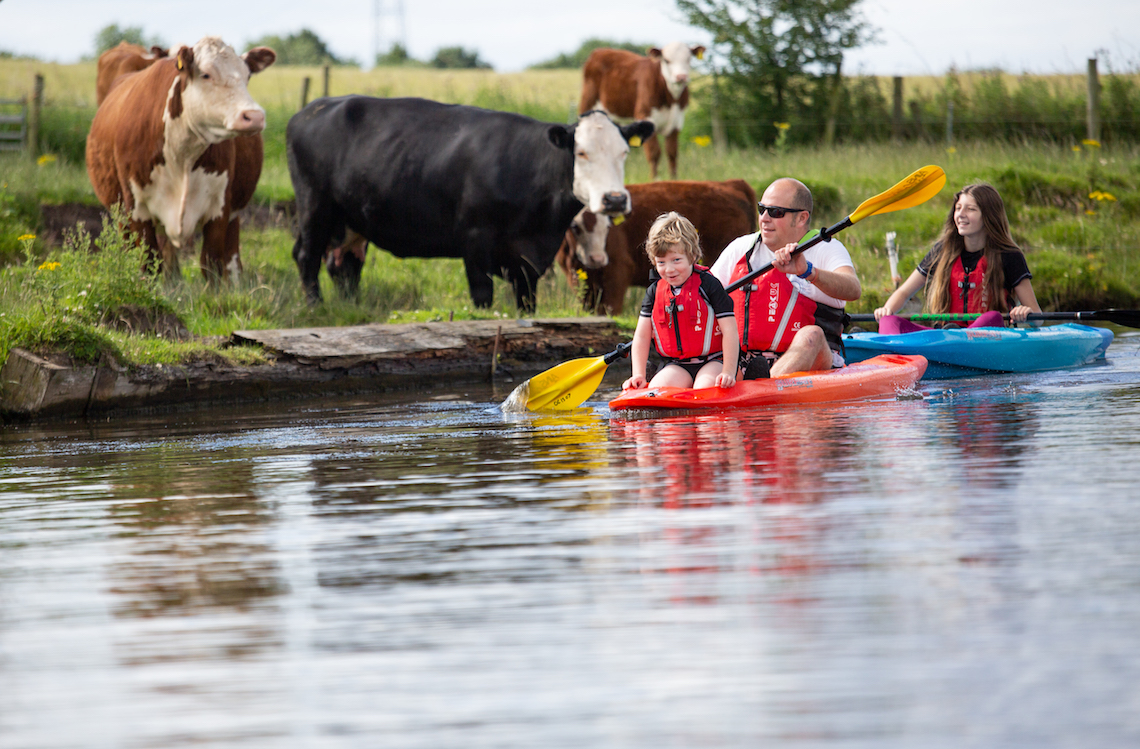 ©David Bain
These are really accessible boats. Sit on Top kayaks (SOTs) are designed for sheltered water where you're always close to shore and there's not much wind. And, for beginners, the real advantage of a SOT is that it's easy to climb back on to after a capsize!
They can be bought with either rigid or inflatable hulls. Rigid sit on top kayaks (SOTs) will be more efficient when paddling any distance and perform better in the wind compared to their inflatable counterparts, although both fall short compared to the others listed. Inflatable SOTs are easier to transport and require less room for storage, which can make them a better choice for a casual buyer.
The Pyranha Kayaks Fusion SOT and SurfJet 2.0, as well as the Venture Islay SOT, are great examples of this boat style.
Recreational Kayaks
If you want to enjoy a day on the water, in a comfortable boat with enough space for a picnic, something like the Islay Cruiser is perfect for you. These boats are stable, glide through the water well, but aren't too tricky to manoeuvre.
They are great for exploring your local stretch of sheltered water, such as canals, without worrying that you'll end up in the water yourself.
Open Water Touring Kayaks
Think of open water touring kayaks as the road bikes of the water. These rigid kayaks are designed for flat rivers, lochs, and sheltered parts of the sea.
They are made from durable plastic and are less affected by the wind than SOTs, while most have a hatch in the back to carry camping kit. Whilst self-rescues are possible due to the buoyancy in the hatch, they can be difficult and require proper training if you're venturing far from the shore.
A great example of this style would be the Venture Kayaks, Islay.
Sea Kayaks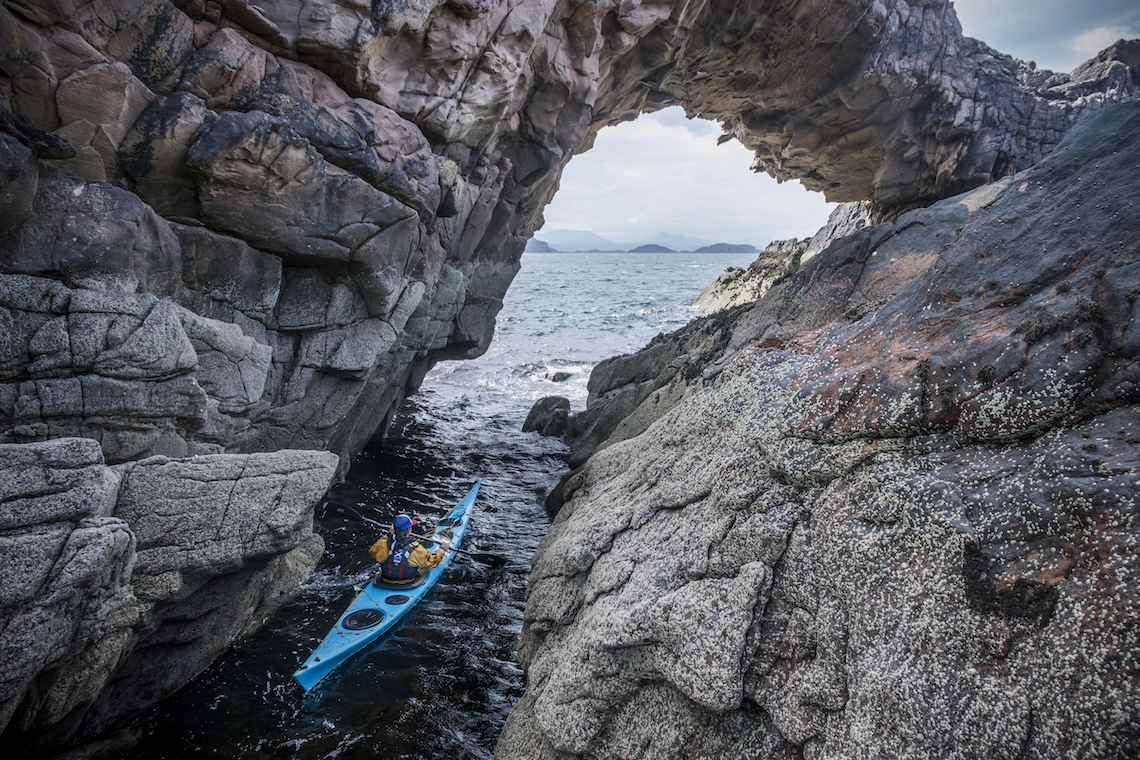 ©Will Copestake
If you want to travel a little further in a day (10-30 miles) on the sea or open water, sea kayaks are brilliant. They are long and narrow so slightly more inclined to tip than the boats above, but this means they glide through the water effortlessly, while handling waves and wind well.
The three or four hatches give you plenty of space to carry a few days of gear and deck lines allow you to keep a map, compass, and rescue gear close to hand. The Scorpio is my go to sea kayak.
Crossover Kayaks
Like the above style, these have a hatch in the back for storing overnight gear. Unlike dedicated sea kayaks, their shorter length makes them more manoeuvrable, but slower in a straight line.
These are designed for rivers from flat to grade 2. They have a sturdy footrest, and their durable design can withstand bumps and scrapes over rocks. These are the water equivalent of a hybrid bike, a bit of an all-rounder. You can also pick up two-person options to share the adventure with your nearest and dearest.
Pyranha Kayaks make the Fusion and Fusion Duo which are great boats to explore a wide variety of waters in.
River Runners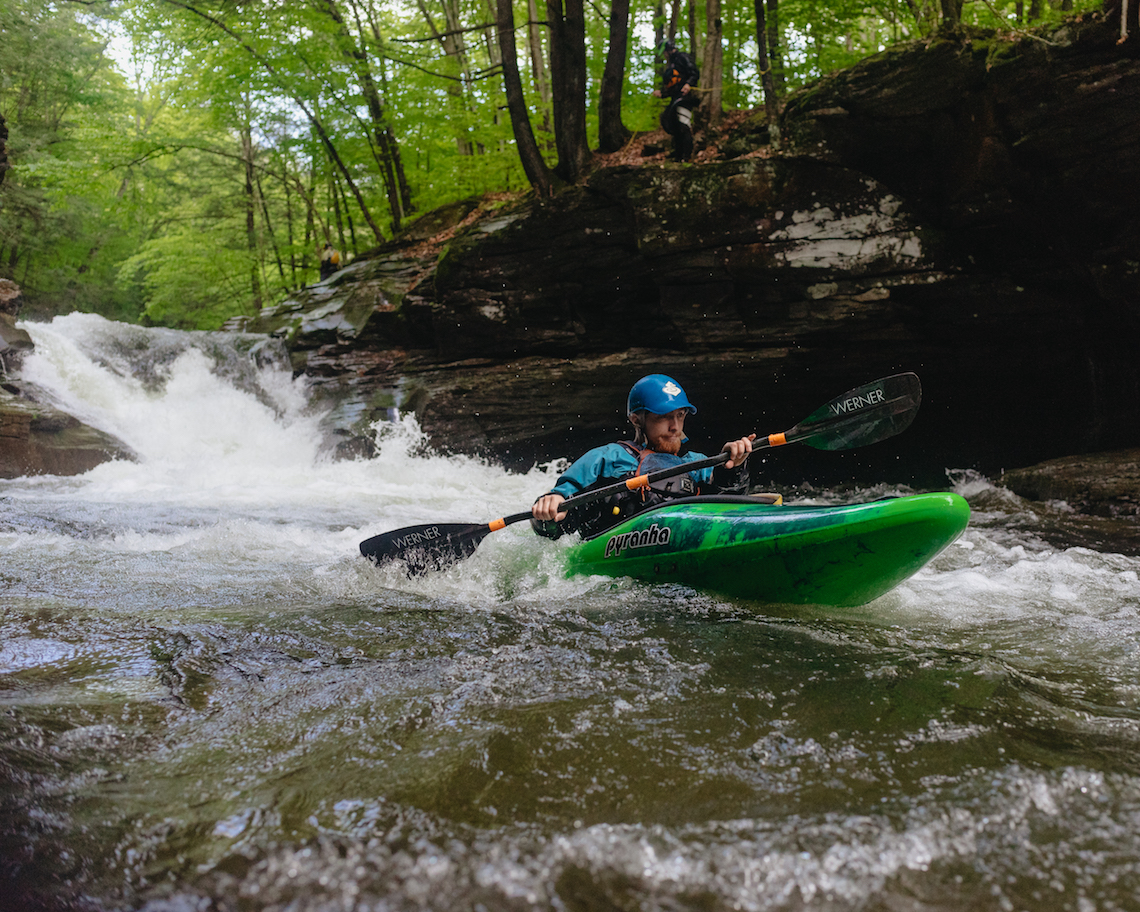 © Scott Martin Images
These are the water equivalent of front suspension bikes. They can pretty much paddle anything and go anywhere but perform best on grade 2-3 rivers. They are playful, very manoeuvrable, but don't have much space in them for carrying extra kit.
They can fit a spray deck, which helps stop the boat filling up with water, but these can be quite unnerving to wear and capsize with, so it is worth practicing with an experienced paddler on hand.
Pyranha Kayaks make the Ripper which is an incredibly popular boat for white water kayakers.
Freestyle Kayaks (Playboats)
The BMX of the water world, these tiny boats are just about big enough to fit in and are designed for doing some acrobatic tricks. Their short length makes them very manoeuvrable in every axis and great for surfing river waves, but they are very slow in a straight line.
To get the most from these boats, you must be able to Eskimo roll. For a beginner we'd recommend getting to grips with another boat before transitioning to freestyle kayaks.
Creek Boats
The downhill mountain bike of the kayak range. These durable and chunky boats are designed to handle the hardest white water in the world and come out victorious.
Their balance of length, volume, manoeuvrability, and stability make them perfect for up to grade 5 rivers and they have plenty of space in them to carry overnight gear required on remote expeditions.
The Machno is a great example of this made by Pyranha Kayaks.
Where can I buy a kayak?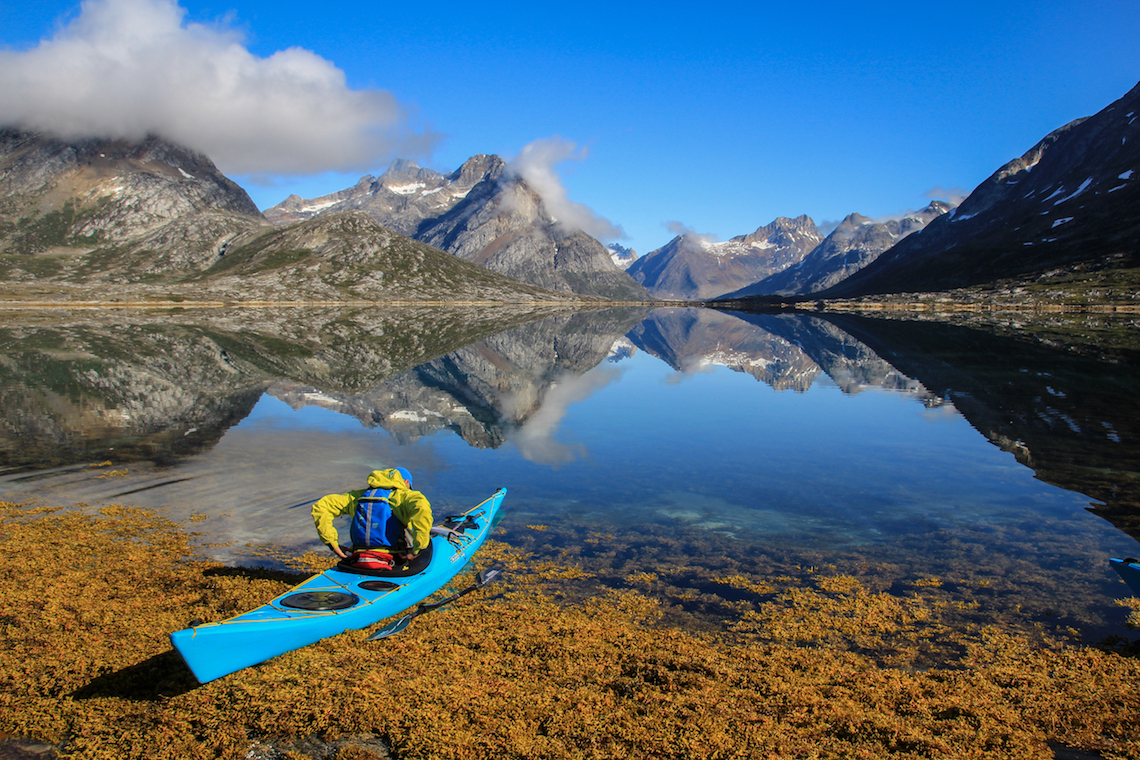 ©Lara Cooper
All of these boats can be bought at your local kayak shop, where you can get sound advice and normally try the boat out before you make your purchase. There is also a strong second-hand market for boats with Facebook Marketplace and eBay providing lots of options.
Once you have worked out which boat suits you best, it is worth thinking about a few other bits of kit. Buoyancy aids are mandatory when kayaking and come designed to suit different environments such as the sea, lakes, and rivers.
Paddles vary in length and strength to suit different styles of paddling, and helmets must be worn where there is a danger of hitting your head on rocks. You can get specific waterproof layers, thermals, wetsuits, and shoes for kayaking and your local kayak shop can advise and let you try a range on.
Where can you paddle?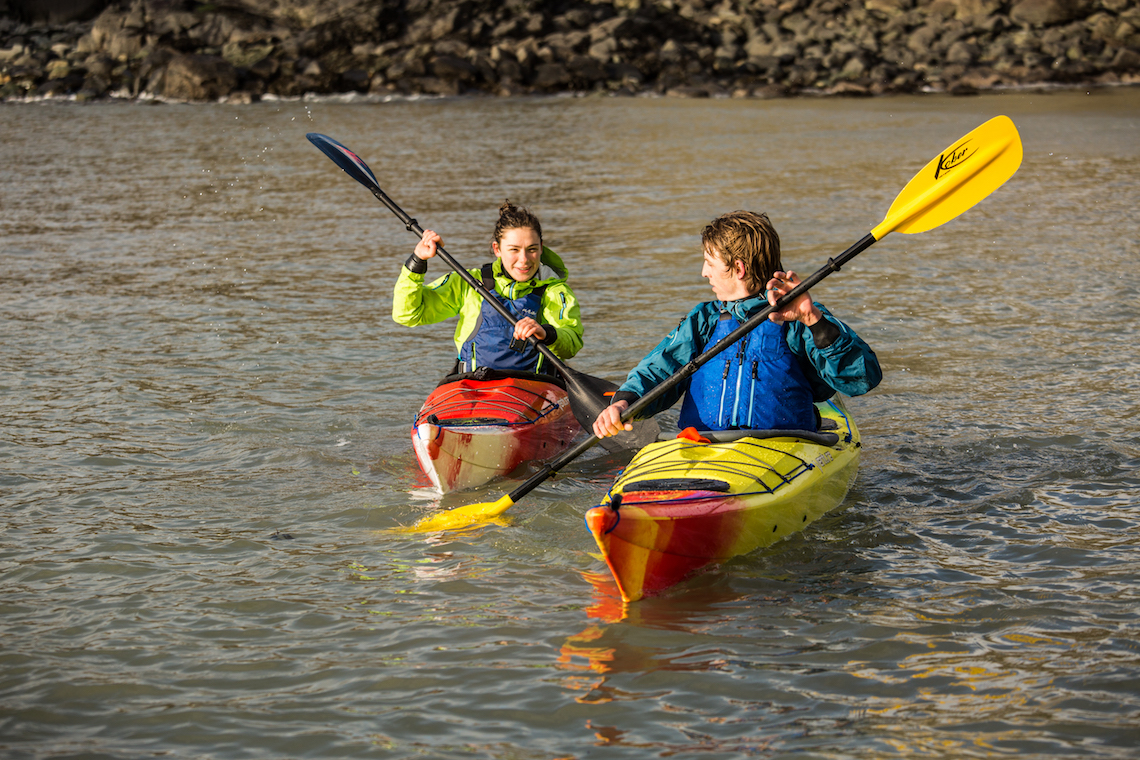 Once you have your gear, it is worth researching where you can paddle and whether you need a license or not. More information can be found from British Canoeing and on the gopaddling.info website. Clubs are a good way to find people to paddle with.
If you want to learn good technique, in a safe and fun manner, it is worth getting professional coaching to get you up and running. The Highland Adventure School offers high-quality kayak coaching across the beautiful waterways of Scotland and we are happy to offer more advice on what equipment to purchase and help get you set up to enjoy paddling as much as we do.