Google has launched the first vertical Street View giving users the opportunity to climb Yosemite's El Capitan from the comfort of their own home.
To deliver the new imagery from the world's most famous rock wall, Google teamed up with legendary climbers Lynn Hill, Alex Honnold and Tommy Caldwell.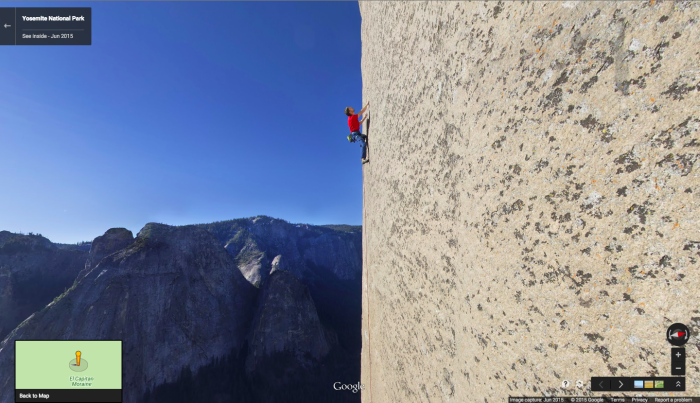 Tommy was one of the climbers to make the first free ascent of a difficult section of El Capitan called the 'Dawn Wall' and speaking about the Street View project he said: "When the guys at Google Maps and Yosemite National Park asked if I wanted to help them with their first-ever vertical Street View collection of El Capitan in Yosemite, I didn't hesitate.
"Yosemite has been such an important part of my life that telling the story of El Capitan through Street View was right up my alley."
>>> Like this? Check out our list of 6 incredible big walls from around the world!
As you would imagine, operating camera equipment while scaling a wall 3,000ft high is not the easiest way to spend your day. But the team used the climbing gear they regularly relied on and made sure there were no cameras plummeting to their demise.
With the equipment safe, the team set to work collecting shots of Lynn and Alex in some of the most iconic spots on the wall. Alex, who holds the record for the quickest ascent of 'The Nose' in 2 hours 23 minutes, was also put to work climbing the entire route of 'The Nose' as Street View data was collected.
The results enable you to follow the entire route and it's seriously amazing. So what are you waiting for? Go and climb El Capitan right now!