St Helena, a tiny island in the South Atlantic, really can be described as the middle of nowhere. About 1,200 miles west of Angola in Africa and 1,800 miles east of Brazil, until now it has only been accessible via a five-day boat journey from Cape Town. Hardly a realistic place for a holiday, no matter how spectacular the destination.
But all that's about to change. This May a commercial airport is opening on the island, with weekly flights from Johannesburg, meaning you could catch an overnight flight from London on Friday and be on the island by Saturday lunchtime.
So, with transport to the island about to become a whole lot simpler, just why should you make the trip out there? We spoke to some of the inhabitants to find out.
"There are tremendous opportunities for hiking on St Helena," says Derek Richards, who runs No Limits Travel and Tours. "Approaching by ship, you see that two thirds of the island's surface is barren, which makes you wonder how such a forbidding exterior can provide any scope for enjoyment.
"But it is the juxtaposition of the fertile with the barren, the greenness of the woodlands and pastures with the harsh volcanic ash, that makes these island hikes so pleasurable."
"The walks vary in severity from easy paths to more severe hikes with some use of ropes," Derek continues. "But be assured that throughout, and at the end of each, you will be rewarded with stunning panoramic views."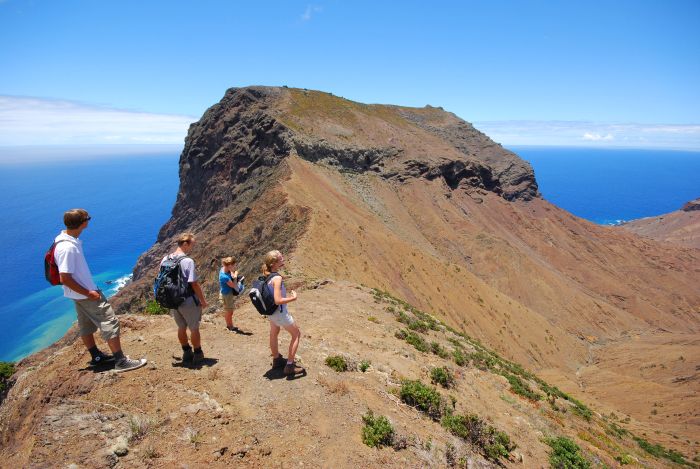 Photo: St Helena Tourism
The island, which is a British overseas territory, is about the same size as Jersey (47 square miles) but with just a fraction of the population: about 4,250 people live on St Helena, compared to almost 100,000 on Jersey. So you can imagine how remote the trails feel… and the island doesn't just offer excellent walking.
"You're free to ride virtually anywhere, depending on how adventurous you are," says keen cyclist Rick Walters. "St Helena is volcanic and so diverse in its landscape. There are a lot of challenging hills, which will make you sweat, fast downhills and rocky single-track. There's a combination of semi-desert and green valleys and forest with awesome views.
"The best ride for me is through Fairyland, on the western side of the island which is lush countryside," continues Rick, who has lived on St Helena for 25 years, having moved there from the UK. "The ride takes you, with a few fast downhills and steep climbs, through a forest area.
"Expect to experience mud, desert, single- and jeep-track terrain, plus spectacular views of the coast and protruding volcanic islands."
And, as you'd expect from a small island, there are endless water-based activities too.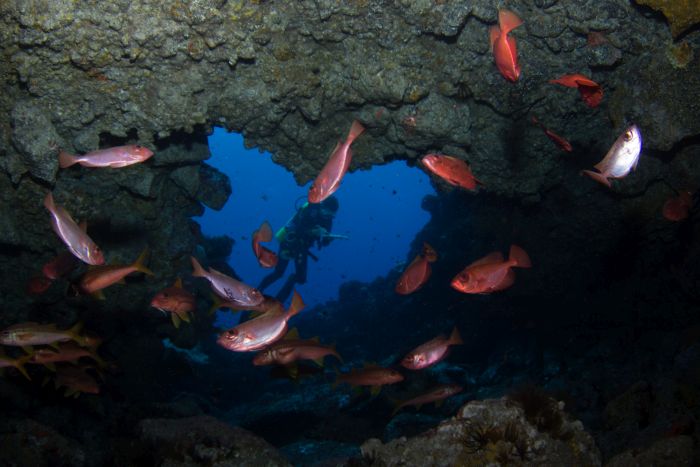 Photo: St Helena Tourism
"My favourite dive site is Bennett's Point," says Anthony Thomas, who runs Sub Tropic Adventures. "It's a little cave that goes up into a hill. As you pass along it goes down to about 19 metres, but then you can swim through an archway and come out to the next side. It's covered in flora and fauna on the marine side, and Devil Rays are also seen at this site. It's really memorable."
St Helena offers diving for beginners and experienced divers alike. The peak season is from January to June or July, when water visibility is 25m-30m. In January and February you're pretty much guaranteed to see whale sharks, the biggest known species of fish, although they can stay around the island until April or May. Protocol is that if you see them, even on the way to a dive, you stop the boat and jump in.
St Helena's airport is set to open on 21 May, which is St Helena Day, commemorating the day that the island was discovered in 1502. But don't worry if you don't manage to get on the very first plane, the weather is warm all year round.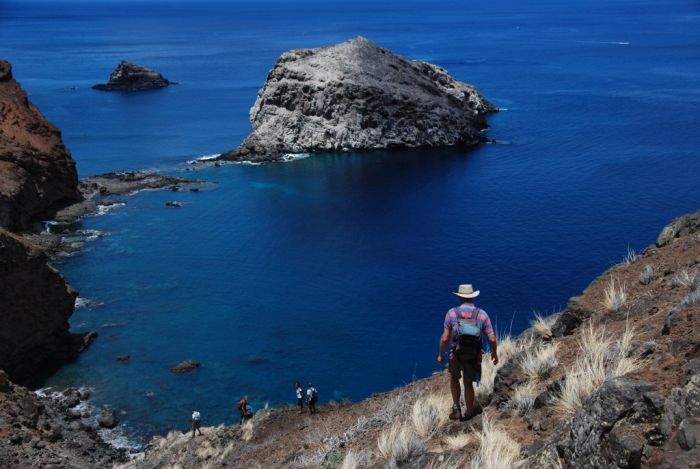 The winter months of July through to September are rainy, although the lower reaches of the island on the southern side are dry for most of the year. Temperatures in summer (December to March) aren't unbearably hot – it tends to reach about 32 degrees centigrade.
"Despite having an airport, you will still be able to experience the loneliness of this island which is a huge part of its charm," concludes Derek Richards. "Even though you are able to leave just seven days after arriving, you could deliberately maroon yourself in the splendours of magnificent scenery and exhilarating hiking trails, meet the friendly locals, see the wonderful wildlife and marvel at the scrumptious local cuisine. An opportunity not to be missed."