Crib Goch is a famous route that takes you along a knife-edge ridge to get to the summit of Snowdon, the highest mountain in Wales. Though the route is only a grade one scramble and no technical climbing is needed, it's thrillingly exposed and the drops on either side are enough to get your heart beating out of your chest.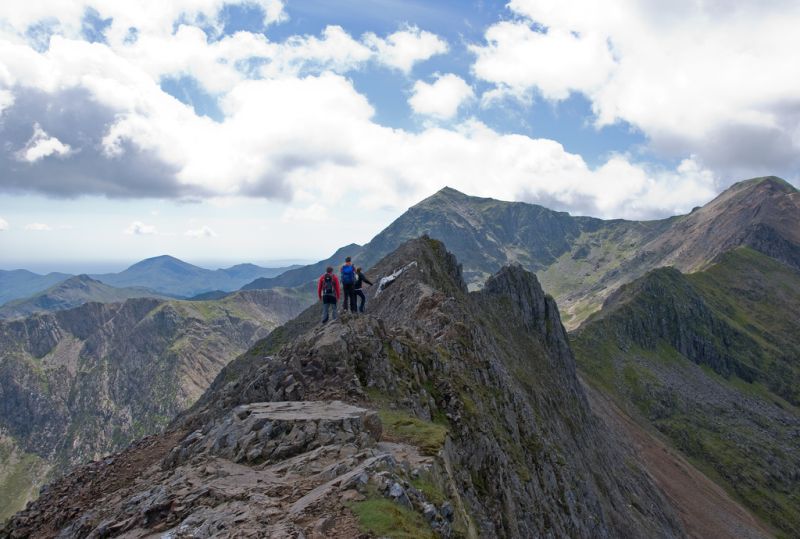 Photo: V1ctory_1s_m1ne
It's an unbelievably stunning route normally, but today we stumbled across a video of hikers traversing the route while the ridge and the surrounding landscape is covered with powdery fresh snow, and we can't get over how beautiful it looks.
Quite honestly, the video, which appears to be shot from an action camera strapped to the chest of one of the hikers, makes me want to grab my crampons and ice axe, and head to North Wales as fast as it's legally possible to do so.
Crib Goch offers spectacular 360-degree views of the surrounding mountains of Snowdonia and the scenery is magical enough to reward all your scrambling efforts. Once you reach the summit of Snowdon, you'll feel like you're stood on the top of the world. Unfortunately, this won't be the case, but you will be stood on the roof of Wales!
Before you head off to tackle the Crib Goch route, which forms part of the Snowdon Horseshoe, you'll want to keep a very close eye on the local weather reports. It's not advisable to traverse the ridge in poor weather conditions because what would otherwise be a pleasant route, is likely to become an extremely dangerous situation, and with drops either side of you, the last thing you'll want is to be blown off.
It's also only advisable to conquer the ridge in snowy conditions if you have previous experience of mountaineering in the snow, and crampons and an ice axe are essential. Anyway, enough of me waffling on at you, below is the incredible video for you to take a look with your very own eyes – enjoy!
Video of Crib Goch ridge covered in snow