Midway between Norway and the North Pole, Svalbard is one of Europe's last true wildernesses, with bare, muscular mountains, treeless tundra and glacier-carved valleys little changed since the last Ice Age. Kerry Christiani is floored by an archipelago home to more polar bears than people on a winter expedition into the Arctic proper.
I almost had to pinch myself to believe it was real. As the plane emerged from the clouds to skitter down the runway in Spitsbergen, mountains popped up on the horizon like a string of pearls. Below them, valleys rippled on into the distance, their endless white only interrupted by the occasional inky splash of a fjord.
Outside at the airport, a few travellers, bundled up in thermals, posed for selfies next to the polar bear sign, their breath foggy as they exhaled the frozen air.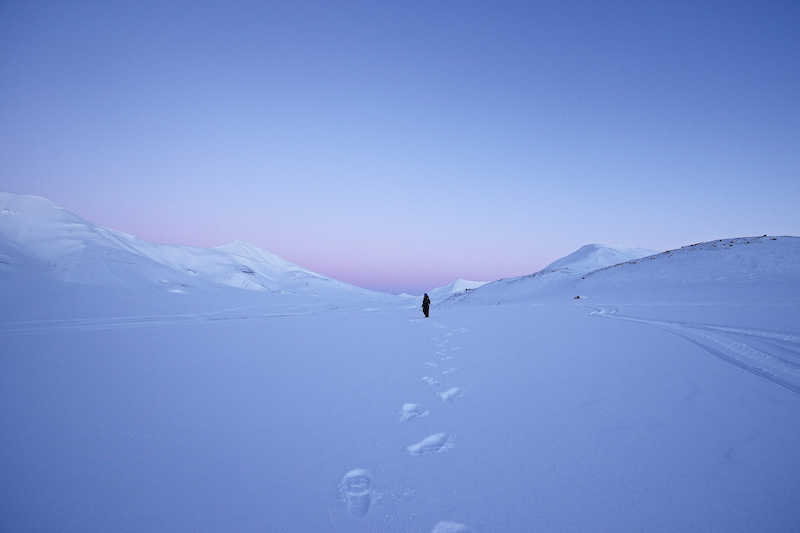 I stepped out for my first glimpse of Spitsbergen and the cold hit me like a blast from the deep-freeze. It was late February and the sun was gradually returning to the island, but temperatures were still as low as -20C while a stiff wind made it feel a good deal colder. I peered up at the signs and noted, not without a certain degree of satisfaction, that the North Pole was a mere 800 miles of pack ice away.
For many years I had longed to visit Svalbard, the cluster of Arctic islands sprinkled like stepping-stones between Norway and the North Pole, at 74 to 81 degrees north. To use the term in Robert Macfarlane's Landmarks, I am "north-minded", always drawn to high, polar climes and the kind of wilderness you only find on the edge of the earth. And it doesn't get much higher and wilder than this land of bone-chilling cold, defined by ice and snow and the coming and going of light.
Speaking of light – or the distinct lack of it – I was visiting at the tail-end of the 'polar night' or 'blue period', when places north of the Arctic Circle are thrust into near-total darkness and the sun doesn't rise for four months. When I arrived, Spitsbergen was starting to shake off its long winter sleep. The light was returning, with the first hesitant golden rays glinting on the snow soon fading into a sunset of deepest purples, pinks and blues.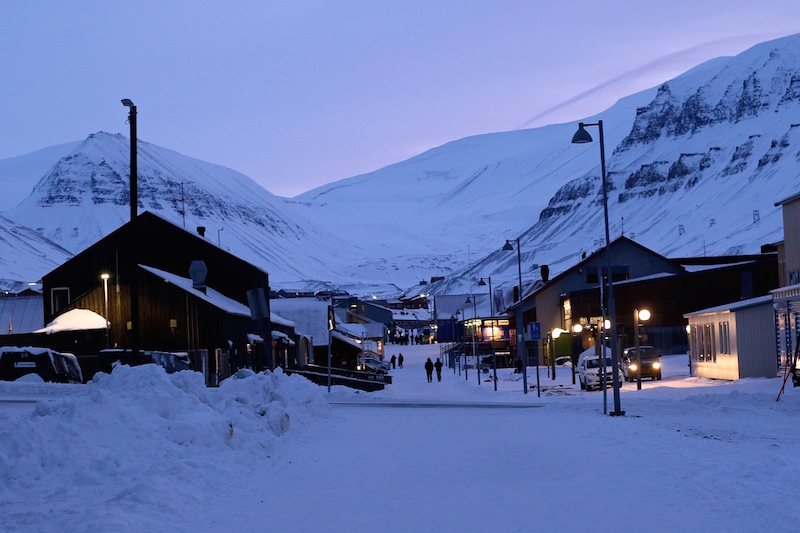 Living in such an extreme wilderness can't help but have a profound effect on the 2,642 residents who live and work in Longyearbyen, the main community on Spitsbergen. A former coal-mining settlement and the world's northernmost town, Longyearbyen is the final frontier of civilisation, complete with pubs, cafes, shops, science centre and a museum detailing the escapades of early Arctic explorers like Roald Amundsen and Umberto Nobile.
So far so normal. But scratch the surface and you soon discover that this is a tiny town on the fringes of utter wilderness. The locals are a motley bunch of hardcore adventurers, scientists, researchers and filmmakers. You don't rock up on Spitsbergen for no reason – everyone here is driven by purpose and passion.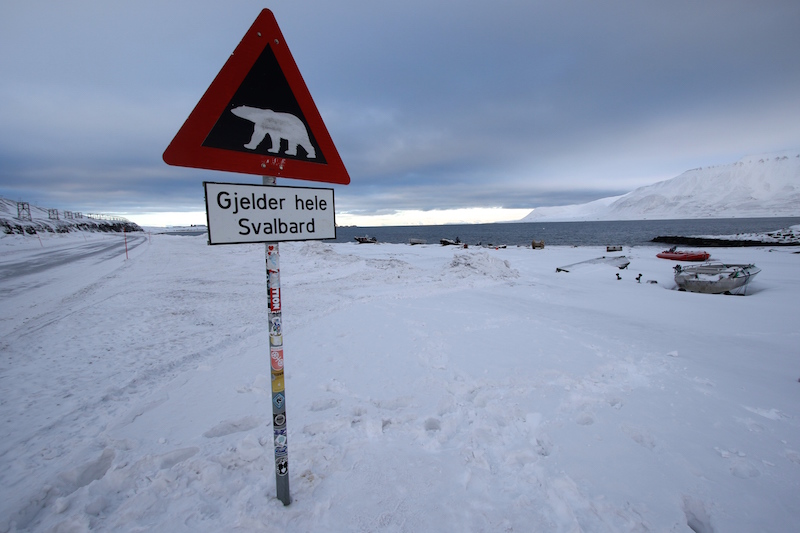 Then there is the constant reminder that nature is in charge. The 'polar bear safe zone' is confined to the limits of the town centre, and beyond it you need to take a gun and know how to use it. There is a small but nevertheless real risk of becoming dinner if you don't, and every local has a tale about the moment they first saw a polar bear. Even the houses are left unlocked for locals to take shelter, just in case one suddenly decides to take a casual stroll through town.
From the window of my rustic lodgings at Basecamp Spitsbergen, I watched in wonder as wild Svalbard reindeer roamed through the snowy streets, scratching at the ice to find food. Huskies are equally at home in this harsh environment. And as dusk swiftly approaches, I ventured out to the Adventdalen, a broad valley near Longyearbyen, to have a go at mushing. I arrived to a chorus of loud, overexcited howls and yaps. The huskies tugged at their leashes and leapt up as I approached their kennels, almost knocking me flying. They were ready to run.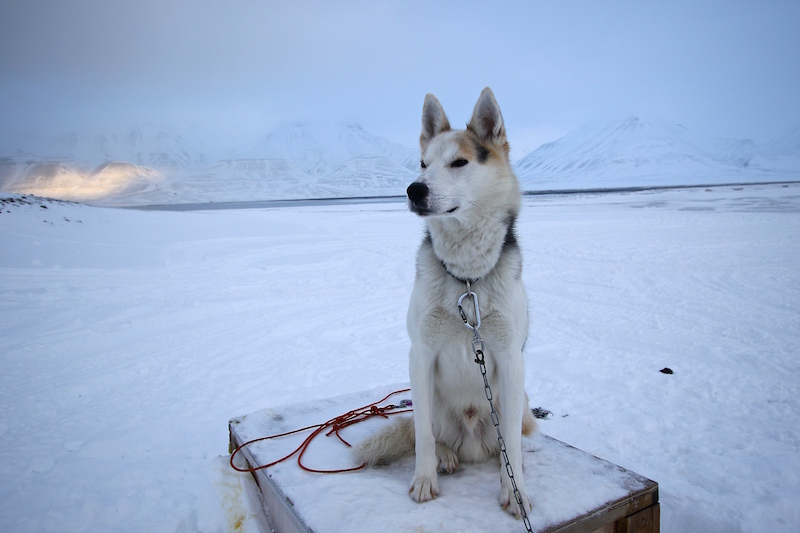 After several failed attempts, I finally had six harnessed to my sled. Sledding on now into the Arctic night, I followed the lead of the huskies. After a while skidding onto snow banks and fiddling with the breaks, the movement became intuitive. Together with a small group of fellow dog-sledders, I glided through a bowl-shaped valley, where the mountains glowed as if lit from within. I was frozen to the core but I no longer cared. As we floated along the ridge, it almost felt like flying.
Up bright and early the next morning on a day as clear as cut crystal, I was ready for the next challenge: a three-day snowmobile expedition that would take me far beyond Longyearbyen into the isolation and bitter cold of the Arctic.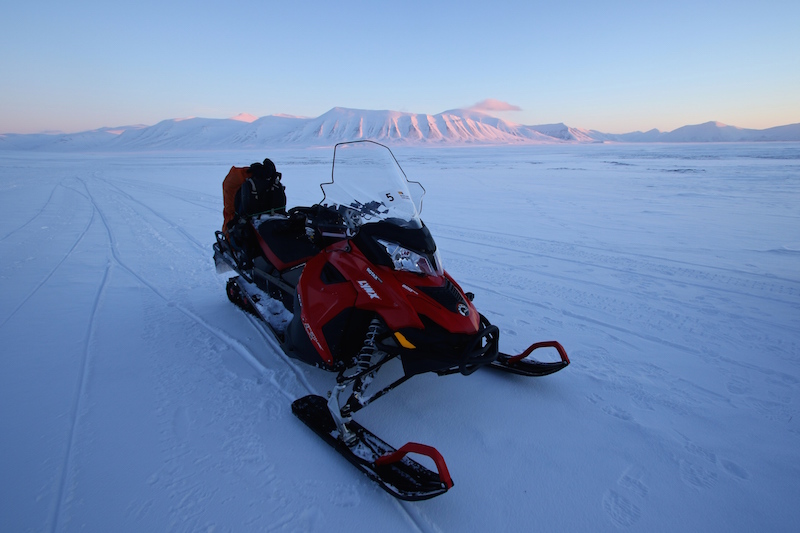 Snowmobiling might look deceptively easy, but in reality it takes some getting used to, as the muscles begin to retrain and you learn to move in tandem with the vehicle, shifting your body weight from side to side. Our little group cruised up and down slopes, over glaciers and frozen tundra to get the knack and boy was it cold. When my visor was down it would fog up in an instant, but when it was up an icy wind would batter the exposed part of my face and teardrops formed jewel-like crystals on my eyelashes. The hair escaping from my helmet was frosted silver-white.
I had imagined Svalbard to be the kind of bleak white wilderness so readily associated with the Arctic, but I could never have foreseen such immense beauty. The valleys opened up one by one: the Reindalen and Grøndalen. Totally concentrated so as not to stray from the track or collide with a snowdrift, I simultaneously absorbed my surrounds. Colossal mountains rolled above inky fjords where the ice was now breaking up; some shaped like pyramids, others like canyons and the rugged ruins of fantasy fortresses.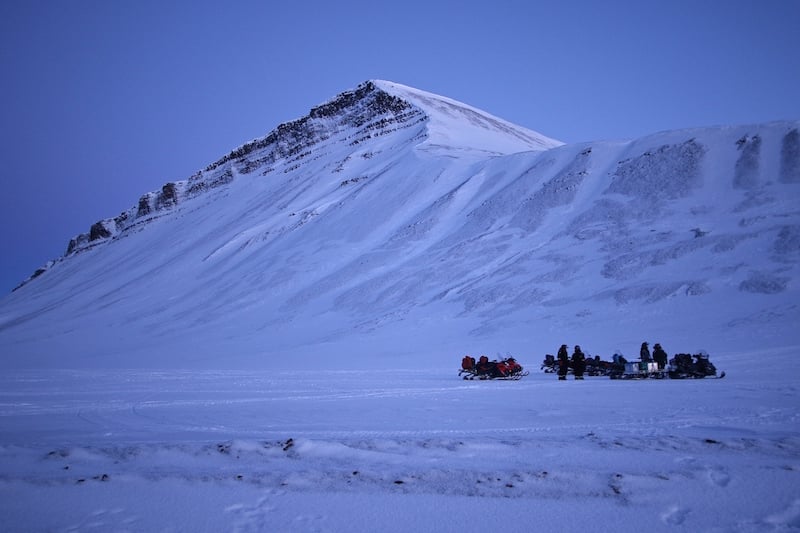 Svalbard is 60% glacier, the rest is largely rock. There are no trees and vegetation is sparse, yet wildlife still somehow, astonishingly, survives. Out of the corner of my eye I saw the blur of distant reindeer. Our guide Marte pointed out an Arctic fox moving nimbly across the tundra, a master of camouflage in its pure white winter coat.
When we switched off the engines, the silence was total. It's the kind of echoing silence you only find where there are no houses, cars or people for miles and miles. As the dying light turned the sky purple-pink, the only sound was the crunch of fresh snow underfoot.
We had been snowmobiling for some 60 miles and my aching muscles certainly knew about it, so it was a relief when finally the shimmering sea appeared in the twilight. There's little to gauge time here but I knew the sea meant we were nearing our goal: Isfjord Radio at Kapp Linné, a radio and weather station turned boutique guesthouse. After a day experiencing all the extremes of the Artic climate and landscape, to find such luxury in the middle of nowhere was nothing short of a miracle and the hot grog I was handed on arrival defrosted me like anti-freeze.
After a piping hot shower, delicacies like smoked Svalbard reindeer and pumpkin soup with bearded seal were served at dinner, but we'd barely begun to eat when we suddenly downed spoons and forks. "The lights!" someone whoops. We all dashed outside as if on cue, lugging cameras and tripods. The aurora had come out to play and we aimed our enthralled gazes and lenses on the spectrum of greens swirling in the sky above.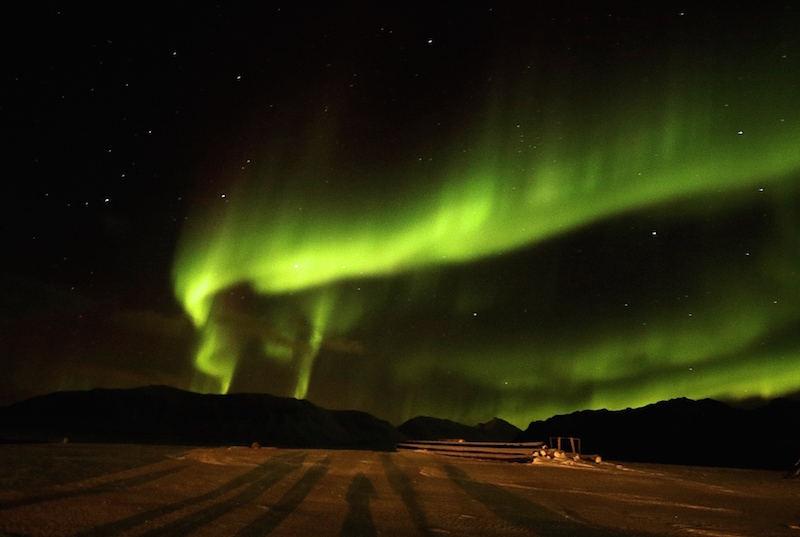 "Many Minke whales are often spotted off the coast near Isfjord," Marte told me the following morning. "Sometimes belugas too." The whales were a no-show for us, but the view along coast was quite something. As we headed on and up towards Barentsburg, snowmobiling had pretty much become second nature, but for the hairy moment when we got stuck in the snow cresting a rise.
Barentsburg is a blot on the landscape with its belching power station and communist flats, yet the Soviet-era coal-mining outpost is not totally devoid of charm. A Lenin bust stands proud in the centre, a reminder of Mother Russia. The bar was empty at the only hotel in town, where a guy called Artem from St Petersburg served our group small glasses of locally brewed beer. We were the first customers he'd seen in quite some time and he was glad for the conversation.
I'd have liked to linger but we had to press on, said Marte. A soft pastel sky loomed above a fjord shining like quicksilver. The evening would soon be upon us. It had been a long, long day snowmobiling, covering 80 miles, and I was so tired and numb with cold that I almost switched onto autopilot as darkness descended. Then, as we negotiated a bend, the glow of the North Pole Camp appeared, and above it, the Northern Lights danced for us once again.
We were the very first visitors to stay at the camp, whose heated tents are modelled on those at the North Pole. Huskies greeted us with high-pitched howls, a sound so evocative of the north, and we stepped inside for a hearty feed. Though tripwires surrounded the camp for polar bear protection, I couldn't help but feel as though I was being watched as I snuck out to the makeshift toilet in the dead of night. Perhaps I was.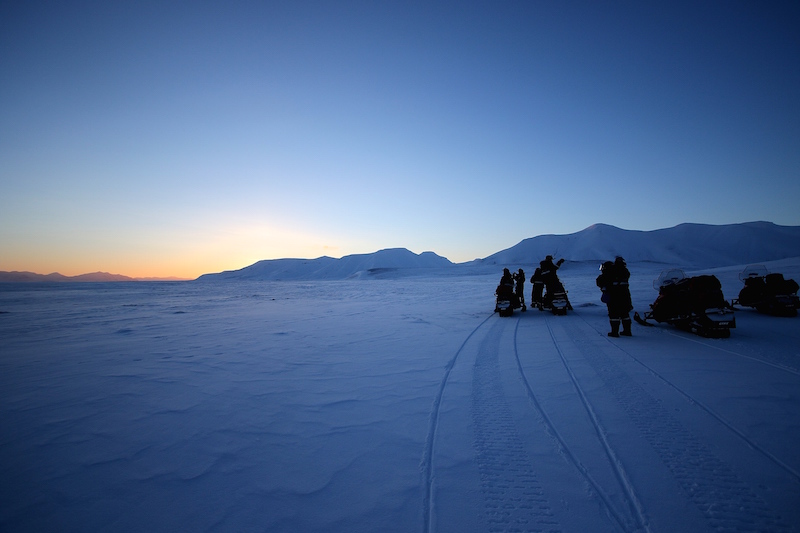 Come morning, there had been no polar bear gatecrashers at the camp, though we were informed that one did stage an unexpected appearance at Isfjord Radio at breakfast that morning. Even so, there was much wildlife to observe on our third day snowmobiling. "One of the greatest things about going on expedition is how close it gets you to the wildlife," said Marte. "Besides reindeer, we often see whales and occasionally polar bears. And I love walruses, they're so funny. They just lie around all day farting and making strange noises. It's kind of beautiful."
Brash ice floated on the mirror-like surface of nearby Sassenfjorden – calm apart from some movement in the distance. The binoculars brought into focus a female walrus with her two pups. They looked weirdly cute from afar, but, according to Marte, they can be ferocious. They are surprisingly enormous too, with males being twice or three times as heavy as the average polar bear.
En route back to Longyearbyen, we stopped briefly to marvel at the Eskerfossen waterfall, now a frozen mass of icicles, some as tall as houses. Nature works on a truly epic scale in the Arctic, I pondered, as we blazed through the broad Adventdalen, connecting the reindeer like dot to dot. You come here eager for a little adventure and you leave somehow changed by an insight into a world where nature still has the upper hand and elemental forces are beyond our realm of understanding.
How to get to Svalbard
Flights operate regularly between Oslo and Longyearbyen with SAS and Norwegian. To plan your trip, see the Visit Norway website.
Where to stay in Svalbard
Done out like a modern day trapper's lodge, Basecamp Explorer in Longyearbyen makes a comfortable pre or post-expedition base, with a cosy lounge and restaurant. They also run the North Pole Camp and Nordic-chic Isfjord Radio.
How to explore Svalbard
The trip (including return flights London Heathrow and all meals – not drinks) can be booked through Sandgrouse Travel and costs around £3,000 for five days, four nights. Otherwise, Maybe Sailing offers a unique way to see Svalbard – by tall ship! Another company that is worth checking out is Best Served Scandinavia, as it offers trips across Svalbard and all of Scandinavia.
When to go to Svalbard
The polar night from November to February has its own magic. It's ideal for winter sports, as are the shoulder seasons. Summer is a different affair entirely, with activities from hiking to wildlife-spotting boat tours.
What to take to Svalbard
You'll need a 60-litre backpack to carry kit. Though thermal suits, neck warmers, helmets and snow boots are provided by the snowmobiling company, you'll need your own stuff for the rest of the time you're there. Remember that camera batteries die quickly in cold climates. Take your driving licence for snowmobiling.