www.bergans.no | £220
Norwegian company Bergans started selling kit in the UK at the start of 2013, and I've liked pretty much everything I've tried from the company so far, writes Rosie Fuller. And as Norway is the country of skiers I'd have high hopes for any Bergans ski jacket – so how does the Oppdal get on?
The Oppdal Jacket is a lightweight shell with no built-in insulation. It's waterproof and windproof, but other than that you'll need to provide your own warmth through layers under the jacket – this can be more useful than one thick jacket to regulate what you wear according to the conditions, it's down to personal preference really. The wind- and waterproof fabric is Bergans' own, called Element Active, and it's got a four-way stretch to increase your range of movement when you're wearing the jacket. It's lined with mesh, to help breathability, and feels easily tough enough to resist the bumps and scrapes of a typical ski trip.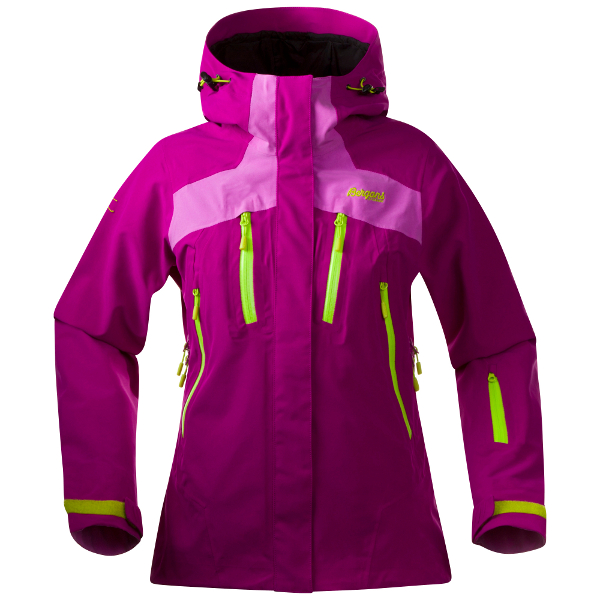 The jacket has an easily adjustable helmet-compatible hood that fits nicely if you're not wearing a helmet too, although the adjuster toggles may flap around a little when tightened. The collar is nice and high for protection from the weather even when the hood isn't up.
The jacket has small-ish vents under the arms to help keep you cool in warmer conditions. There's a detachable snow skirt with a grippy lining to keep it in place; the jacket is also longer at the back and easy to adjust at the hem (even while wearing ski gloves), all of which help keep the snow and cold out. The main zip is two way, which can help ventilation and allows easier access to the snow skirt,
There are five pockets: two large ones at the front, with plenty of room for spare hats and chocolate bars; two chest pockets with water resistant zips for smaller bits and bobs, and a lift pass pocket on the left hand sleeve. Though this is plenty of storage space, I'd have preferred one of the chest pockets to be internal for a phone.
The jacket's looks aren't that exciting, although the purple version looks more exciting than our navy test jacket – but it's certainly not bad, and if you're not fussed about standing out, it's fine. This is a simple, tough, shell jacket from a company that really knows what it's doing when it comes to ski jackets, and it's a good price too.
Bergans Oppdal Jacket Verdict
The Bergans Oppdal Jacket is a simple, practical ski jacket from a great brand.