www.berghaus.com | £80
Berghaus's Freeflow packs were first introduced in the 1990s and are extremely popular, especially for trekking in hotter climates. The packs have been given various upgrades over the years and 2014 is no exception, with the introduction of three new packs this spring – one of which is the Freeflow 30 that we have here.
The reason Freeflow packs are ideal for use in warmer temperatures is because the design gives a large amount of clearance between the pack and the body, allowing air to circulate between the two to help keep you cooler. Actually the gap was so great that the concave curve in the frame made it difficult to pack the bag, so in the new designs the gap has been reduced slightly, making it easier to get kit in and out of the pack while still giving good ventilation.
Another new feature is that the Freeflows now use Berghaus's Biofit 'on the move' adjustable back system, that allows the wearer to fit the pack to suit their back length by simply pulling a strap on the lower right of the pack to move the shoulder pad into the required position. Daysacks rarely come in different back length sizes or with adjustable back systems, so this is really useful in getting a good fit.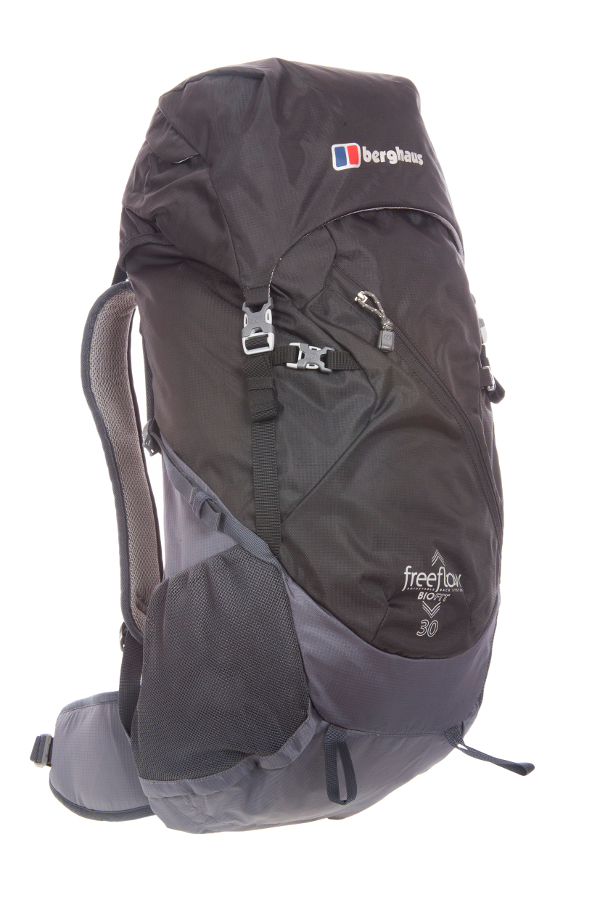 Comfort has been further improved by an anatomically pre-moulded frame sheet to spread the weight equally across the frame and the harness. The shoulder and waist straps have firm and supportive padding with the hips supporting the load and minimising the burden on the shoulders. There is also a sternum strap to hold the straps in position and the side compression straps will stabilise the contents, especially useful when negotiating uneven terrain.
The Berghaus Freeflow 30 is made from a robust nylon that should withstand a fair amount of trail abuse. It has some water resistance but there's also a rain cover for when the weather turns nasty. The lid has both an inner and an outer zip-up pocket that are useful for keeping snacks, guidebooks and valuables in.
The main compartment is accessed by a single opening in the top, and at 30 litres space shouldn't be an issue. There's also a sleeve for a hydration bladder if you choose to use one. There's a large storage pocket on the front of the pack and two side wand pockets that will easily hold one-litre drinks bottles. The waist belt has a small pocket for some spare change or similar.
Berghaus Freeflow 30 Verdict
The latest version of the Berghaus Freeflow 30 has taken an already popular, comfortable pack and made it even better.