Lake District regular Roger Bunyan details a rewarding walk to the top one of the area's most beautiful peaks, Skiddaw
Skiddaw stands proudly overlooking Keswick in the northern Lakes. The mountain's reflection upon a tranquil Derwentwater must surely be one of the area's finest views. My favourite route up the fourth highest Lake District peak is via Ullock Pike. It takes you over six Wainwrights and has a more befitting mountain character than the commonly used Latrigg track.
The trek begins by following a northerly valley path from Dodd Wood on the shores of Basenthwaite Lake. Walking beneath the mature canopy of mixed woodland, you'll want to keep a look-out for the effortless flight of a passing osprey. These large raptors with a wingspan of almost two metres often glide overhead on their way to fish in nearby waters.
The path turns right, heading steeply up onto a ridge which will lead to Ullock Pike. Its form has that classical mountain shape and Alfred Wainwright once described the peak as 'the young Matterhorn'. Once gained, you walk on a narrow path along a ridge to Long Side. This is one of the highlights of the trip, a wonderful place with drops to each side and plenty of Lakeland and distant Galloway vistas. It ends at the more rounded Carl Side above tiny Carlside Tarn.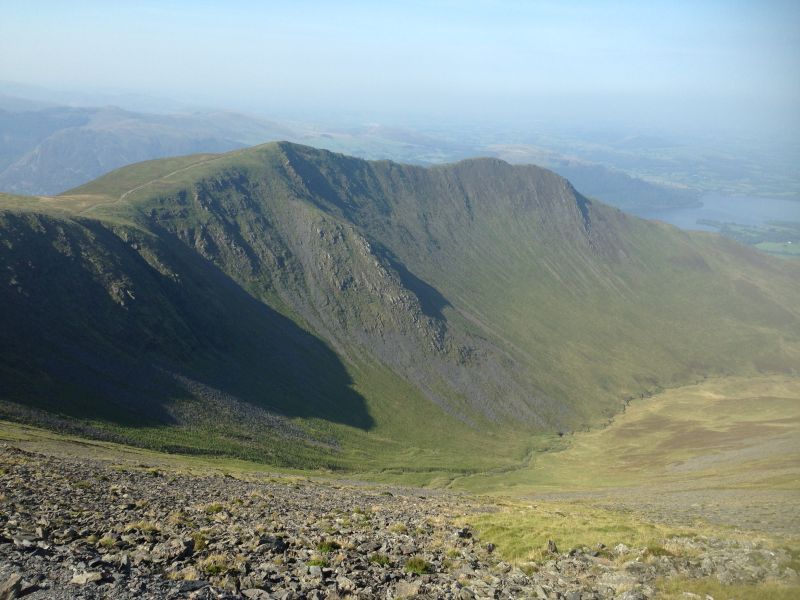 The journey now becomes altogether more rugged in nature with an ascent of the north-eastern side of the Skiddaw massif. The steep and exposed path of slate-like scree has a glorious alpine feel to it. As a wider, rock-strewn track eventually appears, take a detour before going to the top. Instead, trek downhill to the rounded top of Skiddaw Little Man. It's worth visiting this lower summit to gain a greater appreciation of the size and extent of Skiddaw. About turn and then make your way along the summit ridge to the top of Skiddaw. A trig point, cairns, rocky wind breaks and, in clear conditions, a spectacular panorama will be waiting for you.
You'll then need to head back down to Carl Side before continuing on the track in a southerly direction. Lower down, a narrow path to your right will lead to the edge of Dodd Wood. The last summit of the day, Dodd, will be right in front of you. It is then but a walk down forestry tracks to complete your day.
So, the next time you're in the Lakes, why not take a walk up Skiddaw, a broad scenic mountain full of both personality and surprises.
Where to start
Begin at The Old Sawmill car park NW of Keswick on the A591 by the side of Bassenthwaite Lake.
Beyond Skiddaw
Other walks in the locality worth exploring: Blencathra, the fells around Whinlatter and also the fells around Coledale.