Perfectly located in the heart of the Mediterranean, Malta is an enchanting archipelago where the sun appears to shine endlessly (well, for 300 days a year). This lively, hospitable country, which consists of the islands of Malta, Gozo, and Comino, is just a short flight from the UK – a mere three hours – and it's overflowing with adventure, breath-taking history, and natural beauty that'll leave you lost for words.
Malta's strategic location, just 180km south of Sicily's sun-kissed shores, has given birth to a remarkable blend of cultures, traditions, and architectural marvels. From ancient Phoenicians and Romans to the valiant knights of St. John, the islands of Malta resonate with stories of its rich history. Step into Valletta, Malta's fortified UNESCO World Heritage capital, or dip your toes into the mesmerising Mediterranean waters, and you'll see exactly what we're talking about.
This rich tapestry of history forms the perfect backdrop to a wealth of exciting outdoor activities that can be undertaken on the island. From thrilling climbing routes to relaxing horseback rides across golden sands, head to Malta for your next adventure and you'll be sure to have an action-packed escape.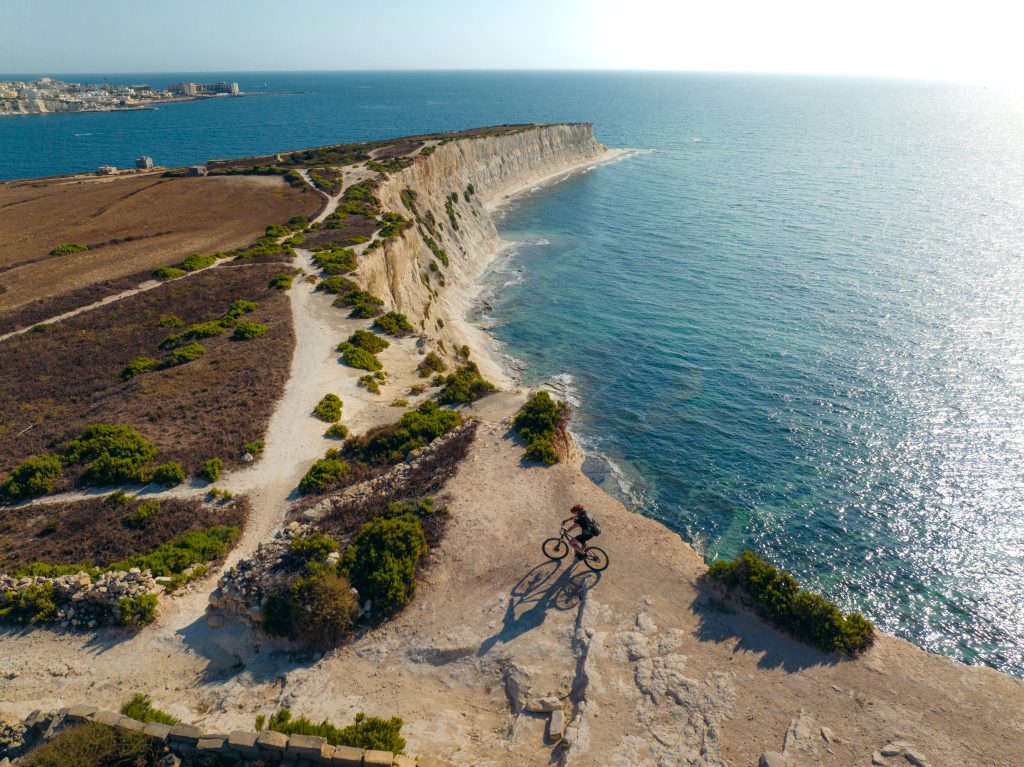 Pedal Through Paradise
With hundreds of kilometres of brand-new cycling paths and trails (thanks to the EU-funded SIBIT project), Malta and Gozo offer a variety of terrains and routes for all skill levels. Whether pedalling through charming village streets, past ancient rubble walls, or across sites steeped in thousands of years of history, you can't help but feel a deep connection to the land and its people.
Whether you get your kicks on tarmac or prefer to hit the trails, you'll find a route for you, and with plenty of places to hire a bike and gear from across the island, it's easy to get started without having to pack your own kit.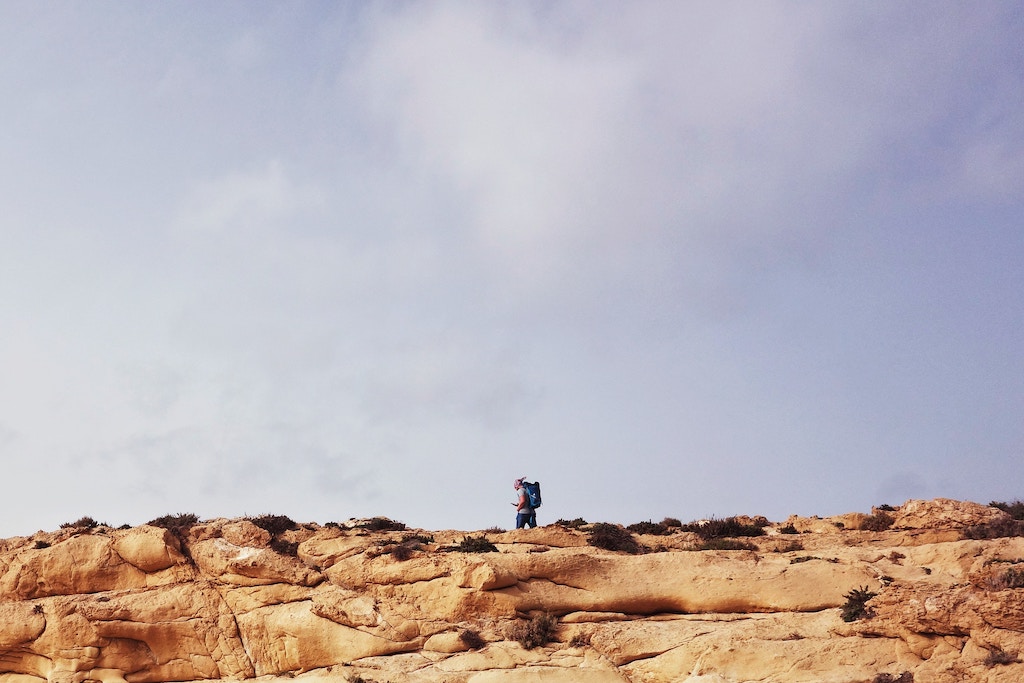 Photo: Micaela Parente; Unsplash
A Hiker's Heaven
Forget what you thought you knew about hiking. In Malta, every trail is a thrilling journey through time, showcasing the archipelago's rich history and dazzling landscapes. Encompassing coastal paths, rural countryside ambles, and historic trails, the islands boast a vast collection of routes for all fitness and ability levels. From the dramatic Dingli Cliffs Loop to the fascinating Victoria Lines and the more rugged and untouched trails of Gozo, you'll be treated to a unique and wonderful blend of natural beauty and ancient landmarks.
Must-hike trails include the Xlendi Walk to the Ta' Ċenċ Cliffs along Gozo's stunning south coast, and the Marsaskala to Marsaxlokk walk, which takes you past beautiful bays, magnificent sea cliffs, and idyllic rock pools. If you're looking for a multi-day trek, take on the Malta Coastal Walk, a 155km-long circumnavigation of Malta taking in the entirety of the island's mighty coastline.
If you're happy hitting the trails by yourself, pack your boots and off you go. But, if you prefer guidance then link up with one of the many local tour operators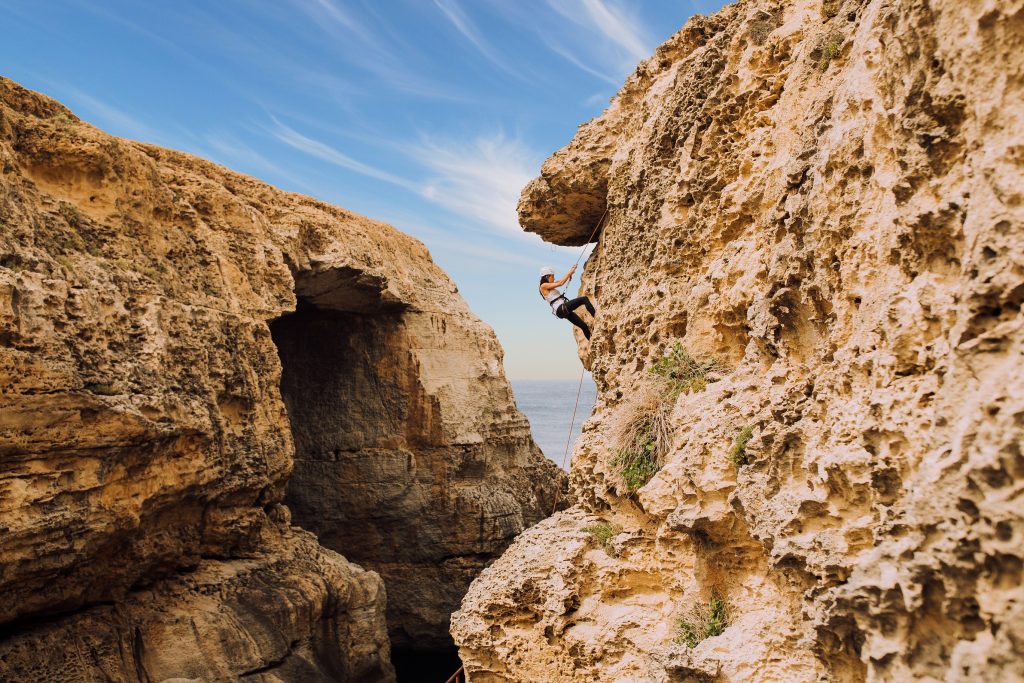 Scale New Heights
Malta and Gozo's limestone cliffs and crags provide the perfect setting for climbers of all experience levels. With an impressive 1,300 routes to choose from, you'll never run out of ways to challenge yourself.
From slabs to technical overhangs, it's the perfect place to push your personal limits while also immersing yourself in some of the most diverse and electrifying climbing in Europe. Traditional climbing, sport climbing, bouldering, and even deep-water soloing – the rock faces of Malta have it all, and the best bit? The weather's good enough to do it year-round.
For an extra shot of adventure, hop off a quick ferry ride to Gozo (pictured above left) and discover even more fantastic climbing spots. Just don't forget to take a moment to soak up the awe-in- spiring views. Trust us, they're well worth the pause.
When you've finished climbing up, it's time to head down. The cliffs and coastlines of Malta and Gozo are perfect for rappelling and abseiling, and with expert-guided descents and week-long packages available, you'll have the chance to feel more alive than ever before.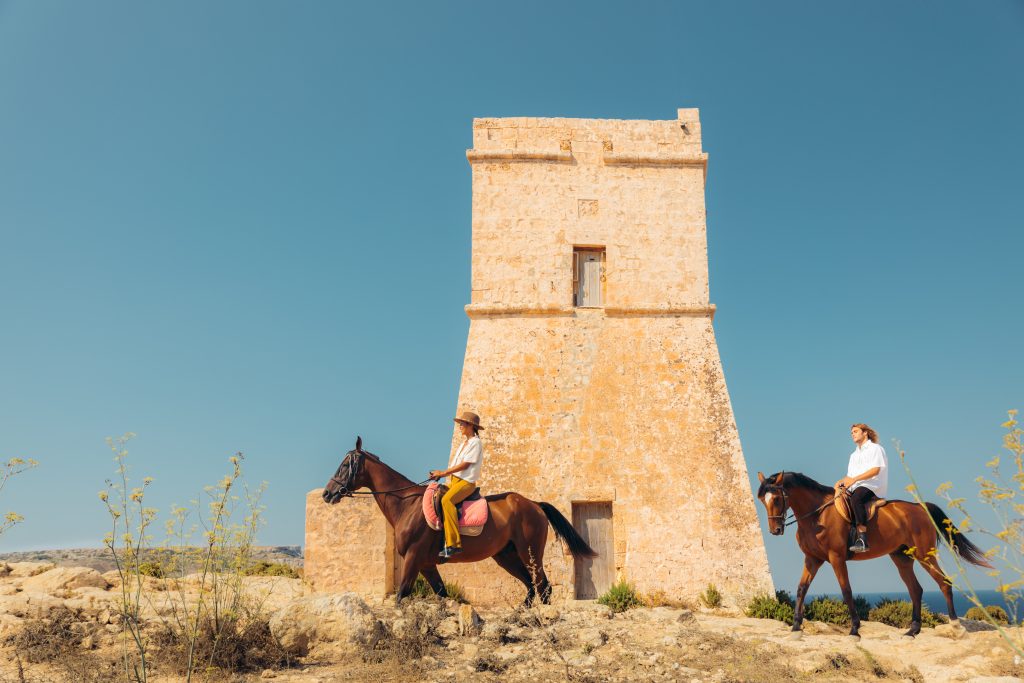 Saddle Up
Horses have played a big part in the history and development of Malta since the 15th century, when they were introduced to the island by the Knights of St. John. Over the centuries, horse riding has evolved into one of the best ways to make the most of what Malta has to offer, with a number of equestrian centres offering a diverse range of riding experiences across the country.
From countryside treks to enchanting sunset rides along the dramatic cliff tops, it's a whole new way to discover Malta's beauty. Typically, horseback excursions will come in the form of one-to-two hour-long treks, but if you're a complete novice, you can get yourself booked onto riding lessons or experience the peacefulness of a horse carriage ride instead.

Rejuvenate and Reconnect
After all that adventuring, your body and mind will be in need of some rest and relaxation, and what better way to do it than with some quality 'me time'? With certified studios, outdoor classes, and retreats, you'll have plenty of opportunities to stretch those muscles and find your inner peace.
Malta's serene surroundings, Mediterranean charm, and year- round sunshine create the perfect atmosphere for mindfulness retreats. Numerous centres and wellness-focused accommodations offer immersive experiences, providing a tranquil es- cape if you're seeking personal growth, inner peace, or holistic well-being.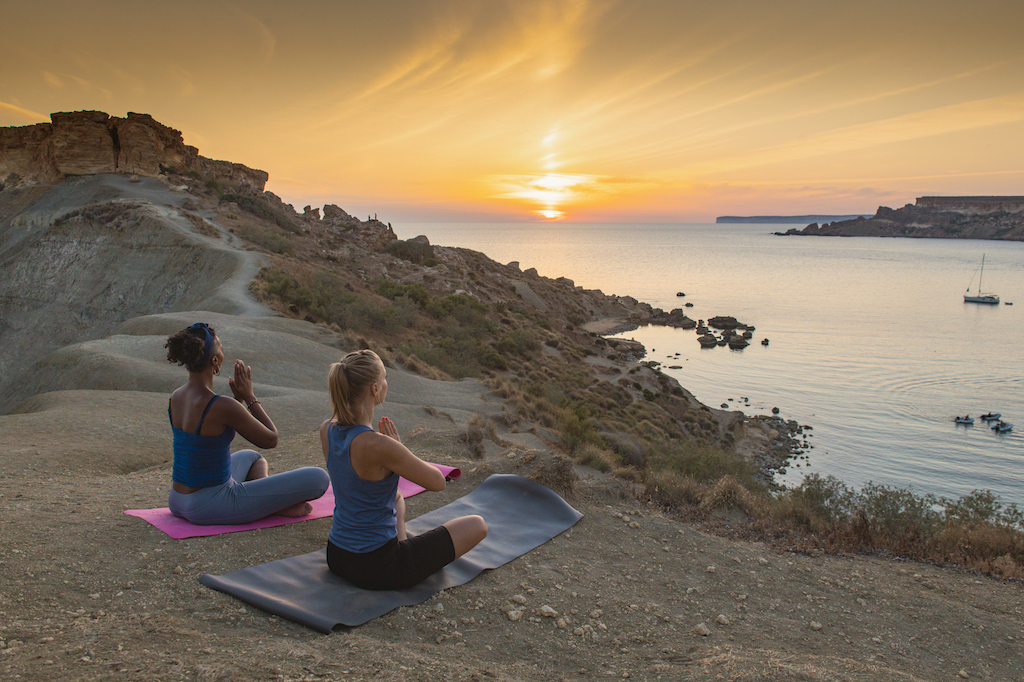 Adventure Awaits
Malta truly does have it all. From cycling and hiking to climbing and horse riding, there's something for every type of adventurer. And with its captivating history and breath-taking natural beauty, you couldn't ask for a better backdrop. Whether you're scaling cliffs, chasing sunsets, discovering hidden bays, or soaking in the vibrant culture, you'll come away with memories that'll last a lifetime.
To find out more about adventures in Malta and to start planning your next escape, follow this link.