Skye's Cuillin ridge is the UK's answer to the Alps. Colin Henderson recommends some top scrambles.
The extremely rocky Black Cuillin in Scotland's Isle of Skye is a group of mountains (including 12 Munros) that offers some of the best scrambling and climbing opportunities in the United Kingdom. The peaks are often described as Britain's answer to the European Alps and there's certainly nowhere else in the UK of such a serious mountaineering nature, with sustained difficulties on many peaks needing to be overcome before you can reach the summits.
I've a chequered history of success on the Cuillin ridge. It's not due to effort – I've climbed Sgurr nan Eag twice, Bruache na Frithe three times and Bla Bheinn five times (the north-west ridge on Bruache na Frithe, a grade two scramble, and the amazing Clach Glas-Bla Bheinn traverse, a Moderate rock climb, being the highlights). These though are the easier Munros, with minimal exposure (the latter rock climbing route excepted). When it has came to the test, I've bailed just feet from the top on Sgurr na Gillean's 'tourist route' due to the exposure and balked at the descent of the 3m high 'bad step' on the only route feasible for non-climbers up Am Basteir.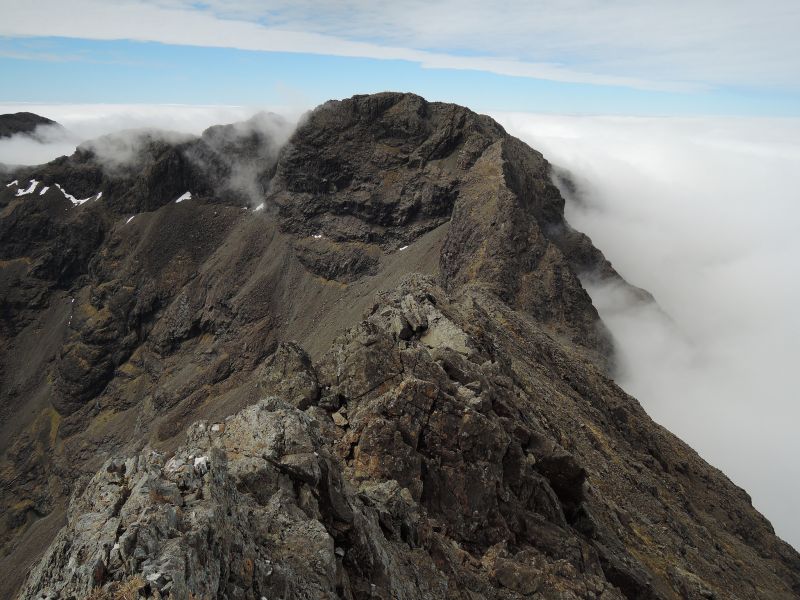 Photo: Grant-flickr
I've not been completely unsuccessful on the more exposed peaks in Skye. Recently, I followed a Cuillin route that is described in J Wilson Parker's Scrambles in Skye guidebook as 'one of the most enjoyable (or horrifying) scrambles in Britain.' The traverse of Sgurr a'Mhadaidh to Sgurr na Banachdaich, over Sgurr a'Ghreadaidh and Sgurr Thormaid, is a grade three (out of three) scramble. It follows a series of steeply-angled, knife-edge ridges that can delight (or perhaps terrify) you with great drops beneath your feet.
During the traverse, we had great views of the Cuillin mountain range, especially over to Sgurr Alasdair, the highest mountain in Skye, and to Sgurr Dearg, where we could see people climbing on the Inaccessible Pinnacle. The views down to Loch Coruisk (pictured here) were also equally impressive. Despite the daunting description in the guidebook (which I'll admit I didn't read until afterwards), I didn't find the exposure that bad. I'd highly recommend it.
Hire a guide
The Black Cuillin hills and surrounding area are the remains of a large volcano in Scotland. The igneous and gabbro-covered mountains were first explored in the 1800s (Sgurr nan Gillean was first climbed in 1836). Today, many hillwalkers hire a guide to take them to the summit of the 11 Munros on the main ridge. Paul Tattersall is excellent company and has guided the Skye ridge many times. In 2013, he completed a double Cuillin ridge traverse, solo, in one day.