The Aosta Valley is the smallest of Italy's regions and is situated in the north west, along the border of France. Though it may be small, it is packed full of glorious snow-kissed peaks, including some of the most iconic mountains in the world; the Matterhorn, Mont Blanc, Monte Rosa and Gran Paradiso. In the summer, the region is a green haven filled with wild flowers, rolling hills, waterfalls and buzzing wildlife, but in the winter, it transforms into an icy kingdom which boasts its own special kind of beauty.
The land is dusted in fresh powdery snow which glitters in the sunlight and the snowy peaks, embossed on the alpine landscape, soar into bright blue skies. Whether you're high in the mountains or exploring at ground-level, you'll be met with indescribable views that will take your breath away.
With all that in mind, we took a look at the winter activities which are available in the Aosta Valley, and we have compiled a list of five of the very best activities which you simply can't miss.
1. Ski in one of six ski resorts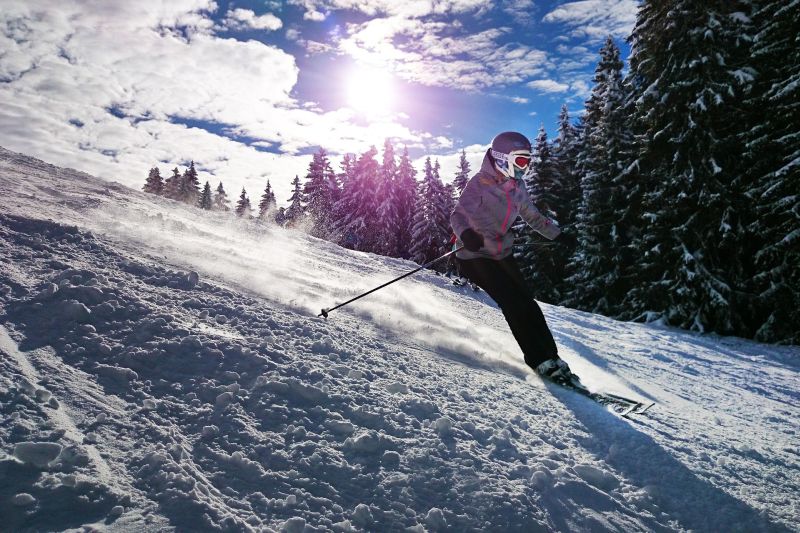 If you love skiing, you'll be spoilt for choice in Aosta Valley as the region is home to six incredible ski resorts including Courmayeur, Cervinia, La Thuile, Pila, Champoluc and Gressoney. Each resort offers a fantastic range of terrain, so whether you're a total beginner who wants to start out gently or an absolute pro who wants to challenge themselves with off-piste skiing, you'll find the right place for you and the rest of your ski holiday companions.
2. Explore Gran Paradiso National Park by snowshoe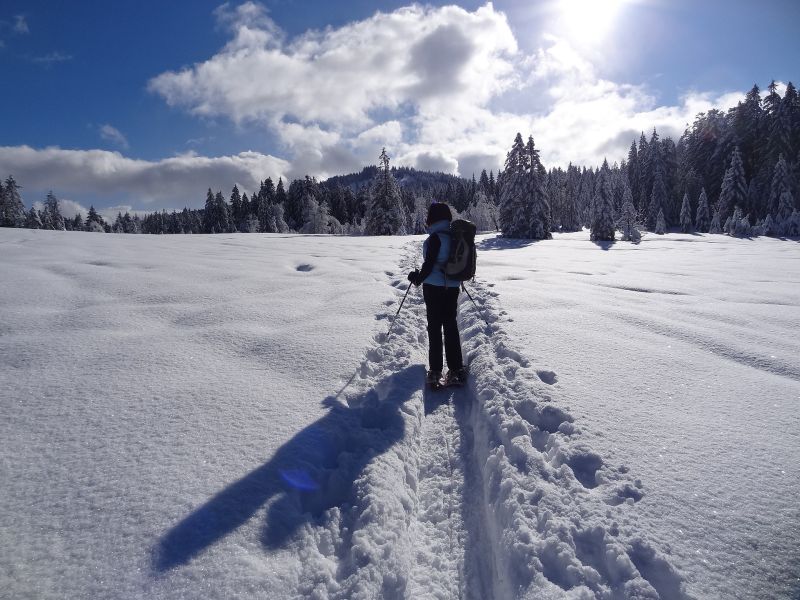 Snowshoeing is a great option for those who would like to explore the Aosta Valley by foot and who would like an activity which is less technical than skiing. When you slow things down to walking pace, it gives you the perfect opportunity to soak in all the splendid views that Gran Paradiso has to offer. There are many local companies in the region that offer rental snowshoes and there are also many that offer guided snowshoe treks.
3. Give snowkiting a go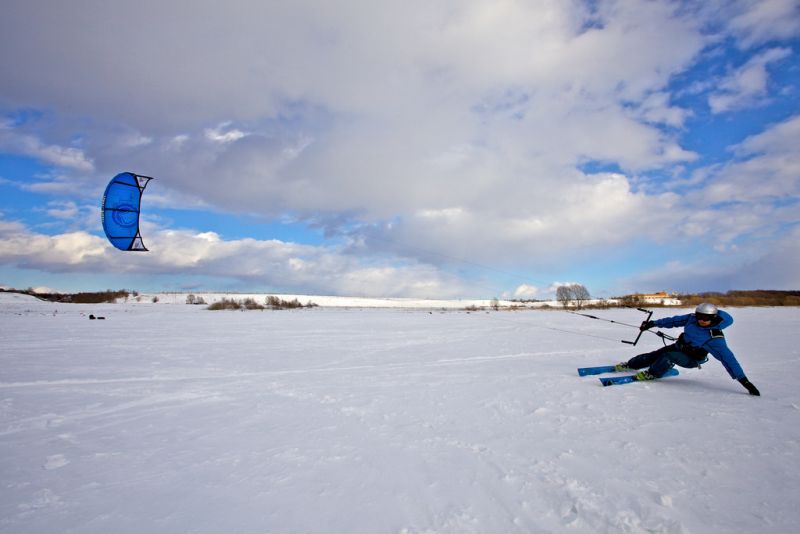 Photo: Konstantin Zamkov
If you're an adrenaline junky who loves anything that'll get the heart pumping, then you need to give snowkiting a go. Armed with your skis and using only the power of the wind and a kite to pull you, snowkiting allows you to traverse the snow like never before. Pull yourself uphill, twist, turn and fly across epic jumps – it's truly an invigorating way to explore the beauty of the mountains. There is a snowkiting school situated in the village Vetan and there is also a large area dedicated to the sport in La Thuile.
4. Ice climb a gigantic waterfall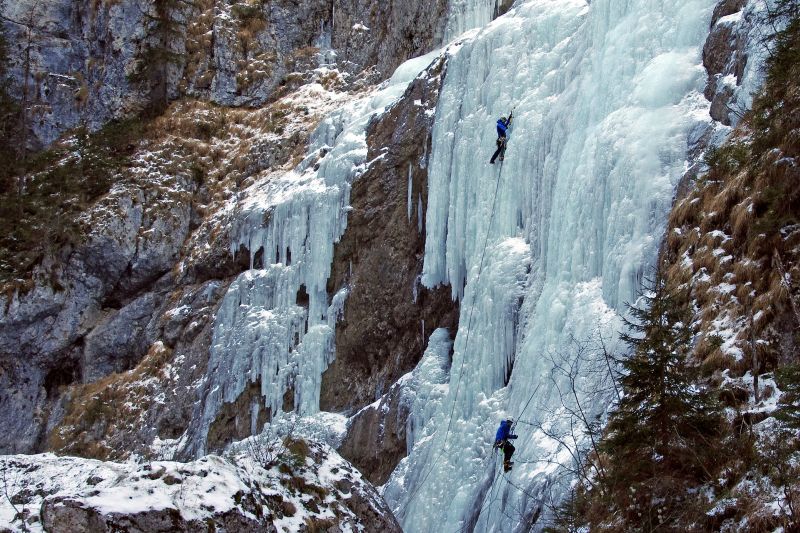 If you love heights and exposure, then this one is for you. Tackle huge walls of ice formed by magnificent frozen waterfalls and climb using ice axes and crampons for a thrill like no other. Unless you're an expert climber, you'll want to seek a professional guide, but there are many local companies in the area which offer different tours and packages to suit your needs. There are many ice climbing areas in Aosta Valley such as; Cascata di Vollon, Cascata di Paccard, Cascata Legolas and Cascate Le Bilance.
5. Enjoy a spot of sledging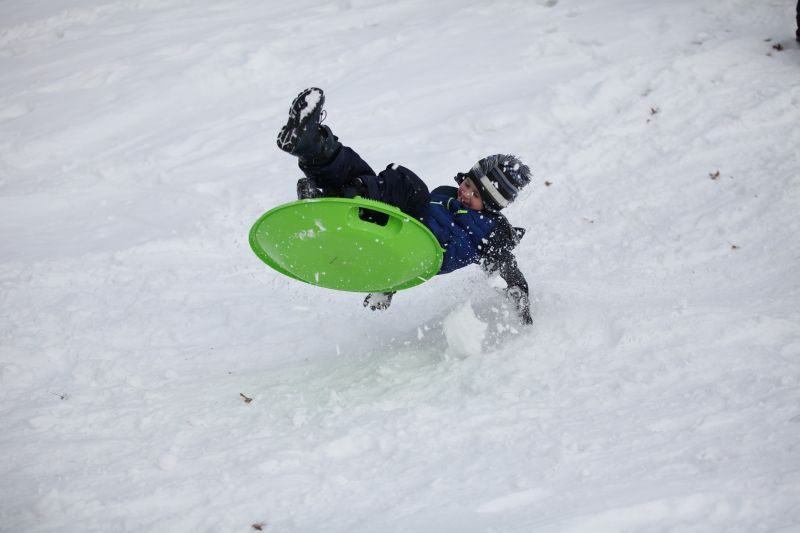 Always a classic and perfect for families. Grab a couple of sledges and head to the hills for an exciting way to explore the picturesque scenery. You don't have to have any skills in particular and you don't even need any previous experience – just sit on your bum or lay on your front and go! It's an enjoyable way to spend the day, especially if you have kids.
You can find out more about these activities, the Aosta Valley and the other incredible activities which the region has to offer, by visiting the Aosta Valley website.
Featured image: Roman Boed