Englishman and Montane athlete Jon Gupta has set a new world record for the fastest English speed ascent for Mount Kilimanjaro (measuring 5,895m), completing it in just eight hours and 11 minutes. The mountain's air pressure is so low that its oxygen is recorded at around half of that recorded at sea level. This makes walking in these conditions very challenging, let alone running.
Prior to this incredible achievement, Jon has had a fantastic year. In January, he and Tom Sutherland became the first team ever to complete the 430-mile category of the Montane Yukon Arctic Ultra, enduring temperatures as low as -44 degrees over a gruelling 12 days. In May, he not only guided client Mollie Hughes into the record books, becoming the youngest woman to successfully scale Mount Everest from both north and south sides, but he also became the youngest British male to summit from both sides too.
Jon achieved his staggering Mount Kilimanjaro world-record via the steepest route, an approximately 37-mile round-trip which saw him ascend the Unbwe/Western breach and descend the following morning via the Mweka Route via Baraffu high camp. Previously, he had already completed 17 separate ascents of Kilimanjaro!
Speaking to Montane about his new record, Jon said: "This world is changing incredibly quickly – by 2060 there are predictions that all of Kilimanjaro's ice will have disappeared. I know Kilimanjaro inside out and in recent years have made some very fast speed ascents on other big mountains, like Ama Dablam (speed solo in 14 hours). I love pushing my body really, really hard at high altitude. I'm not a runner but combining the two makes perfect sense for me. I just love moving fast in the big mountains. From 5,000m to the top of Kilimanjaro it was really tough – my lungs were burning but I felt absolutely great! I would stop for 5-10 seconds to feel normal again, then push on as fast as I could".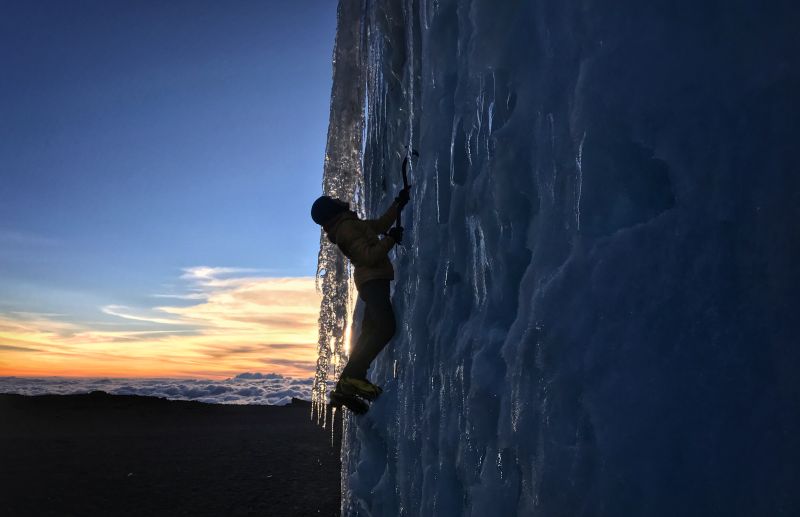 Photo: Jon Gupta
As if smashing world-records wasn't enough, Jon spent the same evening ice climbing into the sunset on the last of the remaining glaciers within Kilimanjaro's summit crater – madness! You can watch Jon's video from the summit of Kilimanjaro after completing his speed ascent below.
Into photo: Jon Gupta