Robert and Rona have teamed up with Adventure Travel in an effort to document their preparation and attempt to climb Mount Everest from sea to summit. In their latest instalment they detail the next stage in their preparation – heading to Argentina to climb the mighty Aconcagua…
The last time we wrote this article, we were fresh back from climbing the highest mountain in Europe, Mount Elbrus, and basking in the after-glow of success in the peak of summer. Now we are on the cusp of winter, with the nights creeping evermore significantly into our waking lives, looking forward to what is likely to be the most demanding nine months of our lives!
We are now booked onto a trip up Aconcagua, the highest mountain in South America, the Southern Hemisphere, and in fact the highest outside of the Himalayas. At 6,960m, it presents our next challenge, a very significant 1,500m higher than Mount Elbrus.
The fact that it is in the Southern Hemisphere means that Aconcagua is normally tackled in the Northern Hemisphere's winter, and the limitations of working for a living mean that this year we will be celebrating Christmas in Argentina, and New Year at over 4,000m, before hopefully summiting in early 2017.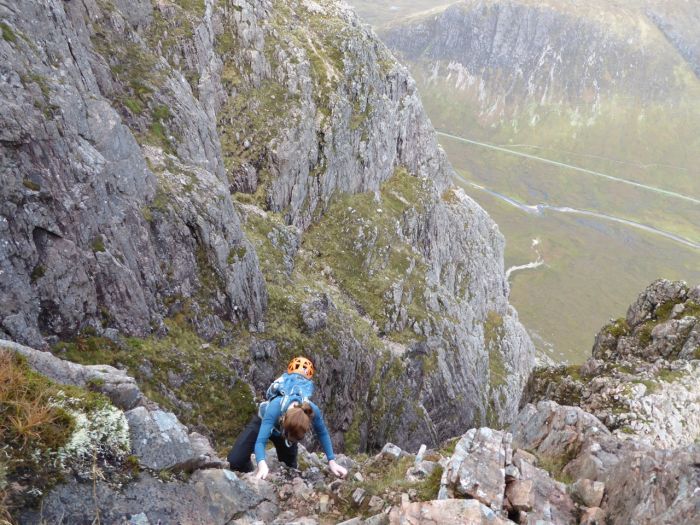 The requirements in terms of physical ability are also a step up from Elbrus, as we will be carrying all our own equipment, including sleeping bags etc. at significantly higher altitudes than we have experienced before. With the lack of oxygen at those altitudes, carrying weight becomes much harder, and we will need to be in peak condition to successfully summit.
If that were not enough to motivate us to get to the gym and out on the hills, due to the popularity of the climb, and limited places available, we have now also signed up to climb Denali in May/June 2017! Despite being lower than Aconcagua, Denali is an even bigger challenge, due to its location and changeable weather. This means that even in our training for Aconcagua, we have half an eye on building up to the higher levels of physical ability and endurance that we will need for Denali just four months after Aconcagua.
In particular, this has meant that we are trying to include as many 'back-to-back' training days as possible. In these weekends (always weekends, for obvious reasons) we carry our heaviest load for a relatively short distance with 1,000m height gain on the first day, and then a slightly lighter load for a longer distance with similar height gain for the second day. The idea is to create the day-on-day endurance we will need, and the distances also help to replicate the change from an ascent to a summit day (which are often in excess of 12 hours of walking).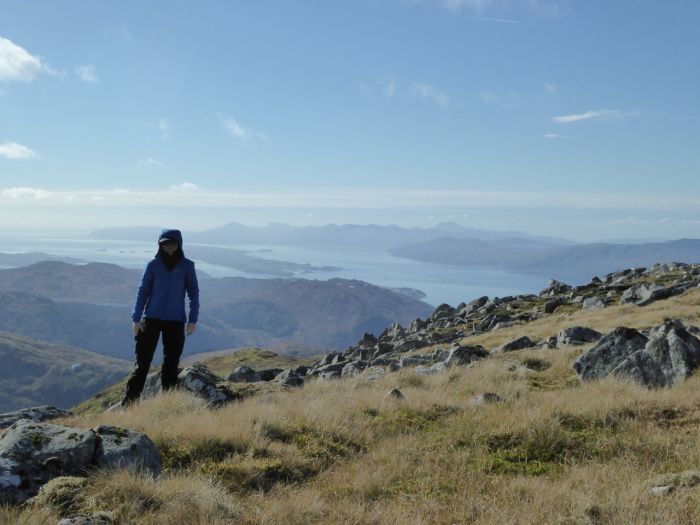 Unfortunately, we've had a couple of niggling injuries recently, Rona has had a problem with her left shoulder which flared up after walking with 24kg on it, and I managed to tweak a muscle in my upper-arm which limited my range of motion in my left arm. This has put some of our training on hold, but we're still trying to get out as much as we can.
Last weekend we made the best of a bad job by using our inability to carry anything heavier than 5-10kg as an opportunity to climb Curved Ridge on Buachaille Etive Mor. We have wanted to climb this route for a long time, and it didn't disappoint. It mixes some fun scrambling with a fair bit of exposure, and one short piece of technical climbing. Overall, a fantastic climb, and worthy of what might prove to be the last nice weekend before autumn comes to stay.
We've already said that climbing these mountains isn't easy, but it's also not free, and that has spurred us to greater action in front of our computers, not just on our feet. The last couple of months have seen us tighten up our sponsorship pack, which we use to approach companies, and then change it to reflect the specific requirements and situations of individual companies. Despite not requiring huge changes to the document itself, it can be time consuming researching each company and fine-tuning the document to reflect their values, aspirations and goals. And of course, the pack needs to be short and catchy, and convey the range of benefits that they would stand to receive through sponsorship.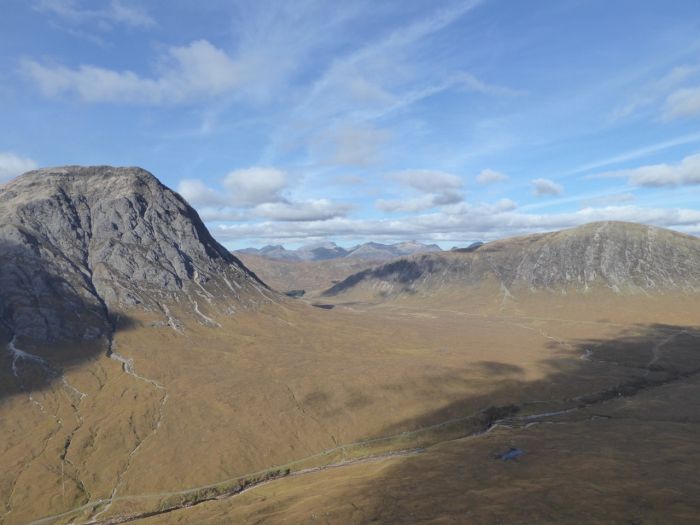 To date, we have made approaches to three companies, and so far have not received immediate 'no' responses, so we're taking that as an encouraging sign! We are also looking further afield to less known, but equally important funds that we may be eligible for. For example, the St. Andrew's Town fund supports people from St. Andrews and its surrounds (which covers us both), so we are constantly on the lookout for contacts or individuals who might be in a position to help. Our cash fundraising still sits at a paltry £0, but you have to start somewhere!
You can follow Rona and Robert's preparation for climbing Mount Everest on their blog by clicking here.
Intro photo: Aconcagua mountain, Argentina by Klaus Balzano