The first thing you might think of when it comes to the desert is most likely the heat, but don't let that stop you from exploring what can be an incredible adventure playground. There's so much more to the desert than hot weather and sand, and if you travel at certain times of year you'll find temperatures may even be cooler than the recent UK heatwave.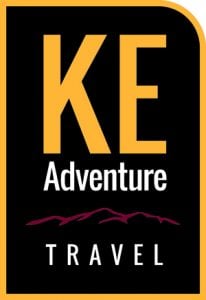 Desert trekking is a fantastic way to experience these intriguing landscapes that bring remote vistas, stunning skyscapes and surprisingly varied terrain.
We got together with our friends at KE Adventure Travel to find the five best desert destinations to experience on foot. Head to these destinations in autumn for the more comfortable trekking in cooler temperatures.
1. Desert trekking in Jordan's Wadi Rum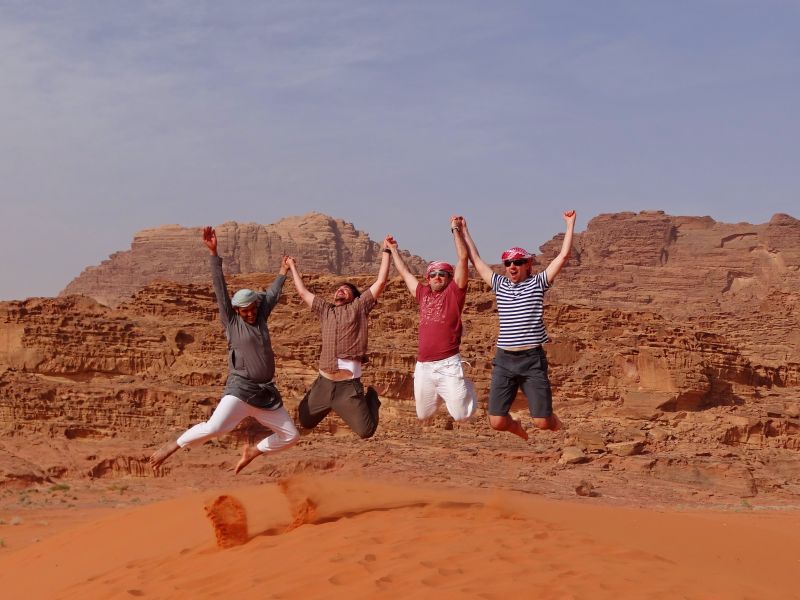 If you want to experience the desert but can't get enough of mountains too, you need to pay a visit to see the lunar landscapes of Wadi Rum. Also known as the Valley of the Moon, towering rock formations and deep crevasses interrupt the endless sands, where you'll be able to explore and camp under Um Adaami (1,832m), Jordan's highest peak.
How to experience it: Jordan's Wadi Rum and Petra, an eight-day adventure with KE Adventure Travel.
2. Desert trekking in Morocco's Sahara Desert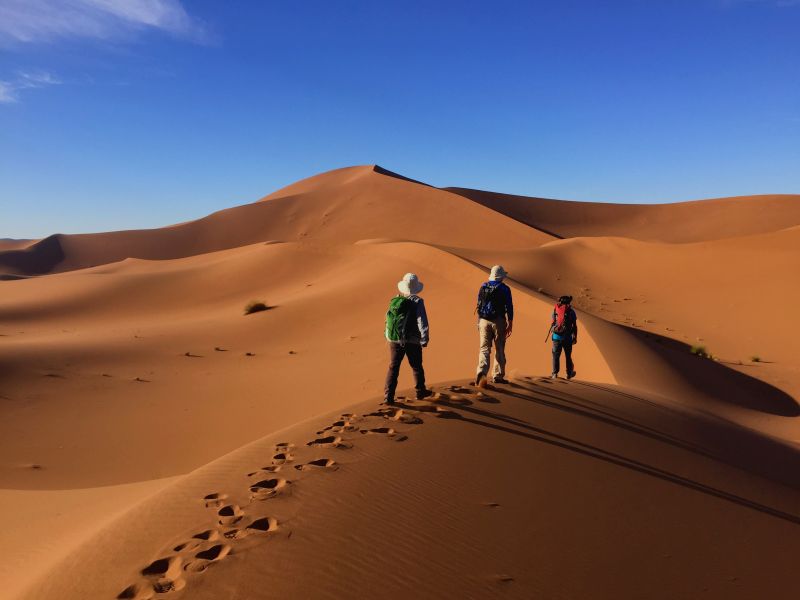 A trek through the Sahara will offer you creamy dunes, glowing sunrises and fiery sunsets, with Morocco's rich culture evident in Berber camps and the chance to visit holy shrines. One of the most remarkable things about a Saharan desert trek? The nightly show. As one of the world's largest dark sky reserves, you'll be able to lie back at night and feast your eyes on a vast and beautiful clear sky, studded with more stars than you could possibly imagine.
How to experience it: Edge of the Sahara Trek, an eight-day trip.
3. Desert trekking in Oman – the Jewel of Arabia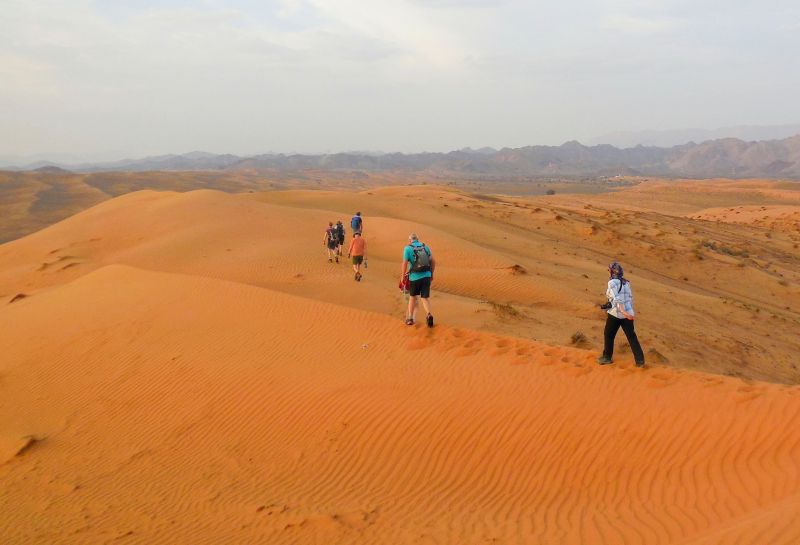 Did you know that more than 80% of the Omani territory is covered in sand? Far too hot for most of the year, the Al Hajar mountains are perfect for trekking during the period from November to early March. Sheer-sided canyons, shaded oases, rugged trails, hidden gardens and far-reaching views from the top of Jabal Akhdar (3.000m) will provide unforgettable memories of this friendly Arab state.
How to experience it: Oman Adventure Trekking, a 10-day tour.
4. Desert trekking in Lanzarote, the Canary Islands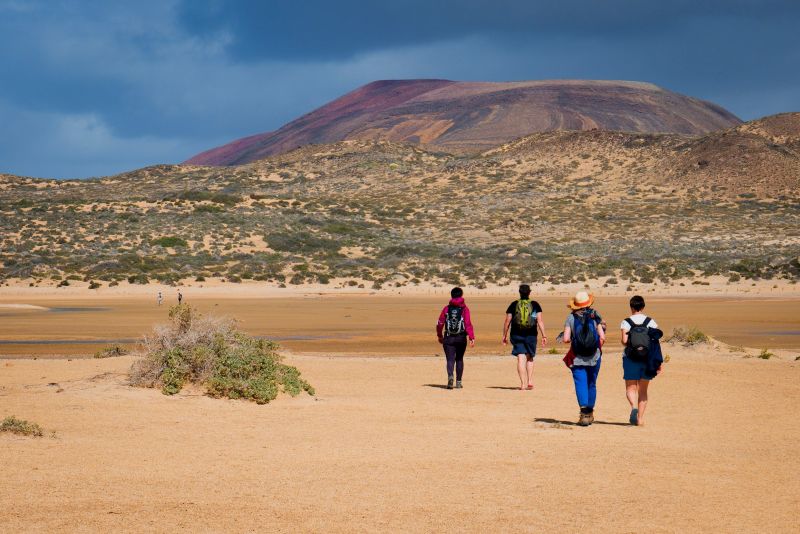 Lanzarote may be a beach pilgrimage for many holidaymakers, but for the adventurous traveller, you'll find a rich and varied terrain beyond the resorts which includes desert landscapes. The Rubicon Plain is an impressive lava field on the south-west coast of the island, where breakers crash ashore and mountains lie in the distance. It's also home to a different kind of desert setting, the sandy fields of the Central Desert.
How to experience it: Walking Lanzorote – The Island of Eternal Spring, an eight-day adventure.
5. Desert trekking in the Atacama Desert, Chile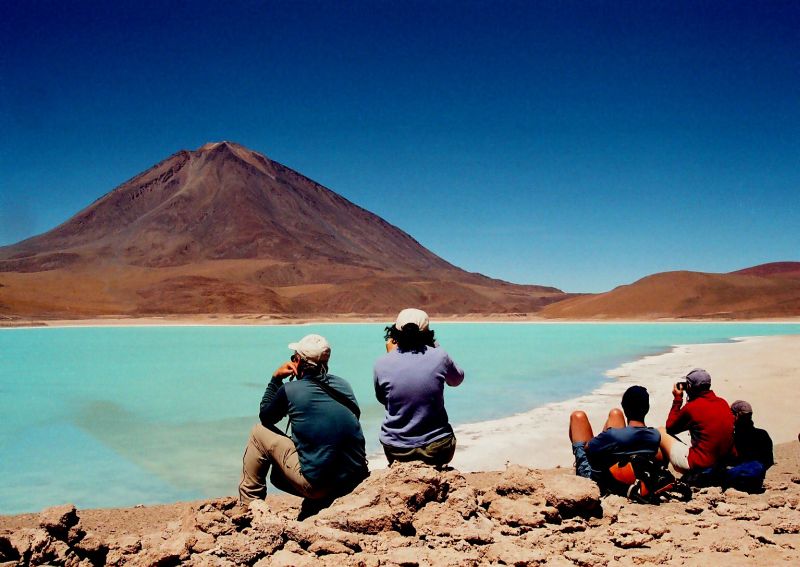 As the driest non-polar desert in the world, rain is incredibly scarce in the Atacama Desert, only gracing this bone-dry region with .004 inches of precipitation per year. Dotted with high altitude lakes, explosive geysers, valleys studded with bizarre rock formations, endless salt flats and mountains that rise in stark profile on the horizon, Chile is chock-full of opportunities for adventures. You'll find incredible hikes along with excellent mountain biking routes and unique cultural attractions. Don't miss stargazing under skies filled with brilliant stars, and bring your camera for the the endless photos opportunities.
How to experience it: Red Hot Chile Trekking – Atacama Desert, an 11-day adventure.