Paul Caddy heads to Scotland's magical Glen Coe for a winter adventure…
In Scotland, low pressure systems fly in off the Atlantic in winter like clay pigeons flung from a hostile trap machine. One after another, they scream into view before you've even had the chance to register the one just gone. Bang! Bang! Bang! 'Huh? Hang on! Give me a sec. I've got this!' At times, there's little let up and rarely much escape.
In 2009, scientists observed a tempest on Saturn that lasted eight months in a region dubbed 'Storm Alley'. While Scotland isn't quite at this Saturnian level yet, the succession of winter squalls and blizzards in the northwest of the country often feels as relentless. So, when there's the prospect, however tiny, of a tear in the storm time continuum, you move quickly. It's like sneaking behind the machine and unplugging it for a while.
I headed north and messaged my mate Andy: 'Very dark for midday. Welcome to Scotland!' He didn't respond. Maybe he was having second thoughts? There was an amber weather warning in place for ice and blizzards with over a foot of snow forecast for the highest summits. Yet, an hour or so earlier I'd spotted a postman strolling around Glasgow in his summer shorts and a paper-thin jacket. Was it winter? If so, where? Maybe it was raining in the Highlands (bad)? Or snowing (not so bad)? It felt cold enough for the white stuff. But where was the break in the weather?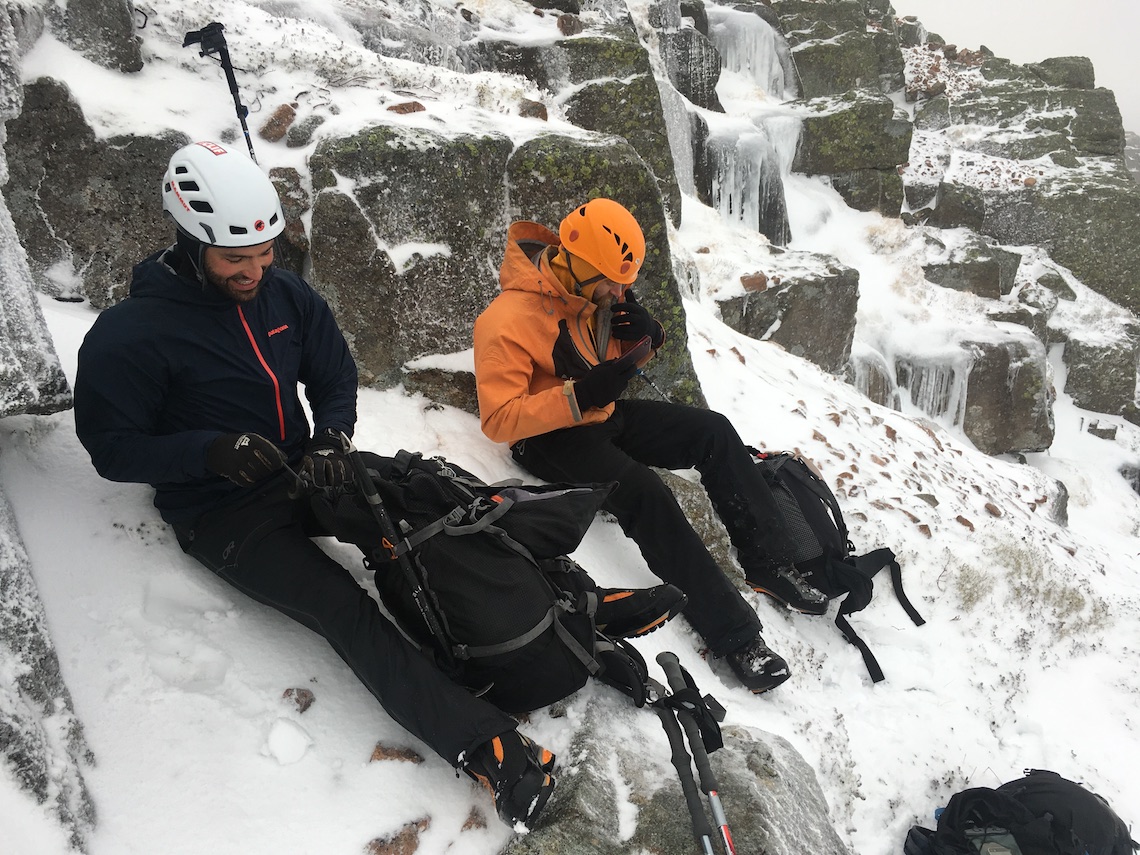 I met Andy and Joe on the coast in a soggy Oban. No snow, just rain so cold it stung on impact and bruised our faces the colour of tomatoes. We sheltered in a pub and hatched a plan of sorts. Today was a write-off. It was a time for warm ales and the snaps and crackles of a well-fed log fire. Tomorrow we'd head inland to Buachaille Etive Mòr.
If the Cairngorms are 'Britain's Arctic', as writer Robert MacFarlane contends, then Glen Coe is its Alps. A brooding, gloomier version perhaps, but similarly as dramatic and equally as imposing on the imagination. Unfold the local Ordnance Survey map and the chaos of contours suggests a dizzying array of corries, crags and cliffs. On the ground these contours translate into a forbidding mountainscape. But beauty comes with danger. Venturing into this terrain in winter is a risky endeavour. Like the Alps, these mountains demand an uncompromising, unstinting respect.
Of course, just because you can head into the hills doesn't mean you should. We scrutinised the avalanche forecast and looked at the various routes up Stob Dearg at the easternmost end of Buachaille Etive Mòr. Curved Ridge: no (avalanche risk); the Chasm: no (the clue's in the name). Plan A morphed, via plan B, into a less ambitious plan C: we'd head to the summit of Stob Dearg via its forgiving southern aspect. Steep? Yes, but more than doable.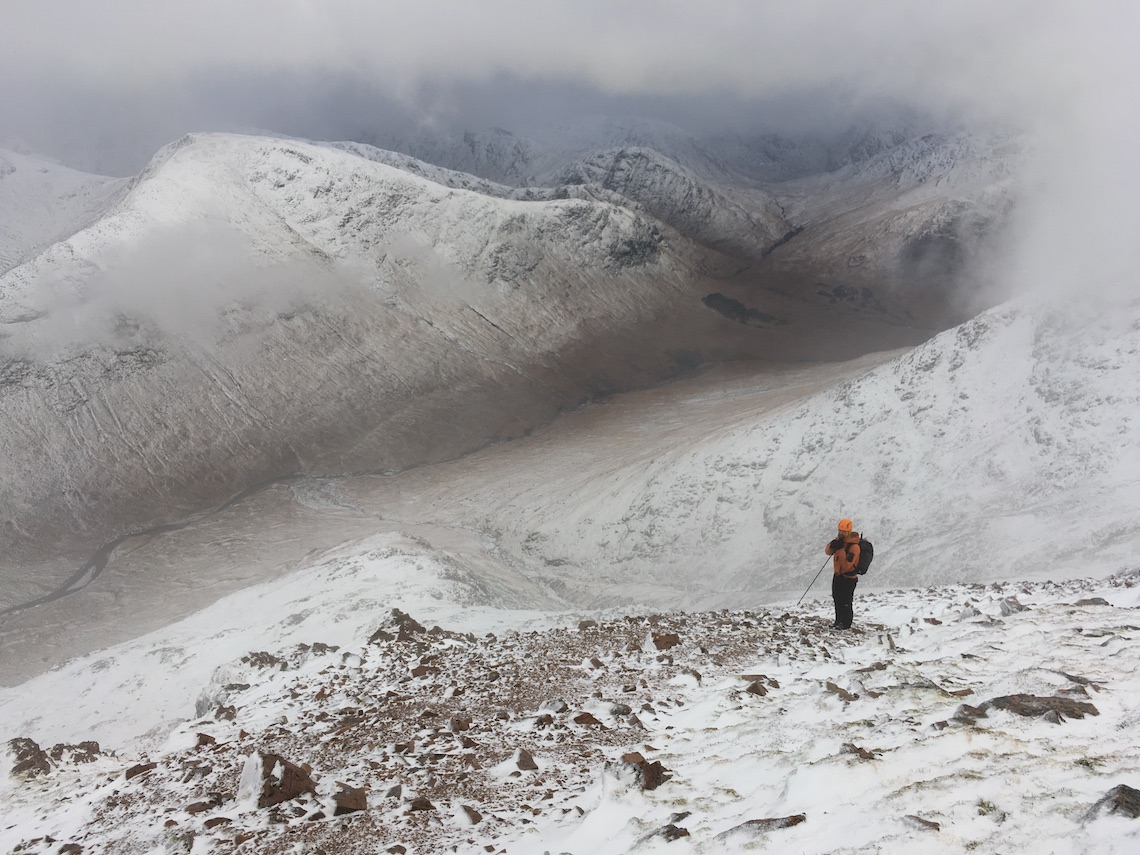 On arrival, the peak was stewing in cloud but, as luck would have it, the light snow had stopped. As the weather machine started to power down for a well-deserved break (at last) creeping mists began to haunt the landscape. The view to the south over Rannoch Moor resembled a life-size impressionist painting: a light-filled canvas of Scottish majesty on one of winter's shortest days.
We made it to the top of Stob Dearg and mooched around in the mist for a while. We didn't see the sun once. Perhaps that is what makes Glen Coe in winter so sublime? No expectations so, equally, no disappointments. The sun wasn't out, but it wasn't exactly in either. Blankets of clouds swirled around us like the layers in a Viennetta ice cream, but somehow, somewhere, the sun was still there, infusing the air with a milky iridescence.
Heading to Glen Coe in the winter means you have to be canny. You might have to ditch some of your best-laid plans. You might have to cancel altogether. Whatever comes to pass, there's no doubt that, in the words of famed Scottish mountaineer W H Murray, all five of your senses will truly be 'feasted to the full'.
Winter adventure in Glen Coe: How to do it yourself
The Route: We trekked up Stob Dearg via the south side of the mountain. Starting at the Glen Etive road between the Allt Coire Cloiche Finne and Allt Clach nan Gillean streams we headed NNW. Mid-mountain, we climbed into a shallow bowl surrounded with crags and, at its top, followed the rocky ridge N then NE to the summit.
Making a weekend of it: Hire a guide if you're unsure whether a walk or climb falls within your skills or experience, and make sure you check out this guide to planning a day in the mountains first. Even if the conditions look benign in the valley, check the avalanche forecast and take full winter kit with you, including ice axe and crampons, and know how to use them.
If you fancy a small trek before heading home, a trip into the Lost Valley (Coire Gabhail) is a delightful excursion. Park at the large Three Sisters car park on the A82, which faces the dramatic buttresses of Gearr Aonach, Aonach Dubh and Beinn Fhada. Cross the raging river Coe and follow the steep and rocky path into the hidden valley where the MacDonald clan used to hide their rustled cattle.
Accommodation: Hostelling Scotland's Glencoe Youth Hostel is great value and just outside of Glencoe village. Equally popular is the nearby Clachaig Inn. This well-known three star inn sits at the foot of Clachaig Gully and even boasts its own limited edition malt whisky, offering 'hints of drying socks by the Boots Bar fire.' Nice.
Getting there: the easiest and most flexible option is to drive. Take the A82 north from Glasgow (about two hours) or south from Fort William (about 30 minutes). Public transport is trickier, particularly in winter. Trains run to Fort William from Glasgow four times a day, less on Sundays, while Scottish Citylink coaches stop at Glencoe village.